The Alabang Group's Christmas dinner was early this year, this time prepared by Ian Padilla. Ian is now based back in Manila, after his stint in Taillevent, now doing private dinners before he opens his own restaurant. As has been in the past 2 or 3 years, the group's Christmas dinner was at Boozze & Margarita's place - mainly because they offered and only they have a dining table long enough to accommodate everyone. We were 7 couples in all, the Ramoses absent, unfortunately, as they are in Singapore on a family trip.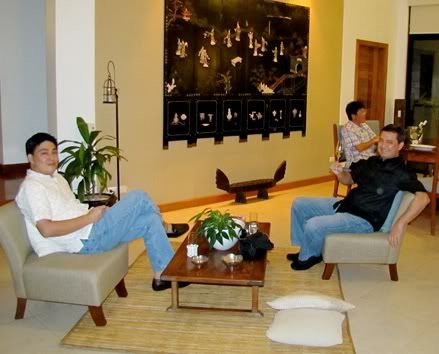 Boozze relaxing with Ken as the former didn't have to cook for a change.
As stated in my previous post, I arrived a bit worse for wear from my scheduled wine buying chores which turned into impromptu wine sessions.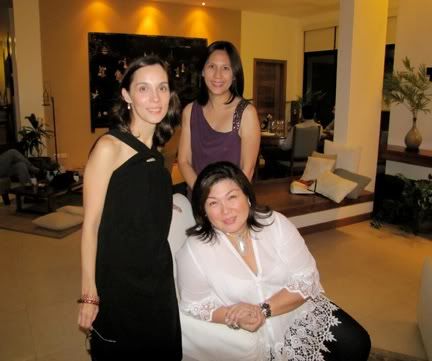 Margarita, Yvonne & Minnie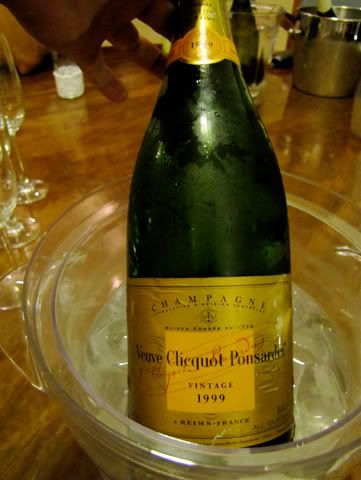 Those already there were already making headway into some
1999 Veuve Clicquot Ponsardin
which I had to pass on since I just had around half a bottle of bubbly at Jérôme's shop.
The champagne didn't go to waste though as Willy, Tonico and Maxie were enjoying it...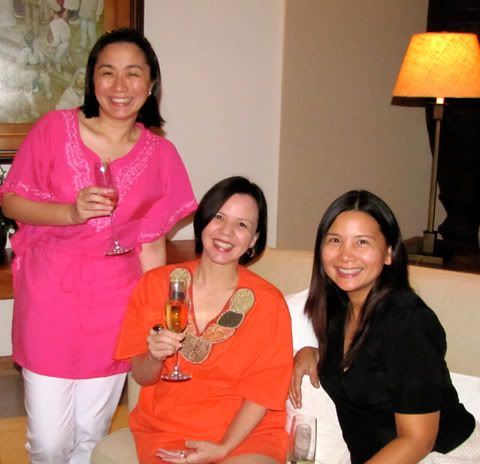 ...as were Lisa, Catha and Maricel.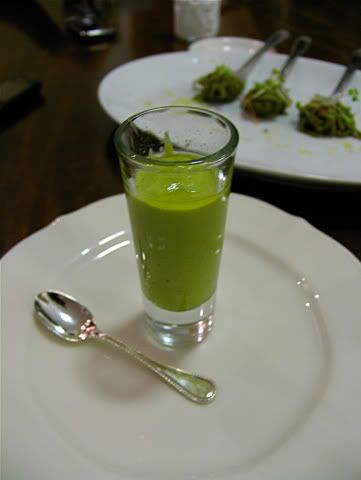 The first of three pass-around/amuse bouches.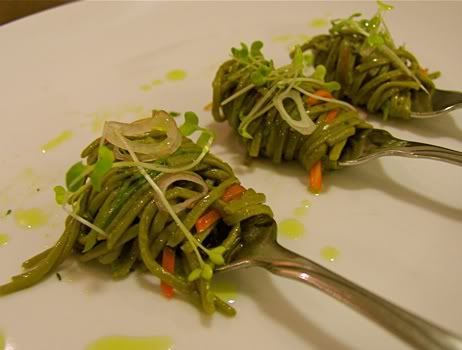 Amuse Bouche #2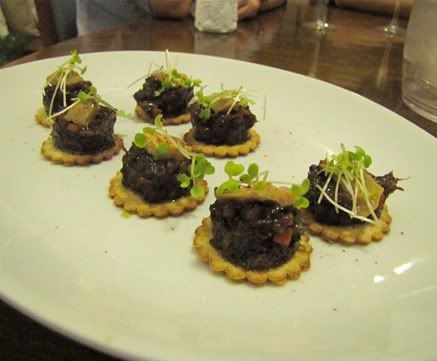 Amuse Bouche #3, my favorite, of earthy, caramelized ox-tail.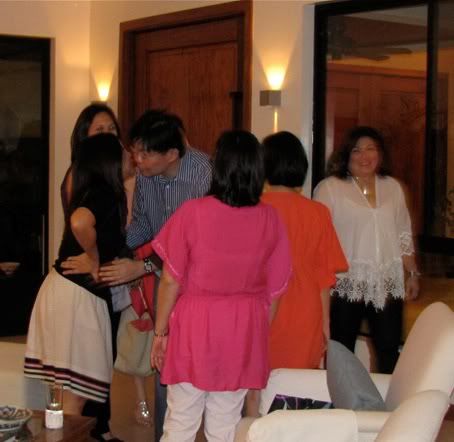 Johnson & Candy, delayed by heavy SLEX traffic, were the last to arrive.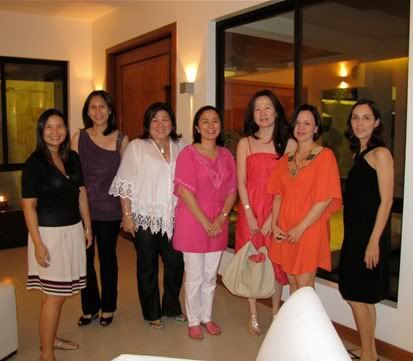 The Ladies.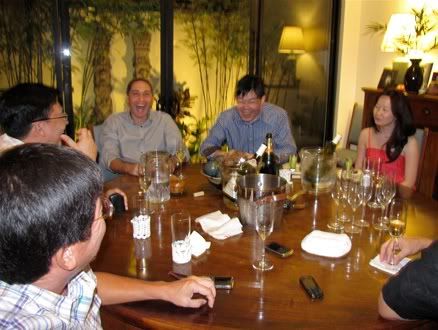 Johnson lost no time in getting the laughter started...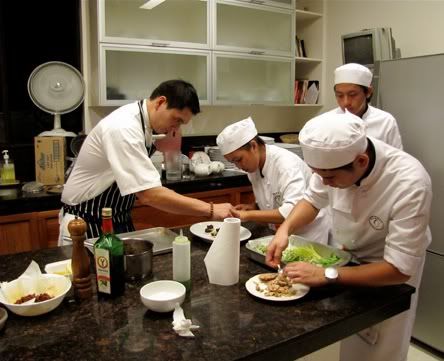 ...as Ian and team worked the kitchen.
The dining room's calm before the storm.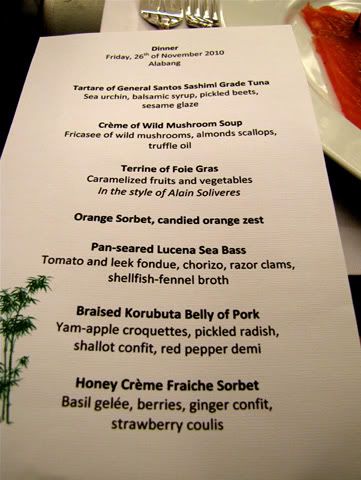 The Menu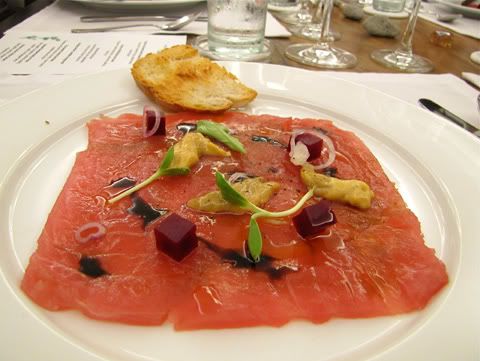 Tartare of General Santos Sashimi-Grade Tuna with Sea Urchin, Balsamic
Syrup,
Pickled Beets & Sesame Glaze
to pair with the dish's subtle blend of sea freshness (the tuna), slight creamy-nuttiness (the sea urchin), and savory-sweetness (sesame glaze), I served some
2009 Weingut Hermann Dönnhoff Riesling Kabinett Oberhauser Leistenberg
, the bottle of which I forgot to photograph. I refrained from imbibing, but Tonico and Willy said the wine was not at all too sweet and made for a good marriage with the dish. The wine itself went over very well and disappeared in a trice.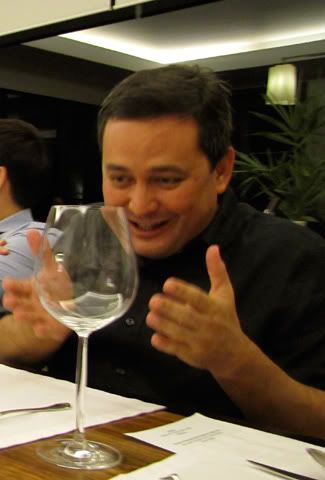 I didn't really get what (or whose) thing Ken was describing...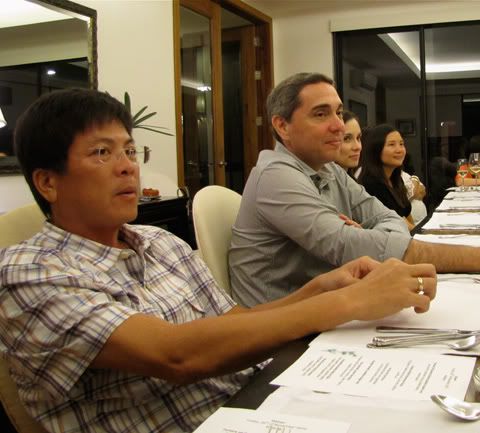 ...but his audience appeared skeptical at best.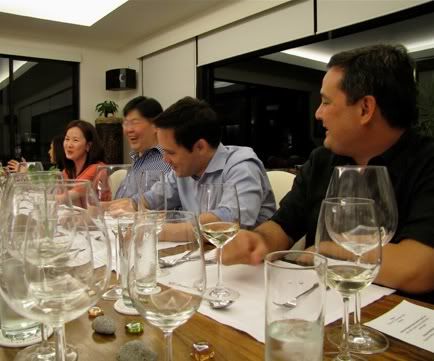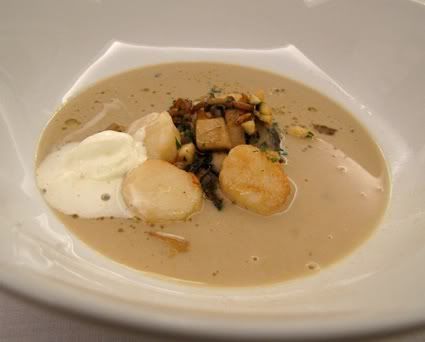 Next was a Crème of Mushroom Soup
with a Fricasée of Wild Mushrooms, Almonds, Scallops & Truffle Oil.
Although Boozze, I and several others liked this earthy soup, some opined that the almonds didn't seem to jive with the rest of the ingredients. Personally, I liked the textural contrast and nuttiness they provided. As no full course French meal is complete for this group without some sort of foie gras, the next course provided our cholesterol fix for the night:
Terrine of Foie Gras with Caramelized Fruits and Vegetables à la Alain Soliveres
With this torchon-esque preparation of foie gras, I served an old reliable pairing for terrine of foie gras - with just a little bit of sweetness as I believe sweeter wines such as Sauternes, Barsac or Tokaji Aszú, Alsace SGNs, etc. pair better with pan-seared foie dishes.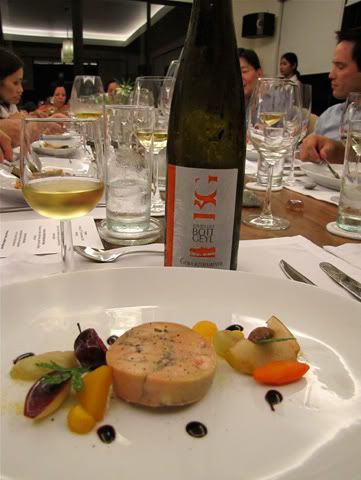 2007 Domaine Bott-Geyl Gewürztraminer Les Éléments
- Typical gewürz dominant lychee flavor with a notable dose of ripe cling peach, spice, underlying petrol and minerality, some rose petal in the nose. Johnson commented on what he perceived to be a bit much residual sugar in the fruit. Good heft, slight oiliness in texture, notable freshness, acidity seemed to flirt with the low side, but the over-all balance was pretty good. With the foie, it was a natural pairing. Both bottles were drained.
After a cleansing and refreshing
Orange Sorbet with Candied Orange Zest
, the fish course was served.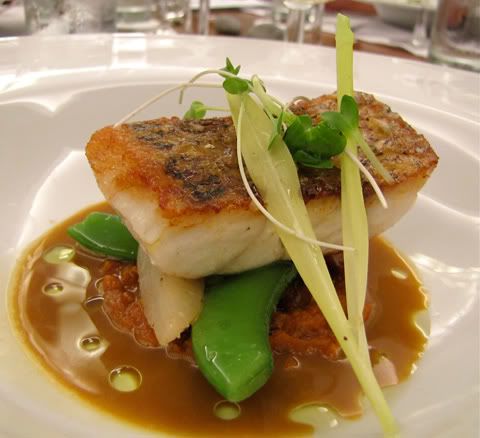 Pan-Seared Lucena Sea Bass with Tomato and Leek Fondue
Chorizo, Razor Clams, Shellfish-Fennel Broth
The sea bass was perfectly fresh and impeccably seared - with a nicely crisp skin and the flesh moist and succulent and juicy. The flavors of the tomato and chorizo bits made this dish reminiscent of a couple of dishes JC de Terry treated me to in the past - and that is a great compliment indeed. The broth showed remarkable depth and complexity, yet holding true to Ian's discreet, subtle style.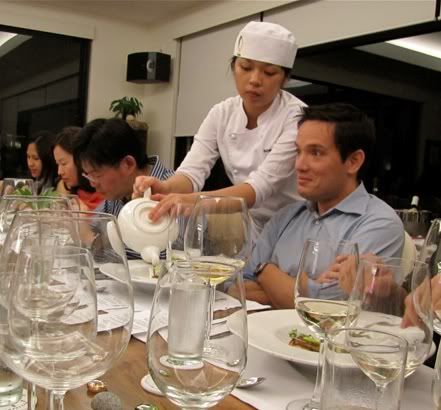 As the broth was added to his bowl, Maxie seemed a bit shocked to learn that there were two more courses coming after this one. With the subject course I served: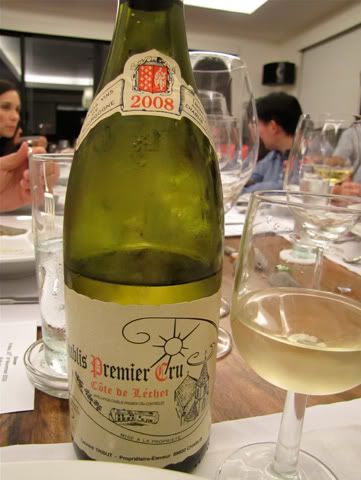 2008 Domaine Laurent Tribut Chablis Premier Cru Côte de Léchet
- With a bit of breathing and warming down (I had left it too long in the ice bucket), this, to me, was a quite impressive young 1er cru Chablis. Cold limestone and cold steel infuse its properly dry green apple and whispers of slight white grapefruit and citrus. As it warmed, precisely moderate leesy-vanilla notes emerged. Wonderful stuff. I'd imagine another couple of years in bottle will make this even more complex. Willy and Tonico commented that they liked this a lot.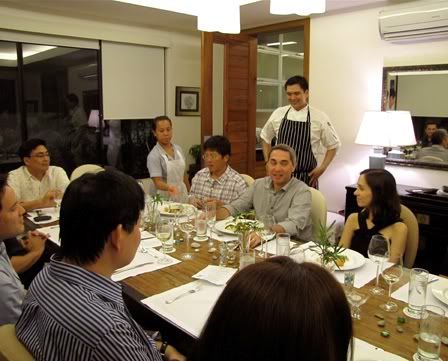 Ian then came out again, this time to announce and briefly explain his
pièce de résistance
: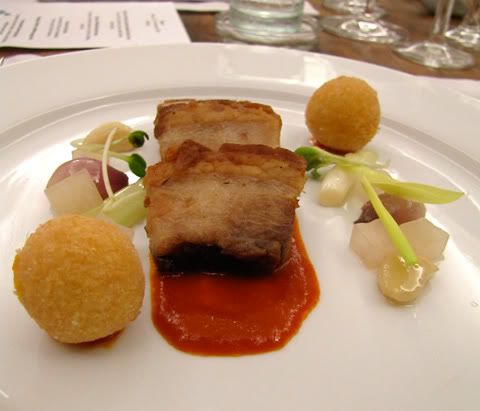 Braised Kurobuta Pork Belly
with Yam-Apple Croquettes, Pickled Radish, Shallot Confit & Red Pepper Demi-Glace.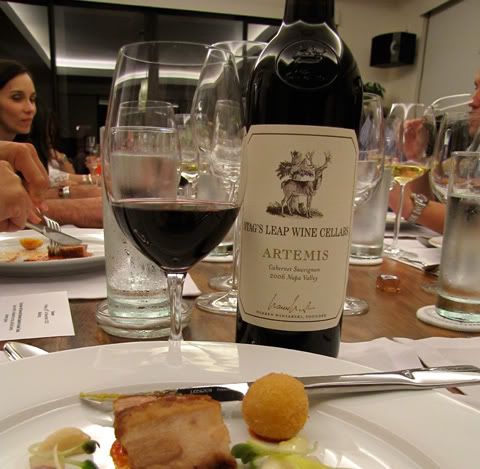 With this Boozze served some
2006 Stag's Leap Wine Cellars Artemis Napa valley Cabernet Sauvignon
- Full-bodied, heady Napa cab showing off a chockful of concentrated and well-extracted blackcurrant, crème de cassis, blackberry, bit of underlying charcoal, unsweetened chocolate, dark/sweetish tobacco, pastry and toasty oak spice. Rich, smooth, broad and full-bodied with a long finish. Powerful, heady stuff. It certainly isn't shy.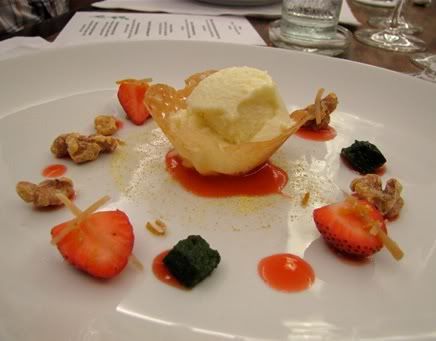 Dessert was a light, refreshing
Honey Crème Fraîche Sorbet with Basil Gelée, Berries, Ginger Confit & Strawberry Coulis
. After such a meal, its lightness was much needed and appreciated. We lingered past midnight over cups of espresso, coffee and a few cigarettes. It was quite late already so we didn't have our usual round of aged Cuban puros from Boozze's stash. Until the next!
NB
: For those interested in contacting Ian for private dinners, he may be contacted at mobile number +63917 803 5423.