Dinner last night, the 16th November 2010, was at
Miguel & Barbara's place
. No apparent occasion - none that I was aware of, anyway - just a nice little get-together. Due to the usual SLEX southward weekday traffic's absence, Catha and I were 30 minutes early so stopped by the Doc's nearby home and we all proceeded to the dinner venue at the appointed time. It was a pleasant surprise to discover that friends I've not seen in quite a while were among the other dinner guests, some of whom were already making headway into bottles of whites.
I, myself, had brought along a bottle of my favorite cava
Freixenet Reserva Real Cava Brut
.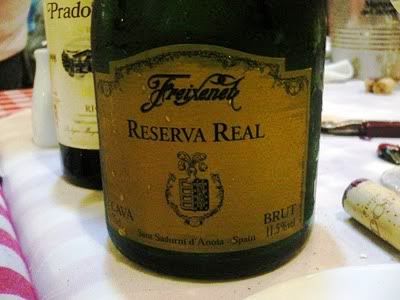 File photo courtesy of Chinkee Clemente-Koppe, as I forgot to take photos of the evening's bottles.
My most recent notes on this special cava
from Henry's recent birthday dinner
are as follows;
This bottling of (even) higher-end cava was created to commemorate the visit of King Juan Carlos and Queen Sofia to the Freixenet winery in 1987. A blend of Macabeo, Xarel-lo and Parellada, this fine cava is typically blended with a small percentage of reserve wines and aged at least 30 months before release. Quite champagne-esque in its fresh apple with slight white grapefruit, lime/citrus and preserved fruit base flavors, it is complexed with notes of pastry, bit of brioche, white flowers, discreet fine minerality and a whisper of vanilla. Barely medium-bodied with a nice, slightly biscuity-creamy from the middle, its over-all depth and freshness definitely make it one of the more serious cavas I've had. Very nice indeed.

Tasted side-by-side, the Reserva Real is markedly heftier, rounder, fuller in body (with reference to the 2004 Freixenet Cuvée Dolores Sala Gran Reserva Cava) and presents more depth in its fruit and a more serious, toasty, savory character.

I had a glass of this with the various pica-picas Barbara had lain out: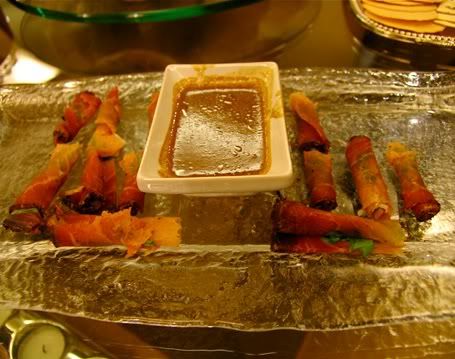 Barbara made sure I tried the above-depicted ham which she had hand-carried from Austria (Barbara is half Austrian, by the way). Per Mrs. Doc (who is 3/4ths German), the ham is called
"Speck"
which, in German, means "bacon". To me, it had an intriguing note of, for lack of a better descriptor, what I would call gin. Doc and I were analyzing it and figured the flavor we noticed came from what appeared to be Italian parsley leaves stuffed into the ham.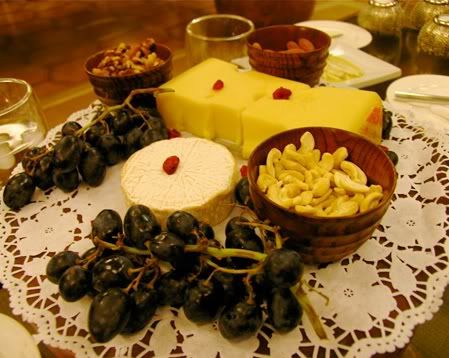 Cheeses, Grapes, Cashews, Walnuts & Almonds - I liked munching the creamy cashews with the Reserva Real.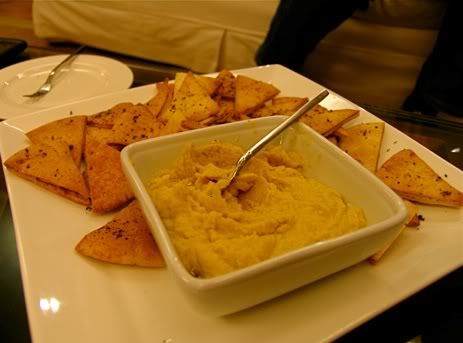 Mrs. Doc's Home-Made Hummus
Manila is so very small indeed - it turned out I knew the other couples there save for one: Noye & Nicole (Boozze's brother and sister-in-law, and I see Nicole's dad at the quarterly Los Golfos tournaments and, occasionally, at IWFS events) and Ramon & Joanna (Apa's brother-in-law and younger sister, the latter I've known since the early '80s - she was probably still in elementary school then). The couple I first met that night were Tony & Christine, the former turning out to be Jos' brother, and, the latter, related to Catha on the Tuason side. We eventually moved to the dining room for dinner proper - all dishes, unless otherwise stated, were made by Barbara.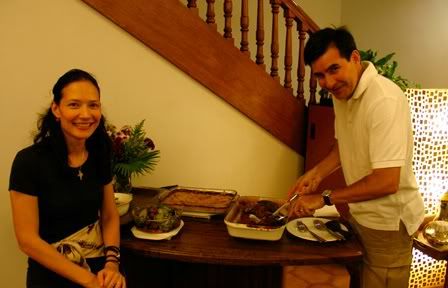 The Evening's Host & Hostess.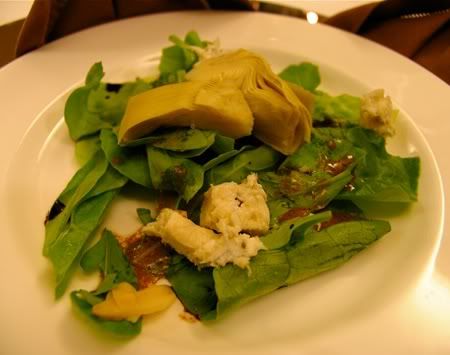 Loved this salad of
Arugula, Walnuts, Artichoke
&
Cheese
(Chèvre?)
.
Miguel carves the
Roast Leg of Lamb
as Barbara steadies the roasting dish.
The Lamb, Mediterranean-Style Roasted Vegetables, Couscous & Potatoes Dauphinoise
With the main course of lamb, I had some
1998 Bodegas Muga Prado Enea Gran Reserva
- This is the 4th bottle I've opened of this in the past month or so, so I obviously like it a lot. Bodegas Muga is a traditional producer located in Haro, La Rioja Alta, a stone's throw down Avenida de Vizcaya from fellow traditionalist Bodegas R. López de Heredia and Bodegas La Rioja Alta. The Prado Enea Gran Reserva ("prado" meaning "meadow" and, per Quito Moras, "enea" means "path" or "pathway" in Euskara - I should consult Javi Lecumberri on this) . As I've mentioned before, the grapes that go into this wine (predominantly tempranillo blended with some garnacha, mazuelo and graciano) are allowed long hang-time in the vineyards for maximum ripening. From the times I've had Muga's Prado Eneas, it seems to me they use a good deal of new French oak in barrel-ageing, but I could be mistaken.
The scents/flavors are of cedar, slightly toasty/creamy oak and its related spice notes, slight kirsch, very ripe, notable concentrated black cherry, slight violets, licorice, dark, unsweetened chocolate, bit of underlying new leather and vanilla. Balsamic notes are mere whispers atop the fruit. Just a shade or two under legitimate full-bodiedness, this is a fleshy wine with nice curves. The acid is a little on the low side and it has an over-all indulgent character. It's balance and focus are quite good. Far from the old-school Rioja style of López de Heredia Viña Tondonia or even the '80s CVNE Imperials, but I do enjoy these wines more than just a bit.
Doc had brought along and opened a
1998 Château Smith Haut Lafitte (Magnum)
, but I wasn't able to try it out.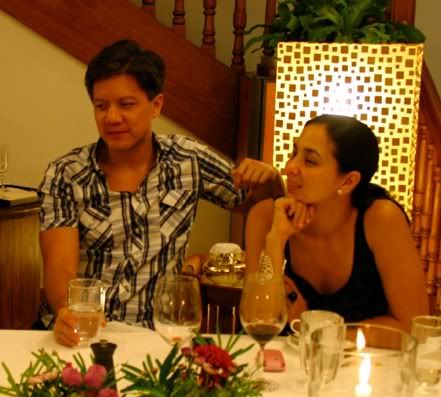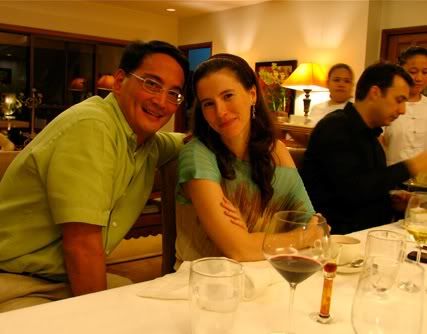 Noye & Nicole with Mon being served on the right.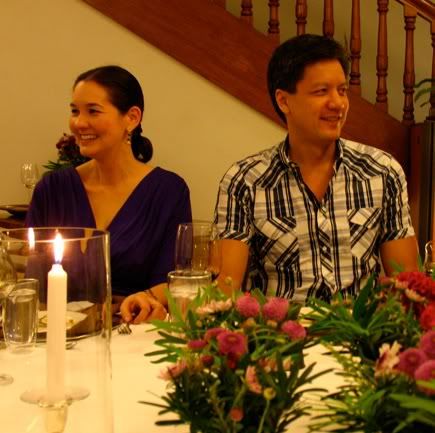 Joanna & Doc speaking to their respective off-camera spouses.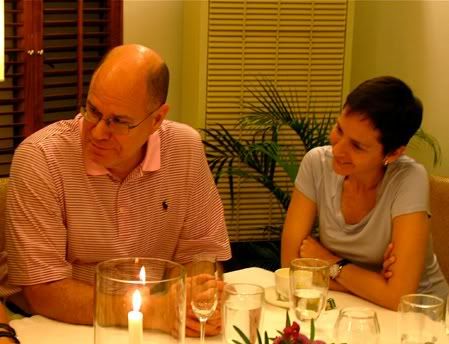 Desserts were 3 flavors of Mrs. Doc's deservedly famous home-made ice cream, Joanna's sinfully rich chocolate cookies (I finally got to try these) and Barbara's chocolate-coated strawberries.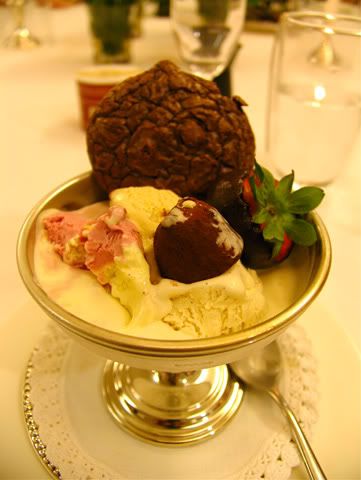 I combined them, including a chocolate truffle offered by Miguel, into an impromptu Black Forest dessert of sorts.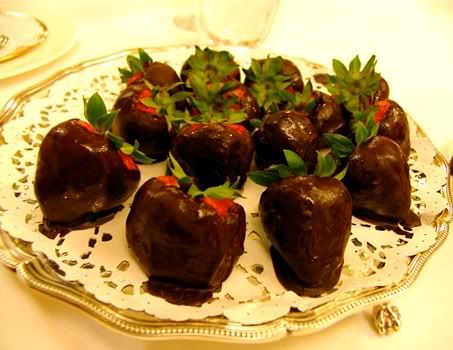 Almost too pretty to eat.
Miguel and Barbara had some more of the cava which Miguel enjoyed a lot, and we had a short discussion on how/why the Spanish came up with the delightful practice of having some bright, cleansing cava after the main meal.
Noye then handed me a dark drink in a digestif glass and asked me to describe it, to which I replied, mint/spearmint (dominant), alcohol, bit of berry (myrtle?) and moderate anise. Pleasant enough and mildly sweet actually. It was an Italian digestif called
Branca Menta
(i.e., mint branch). I commented it was infinitely more palatable than the Underberg my dad keeps at home for after overly big meals.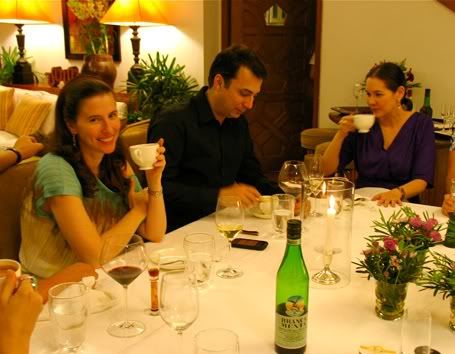 Many thanks, Miguel & Barbara, for a most enjoyable evening!