Dinner Wednesday the 24th November 2010 was at
La Tienda
for Aaron and I to get together with Miguel who recently got back from Europe and to present some of our wines as well. As some may know, Aaron and I (through Aaron's ADP Industries) bring in limited quantities of Spanish wines which we have personally tasted and enjoyed - focused mainly on aged gran reserva tintos from Rioja.
We were only 5 that evening: Aaron, Mig, myself and our guests: Jose Miguel Cortes (former head of the Spanish trade embassy who now works at ADB) and Jose Luis Romero-Salas (former president of the Spanish Chamber of Commerce, a.k.a., La Camara). Unfortunately, Rene, Jr. and Fernando Munoz (incumbent president of La Camara) weren't able to join us. As usual, Miguel coordinated with Chef Javi Lecumberri for the evening's menu. Mig and I came from work and the others were already starting on some vintage cava when we arrived.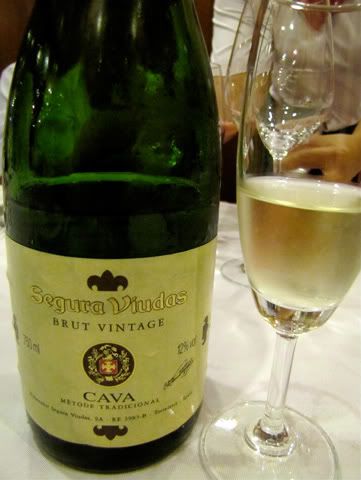 2005 Segura Viudas Brut Vintage
- From Aaron. A welcome bright, light, dry, lively cava showing off green apple, citrus, bit of lime, breadiness, faint minerality, with subtle, appetite-enhancing hints of almond-bitterness emerging past mid-mouth, towards the back and into the finish. Very welcome aperitivo and excellent with the warm bread and plates of...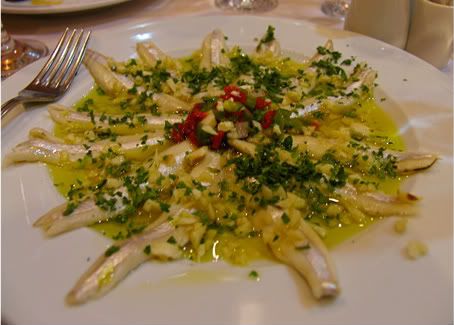 Boquerónes and...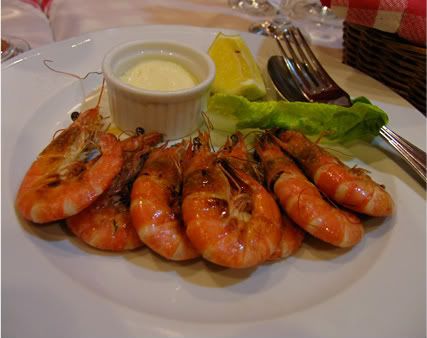 I must mention that Javi's
gambas a la plancha
are the best I've had in Manila, better even than many I've had in Spain. The only one that rivals Javi's in my experience is the ones at Ribera Manero in Barcelona.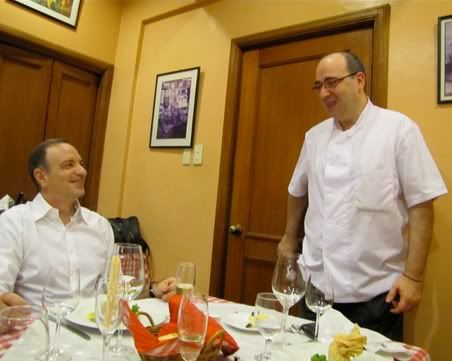 Javi comes out to chat as the following dish was served.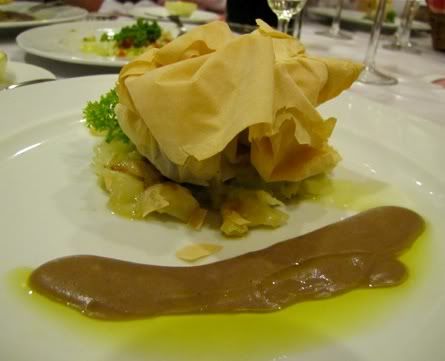 This was a very interesting dish. As Javi explained, the little package of paper-thin pastry (I recall something exactly like this thin pastry at
El Rincón del Vino
in Logroño and it was called "
pasta bric
") was stuffed with Javi's home-made
morcilla
which was very good. I recall the savory package sat atop some confited cabbage and, per Miguel, was served alongside a beet purée. With this and, concurrently, a couple of servings of...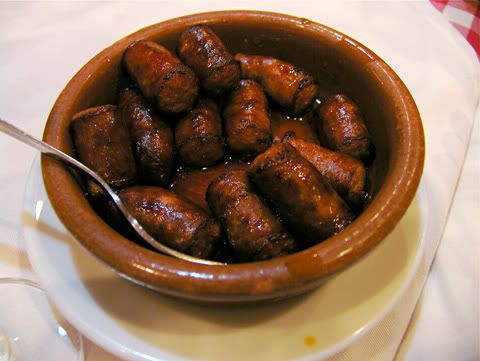 ...
Chistorras
, we enjoyed glasses of...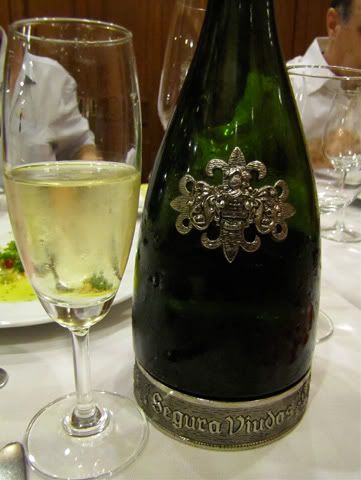 Segura Viudas Reserva Heredad Accolades
- From Aaron. A quick look at
the producer's website
shows that:
Segura Viudas Reserva Heredad is a limited production méthode champenoise wine originally reserved for members of the Segura family and their friends. Reserva Heredad is made exclusively from grapes grown in the estate's vineyards at Torrelavit in the Alt Penedès region of Spain. Only the first pressing of the Macabeo and Parellada grapes goes into the making of the cuvée. The yeast is added and the wine is allowed to develop in the bottle for up to four years.

Medium bodied and mellow with a perfumed bouquet, character and depth. A good fruit intensity on the palate and a long and slightly yeasty finish. Reserva Heredad comes in an exquisite hand-blown bottle with a slender, tapered neck. The bottle is emblazoned with the pewter crest of Segura Viudas and rests on a pewter base inscribed with grapes.
Further, this is made up of macabeo (67%) and parellada (33%), so, apparently, there is none of the usual xarel-lo in this cava. Fuller, heftier, relatively creamy and notably round, its fruit, like the Reserva Real's, has a slight dried/candied character to it. The Reserva Real has, to my recollection, a bit more depth, complexity and heft, but the subject cava does, in my opinion, have marked similarities. I liked this a lot and certainly wouldn't mind buying some for the house. Very nice.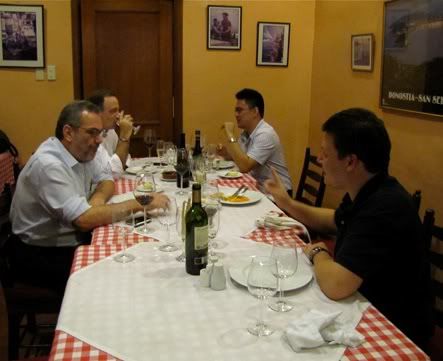 Jose Miguel Cortes, Jose Luis Romero-Salas, Aaron & Miguel
By this time, we had also opened bottles of
2008 ItsasMendi Nº7 Txakoli
(Miguel's) and
2008 Vionta Albariño
(Aaron's). I've written about these wines several times already, so no real need to repeat myself here. The next dish was...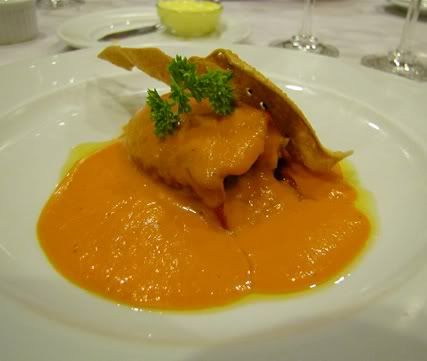 Pimientos Rellenos de Bacalao.
Loved it. With this, the reds started to pour.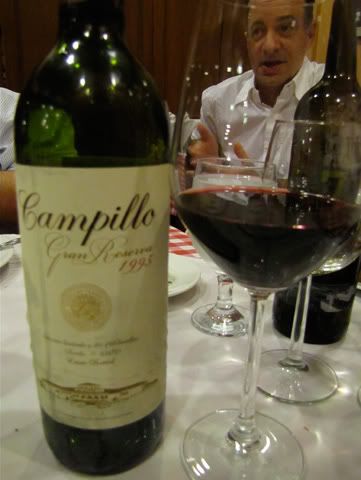 1995 Bodegas Campillo Gran Reserva
- From Aaron. I last had this on the 24th August 2010, during
dinner at home for Miguel's mom
. My notes then are still applicable:
Pretty much consistent with the last couple of bottles I've had, it showed good depth of nicely concentrated, macerated black cherry, bit of kirsch and ripe raspberry with undertones of cedar, sweet tobacco, mildly toasty vanilla/oak, licorice, violets and whispers of cinnamon. Plush and soft, it has a notable heft mid-palate and good push (it somehow reminded me of a red from Ribera del Duero). The tannins are rounded, soft and velvety. Beto opined that this was a wine for food.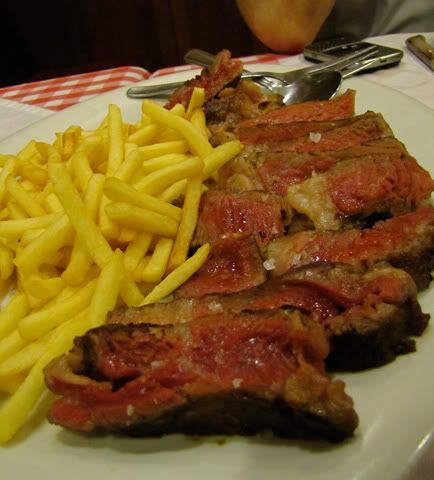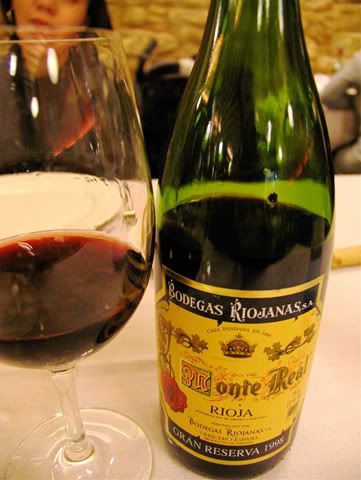 1998 Bodegas Riojanas Monte Real Gran Reserva
- From the producer. The last time I had this was
around a month ago during a dinner at Elbert's Steak Room
. My notes then are consistent with this bottle.
From a highly respected, traditional Riojan producer, I tried this once before during my last dinner (paired with Chuletillas de Cordero a la Braza Asados a la Zona) at Logroño before driving back to Barcelona this past April.

Immediately open, displaying well-concentrated, notably ripe dark red strawberry, cherry, raspberry, bit of dried plum, slight roasted meat, licorice, loam, cedar, violets, hint of underlying chocolate and sweetish pipe tobacco, touches of violets, vanilla and cinnamon. A few notches over medium bodied, softly layered, amiably complex, comforting and warmly welcoming. Acidity is just enough for good balance and harmony. Very easily approachable.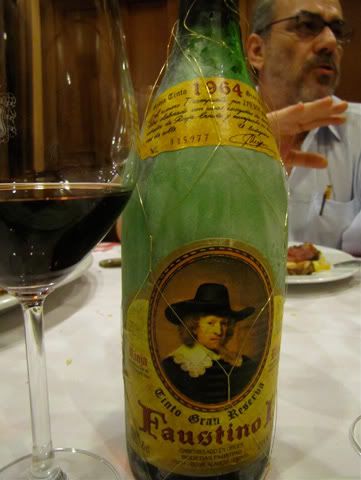 1964 Bodegas Faustino Faustino I Gran Reserva
- From Aaron. This is the third time I've had the pleasure of drinking this wine in the past 3 months. The last time I had this was during a
dinner on the 8th September 2010 at CiÇou
. Then as now, it was enthralling:
My bottle, one of those that came straight from the bodega's own cellar and flown in from Spain by Miguel. We had one of these around 3 weeks ago at Mig's birthday lunch. This bottle was every bit as sublime: graceful, balsamico, cedar, vague nuttiness, old violets and faint ceps lace a silken, seamless, bottle-sweetened, lightly red spiced black cherry, darkly ripe raspberry and plum elixir underpinned by worn leather, with the merest whisper of oloroso at the finish. Ethereal. A wine of old romance. Very refined, elegant, and, belies its 46 years with lovely balance, good push and precise acidity that made for a natural cut-and-counterpoint to the lamb. Loved it then, love it now.
Tito Kiko Vecin, Miguel's dad, then arrived. He happened to be having dinner with Javi that night, but sat with us for a short while to chat and have a glass of the above-described aged beauty.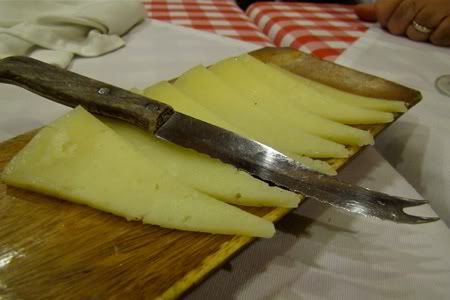 With some slices of
Manchego
...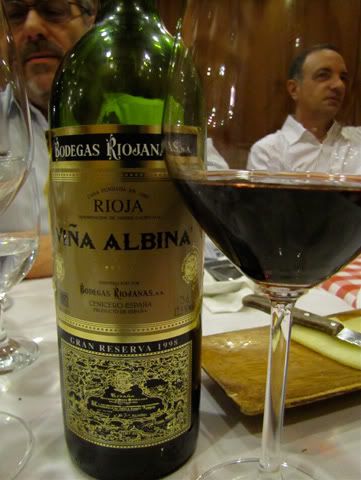 1998 Bodegas Riojanas Viña Albina Gran Reserva
- From the producer. I had this just under a month ago, during
lunch at Mamou
. My notes then, exact to the tee with this bottle, were as follows:
...This, I noted, was old-school Rioja, of a leaner, old Bordeaux-reminiscent style as compared with Riojanas' "higher" Monte Real line. Dignified, serious, proper and elegant - I could say "patrician". Firm structure, healthy acid balance, cedar, slight worn leather and even slighter balsamico notes are seamlessly woven into the dark strawberry, raspberry and wild cherry, with fleeting highlights of bright red spice. This is both food-friendly and contemplative.
The first time I had this, I was already convinced that Aaron and I shall make this available in Manila in the 1st quarter of 2011. This second bottle served only to reaffirm said conviction.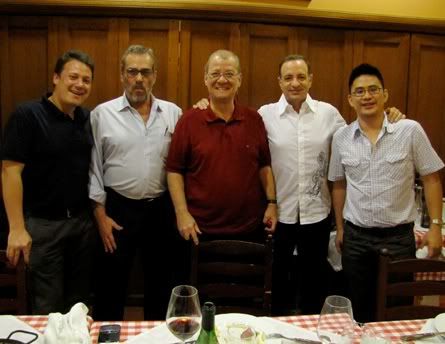 Miguel, Jose Miguel, Tito Kiko, Jose Luis & Aaron
It was an excellent dinner and it was great to have Javi's food again. I certainly had been missing it for quite a while. ¡
Hasta la proxima
!