I was recently back in
Ciçou
for lunch for the Vigneron's (much) belated birthday celebration - 7 of us for lunch proper with another catching up after: our host-celebrant, Bernie Sim, the Stockbroker, Doc, Apa, l'Oreal Philippines CEO Luc Marquet and myself. Jean-Marc Olive, now Paris-based, joined us later on for some glasses of wine.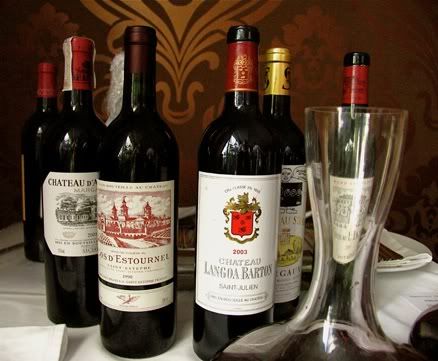 The lunch wines were waiting patiently on a service table. Unless otherwise indicated, all were from the Vigneron. Naturally, only wines from Bordeaux were served. I gave him a bottle of 1994 R. López de Heredia Viña Tondonia Gran Reserva as a gift (he got into Spanish wines before I did and was the one who encouraged me to visit Spain long ago), but he took it home for some other time. He did open Doc's bottle though (a Bordeaux, naturally).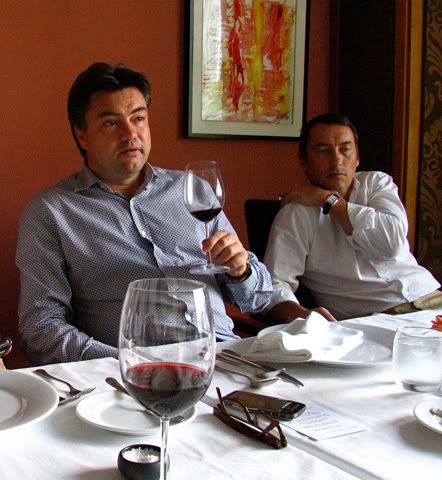 The Vigneron & Luc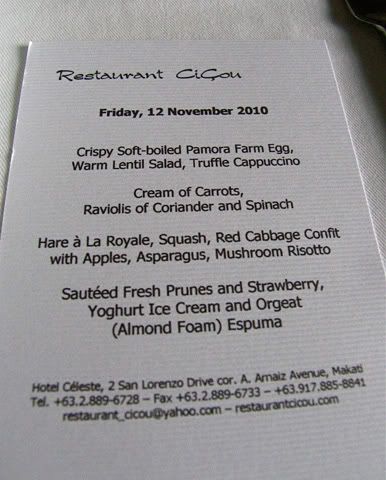 Our Lunch's Menu
We started off with a couple of 2003s from the left bank. The Vigneron had read a recent article on how 2003 Bdx were coming along and wanted to validate some of the comments made thereon.
2003 Château La Lagune
- I've been to this château a few times, but only to pick people up and take them back, and, a couple of times, on quick errands with the Vigneron (his consultant, no less than Denis Dubourdieu, holds office here as well). Though I am reasonably familiar with their wines, I've never actually toured the estate. The vintage ripeness level is apparent but balanced well enough. Warm and mellow, somewhat soft, sweetish and stylish - but neither flamboyant nor excessively forward. Around halfway between medium and full bodied. Suave. I enjoyed this more than most 2003s I've tried, though I've not had that many.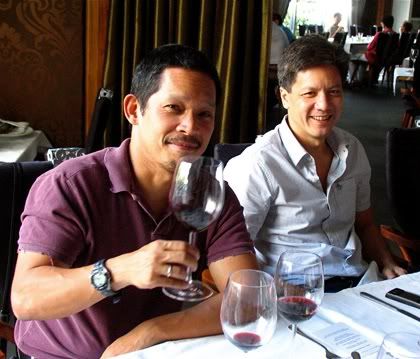 The Stockbroker & Doc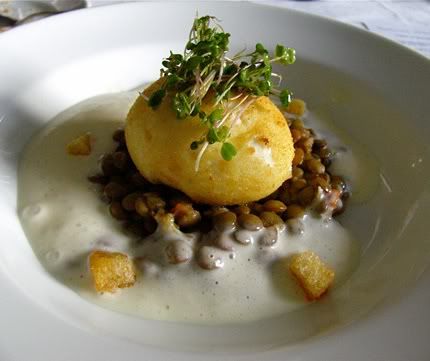 Crispy Soft-Boiled Pamora Farm Egg atop Warm Lentil Salad & Truffle Capuccino
Earthy, rustic and excellent!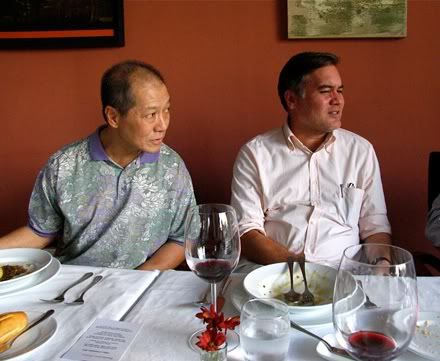 Bernie & Apa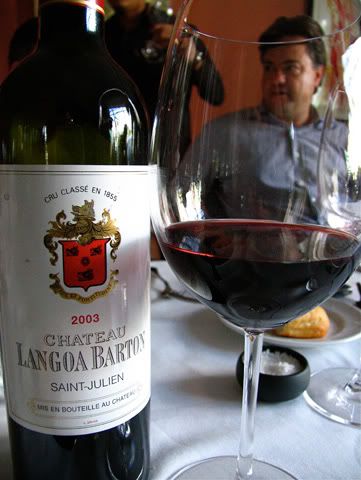 2003 Château Langoa Barton
- Slight minty topnote, medium-bodied, smooth, the middle and general palate presence are comparatively lesser compared to those of the previous wine. The flavors and structure are precise, correct and typical with cedar, slight licorice and a mild undertone of warm asphalt. Very neat, everything meticulously tucked in place. This strikes me as old-school St-Julien. It sits back, lets you casually unravel its charms and would never think of jumping out at you.
The Ongpin and Miailhe families have been close for generations. I recall the Vigneron telling me that Apa was one of his very first friends in the Philippines. Talk about starting off living in Manila on the wrong foot
*
.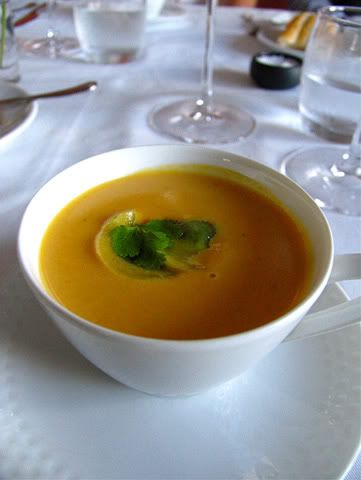 Cream of Carrot Soup with Coriander/Spinach Ravioli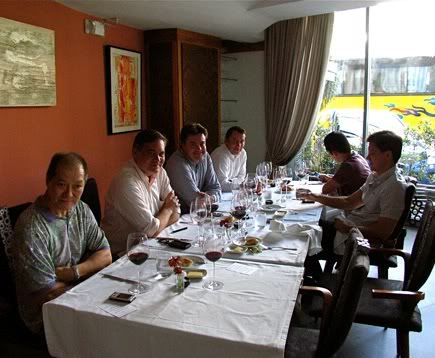 Just a nice, casual wine lunch among friends. This is what we live for.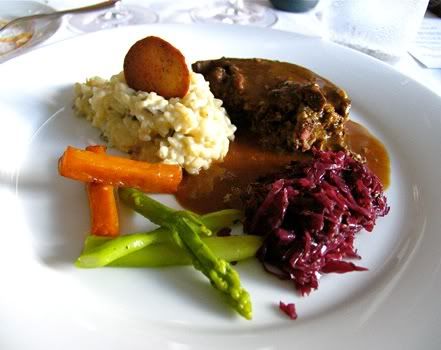 Lièvre à la Royale w/ Squash, Red Cabbage Confit, Apples, Asparagus & Mushroom Risotto
More tender and moist than the last time I had it, it was also nicely gamier and the sauce possessed more depth. I told the guys this is the second time I've had it within a week or so - and that is good since Cyrille has a very limited supply of French wild hare that won't last long: "Hare today, gone tomorrow", as it were.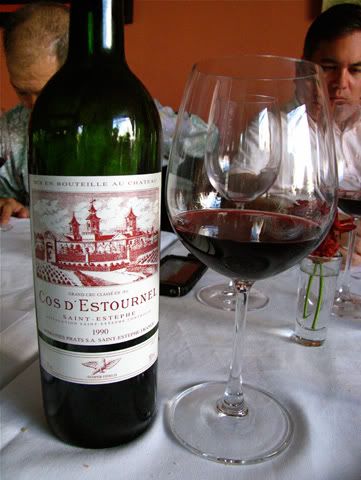 1990 Château Cos d'Estournel
- Very nice. Notable harmony in this. Soft, warm, malleable middle. This has a personality similar to the above-discussed Langoa Barton, but quietly sexier. A few notches less hefty than the 2003 La Lagune, this is very pretty and undeniably charming - feminine as compared to its 1989 vintage. This somewhat reminds me of Pichon Lalande's vintage 1979, but with more ripeness of fruit. I liked this a lot. This is my type of Cos.
Sautéed Fresh Plums and Strawberries, Yogurt Ice Cream w/ Orgeat Espuma (Almond Foam)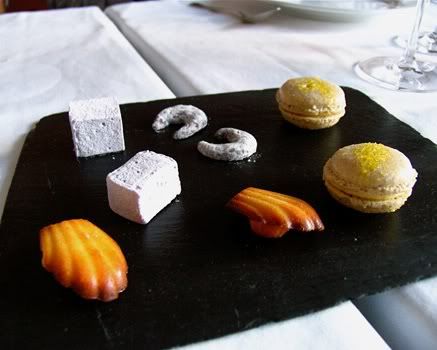 Mignardises
- the little squares are
Ube Marshmallows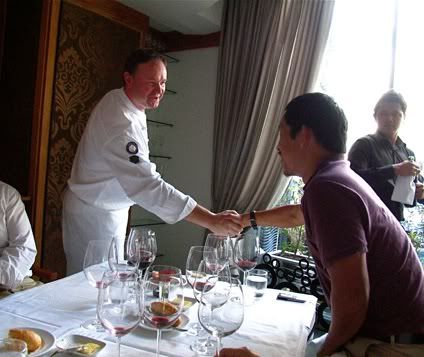 Cyrille then came out to greet everyone...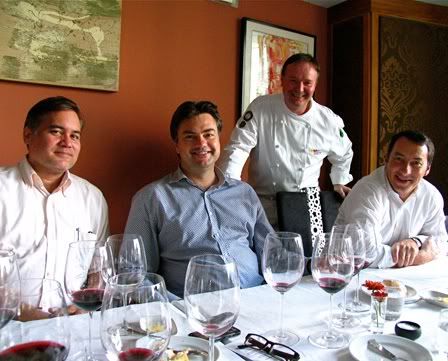 ...and pose for a shot with the (belated) birthday boy and friends.
In the meantime, Jean-Marc had shown up in time for a few stories and some more wine. He mentioned that this was his final working trip in Asia for the WHO and would be headed back to Paris to spend a well-deserved extended vacation with his family. Apa then started sharing with us his vast knowledge on...something or other.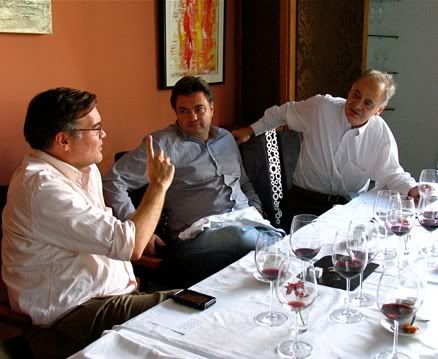 Apa to the Vigneron & Jean-Marc: "It's true! I read it in a book!*"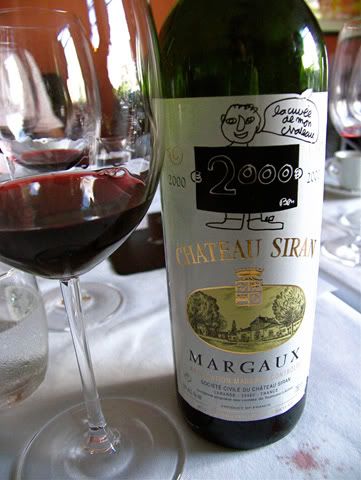 2000 Château Siran
- A wine from the Vigneron's Margaux estate, from, in my opinion, a particularly good vintage that is just beginning to really hit its stride (though I have found it enjoyable to drink since sometime in 2005). The Stockbroker had earlier requested that the celebrant open a bottle of this for the subject lunch. I've had this wine so many times, I've long lost track of how many. The most recent bottles, however, were
during a Cru Exceptionnel Dinner at Yung Kee
organized by Mr. Lau Chi Sun's WINENOW Monthly Magazine (HK) on the 24th may 2010. My last notes were as follows:

Already drinking well, but with long life and great potential for even more improvement ahead of it, this suave, smooth/supple-muscled, agile light-heavyweight is just beginning to really strut its stuff. Naturally more open than the previous youngster, it already displays depth and complexity underneath the fruit. The distinctive spicy notes, some fennel, iron, leather, licorice are well in play, the wood quite already nicely integrated. I enjoyed this a lot, as I always have.
I add now that the wine seems slightly more expansive with cedar and violet notes coming more into play. Notable balance and a quiet, graceful power. This is a familiar and comforting wine for me.
This was an excellent and relaxing lunch...sharing fine food and wines with good friends. Truly one of life's greatest pleasures.
*
Apa and I have been close friends since freshman year college and I am very fond of him. I even enjoy the honor of being godfather to his eldest son. One of my favorite pastimes, though, is poking fun at him, which I even had to continue doing via e-mail when he was taking his MBA at INSEAD many years ago.