Wednesday night, the 27th January 2010, was dinner at home for Sandy and her folks, Uncle Frank and Tita Maribel. They often used to host our whole group in Candelaria back in college - a whole horde of us - up to 15 at a time - for days on end. Those were fun, carefree and memorable days. I haven't seen Sandy's folks in a long time. Far too long, so it was great that they accepted our invitation to join us for dinner. Also there were the two other Agustinettes, Sandy's closest friends, as well as their respective hubbies - all of us friends and groupmates for decades. Topsy, my youngest brother-in-law, also joined us - as he used to join us in Candelaria back in the day - he must have been only 11 or 12 years old then.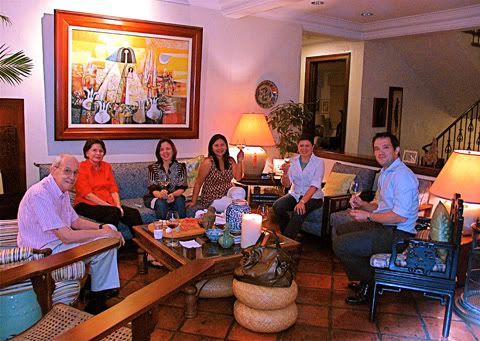 Uncle Frank, Tita Maribel, Catha, Maricel, Sandy and Maxy.
While waiting for Tonji and Sylvia to arrive, we started off with some pica-picas of
Parma Ham
,
Salami Milano
,
St-Nectaire
,
Chèvre
and
Tapenade
. With these, we had glasses of
2008 Marqués de Cáceres Viura Blanco
- a fresh 100% viura Rioja blanco that I really enjoy as a casual sip. I've written about this fresh, bright and dry blanco several times (the last being at
Boozze's & Margarita's steak dinner a few days ago
), so there is no need to repeat myself. Suffice it to state that I keep a stock of this at home. I also opened a bottle of
2006 Saintsbury Brown Ranch Carneros Chardonnay
, but I didn't have any of it - anyway, I've also written about this wine
often and recently
.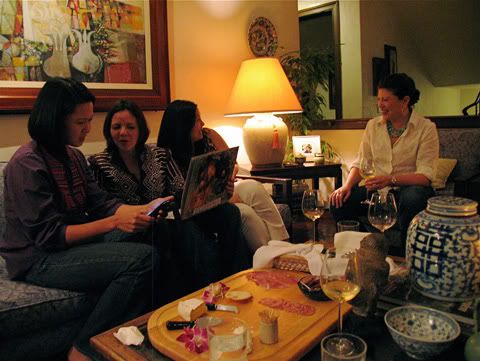 Tonji and Sylvia arrived soon after, and, of course, the girls huddled together...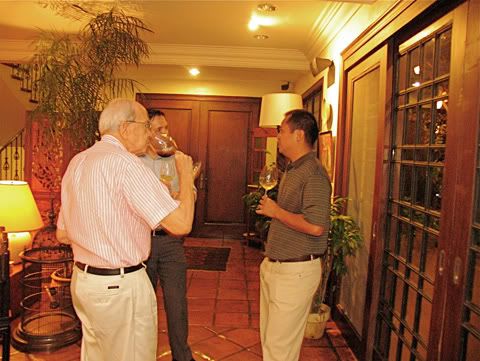 ...as did the guys.
Me? I hied off to the kitchen to cook the main courses. Since Boozze already hosted a steak dinner for Sandy last Friday - I wouldn't even to attempt to compete with his steak-prowess -
Roast Racks of Lamb
were in order.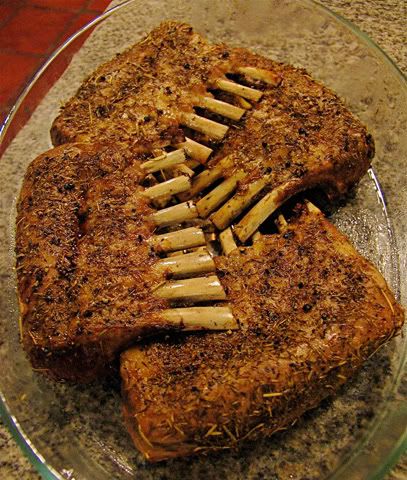 Well, I also got a few
Dry-Aged US Prime Angus Bone-In Rib-Eyes
through Boozze because I figured Sandy's folks may want to try some. Anyway, the evening before, Boozze coached me on how to cook these luxurious cuts of dry-aged beef. I was pretty happy with the results.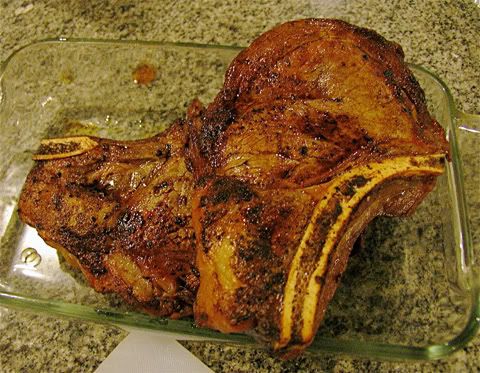 These were just a little over medium-rare as I know not everyone likes their steaks as bloody as I do.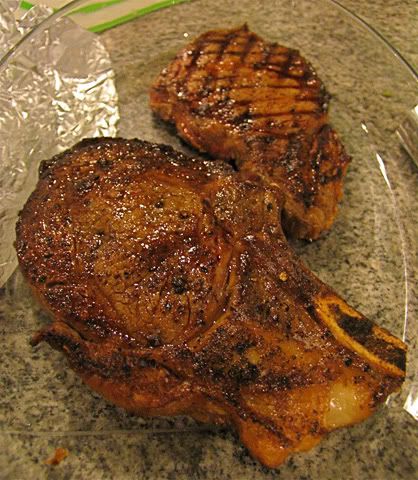 This, as well as a smaller, non-dry-aged "emergency back-up rib-eye" were done medium-rare for those who preferred (i.e., me).
Aside from these, we also had our usual
Salad of Butter Lettuce, Fresh Tarragon Leaves, Toasted Pine Nuts, Grated Parmesan Cheese & Parma Ham with a Honey-Mustard Dressing
(the recipe concocted by my brother and his wife).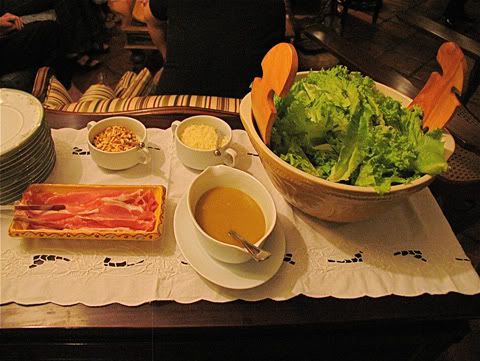 There was also a fish course of
Sole Meuniere
and a
Pilaf
which were made by our cook. Unfortunately, I totally forgot to take a photo of them.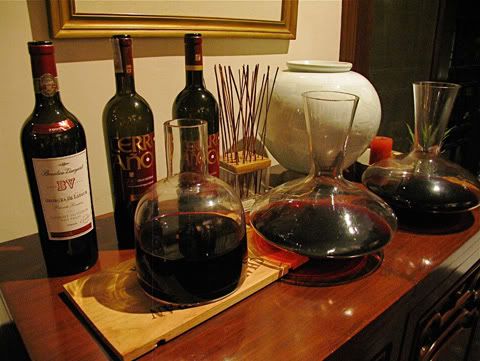 Naturally, we had some red wines for the meat courses.
For the lamb:
1999 Bodegas Olarra Cerro Añon Rioja Gran Reserva
- I know I've written about this wine
so
many times. So deep, complex and graceful it is in its medium-bodied cherry, strawberry, underlying slightly leathery dark fruit, nuances of violets, cedar, licorice and whispers of vanilla , I simply cannot keep my hands off them. Excellent balance.
2001 Bodegas Olarra Cerro Añon Rioja Gran Reserva
- I finally get to try the currently available vintage of this favored Riojan producer. The flavors and scents are, of course, quite similar to the aforementioned '99 vintage, but this one is slightly less open (well, it is 2 years younger), the fruit seems a bit riper and, at this point, the dark fruit, licorice, hint of tobacco and slightly creamy oak hold sway over the red. Firm in structure, it comes off more masculine. Good wine. I'm sure it will age gracefully as well. Both were fine matches for the herb-encrusted roasted lamb racks.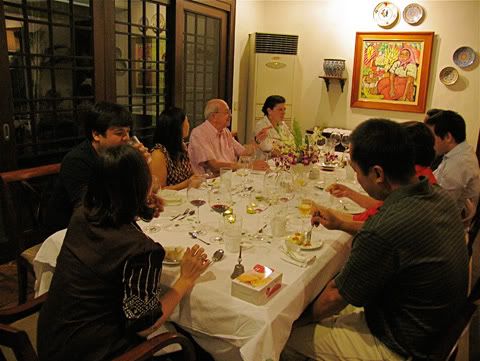 For the steaks, I opened a young Napa cabernet sauvignon...
2006 Beaulieu Vineyard Georges de Latour Private Reserve Cabernet Sauvignon
- A gift from Rocky & Apple, Rocky always makes it a point to give me good Napa reds (
nb
: a 1996 BV Georges de Latour PR CS from them got me my 2nd consecutive win at
our last Blind Non-Bordeaux Challenge
). I decanted the subject wine and let it aerate in my wine ref for almost 3 hours before service.
This is BV's 70th vintage release of the Georges de Latour Private Reserve CS. Big, dense, viscous, very concentrated, highly-extracted blackcurrant, black cherry, hint of kirsch, some crème de cassis, violets, licorice and hefty doses of creamy oak/vanilla and, underneath, dark chocolate. Very full-bodied, with a mouth-filling, chewy roundness. Tannins are big but smooth enough, giving a bit of a dusty feel to its long finish. I thought it went well with the steaks. Young as it is, it does need some good, red meat to go with it - and that we had.
Desserts were...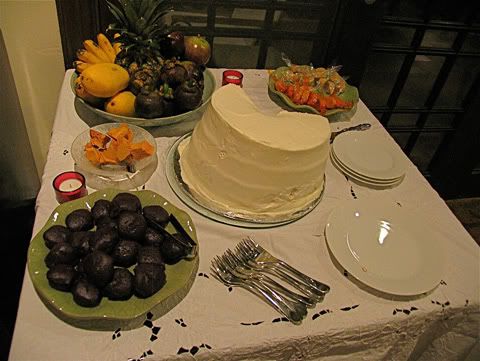 Coffee Crunch Cake
,
Ube Puto
(a local rice cake flavored with a violet yam),
Polvoron
and
Fresh Fruits
. With the whipped-cream-and-fluffy coffee crunch cake, I served a bottle of...
2007 Jackson-Triggs Proprietors' Reserve Vidal Icewine
- An icewine from Canada's Niagara Peninsula, this was a gift from my Indiana-based brother-in-law, Harry. Flamboyant, opulent, tongue-coating honeycomb, super-ripe apricot and mango (the Philippine "Carabao" type) flavors dominate its thick, viscous full-body. Orange marmalade and lemon drop nuances emerge slightly towards the rear. Rather straightforward, but very easy to enjoy.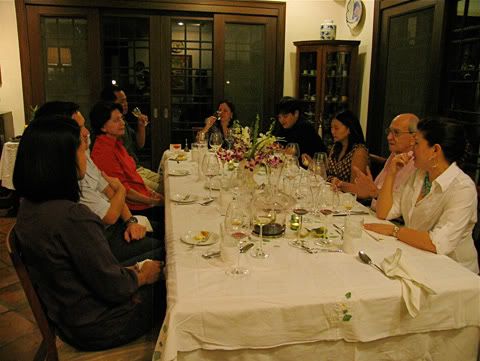 It was wonderful, as usual, to see Sandy and her folks again after so long. It brought back a lot of happy memories of more carefree days.