After over a month of having to coordinate schedules, sometime in mid February 2012, Miguel, Jim, Alex & I convened at
Hanakazu
for a Japanese dinner bringing along bottles of Japanese craft beers, sake and wine for pairing. Unfortunately, they were out of stock of the Japanese Toro, Uni and Hamachi that night, so we just made do with other dishes.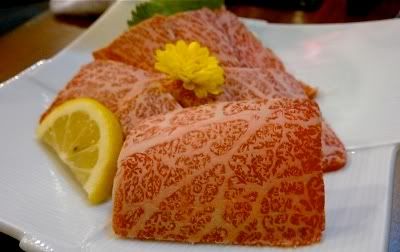 Wagyu Sashimi
, 2 orders.
Alex also got some
Basashi
(Horse Sashimi) which I forgot to photograph.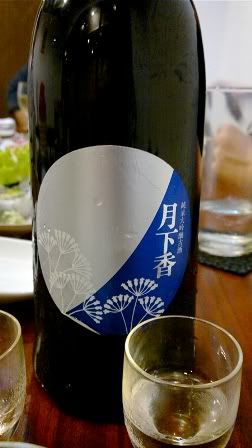 The first bottle on deck was Jim's
Kiuchi Brewery Kikusakari Gekkakow Ultra-Premium Daiginjo Sake
- As I've read, this is "[b]rewed from Yamada Nishiki rice polished all the way down to 40%. Cold matured for over three years". This has a rigid backbone, probably the most masculine of the higher-end sakes I've had so far. There is refinement in it, yes, and a slight honeyed note to it as well. Ethereal scents and flavors of fruits which I could not quite get a good handle on (bit of honeydew? orange rind? yellow apricot?). Excellent with the wagyu sashimi because of its commanding (yet calm) palate presence.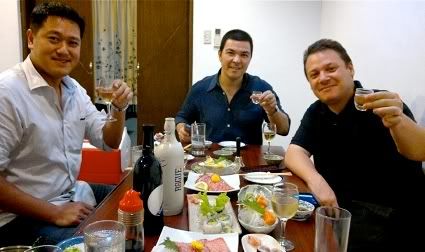 The first of many, many toasts. Kampai!!!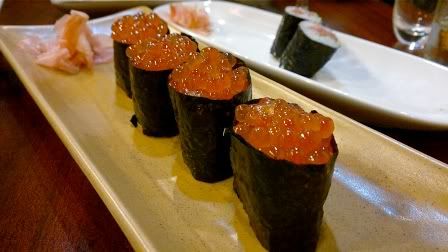 Hotate Sashimi
, 2 or 3 orders...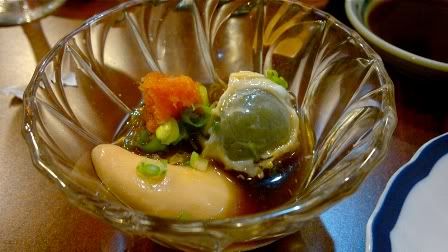 ...which came with bowls of delicious "
Scallop Guts
".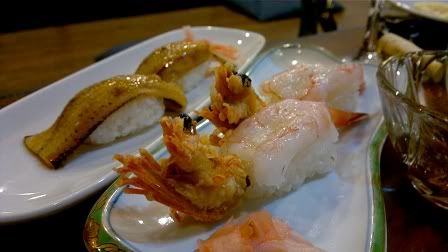 Anago
(Sea Eel) &
Ama Ebi
(Sweet Spot Shrimp)
Sushi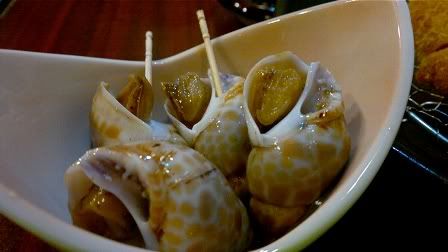 "
Japanese Escargots
" from Jim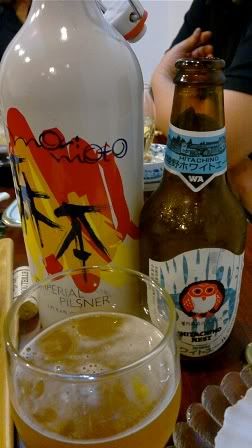 With the lighter sushis and sashimis, we enjoyed the
Rogue Morimoto Imperial Pilsner
from Miguel and my favorite sushi pairing witbier,
Kiushi Brewery Hitachino Nest White Ale
. For some reason, the first time I had the light, citrusy Hitachino Nest White Ale, it reminded me of sake. Thus, I had it with some sushi soon after and have been using it as a pairing ever since. This was the first time I got to try the Rogue Morimoto Imperial Pilsner - halfway to medium-bodied, nicely dry, with a definitive, yet moderate hoppiness throughout. Nice, clean lines. Light citrus notes. I liked this a lot, especially with the following cooked seafood dishes.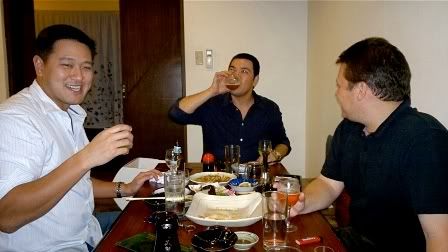 Kampai yet again, and again, and again (led by Alex).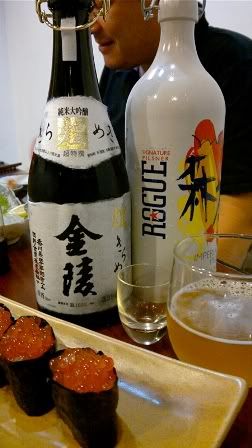 Of course, I had to bring along a bottle of my favorite sake
Kinryo Kirameki Junmai Daiginjo
(not locally available as far as I know, Tad & Chako bring this in for me from their trips to Tokyo). This is much deeper, more complex, smoother and more delicately flavored than any sake I've had in the country. Notes of carob, whispers of honey and clean, cool rain water.
We also ordered a bottle of the restaurant's best sake for comparative purposes. I don't remember its name (and can't read Japanese), but I do recall thinking it was more than decent. Not as good as the bottles we brought, but certainly good enough to order if one goes to Hanakazu without any bottles of one's own.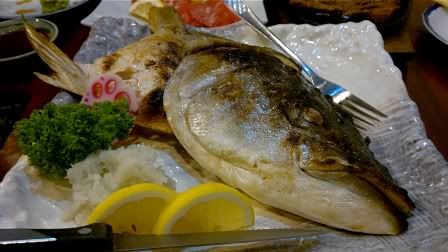 Grilled Fish Head
, I do not think this was Hamachi, but I don't recall what fish this was.
Gindara Teriyaki
- superbly executed.
Serving the
Grilled Wagyu
.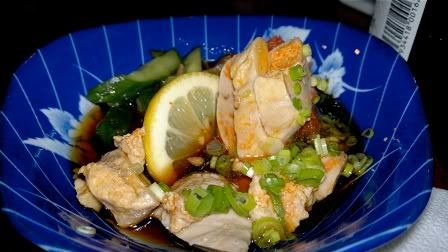 Tuna "Foie Gras"
from Jim; really good stuff and nice with the white wines. Aside from the above dishes, there were several others which I did not partake in, and, consequently, forgot to take photos of. Speaking of wine, with some of the foregoing dishes, we had a bottle each of...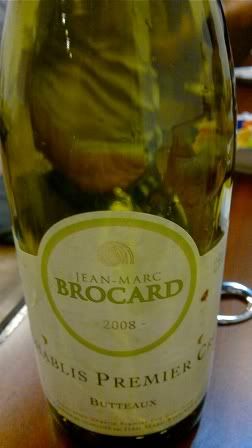 ...
2008 Domaine Brocard Chablis Butteaux Premier Cru
- From Alex. Aggressively lemony and citrusy with not much else other than oyster shell notes and underlying orange rind. Very tight as well. I can't help but think that this was served too cold and/or too young. Brocard's 2008 Montmains Premier Cru is lightyears better. Judgment reserved, though, until I get to try this from another bottle under less intense circumstances.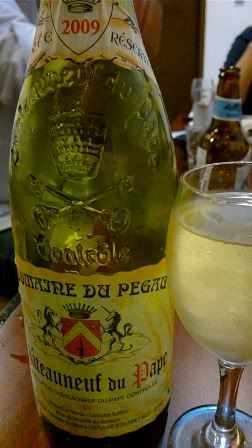 2009 Pegau Châteauneuf-du-Pape Blanc Cuvée Reservée
- Also from Alex. Open, suggestions of almonds and honeysuckle in its moderately minerally fruit (white peach, yellow apricot). Slightly waxy feel on the palate, acidity is a bit low for my taste. Not a bad match with the tuna foie gras.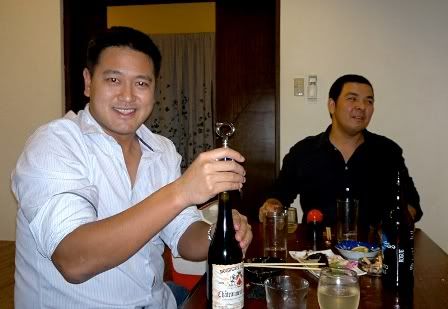 Not satisfied with the copious amounts of alcohol already consumed, Alex opened a bottle of
2009 Pegau Châteauneuf-du-Pape Rouge
. I was already very tipsy by then, and I suspect was the one that did me in. Thus, I do not remember anything about this wine other than that it was quite forward, big in roasted-sweet dark red fruit, and notably peppery. I remember thinking/opining that: "Parker must love this wine".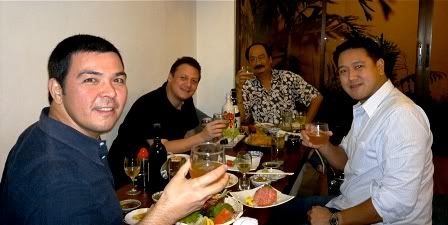 We kept going on, toast after toast, long after the restaurant's normal business hours - having to restrain Alex from opening even more bottles (he had a case of wine in his car). By a little before midnight, we finally let the rest of the waitstaff go home and stumbled into our respective cars. We had so much fun, it was barely a month until we held
another of these Japanese pairing dinners at Tsukiji
. I'm sure that won't be the last of them either. Until the next!