Evening of the 23rd March 2012, Jimmyton Araneta, Alex Tiu and I reconvened sans Miguel (who was unavailable), but with high school classmate/buddy Dino Jalandoni (in town for a few days from Taipei) and young UP lawyer-to-be Eli Convocar, for
Sake, Beer & Wine Night II at Tsukiji*
(I'll write about the first one at Hanakazu later on). Alex chose the venue, and, being the best versed among us in terms of Japanese cuisine (as well as Tsukiji's menu), we asked him to do all the ordering.
*
I was, in a word, blasted that night; thus, my notes on everything are telegraphic at best.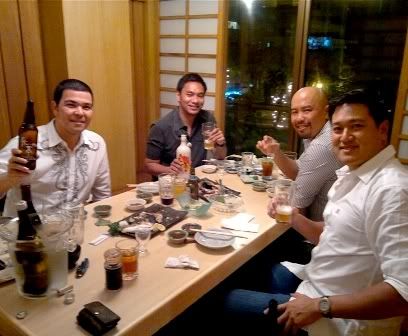 L-R: Jim, Eli, Dino & Alex.
Traffic was terrible for some reason that night, no matter where one was coming from, so I arrived a little past 8pm. Alex, Eli and Dino were already there by then, and Jim followed not 10 minutes after me.
Alex had already chilled and opened his bottle of
2010 Domaine Tempier Bandol Rosé
(distributed locally by Jerome Philippon's
Sommelier Selection
) which he, Dino and Eli were already making headway into. Everyone who knows me or has read my blog knows well that I favor Tempier's rosés above all other rosés. I've had those of Domaine Ott,
Château d'Esclans
(from their entry level Whispering Angel all the way to their top-of-the-line Garrus) and countless others of lesser notoriety.
Even blind, side-by-side, I, and my friends, have chosen Tempier over Ott
. I first had Tempier's vintage 2010 rosé during dinner at Caffé Caruso on 13 November 2011. It seems, at this point, to be more like their '08 than their '07 or '09 - fruitier and more casual in nature, touches of lavender in the discreet herbs, with graceful orange rind/peel notes in the finish. That said, from the many of its vintages I've had, I daresay one can confidently buy and enjoy Tempier's rosés year in and year out.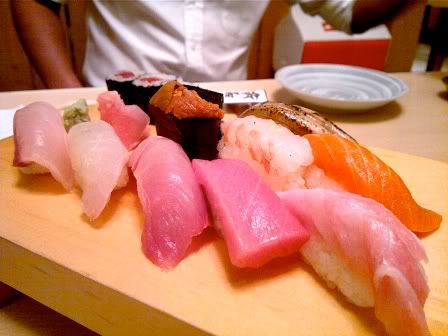 The first to hit the table were 2 orders of the
Tokujo Nigiri
(Assorted Premium Nigiri Sushi). The quality and freshness of the fish were impressive. The sushi rice used is koshihikari rice imported from the Uonuma area of Japan's Nigata Prefecture. Masarap.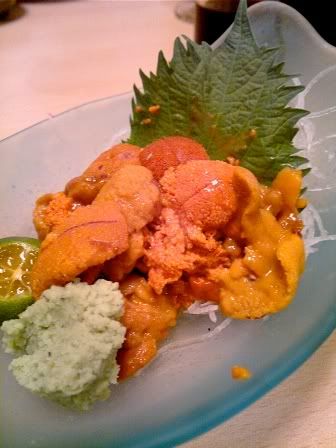 Next to arrive were 2 orders of their (imported)
Uni Sashimi
, flown in earlier that day from Japan. Delicious. You simply must. Paying the premium for this over the local uni is more than worth it, believe me (same applies to all the imported Japanese fish we had that evening). The difference is obvious.
Both the 2 orders of
Fresh Japanese Oysters in Ponzu Sauce
were superb. Firm and fat, they simply burst in the mouth with their innate flavor and whispers of the sea. Definitely another must.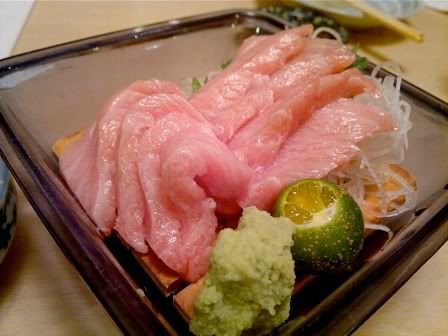 The
Hontoro
(Fatty Tuna Belly; 2 orders) was, without a doubt, the best toro I've had in the country. Don't think, just go for it and you'll know what I'm talking about. This is even better than Hanakazu's, which is saying a lot. Enough said.
With all these, we had switched to some Sake and favored Japanese Craft Beers.
Kinryo Kirameki Junmai Daiginjo
from me. This is my favorite, old reliable sake which my brother and sis-in-law bring home for me from their trips to Tokyo. As explained to me by Keiichi when I first opened a bottle of this
at a Kaiseki-inspired dinner by Tita Bella back on 18th January 2010
, this sake is Kinryo's top bottling made purely from rice which is polished to 30%-35%. Suave, so smooth rice wine with a very subtle sweetness and hints of carob. Love it.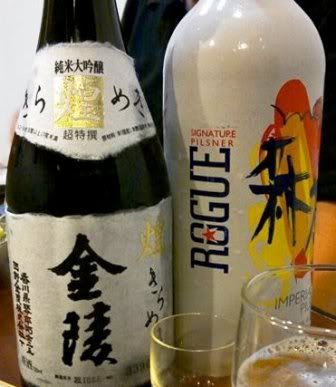 With the sake, I, naturally, had to have some of my favorite Japanese Craft Ales in the form of
Rogue Morimoto Imperial Pilsner
. Jim's
Global Beer Exchange
("GBeX") distributes all the beers mentioned in this post. Since I didn't have any at home, Jim kindly brought my order thereof to the restaurant for all to enjoy. As its name indicates, no less than Iron Chef Masaharu Morimoto has chosen to put his name to this beer (among other special Japanese style beers of Rogue).
Ever since I first had this masculine yet refined, imperial pilsner (hoppy in the nose and finish, malty in the middle) from Miguel at Hanakazu a couple of months before, I look for it whenever I think of having sushi or sashimi - well, this as well as...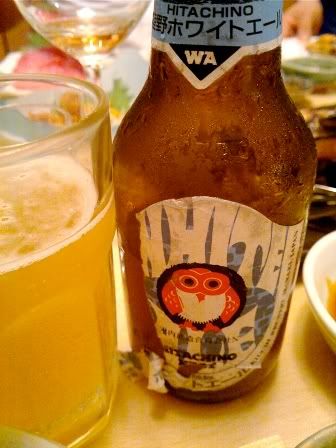 ...my sushi-pairing favorite witbier, the
Kiuchi Hitachino Nest White Ale
(several bottles from Jim). I've written about this light,refreshing witbier so many times, I need not repeat myself here. Suffice it to state that if one wants beer with his/her sushi, this be it.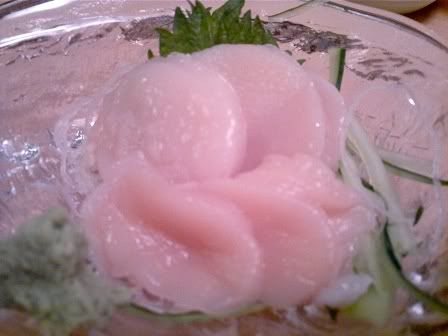 In addition to the already mentioned and depicted sushi and sashimi dishes,
we also had 2 orders of
Hotate (Scallop) Sashimi
...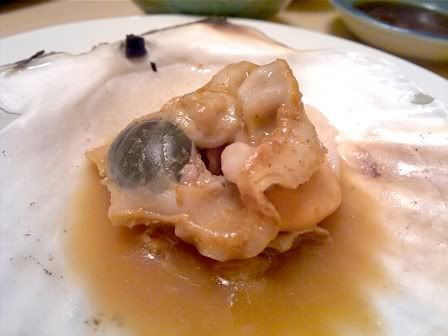 ...which was followed by, as close as Alex could translate the Japanese name, "
Scallop Guts
" on a Half Shell. The light sauce was subtly sweetish (from mirin, I guess) and overtly delicious - I shamelessly tipped the shell to my mouth to get all of it. The "Guts" may look a bit strange, but, I assure you it is superb. Eli liked it much, much more than the fresh scallop adductor muscle served as sashimi. I'm in the same boat on that.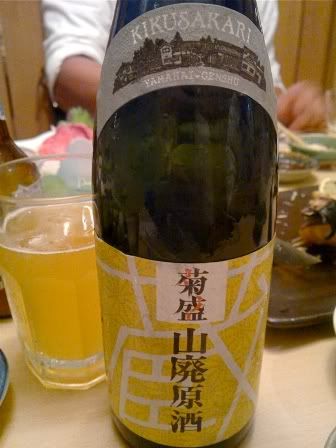 We also enjoyed a more rustic, edgier sake, the
Kiuchi Brewery Kikusakari Yamahai-Genshu Sake
from Jim - this was quickly finished due to several "bottoms-up" toasts by Alex. Jim opened yet another bottle of sake by Kiuchi Brewery, but, alas, I forgot to take a photo of it and the subject night's extreme drinking does not allow me to remember its name.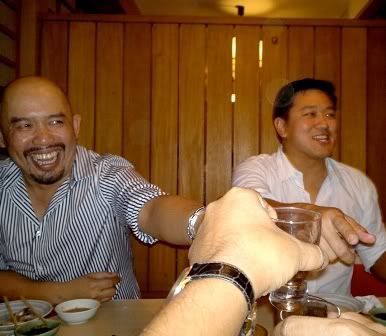 Kampai!!!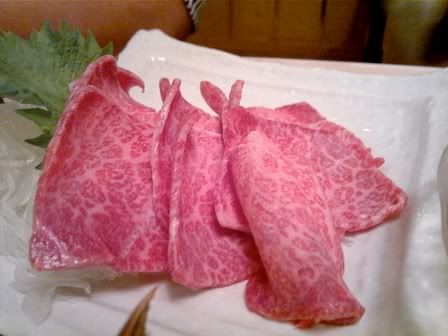 This was one of the evening's many highlights: 2 platters (or was it 3? 4?) of
Ohmi Wagyu Sashimi
. This is the real deal. Although I also like Hanakazu's wagyu sashimi, I like the that of Tsukiji more, in that, among others, the slices are thinner and more delicate, better highlighting the meat's buttery flavors and silky texture.
For the Ohmi wagyu sashimi, Jim brought along a large bottle of
Rogue Morimoto Black Obi Soba Ale
. Though it may look dark and daunting, it is surprisingly light-footed, its barely medium body and definitive coffee and roasted malty flavors didn't overpower the rich, luscious, fatty raw beef. Quite an interesting pairing really.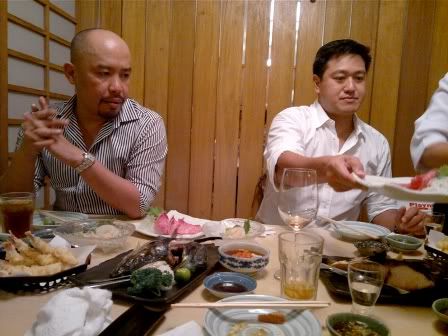 More raw beef please, Alex.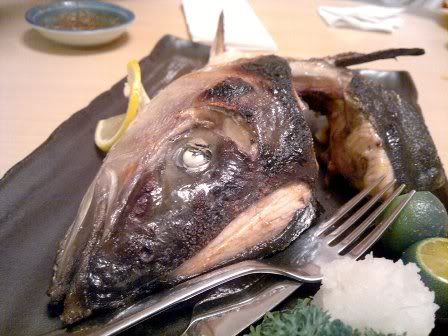 Did I mention the restaurant serves up some really good head?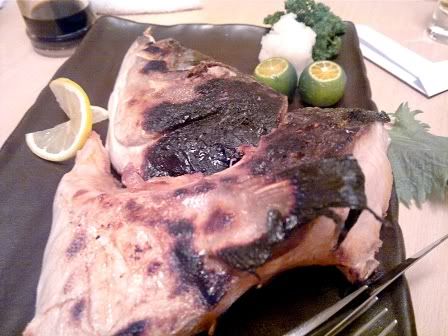 Grilled Hamachi Head
I mean (2 orders).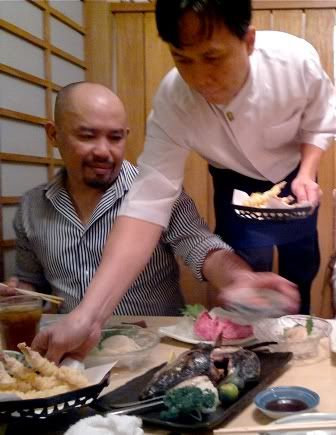 I, being a typical Filipino in a Japanese restaurant, simply had to order some...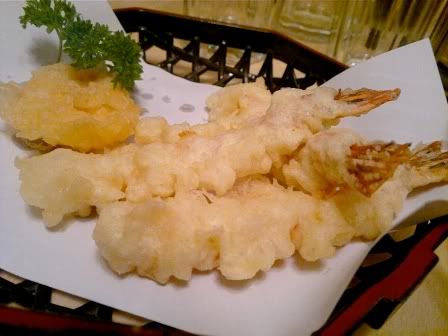 ...
Ebi Tempura
. Served immediately after frying, this was clean, not at all oily, crisp, yielding just the right amount of very fresh prawn. Love it - again, the best I've had in the country (though Hanakazu's and the old Sushi Kappo Kobikicho's come
quite
close). Extremely well executed. We wound up polishing off 4 orders of this.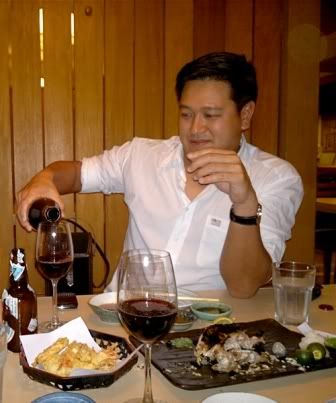 The food almost done, Alex opened up...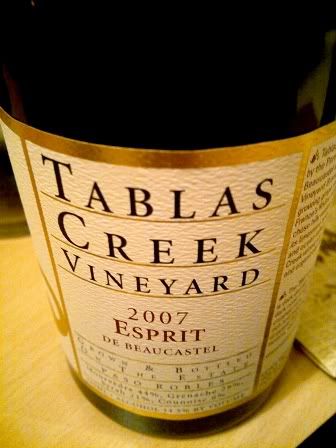 ...his bottle of
2007 Tablas Creek Vineyard Esprit de Beaucastel
, a joint venture product of Vineyard Brands' Joseph Haas and Châteauneuf-du-Pape legend Château de Beaucastel. I've only had 3 vintages of this wine (i.e.,
2005
,
2006
and this 2007). This was just popped and poured. It is closer to the 2006 than to the 2005 to my mind, as I didn't detect any of the Beaucastel-reminiscent animal, meaty notes. Probably needed aeration, which it wasn't allowed as someone (Alex) eventually called for yet another "bottoms-up" toast. I do recall it had a nicely firm structure and neatly packed/focused flavors of black cherry, plum, bit of orange peel, slight pepper and roasted herbs. Respectable finish. I remember thinking it came off as a bit hotter than the 2006, but I was already tipsy by then.
Thereafter, we "washed off" with my bottle of
Freixenet Reserva Real Cava
(which, in my state at the time, I forgot to photograph)
. Again, as I've written about this toasty, creamy, substantial, special cava, so there is no need to repeat myself here. That bottle didn't last long either, for similar reasons as the Esprit de Beaucastel.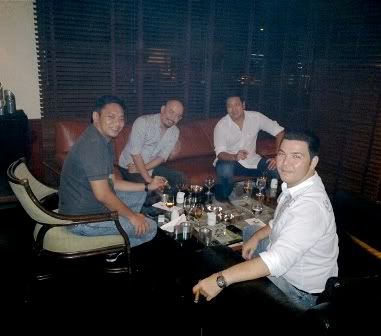 We then proceeded to
Kipling's
at the Mandarin Oriental Hotel Manila and polished off a bottle of single malt with some (Cuban) Cohibas (a Lancero for me, Siglo IVs for the rest). This is where my memory of the evening starts to get
really
muddled.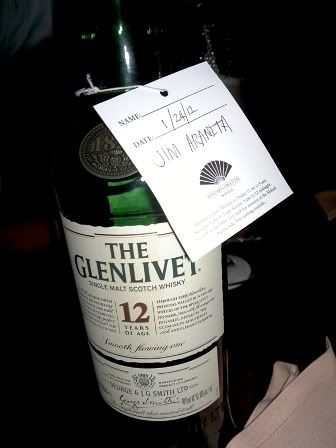 From Kipling's, Alex led us to
Martinis
for "just one beer". Of course, that "just one beer" turned into another bottle of single malt from Jim. We also killed this via Alex's endless toasts.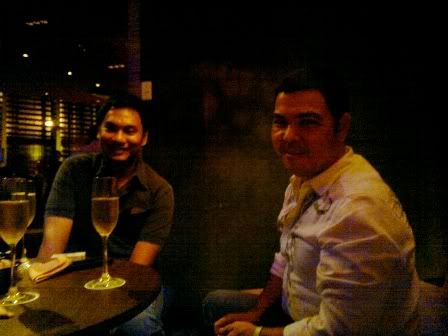 Alex then ordered us a bottle of champagne. I was so far gone by this time I don't remember what it was and have no photograph of the bottle to jog my memory. Eli vaguely remembered it was by Moët, but that's about it. Again, this didn't last long because of...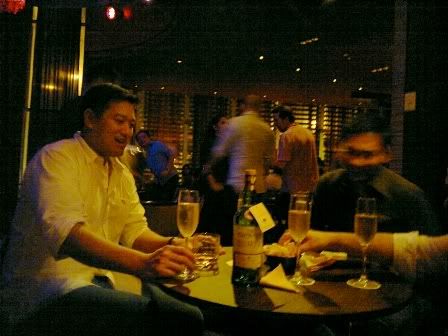 ...Alex (demonio).
It was an incredibly fun night. Lots of great food and drinks with good friends. The drinking pace, though, was intense. By around 2:30am, Eli and I shuffled off to our cars, leaving Dino and Alex to drink more (Jim left a bit earlier). It's a good thing I thought to bring a driver that night as I quickly passed out in the car and had to be woken up when we got home. What a night. Until the next!