Today, the 9th April 2012, was our National Day of Valor ("Araw ng Kagitingan"), so Jim, Alex, and I commemorated it with a wine & craft ale lunch at

Mamou Too!

(Rockwell, Makati).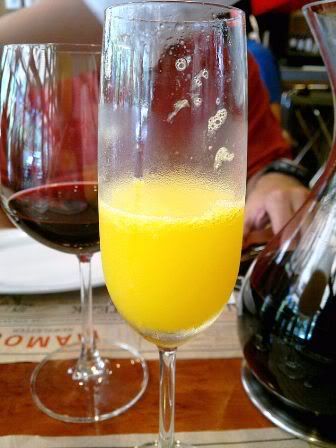 Flutes of
Mimosas
kicked off the lunch.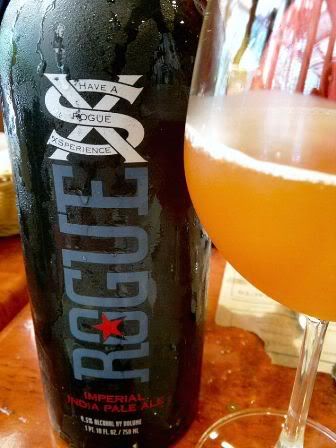 From Jim, some excellent

Rogue XS Imperial IPA

. Powerful, macho, bright, hoppy, orange peel, citrus, with discreet underlying tobacco which continues on to its long, confident finish. Love the stuff; it also reminds me of the terribly hard-to-source Pliny the Elder by the Russian River Brewing Company (also an Imperial IPA) that Jim introduced me to. Definitely this is my type of ale. Jim intended this for the steak, but I liked it so much I virtually finished off my share of it before any food arrived.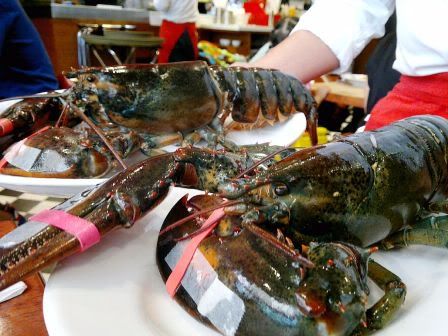 Live Maine Lobsters

just flown in - a photo before execution (for a worthy cause - they did not die in vain, I assure you).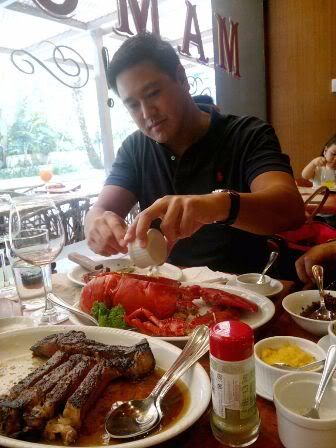 We got the big one. Here Alex slathers it with even more butter (para mas masarap - f*ck healthy today).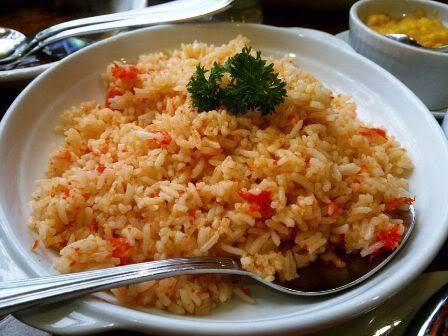 Grilled Lamb Chops

. It was my first time to try Malou's lamb chops. It will not be the last.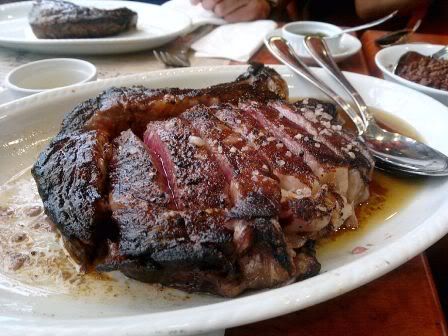 Twin Dry-Aged US Prime Rib-Eye Steak
(rare-to-medium-rare).
Excellent as usual.
Alex brought along some
Green Tea Sea Salt
as an alternative to the regular sea salt served for the steak.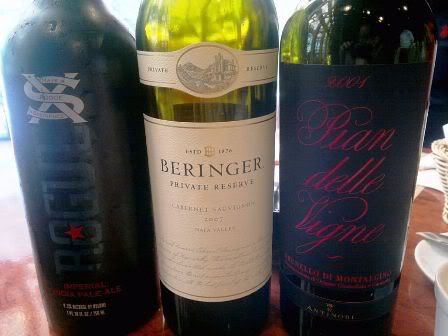 Along with the Rogue XS Double IPA, we had 2 reds: a

2007 Beringer Cabernet Sauvignon Private Reserve

(from Alex) & a

2001 Antinori Pian delle Vigne Brunello di Montalcino

(from me). Both were excellent with the steak and lamb.

The
20
07 Beringer Cabernet Sauvignon Private Reserve
was, as I recall, only the second or third 2007 vintage Napa Cab I'v had. Seems to me that vintage 2007 was a very impressive one for Napa. Alex had it decanted for aeration probably half an hour and then poured us some to breathe in glass. This is a very well-balanced, full-bodied Napa cab, presenting concentrated, not over-ripe or over-extracted crème de cassis, blackberry, bit of black cherry, slight dusty cocoa, touch of licorice, bit of violets. Nice mouthfeel, the tannins are smooth and molten. Focus and structure are good. Not surprisingly, this is something good and reliable for the cellar.
The
2001 Antinori Pian delle Vigne Brunello di Montalcino
is an old favorite of mine for grilled steaks (particularly with Gaita's Steak Florentine at her now-closed and badly-missed Pepato). My notes show that I had this last from Greg exactly a week shy of a year ago at
a lunch of Usual Suspects at RED
. My notes then were as follows:
Checking through my blog, the last bottle I have notes on was back on the 19th November 2009 at Kosh Sehwani's Snake River Farms dinner for EO at Enderun's Restaurant 101. Not surprising the time lapse, really, since my stock and that of Bacchus Int'l. ran out a long time ago. Bacchus does have more recent vintages though. My notes then were as follows:



My bottle, 100% sangiovese (called "brunello di Montalcino" in the Montalcino area). I've had this wine a few times before (as well as a few of other vintages of it). The Doc was the one who introduced me to this wine many several years ago. I last had this from the Stockbroker during his 2008 birthday lunch, side-by-side the more modern 2001 Casanova di Neri Brunello Montalcino. My notes then are still applicable:




"2001 Antinori Pian delle Vigne Brunello di Montalcino - Off the bat, from the aromas, I opined that this one was closer to the classic/traditional style: More of sweet cedar, touch of camphor, ripe strawberry, raspberry, cherry, cassis, underlying espresso, light touch of licorice, tobacco, minerals, violets, a whisper of leather. The fruit was not as sweet, but well-ripened as well, and earthier in character.

Clearly more earth-driven (rather than fruit-driven) compared to the other wine - less polished, rounded and sleek as well; but firmer in structure, much better focus and definition. Much more properly reserved. I liked them both, but much preferred this wine as a match for the steak. This is more of an eating wine, it needs food to show its beauty, where the other wine I enjoyed more alone. I accepted a second pour of this one and drained every drop. Excellent match. Loved it with the steak."




This bottle was, as earlier mentioned, decanted and aerated since 12:15 - so over an hour before serving. I like the firm but flexible, somewhat lean but sturdy structure of this wine. Showed more apparent leather notes than last time. Definitely masculine brunello, if not particularly complex, but a no-brainer pairing with the steak.


Now, this wine seems much more relaxed, comfortable and at ease with itself. The fruit had softened and the middle broadened somewhat. This was my favorite match for my rack of lamb.
At the subject lunch, after decanting it for around 45 minutes before serving, it is more refined, calmer, and just as nicely firm and balanced as ever. Alex noted that it's acidity made it a good match for the steak and lamb. I, of course, agreed.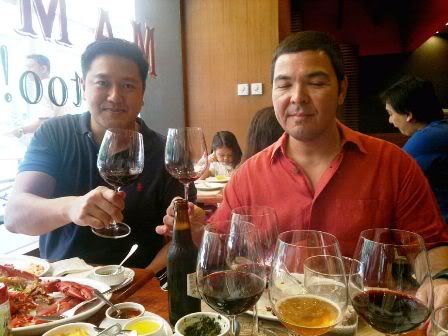 Cheers! Jim already looks sleepy here.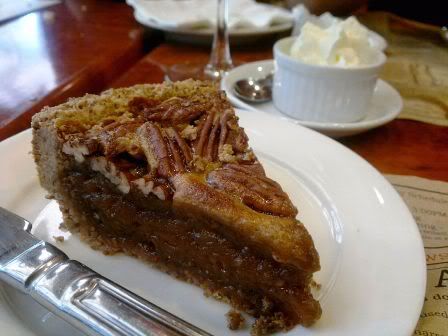 For dessert,
Pecan Pie & Schlag
, with...
...Jim's bottles of artisan
Fortiverd Bleder Coba de Drac Imperial Stout
from Catalunya, a fine pairing for the pie with its slightly over medium-weight, malty, slight caramel, coffee and cinnamon-laced profile. Thereafter, we "washed off" with a bottle of
Freixenet Reserva Real Cava
from me (which I forgot to photograph).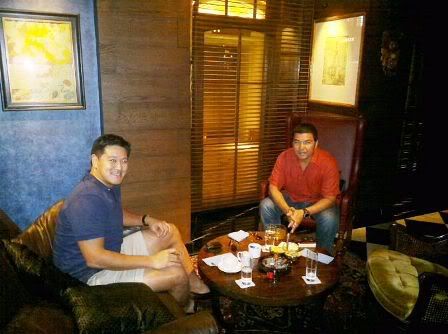 Lunch done, we moved to
TABAC
at the Peninsula for coffee and cigars. Some (Cuban) Partagas Serie "D" No. 4s for us 3, and Alex got a Cuaba after his. I stuck to an Irish Coffee with my cigar. Jim tried to as well with his, but Alex's horns came out and he, again, successfully plied Jim with some Macallan single malt. I left by 5:30pm. I wonder if they're still there....In any event, this was, undoubtedly, the best Araw ng Kagitingan I've celebrated. As always, until the next!