Dinner of the 24th February 2012 was at Colin Mackay's
Sala Restaurant
for La Commanderie de Bordeaux Manila's dinner featuring the wines of Châteaux Branaire-Ducru & Corbin. I made doubly sure to attend this event because
Sebastien & Anabelle Bardinet
were passing by Manila for only a couple of days and the dinner would be the only opportunity for me to see them during their trip.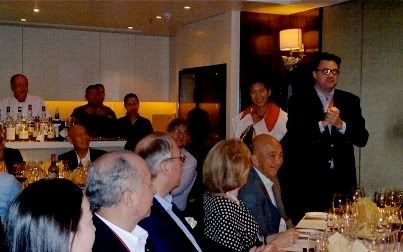 Edouard Miailhe & Felicia Atienza make the opening remarks
and introduce the two guests of honor: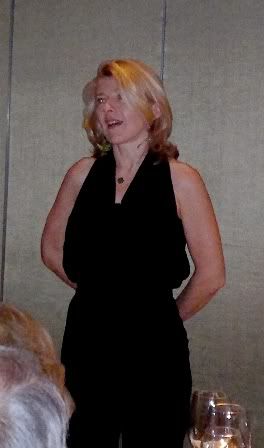 Anabelle Cruse-Bardinet, proprietress and winemaker of Château Corbin
(Grand Cru Classé, St-Emilion); and,...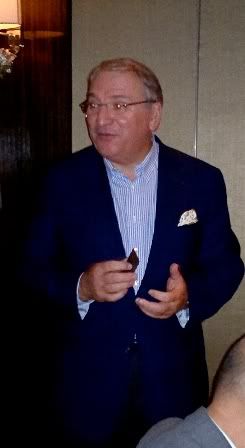 Patrick Maroteaux, president/co-proprietor
of Château Branaire-Ducru (4th growth, St-Julien).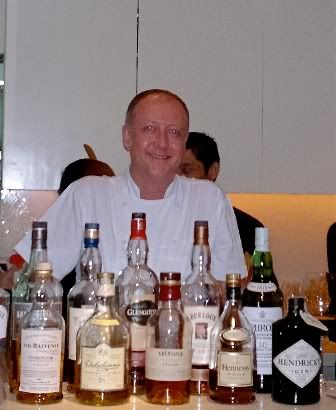 Colin personally devised and executed the menu impeccably.
I must say that Sala is, consistently, one of the very best venues for holding an elegant wine pairing event.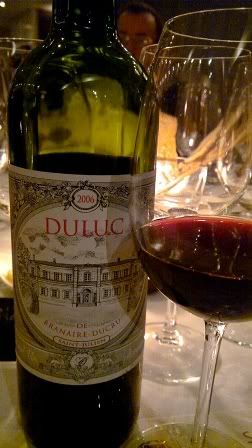 The first red was a
2006 Duluc de Branaire-Ducru
(the 2nd wine of Château Branaire-Ducru), a rather simple, straightforward St-Julien. Quite acceptable if not particularly memorable, it offers good enough value for money at its very affordable price. Contrary to the perception of many, Bordeaux does, in fact, produce many decent, inexpensive rouges.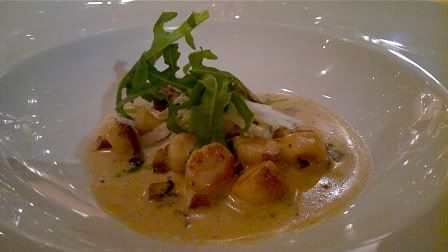 The 1st Course:
Chèvre & Mushroom Gnocchi, Truffled Sauce Soubise, Wild Arugula & Pecorino
- as delicious as it sounds and looks.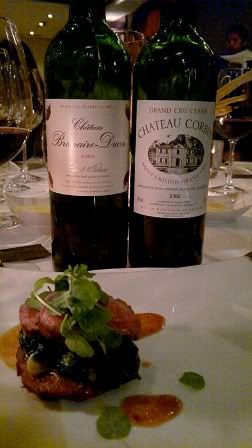 Roast Magret de Canard, Spinach, Duck Leg Confit & Root Vegetable Salardise w/ Quince Jus
.
This delectably earthy and comforting 2nd Course was paired with the
2005 Corbin
&
2003 Branaire-Ducru
.
I last had the
2005 Corbin
in late April 2010, during a dinner at the Miailhes' place, and my notes then were as follows:
Deep plum, black cherry, sweetish raspberry, some crème de cassis and violets, cedar, moderately creamy oak, hints of pipe tobacco. A little past halfway between medium and full body. Still quite young - perhaps a little closed at this point, or, perhaps, travel shock as they arrived a day before with Sebastien & Anabelle; but I definitely see a good future for this wine. Good, sturdy structure in this. I'd guess this will be in stride within, say, 3-5 years and will easily hold for several years more. I understand this vintage was totally sold out within one hour from being put on the market.
Now, it has opened up and fleshed out nicely, showing a comfortable and warm nature. Though it is still young, it is coming along very nicely. Corbin's wines are very reasonably priced, especially for its quality. It is no wonder Anabelle's 2005 vintage sold out immediately upon release. As a pairing wine, I found it more food-friendly due to its proper reserve, cut and comparatively more traditional style.
The
2003 Branaire-Ducru
, on the other hand, showed the general 2003 vintage traits of forward, rather low acid, robust roasted-ripe fruit (which goaded many producers to break out evidently generous lashings of new oak). Toasty oak/vanilla and slight chocolate notes lace its crème de cassis, licorice and violets.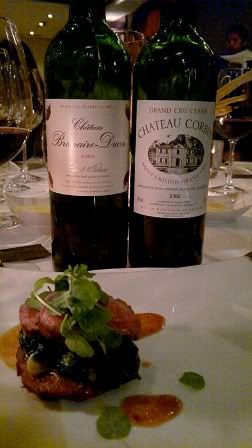 I enjoyed the 3rd Course of
Char-grilled Mulwarra Beef Tenderloin, Celeriac Purée, Fine Beans & Morel Essence
with the
2005 &
2001 Château Corbin
. The 2001 Corbin was the very first vintage of Anabelle's that I ever had. I remember distinctly Edouard opening a bottle of it over lunch at Château Siran for me to try out. That was in June 2007, when I was in Bdx for Vinexpo. Even then, I thought it was very nice, especially at the very affordable price range Edouard disclosed.
A notch or two over medium-bodied, soft dark plum and black cherry gently infused with tobacco, slight minerality, a touch of violets and well-integrated oak notes/spice. Its acidity was very proper. Again, warm and comforting, with a nice, lingering finish. Notable over-all balance. For my whole table and most of Doc's table, the 2001 Corbin was the wine of the night, and we continued with more until the evening's end. Good show indeed.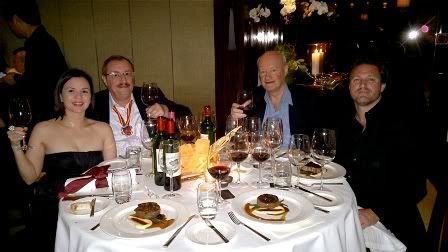 L-R: Catha, Robert Burroughes, James du Vivier & Richard Joye
Juan Carlos de Terry was supposed to join our table but wasn't able to make it.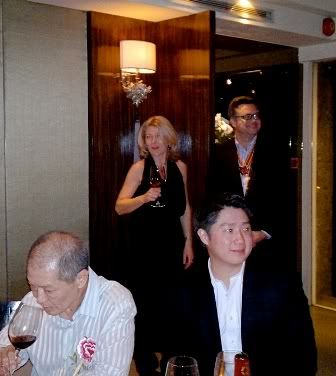 Anabelle & Edouard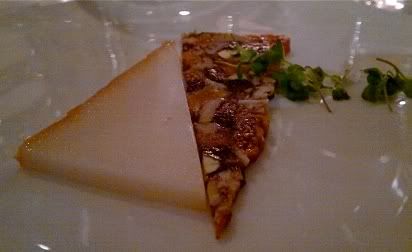 The 4th (Cheese) Course was
Tomme de Chèvre St-Loup w/ Sala's Fruity Bread
. Lovely combination...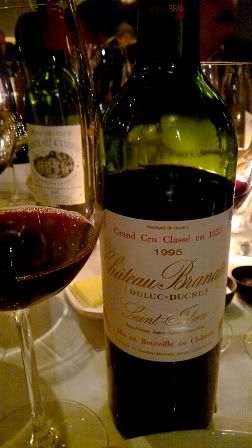 ...which was served with the
1995 Branaire-Ducru
I thought was still very closed (as are many 1855 classed growths I've had). Mute, comparatively thin, not all that interesting or enjoyable at this point. Richard noted obtrusive "olive water" in its flavor profile. Richard and I both tried it from 2 different bottles for re-validation purposes, with the same results.
This sparked a discussion on 1995 Médoc classed growths that are already good to go now. We agreed on 2 things: (a) that the 1995 Grand Puy Lacoste (5th Growth, Pauillac) is one of the most enjoyable 1995s for current drinking; and, (b) the 1995 Ducru Beaucaillou (2nd Growth, St-Julien) is one of the least giving at this point (Richard opines that it will never amount to much; whereas I opt to reserve judgment for 5 more years).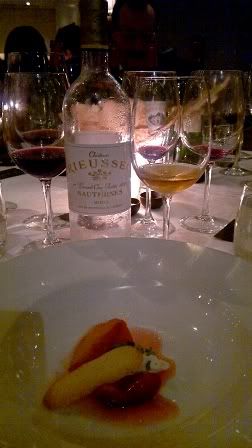 The 5th (Dessert) Course was
Elderflower & Vanilla Poached Stone Fruits w/ Mascarpone & Pistachios
which was paired with a fat and unctuous
2003 Château Rieussec.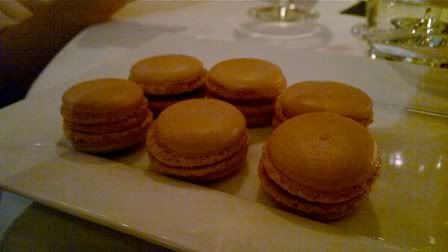 Lovely
Macarons
as a sweet ending from Colin.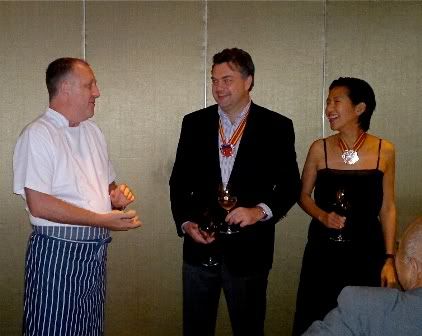 Recognition to and applause for Colin for another job well done.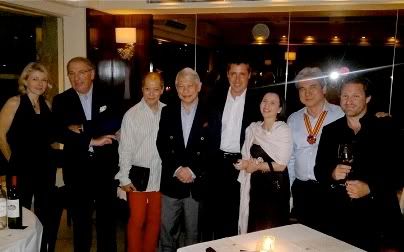 L-R: Anabelle Cruse-Bardinet, Patrick Maroteaux, Bernie Sim, Agustin Que, Sebastien Bardinet, Catha Server, Oscar Ong & Richard Joye.
Bordeaux, Toujours, Bordeaux!