The biggest problem with catching up on a huge blog backlog of events is not being able to remember a lot of details on wines past, especially for events where so many bottles were open. The Usual Suspects' 2011 Year-End Lunch at

Champêtre

(30 December 2011) was such an event; so I can, at best, just give general impressions/recollections.


I recall we did start off with some champagne from J-Lab, but cannot, for the life of me, remember what it was. I do recall having my share with the above depicted

Oysters w/ Smoked Salmon

though.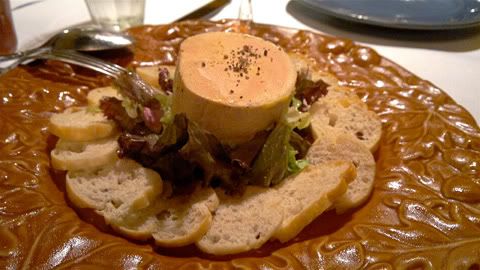 Aside from orders of Marc's signature
Terrine of Foie Gras
,...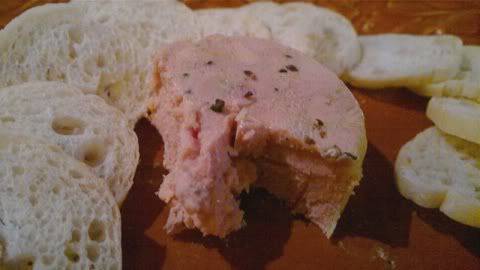 ...he sent us a couple of orders of
Truffled Foie Gras
as well. With these, we had...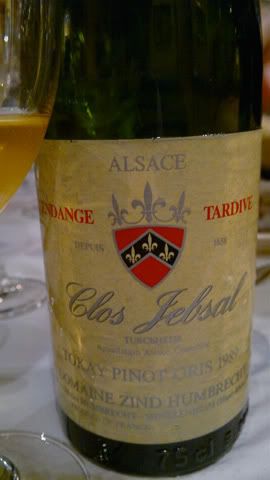 ...some of Bernie's

1989 Domaine Zind Humbrecht Tokay Pinot Gris Clos Jebsal Vendange Tardive

- Seamless peach, ripe apricot, honeysuckle, touch of orange blossom, underlying almond paste. Moderate sweetness. Nicely round mouthfeel. Acid on the low side. Nice with both foie dishes.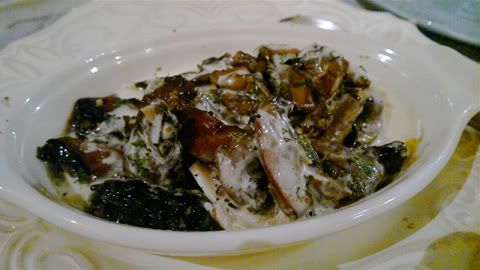 With the Roasted Portobellos with Oeuf Cocotte, and the...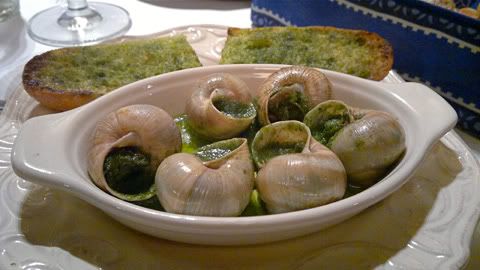 ...
Escargots à la Bourguignonne
, we had a bottle of...
...

2009 Domaine Tempier Bandol Rosé

from me. Excellent in itself and the escargots as always. I've written about this favortie rosé so often, I'll just leave it at that save from commenting that the herbs notes have come out more with an added touch of lavender.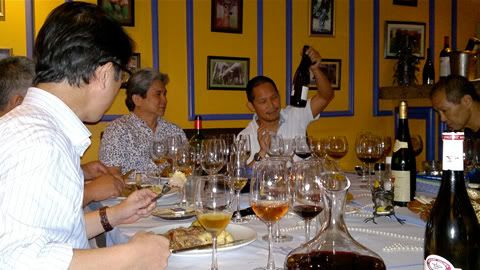 The Stockbroker blinded us with his bottle of

1998 Gaja Sori Tildin

. Nobody guessed what it was - I simply couldn't get a handle on it. All I recall is that it seemed in a very modern style in that it was quite dense, very concentrated and extracted, with prominent oak-related coffee and chocolate notes.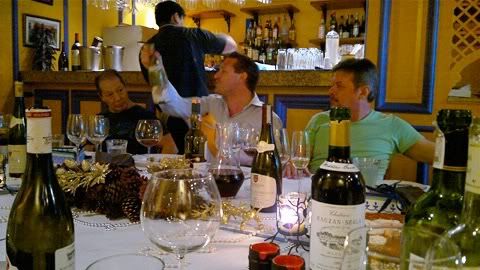 Richard also blinded us with what readily appeared to be a wine with age. I recall it was rather thin and tasted like a way past prime village-level red Burg. Some actually guessed it to be a red Burg (as well as an old northern Rhône which I didn't agree with as I detected no syrah). It turned out to be a...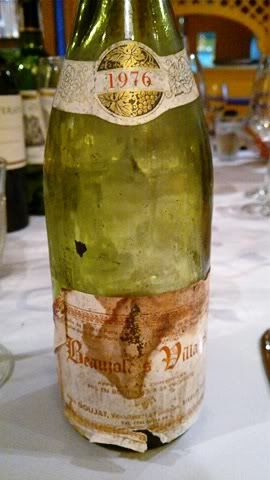 ...a 1976 Jean Goujat Beaujolais Villages. Richard explained that he wanted to demonstrate how an aged Beaujolais can take on some characteristics of a red from the Côte d'Or. In view of the guesses of old Burg, I guess he made his intended point. Then came the stars of our lunch.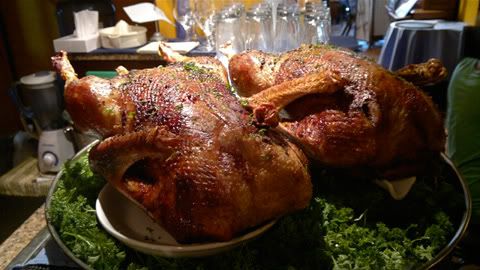 Two beautiful

Stuffed Roast Geese

. We were 10 in all for those two geese: Jojo Madrid, Keiichi Miki, Jay Labrador, Richard Joye, Johnny Revilla, Bernie Sim, Oscar Ong, Jim Araneta, Alex Tiu and myself.


Marc then carved, plated and served with plenty more for seconds and thirds.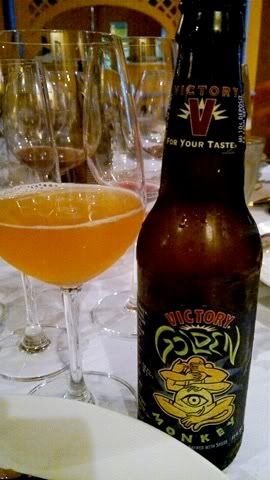 I had much earlier asked Jim to bring a bright, fruity ale for the roast goose (goose, because it is a fatty bird, is usually prepared/served with a fruit component to cut the richness and give some freshness and lift). Jim brought some bottles of

Victory Golden Monkey Ale

- a fruity and moderately hefty Belgian style Tripel. I thought it was an excellent pairing, along, of course, with...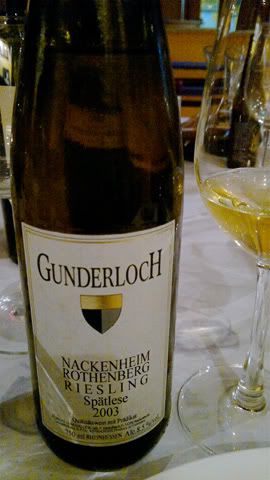 ...J-Lab's

2003 Gunderloch Nackenheim Rothenberg Riesling Spätlese

(which he brought during our 2009 Christmas Lunch also for the roast goose). This and Jim's ale were my favorite pairings for the goose. I had my reds afterwards. Good riesling and goose - definitely a fine match. The wine's nicely focused sweet peach, pear and lemon drop flavors and acidity were, in all, a fitting foil to the goose dish's richness.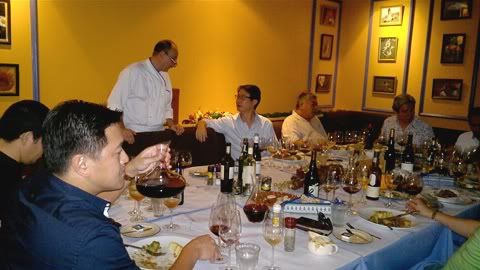 Marc checked on us every so often to see if all was going well. In this photo he chats with Keiichi. When Keiichi was still based in Manila, we had very, very many long wine lunches in Marc's Je Suis Gourmand (now Champêtre).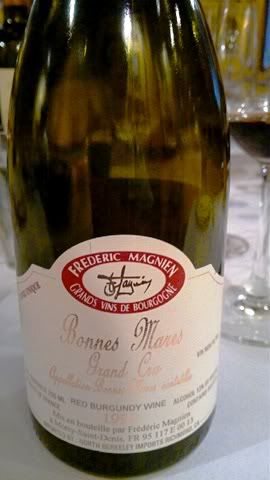 Served with the goose was also a

1999 Domaine Frederic Magnien Bonnes Mares Grand Cru

from Keiichi. I do remember drinking this, but have absolutely no recollection as to how it tasted or smelled.


There was also a magnum of

1996 Reserve de la Comtesse

from Bernie, which several expressed liking. Having had this many times before and never really thinking much of it, I left it to the others to enjoy. It's a nice enough wine, typical enough a Pauillac to be sure, but it just fails to interest to me.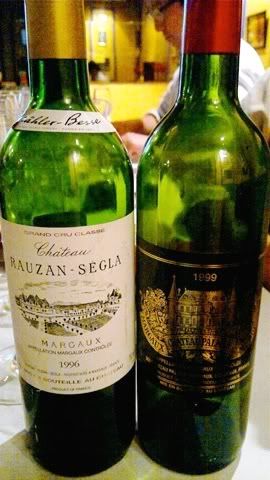 This pair from Margaux I was much more interested in: a

1996 Château Rauzan Ségla

from me and a

1999 Château Palmer

from Oscar. When I popped open my '96 Rauzan Ségla the moment I arrived (no decanter available at the time), I told all to let it breathe for at least 40-45 minutes in glass for it to begin to open and put on weight. Most all didn't take heed and immediately tasted, precipitately opining that it was "closed" and "a bit flat". Whatever, some people are just in a rush I suppose. I've had this several times in the past 6 months and know it takes quite a while to open up.

Oscar's
'99 Palmer
was, by far, my red wine of the lunch. Still youthful, it is already coming together nicely.
Much the same as a little over two years ago
, but evidently more open and welcoming. My notes then were as follows:
This was the third or fourth time I've had this, and, excepting the first bottle which I sadly mishandled on the way to a blind competition, they have shown very well - less than stellar vintage or otherwise.

Deep, serious and broad in its well structured gravel, darkly spiced black currants and cassis, cedar, violets; I swear if tasted blind I wouldn't guess this to be from 1999. With added aeration in glass, black cherry and a bit of plumminess emerge. Admirable balance and structure, this will get even better with more age. Much as we enjoyed it, Jojo Madrid and I think that it still has a lot of room for evolution.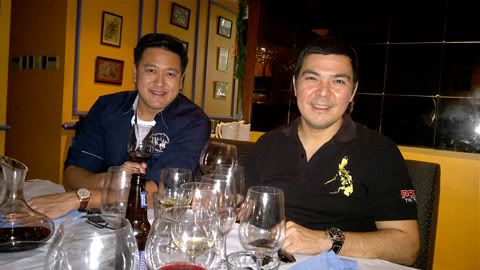 Alex and Jim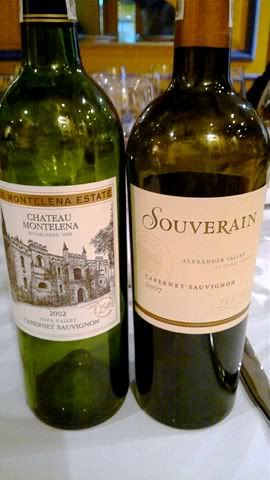 There was also pair of Cali Cabs from Alex:
2002 Chateau Montelena Estate
&
2007 Souverain
. I do not recall how the '07 Souverain was, but do remember liking the '02 Montelena. I do remember someone (I think it was Jojo) telling me that 2002 was a very good vintage for Napa cabs. There were more bottles of reds (aside from J-Lab's champagne apéritif), but I was not able to try or photograph them. There was also half a bottle of Lagavulin 16 Year-Old Islay Single Malt. Too much.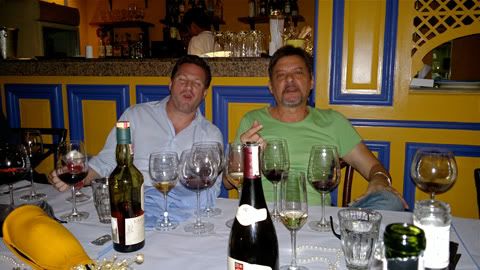 By then, the many bottles had begun showing their effects on some (Richard & Johhny).
Many were too full for dessert, but I simply had to have my
Chestnut Soufflé with Chestnut-Armagnac Ice Cream
. Fantastic as always.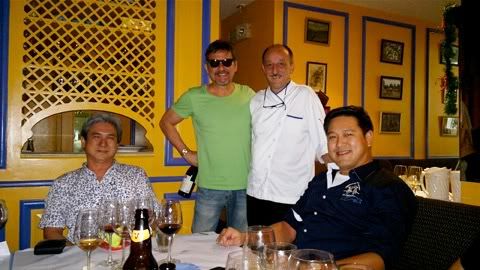 Oscar, Johnny, Marc & Alex.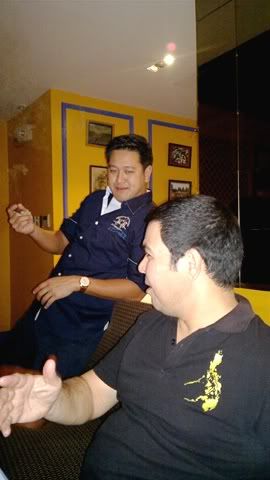 By past 4pm, many had taken their leave. A few of us lingered an hour or so longer, finishing the wines, Alex having a leisurely Cuban H. Upmann No. 2. Jim and I enjoyed seeing Alex, who always seems to get everyone around him hammered, himself get more hit than us for a change. Excellent way to end the year.
Until the next!