As I write to relax after a long day, I realize it's been around a month-and-a-half since I've taken the family to
Caffé Caruso
(I should remedy that soon). Last we were there was for a Sunday lunch of the 26th February 2012, (
sans
Catha as she was then staying at the hospital with my mom-in-law). Upon arrival, I immediately asked for my usual
Campari Soda
and for my bottle of red to be opened and decanted for aeration as we perused the menu. As always (I don't even know why we bother with the menu every single time we are there), we started off with: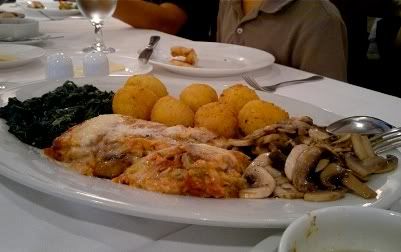 Antipasti Caldi
of spinach, eggplant lasagna, arancini, and mushrooms
(1-½ orders since Zach joined us).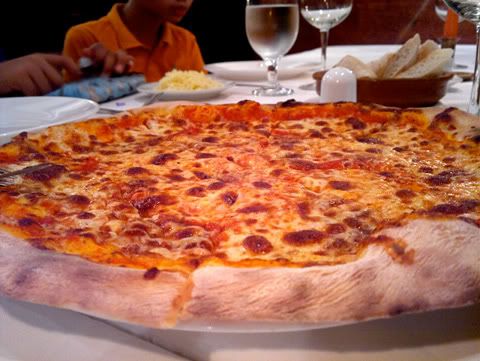 Pizza alla Napoletana
(tomato sauce, mozzarella & anchovies)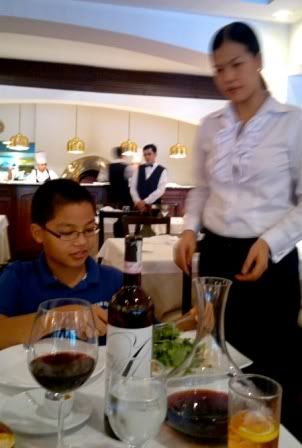 We've been dining in Caffé Caruso since Joaquin was around 4 years old - that makes it at least 8 years now. This tall lady has been attending to us for most of those years. She never fails to give excellent service, and comment on how big the boys are getting. Here she is watching nephew Zach serve himself some
Insalata di Rucola con Pomodoro e Parmigiano
. The pastas were...
Mauro's
Tagliatelle alla Crema di Tartufo e Prosciutto di Parma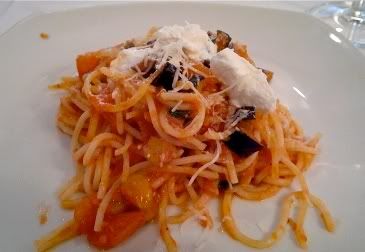 Lorenzo's Spaghetti Pomodoro con Melanzane e Ricotta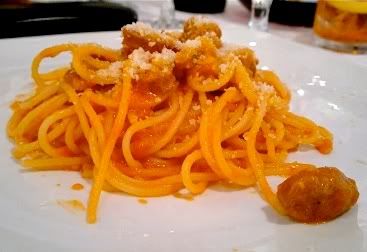 My
Spaghetti al Sugo di Salsiccia Italiana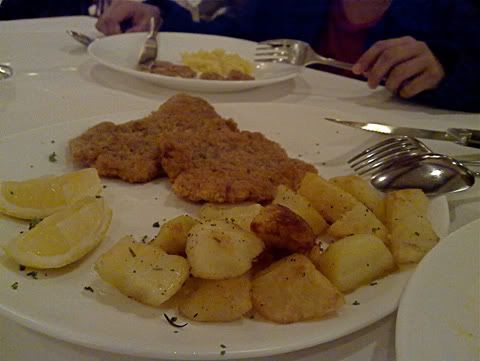 Joaquin and Zach shared the
Veal Como
and...
Risotto allo Zafferano.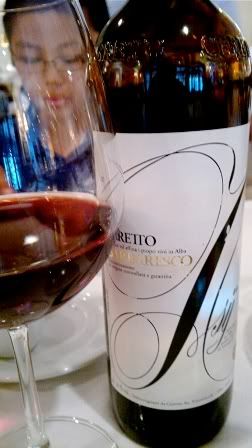 I brought along a bottle of
2005 Ceretto Barbaresco Asij
- I first tried this modestly priced Piedmontese red (purchased a couple of bottles to try from Wine Depot, Westgate, Alabang) over
dinner at Keiichi's place last 28th December 2011
but without decanting and, found it a bit too blocky. This time, with around an hour or so in a decanter, it came into its own showing good, firm structure and typicity. Nice aromas of dark fruit, olives, "tar", bit of dried oregano, cedar and violets are mirrored on the palate. Good focus, push, palate-presence, rigid backbone, good acidity and a confident finish. Food-friendly stuff despite its evidently forward, notably ripe fruit.
I sent Dario Gardini a glass as always. He liked it too, commenting that "Even for lunch you drink good wine". He also mentioned at the time that he would very soon open a Caffé Caruso in Boracay. Desserts were:
Mousse di Cioccolato
for Joaqi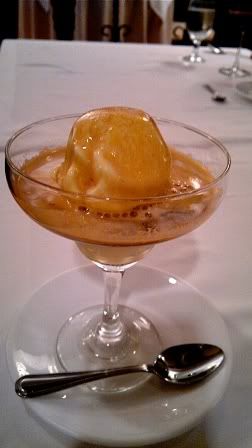 Gelato Affogato al Caffé
for Mauro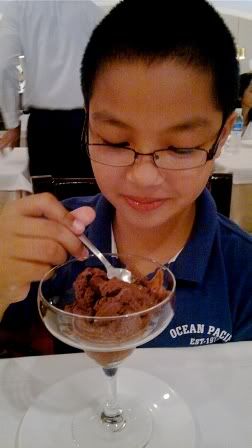 Sugar-Free Gelato Cioccolato
for Zach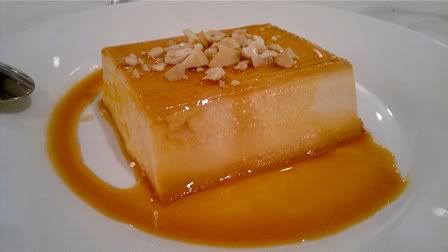 and
Panna Cotta
shared by Lorenzo & I as I can barely eat half of this.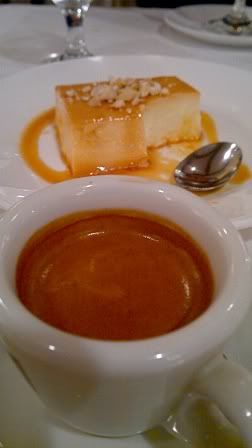 Of course, I had a
Double Espresso
as well, but politely declined the grappa Dario offered.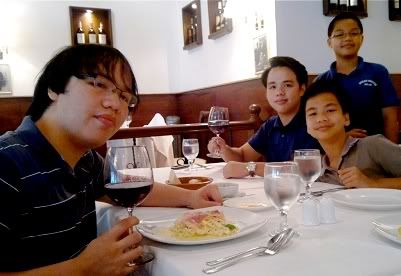 Alla prossima!