Today's boozy Friday the 13th (13 April 2012) lunch was called by Aaron; Miguel handily made all the needed arrangements at Elbert's Steak Room. We were just four in all: Aaron, Jim, Miguel, and I (Edwin was supposed to join us but got waylaid at work). Both Jim and Mig had dinners to attend later on, so we laid down the rule of "reasonable drinking" for the lunch. As I was working at my Makati office today, I just walked over to our lunch when Aaron texted that he was already nearby.


As always, we started off with some good vintage cava:

2004 Freixenet Brut Nature P. Ferrer Bosch Gran Reserva Cava

- from Aaron, of course, as his family's ADP Industries is the Philippine distributor of Spanish giant Freixenet. Named in honor of Pedro Ferrer Bosch, who, with his marriage to Dolores Sala Vivé, founded Freixenet, which, as I understand, is still family-owned, the 10th largest privately-owned wine company in the world, and the world's largest producer of sparkling wine.

I actually visited Freixenet in Sant Sadurni d'Anoia (under an hour's drive from Barcelona) with wine journalists from Hong Kong, Singapore and South Korea on the 24th March 2010. The cellars are so huge one has to ride a tram just to get around. Amazing.

In any event, the subject 2004 Freixenet Brut Nature P. Ferrer Bosch Gran Reserva is a notably complex, vinous bubbly with freah, bright, rounded, dried fruit flavors of yellow apricot, citrus, sultanas and a bit of lime. Not as toasty or creamy as their Reserva Real (a cuvée made to commemorate the King's visit in 1987), but it does seem creamier than most other cavas I've had. This vintage gran reserva cava is aged for four years before release. I just am not sure if Aaron actually sells this or if he imports it exclusively for personal consumption. Definitely good stuff, which went perfectly with...


...the assorted Spanish deli that Miguel brought along. Clockwise from the left: Vela de Lomo, Osborne 5J Jamón Ibérico de Bellota, Smoked Duck Breast Ham, & Joselito Jamón Ibérico de Bellota. In the center was some spicy sausage Mig brought in from Italy (Milan?). We had 2 platters of this for the four of us.


Naturally, we also had to have some red, and, with the Spanish deli in mind, I brought along a bottle of

1998 Bodegas Riojanas Viña Albina Gran Reserva

which I decanted for aeration for around 30-40 minutes before serving. As Aaron and I import this wine, as well as the 1998 Bodegas Riojanas Monte Real Gran Reserva, among others, I am constrained (out of

delicadeza

) to remain silent (but you can read my notes when Aaron and I tested this here and here). Suffice it to state that Aaron and I always try out each wine we intend to import at least twice, and bring in only the wines we personally like and would (and do) drink ourselves.

In any event, we are all sold out of this, so there is currently none to be had in the Philippines aside from our personal stashes. Besides, at this lunch, Jim noticed I wasn't drinking much red wine, and I replied that, during hot Philippine summer lunches, my preference strays more towards bubblies, whites and good beers.


A platter of

Fresh Garden Salad

for each of us (para healthy).
The guys all ordered the day's special Umami Burger. I didn't taste it, but it certainly looked great. I had the large size Roast Prime Rib with Fries (which I forgot to photograph).


Jim brought a bomber of the powerful and refreshing Rogue XS Imperial India Pale Ale (which his Global Beer Exchange distributes locally). Loved it with my roast prime rib. This hoppy, powerful, full-bodied and full-flavored yet smooth and refreshing Imperial IPA (a.k.a., "American Double IPA") is currently my craft beer of choice for steaks and specialty burgers. I'd have them with some nice, juicy ribs or grilled bratwursts and sauerkraut too. Can't seem to get enough of this. I had this just this past Monday at Mamou Too! and loved it with the Dry-Aged US Prime Bone-In Rib-Eye. My notes then were as follows:


From Jim, some excellent Rogue XS Imperial IPA. Powerful, macho, bright, hoppy, orange peel, citrus, with discreet underlying tobacco which continues on to its long, confident finish. Love the stuff; it also reminds me of the terribly hard-to-source Pliny the Elder by the Russian River Brewing Company (also an Imperial IPA) that Jim introduced me to. Definitely this is my type of ale. Jim intended this for the steak, but I liked it so much I virtually finished off my share of it before any food arrived.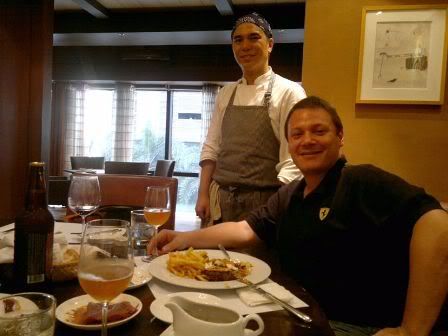 Elbert's Jefe de Cocina, Adrian Cuenca, checks in on us.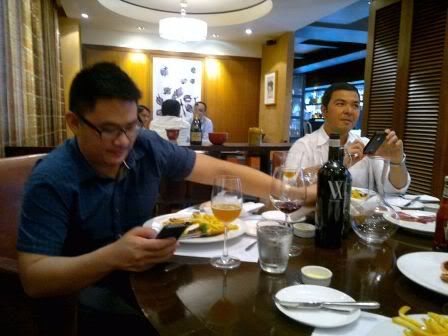 It's not only I who takes photos of food and drink porn.
Cheers!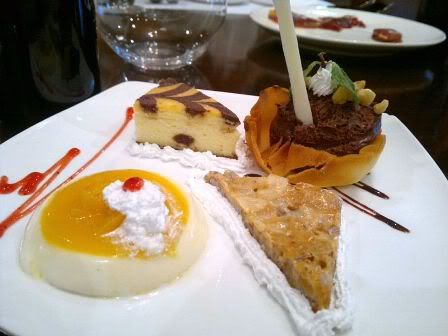 Dessert.
We then moved to the smoking room and continued with a bomber of

Ballast Point Sculpin India Pale Ale

from Miguel. Jim also distributes this, and explained that India Pale Ales must be consumed as fresh as possible, preferably within (as I recall) 6 months, more or less, from production. I've been enjoying this mouth-wateringly dry, hoppy, citrusy ale since I first tried it from Jim almost a year ago at The Tasting Room. As I wrote back then, when nice and fresh:


The Ballast Point Sculpin India Pale Ale is an exuberantly fresh, fruity (peach, mango) but dry, slightly floral, very hoppy pale ale with a long fruit finish with appetizing bitterness trailing. Nice brightness; smooth, it goes down very easily and is perfect for summer drinking. Easy to drink a lot of, and, at a mere 7% or so abv, one can slug it down all day at home, in a bar or at the beach.
From Elbert's drinks list, we also had a couple of bottles of

St. Rogue Red

, one from Rogue that I'd not had before. Bright, a light touch of hops, a roasted malt middle with a discreet red cherry nuance that stretches into the finish. This comes off clean, neat, and, after the Rogue XS Imperial IPA and the Sculpin IPA, comparatively on the lighter side. Nice enough, but I should have tried this before the inherently fuller-bodied and powerful IPA and Imperial IPA.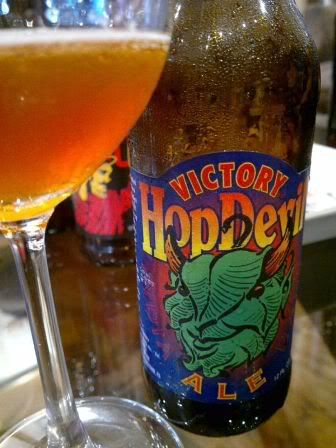 Got to enjoy another of Jim's India Pale Ales, the

Victory Hop Devil IPA

(brought by Miguel). I first had this on the 14th December 2011, briefly noting that: "This Victory Hop Devil IPA was surely a step up in strength, hoppiness and intensity, but still maintained a lot of refreshing character and good balance. Definitely my kind of IPA." This, together with the Victory Hop Wallop and Golden Monkey sold out very fast. Good thing Jim's next shipment is coming very soon as I'd like to have more of these for summer*.

*
That Jim is a good friend and regular drinking buddy does not affect my judgment on the beers he sells. I do, in fact, buy, drink and enjoy a lot of his beers at home and when out and about, and so do my teenagers - the eldest having shunned San Mig Lite ever since he got his first tastes of the craft.
Until the next!