Unless it is absolutely necessary & work-related, I normally do not like (and, thus, avoid) sitting on the board of companies/associations, be they stock or non-stock, for profit or not. One exception, so far, is the board of
La Commanderie de Bordeaux Manila
, a non-stock, non-profit company existing for the promotion of camaraderie, enjoyment and appreciation of the wines of Bordeaux.
Although some board meetings were, at certain points, uncomfortable, straining old friendships due to various reasons (which I admittedly contributed to due to my perceived over-seriousness), they have generally been quite convivial - well, the past two ones, anyway. Hopefully, that continues. It certainly helps that some good wines are shared during such meetings, as follows:
Board Meeting 9 February 2012; Venue: 2nds, Bonifacio Global City
.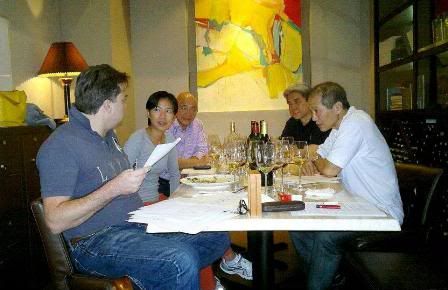 Including myself, we were a quorum of 5 (out of 9) founding/incumbent trustees, plus a guest. Present were Edouard Miailhe, Felicia Atienza, Sunny Garcia (guest), Oscar Ong, Bernie Sim, and I.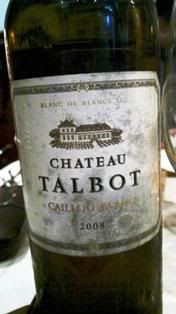 2008 Château Talbot Caillou Blanc
to start. Evidently from a cool vintage, initial ripe guava on the nose, but it faded away rather quickly. Nice acidity, good freshness, lean, clean, the sauvignon blanc's gooseberry is very focused and prominent.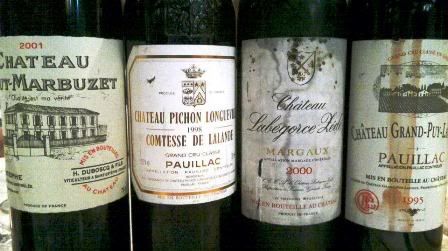 Only the
2001 Château Haut-Marbuzet
and the
1995 Château Grand Puy Lacoste
were opened. The 2001 Haut Marbuzet was merlot-fleshy and the oak was readily evident. It could stand more integration, but nice enough at this point.
The 1995 Château Grand Puy Lacoste was right and proper, very typical GPL. One of the more currently enjoyable 1995 classed growth Bdx/Pauillacs I've had. Nice even when popped-and-poured. I had it last
on the 30th August 2011 from Rene
- my notes then state:
1995 Château Grand Puy Lacoste - From Rene. Already quite enjoyable but still has many years left in its tank, this is one of the more open, readily expressive bottles of classed '95 left banks I've had the past couple of years. Properly Pauillac, this smoothly muscled light-heavyweight displays crème de cassis, pencil lead shavings, warm asphalt, violets, cedar and touches of vanilla and licorice. Good backbone. Good acidic balance. More complexity and depth in the years to come I'd wager.

Miguel and Rene said it was quite tannic when they first opened it so they decanted it for aeration in hopes that it would "calm down" somehow. I arrived late for the lunch so didn't get to try it out when they opened it. As above written, it seemed fine to me when I got to it around 1-½ to 2 hours later.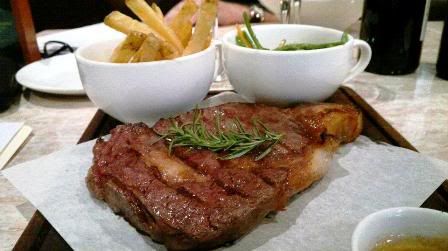 I had the
USDA Prime Rib-Eye Steak w/ Fries and Vegetables
for lunch. It was very so-so. The meat, in parts, was a little too sinewy for me, and the rest was just acceptably tender. The vegetable siding had too much garlic in it. The fries were ok - good enough. At it's reasonable price of around P1675, it is acceptable
I suppose
.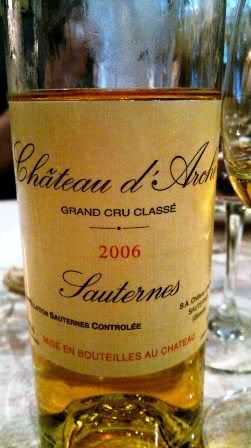 As dessert, before our coffees/espressos, a
2006 Château d'Arche
- Nice poise, well composed. Very competent and acceptable. Bernie noted its similar nature to that of Château Nairac.
Board Meeting 14 March 2012; Venue: Champêtre, Bonifacio Global City
.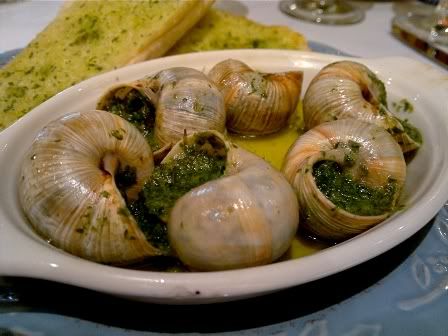 We were a quorum of 6 out of 9 trustees: Edouard Miailhe, Bernie Sim, Oscar Ong, Felicia Atienza, Maja Olivares-Co, and I. Absent were Jojo Madrid, Dong Puno & Alex Lichaytoo. I had a light lunch - just a plate of
Escargots à la Bourguignonne
...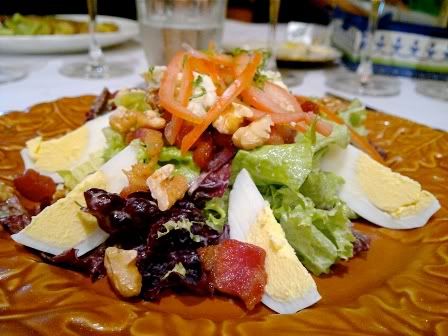 ...and a
Salad with Smoked Bacon, Blue Cheese & Walnuts
after (para healthy).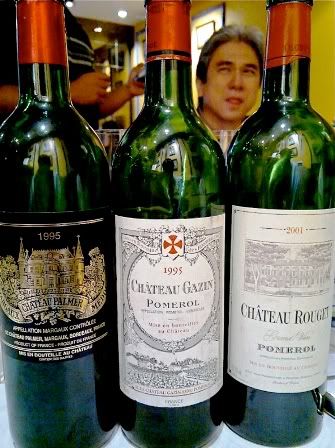 The wines: 1995 Château Palmer (from Edouard), 1995 Château Gazin (from Oscar) & 2001 Château Rouget (from Bernie). The
2001 Rouget
was acceptable enough in whole, well-concentrated and extracted, comparatively dense and even somewhat blocky beside the other reds, but it is a Pomerol after all and a comparably young one at that. At its very moderate price of US$39-US$50/bottle per winesearcher.com, it's good enough.
The
1995 Gazin
, another from Pomerol, I found rather tight and unyielding, though its nose did open up somewhat after time in the glass. Not much there right now. Not too surprising as many 1995 upper-echelon Bdx I've tried of late are still closed, so I'll have to reserve judgment. Only time will tell if this will improve. I think it will though.
The
1995 Palmer
, in contrast, was already nicely open, with notable typicity in nose and on palate. Nice ripeness in its more-than-halfway-to-full body, deep, dark, well layered fruit (cassis, dark plum, cherries, bit of raspberry) infused with notes of slight licorice, truffle, cedar, violets and underlying warm asphalt. Warm, familiar and comforting. Very nice and will surely improve in years to come.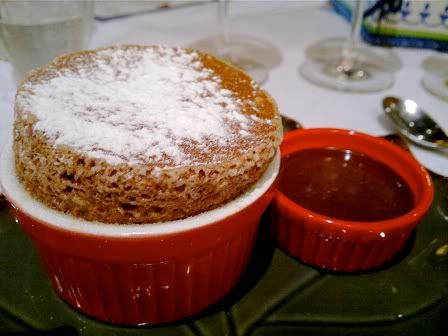 For dessert, an excellent
Chocolate & Grand Marnier Soufflé
for me, and a double espresso after. During a quick smoke before dessert, I chatted with Marc Aubry & Jerome Philippon outside, and also briefly bumped into Pierre Barberis. Understandably, many members of the Manila-based French community frequent Champêtre.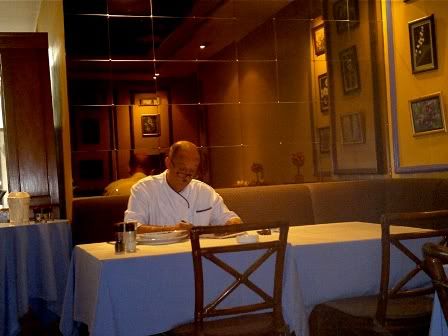 By the meeting's end, everyone else trickled out and Marc then took a quiet moment for a late lunch after a busy service. I joined him for a short chat and a couple of cigarettes after, then headed back to the office.