Saturday the 31st March 2012 was the day Lorenzo graduated from Southridge High School. A couple of weeks before, he told me he wanted to have his graduation lunch at
Terry's 2º Piso
. I, thus, asked JC de Terry if a special menu would be possible for then. He said "yes", so I left the entire menu and wine pairings in his most capable hands. As it usually is, we didn't know what would be in store until we got there. One thing we knew for sure, though, was that it would be memorable.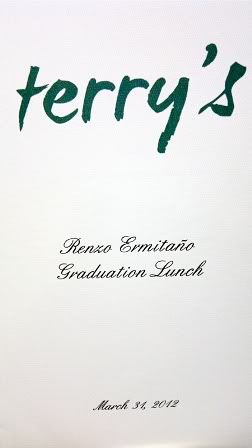 We were 8 in all, Catha & I, our respective fathers, our 3 boys and Mrs. Doc (who is Lorenzo's godmother). Doc, unfortunately, wasn't able to join us since he was busy at the hospital.
Lunch was to be served at 1:15pm. The graduation ceremony ran a little long, but we made it on time. We started off with flutes of
Carolina de Masachs Brut Nature Cava
and munched on some addictive toasted almonds as JC prepared to start serving.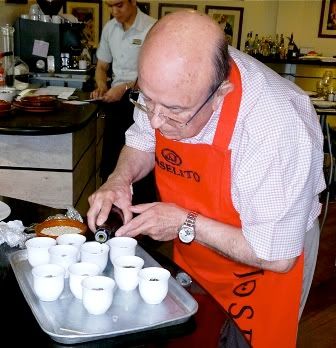 JC preparing 1 of 4 appetizers for us.
I noted that he was using his new line of artisan
Naturvie Extra Virgin Olive Oil
from Spain's Extremadura region - only meticulously picked, very ripe olives are used - and only the first press of course.
This was actually the second of four "pica-picas". I use quotation marks because the four were bigger than normal pica-picas.
Joaquin loves to watch JC prepare dishes.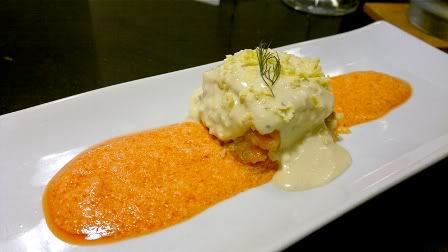 The first "pica-pica" was
Salmon Lasagna on Capsicum Foam bathed with Tartar Sauce
. Delicious. I finished mine in 2 bites. The teenagers and I recalled JC trying out the prototype of this dish on us back in early August 2011, it was a work in progress at the time as JC was still figuring out how to present it. I recall we were encouraging him to put it on the regular menu.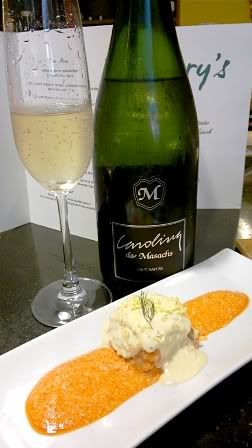 Now, it looks every bit as good as it tastes, especially when paired with more of the effervescent, refreshingly dry yet well-fruited
Carolina de Masachs Brut Nature Cava
.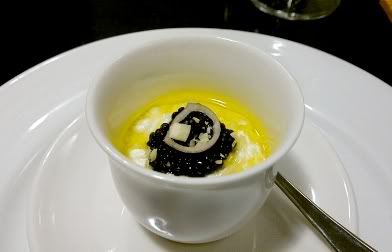 The second "pica-pica" was
Avruga Caviar on Goat Cheese Cream showered with Naturvie Extra Virgin Olive Oil
, the high quality of which was obvious and really made a difference.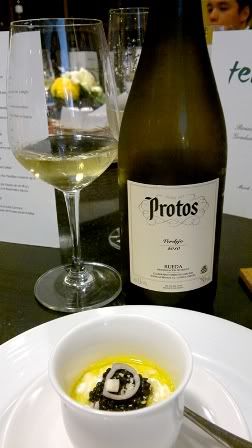 This indulgent dish was perfectly paired with
2010 Protos Verdejo
. The latter's lively, bright, crisp, tense, dry fruitiness (ripe grapefruit, lime, etc.) and typical underlying almond notes cut the dish's richness and refreshed the palate between bites - the almond notes playing well with the goat cheese cream with the avruga caviar as counterpoint.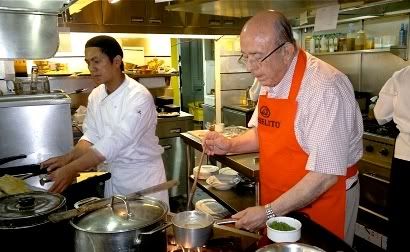 JC prepares a sauce I've never had before...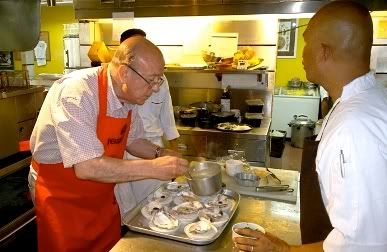 ...and delicately bathes the main ingredient...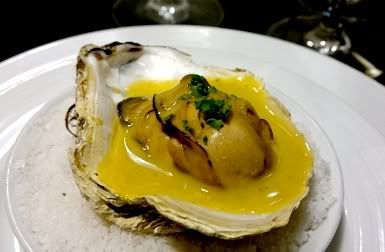 ...to come up with the third "pica-pica" of
Warm Oyster dipped in a Silky Worcester-Meunier Concoction
. Lovely. The sauce is complex and I'd never have thought of such a combination. Hats off to JC once again.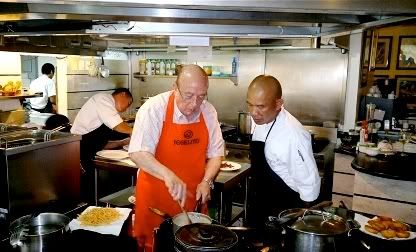 By this time, Joaqi had taken over taking most of the kitchen "action shots".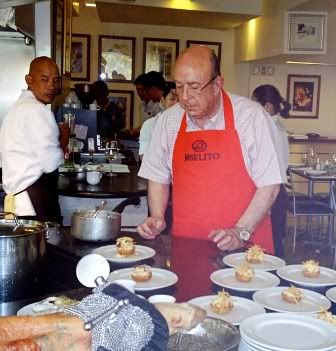 I helped him with this one, suggesting that he take it from this angle instead of from JC's side.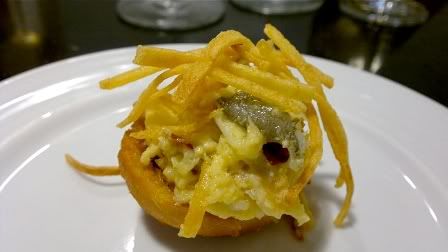 This fourth "pica-pica" was
Jumbled Codfish, Organic Egg Cream and Ibérico Flakes on Dupuy Lentilles False Purée
. In any event, it was delicious. Bacalao with organic egg cream with jamón Ibérico to boot - need I say more? Mrs. Doc said that just seeing the adornment of shoestring potatoes, she already knew she would like it.
JC then let us try a bottle of
2010 Château Petrus Gaïa Blanc
- it tastes like a richer, fuller, rounder, vaguely tropical (then that could be the vintage speaking) rendition of sauvignon blanc - it is definitely more aromatic than normal sauv blancs from Bordeaux I've had (and I've had very many) with scents and notes of sweetly-ripe guava permeating the calm gooseberries, grapefruit and ripe citrus.
JC sent me the link to the producer's website the next day, and, apparently, there is a material amount of sauvignon gris blended with the sauvignon blanc - so I guess that explains the unusual heft, sweet-ripeness and forward, aromatic, tropical guava note - unless it is the vintage speaking. JC did say, though, that " It is a very different wine from the Sauvignons produced in the Aerea of the low Saint Emilion-cotes de Castillon".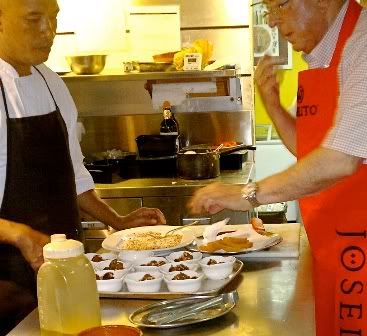 The pica-picas done, JC and my dad said: "Now it gets serious"...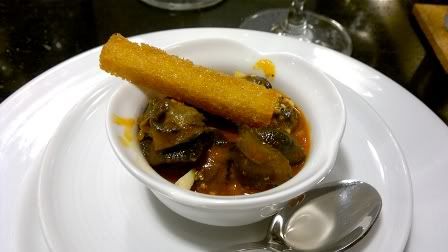 ...and serious, indeed, it got: the generous amuse bouche was an earthy, capsicum-spiced
Cassolette d'Escargot served on a Roasted Pepper-Sherry Sauce
. Shades of southern Spain (wherefrom JC hails). I love it how JC always takes such great care about his dishes' harmony and balance. The ingredients' flavors come together seamlessly, without anything jutting out obtrusively.
Joaqi took this shot of JC dressing the...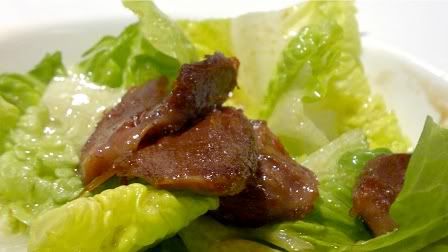 ...
Chaud-Froid Duck Gizzard Salad
. Loved it. Simplicity at its best, with a delicate contrast of flavors and textures. Salads should always be like this. I find many restaurants these days way over-doing theirs with the ubiquitous nuts (candied, powdered, what-have-you), chèvre, excessive honey in the dressing, foie gras, bacon, etc., which often wind up muddling everything.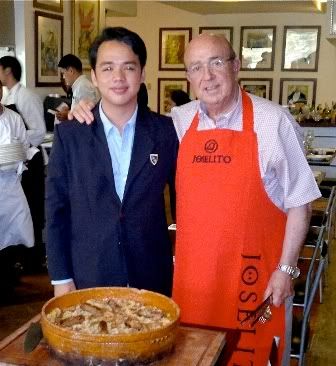 JC then presented an extra-special dish for Renzo. I don't know how JC knew that Renzo loves cassoulet (though I may have mentioned it on one occasion - I don't now recall)...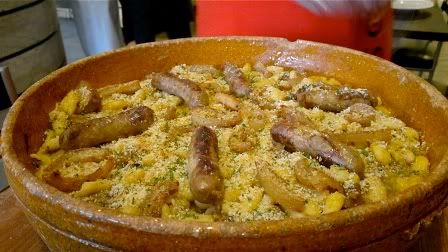 ...but there it was for him - and what a cassoulet indeed:
Toulouse-Style Cassoulet, as served at the Tivollier Hotel (Toulouse) in 1920
. I know JC has this thick book (in Spanish text) that contains very old, classic recipes. I'm betting he got this recipe from that. Love it. Such a perfect dish for Lorenzo.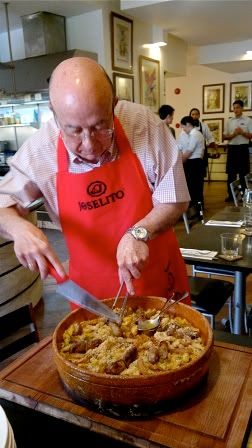 JC slices the sausages which he made himself. He knows deeply the southwest region of France, including the cuisine and wines of course. Back in early April 2010, we, together with Mari and Catha were in Bordeaux (care of Edouard) for the
en primeur
tasting of vintage 2009. Thereafter, JC and Mari proceeded to the southwest and invited Catha and I along. We, however, had already made plans and reservations to go back to Spain. We hope to travel with them through southwest France another time. Who better to have as a wine and food guide there?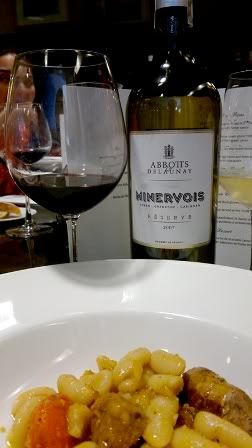 The Toulouse Cassoulet was paired with a wine from far southern France - i.e., the Languedoc Roussillon region- specifically, the appellation Minervois close to the Spanish border:
2007 Abbotts-Delaunay Minervois Reserve
.
I've had the
2006 Abbots Minervois Reserve from JC before (early December 2010)
, and noted back then that it was one of the most refined Minervois I've had. This wine is no different - not at all over-the-top ripe or heavily oaked, this was nice and spicy - masculine and robust but not loud - there is a very slight meatiness underneath that makes me suspect there is some mourvèdre in the dominant syrah, but I'm not sure. Nice and rustic - perfect with the cassoulet.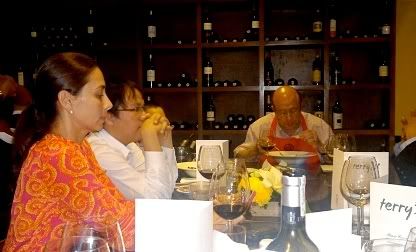 JC then joined us for some of his masterpiece. No pressure cooker for the beans noted he, these were gently softened in water.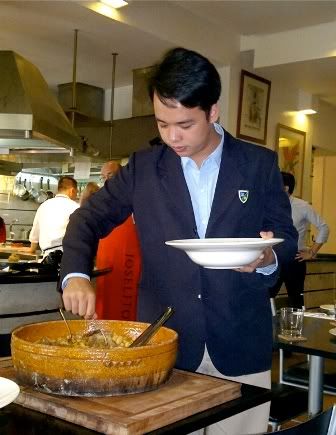 Renzo goes for seconds. Not surprising as he really loves cassoulet. Without a doubt, this is the best cassoulet I've had in Manila and anywhere else.
The graduate and his mom with JC.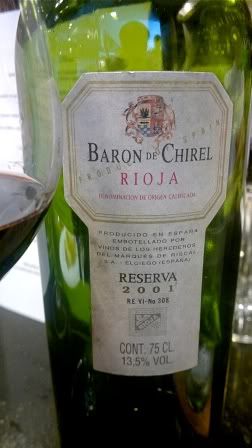 The only wine I had a hand in was this one - the
2001 Bodegas Marqués de Riscal Baron de Chirel Reserva
which I bought from the Terry's Deli downstairs a couple of weeks ago. The first time I had this was from Keiichi during the Usual Suspects' most memorable
Una Noche Riojana
almost 3 years ago. It was then unanimously agreed that this wine had the best potential. Today's bottle proved us right. Don't bother trying to get any at Terry's as there is only one left and I already reserved it.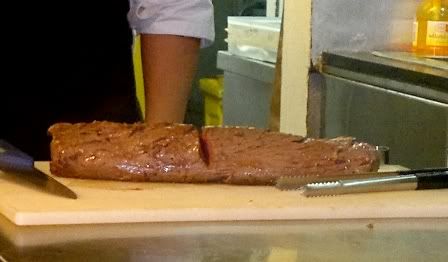 The Baron de Chirel Reserva was decanted upon our arrival and was served around 3 hours later with the meat course (Joaqi took this photo).
JC makes the meat course's sauce à la minute (also by Joaqi).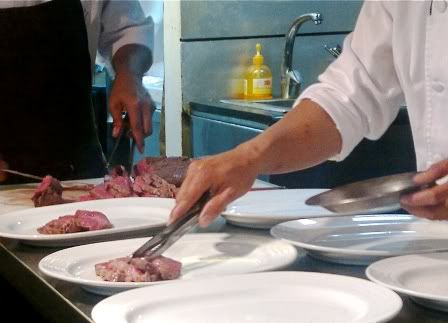 ...Plating...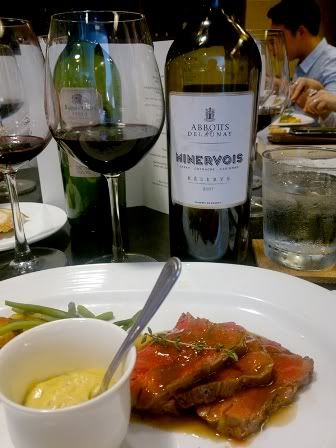 ...et, voila, the
Chef Montmireil Châteaubriand (a classic since 1822) served with Château Potatoes and Sauce Béarnaise
. I hadn't had châteaubriand in, what, almost 30 years? This classic preparation reminded me why I loved it so much as a teenager.
The tenderloin was, in a word, silken. Everything was on point. I couldn't help but regret Doc didn't join us since he favors tenderloin because it isn't very fatty. I'm sure he would've loved this. With this old classic, I had both the Minervois Reserve and the Baron de Chirel Reserva.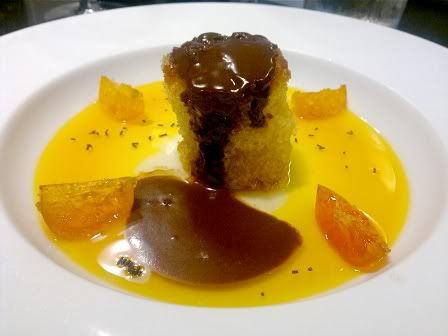 For the
pièce de résistance
, another of JC's enchanting dessert creations (we went back to his native Spain for this one) -
Bizcocho Borracho de la Abuela Carmen a la Crema de Chocolate Salpicado de Frutas Escarchadas
. Heavenly, the sweetness balanced off by the dark chocolate, complexed with the candied fruit sections. Despite my being so full, I finished off every bit of this.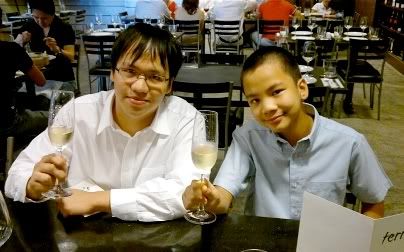 Again, I cannot thank JC enough for spending so much time, effort, thoughtfulness and inspiration for Lorenzo's graduation lunch. Muchisimas gracias de nuevo, JC. I'll be seeing you again soon! ¡Hasta la proxima!