This past Tuesday, 26 May 2009, I finally got myself to Werner Berger's new restaurant,
I'm Angus
, for a dinner featuring some of
Château Siran's
best vintages: 2005, 2000, 1989 and 1982, paired with some excellent dishes.
There were only 45 seats made available, all of which we're fully booked within 2 days from announcement, with a waiting list of around 30 to boot. I was fortunate to secure 2 seats for my wife and I early on. However, on the day itself, my wife was very busy and felt under the weather in the late afternoon. Luckily, good friend Robert Burroughes agreed to take her seat on short notice.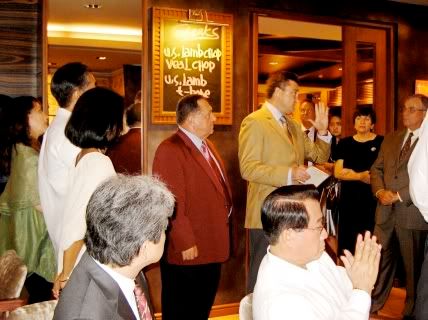 After welcome glasses of well-chilled champagne and proper introductions by Werner, Edouard, the 5th generation Miailhe of Château Siran, gave a brief background of Siran and its wines. Thereafter, we were eventually seated; I with Robert, Alan Hearn and always dapper Gerhard Kropp (who I know from golf, and actually witnessed his first hole-in-one not long ago). Dinner proper then began with an excellent dish of
Seared Venison Carpaccio and Beef Tartare with Toasted Country Bread
, paired with...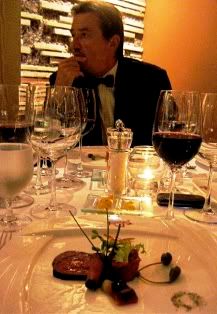 2004 Château Saint-Jacques -
Siran's
Bordeaux Supérieur
, from vineyards on the right side of the 17th century family manor (if one is facing the latter). The soils of this plot are much more clay-rich than Siran's gravelly/pebbly Margaux
appellation
vineyards approximately 40 meters away, across the road.
This masculine, rather straightforward and approachable wine presented properly dry and well-defined aromas and flavors of plum, cassis, a bit of cherry, cedar with underlying tobacco and leather notes. Notably not as distinctly spicy as the
grand vin
as no petit verdot was blended in for this vintage.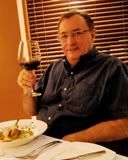 Medium-bodied, good push on the palate, quite neat and clean - a more classically-cut wine compared to the very popular, sweetish/ripe-fruited 2003 version that was completely sold out in Manila sometime last year.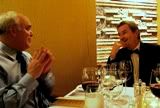 Though not an expert on tartare by any means, I found mine very creamy in texture and precisely seasoned. I told tartare-aficionado, Miguel, about this the next day, so I am sure his
lycanthropic tastes
will lead him to visit I'm Angus very soon.
Next was probably my favorite course of the evening, an earthily juicy and tender
Quail with Roasted Ceps, Duck Ravioli in a Bordeaux Reduction
, with which youngest of the
grands vins
started pouring...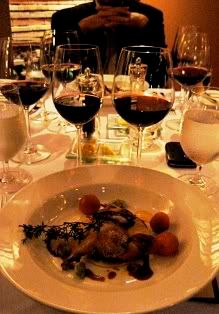 2005 Château Siran
- I've had this many, many times, beginning with a barrel tasting at the château in July 2006, so I have been able to closely monitor how this deeply colored and flavored, muscular youth has progressed over past nearly 3 years.
From its initial, hugely rounded, muscled and burly character back in mid-2006, this still very palate-stainingly youthful wine has smoothed out and gained depth quite well. The confident dark fruit, cassis, iron, violets and leather are highlighted by the typically Siran spicy red berry notes that follow through the long, strong finish.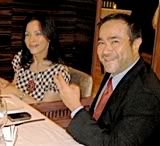 Tannins are big and are still in the process of smoothening out nicely. This is a legitimately full-bodied wine, showing the strength of the highly-acclaimed 2005 vintage, yet still very much in balance - the spiciness adding to the acids lift, to my mind.
Since this is still quite young, Edouard wisely made sure to have this double decanted for aeration. I would have expected nothing less.
Thereafter, we took a short break with a
Lime-Elderberry Sherbet
.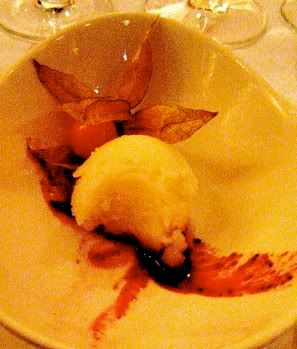 In all honesty, I took only a small taste of this sherbet as it was strongly flavored. These types of sherbets materially affect my ability to taste, so I usually avoid them altogether. After rinsing my mouth repeatedly with water, I took advantage of the break to garb a quick smoke and take some pictures of the many friends in attendance.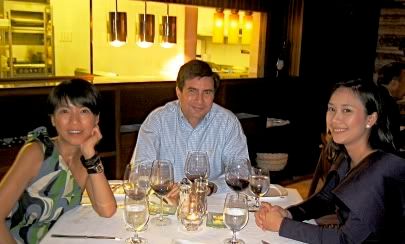 The International Wine & Food Society's Philippine Branch was certainly out in force that night...
...showing a lot of well-deserved love and support for Château Siran...
...as well as taking the opportunity to try some of its fine, aged wines, and, of course, enjoy I'm Angus' many succulent, meaty delights .
Edouard, naturally, made sure to see that everyone was being well taken care of.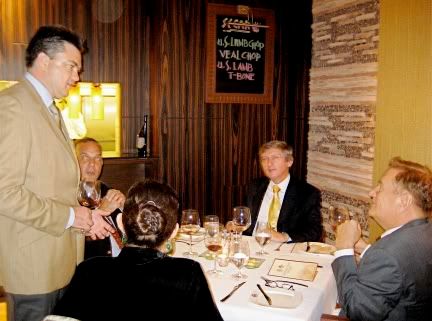 Next was a hearty course of
Roasted Certified Angus Beef Tenderloin and Colorado Lamb Chop with Morel-Rosemary Jus, French Beans and Mousseline Potatoes
. With this, we enjoyed...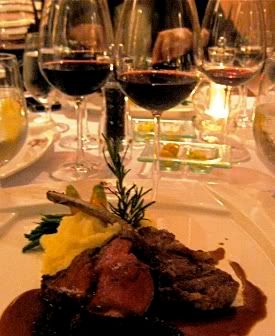 2000 Château Siran
- This is still my favorite recent vintage of Siran, and, by "recent" I mean in the past 10 vintage years. It is also the Doc's, so much so that we couldn't help but surreptitiously enjoy his smuggled bottle thereof in a previous Siran dinner.
Already drinking well, but with long life and great potential for even more improvement ahead of it, this suave, smooth/supple-muscled, agile light-heavyweight is just beginning to really strut its stuff. Naturally more open than the previous youngster, it already displays depth and complexity underneath the fruit. The distinctive spicy notes, some fennel, iron, leather, licorice are well in play, the wood quite already nicely integrated. I enjoyed this a lot, as I always have.
The older wines then began making their respective entrances.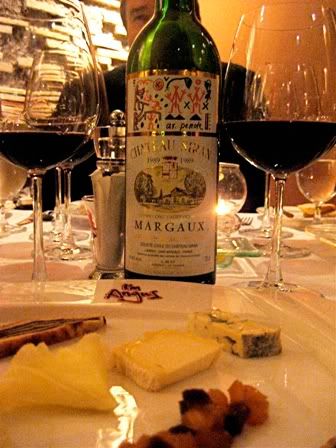 1989 Château Siran
- Served with the
Cheese Selection of Brie de Mieux, Tomme de Savoie, Reblochon, Fourme d'Ambert, Tête de Moine and Fruit Chutney-Pear Bread
. This, next to their 1953 vintage, is my favorite vintage of Siran. Notably, a bottle of this (in magnum) placed 2nd in our
Grand Crew Blind Bordeaux V
(February 2007)- after the Stockbroker's 1989 Pichon Longueville Comtesse de Lalande, trouncing my 1996 Mouton Rothschild and the Doc's 1995 Tertre Rôteboeuf.
My notes from that time, over two years ago, state:
Full-bodied yet light on its feet, rich dark-red satin with a brownish trim, an aged left-bank, incredible perfume laced with violets, best balance, elegantly masculine. Best nose. Earthy dark red and black fruit compote with a slight touch of tobacco and leather.
Note that that was from a magnum (1.5 liter), as opposed to this past Tuesday (750ml); wines in magnums generally age more slowly/gracefully than those in regular/smaller formats. My previous notes still apply save that the wine of this past Tuesday was medium-bodied, quite silky-soft on the palate, more feminine and had a quietly contemplative/reflective character. This was clearly my favorite wine of the evening. Loved it.
With an indulgent yet refreshing dessert course of
Sweet Passion Fruit Terrine
...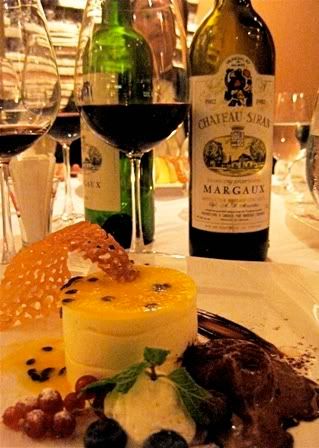 1982 Château Siran
- I've also had this a number of times, more times than the 1989 if I recall correctly - the first time in the earlier part of 2005 I believe. This had always struck me as one of the earthiest, most masculine vintages of Siran. Every time I've encountered it in the past, it had a darkly serious character, its deep, velvety fruit infused with notes of violets, leather, slight kirsch and licorice and ceps.
Now, at almost 27 years from vintage, from a 750ml bottle, it came off softer, more feminine, with a somewhat nostalgic old pressed violets note to its soft, ripe fruit - plum, cherry, raspberry, over prune and crème de cassis. It's hallmark spiciness had sweetened, seamlessly blended into the red fruit notes. There are just the merest hints of leather and mushroom lurking underneath.
Now in a lighter, materially less severe medium frame, it was more advanced than I expected - that is until I remembered that even the 1855 first growth from 1982 that I've tried in the last 1-½ years have also appeared quite advanced - the most youthful 1982 I've had recently being the 1982 Gruaud Larose. Still and all, it was a good wine, one I would advise enjoying now and soonest, and a definite pleasure to be able to have again.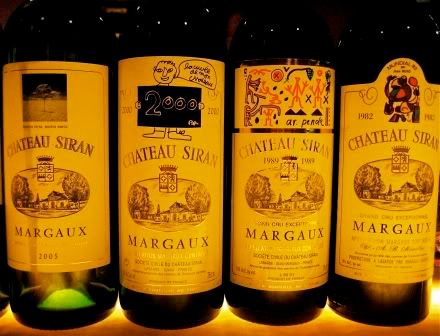 Proper thanks were, thereafter given to I'm Angus' staff, resounding applause well deserved.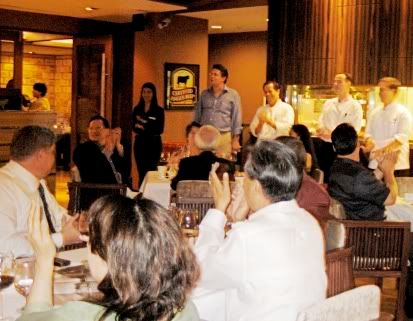 It was certainly enjoyable, and even somewhat comforting, to have the subject Siran vintages anew. I must also say that I was quite impressed with the way I'm Angus performed with a full house wine dinner. I'll be back with some friends again this Saturday to see how the regular menu is on an ordinary day. I think the only thing we had Tuesday that is on the regular menu is the beef tartare. We shall see.