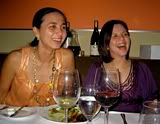 I suppose those who follow my blog already know that my wife and Mrs. Doc are first cousins who happen to be particularly close. We hadn't been seeing each other as much as usual over the summer for some reason or another, so the two planned a dinner at
Je Suis Gourmand
this past Saturday (16 May 2009). The dinner was supposed to include the children, but only ours wound up coming along.
I guess this was because Doc's children are younger, and, probably, sleep earlier. In any event, it was certainly nice to get together again.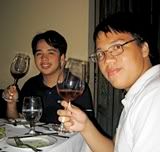 The day before, at the ladies' respective requests, I asked Marc to prepare 2 dishes off the regular menu:
Escargots Miguel
(now the official name of Marc's own version of Daniel Boulud's recipe that Miguel tried and told us about; 3 orders) and
Tart Flambée
(2 orders). With these, we also had 2 orders of Marc's signature
Terrine of Foie Gras
plus another one that Mrs. Doc ordered (I can't recall what it was though). My two older sons split a bottle of
2007 Bodegas Marco Real Homenaje Rosado
, while we adults had...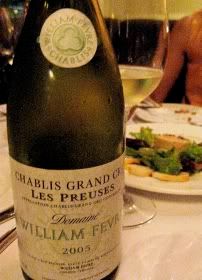 2005 Fevre Chablis Grand Cru Les Preuses
- The Doc's bottle. This is the first 2005 Grand Cru Chablis I've tried to the best of my recollection, though I've had quite a few 2005 1er cru and village level Chablis. The Grand Cru appellation (recognized as such in 1938) is divided into 7 climats situated above the old town of Chablis on the northeast.
Les Preuses is a particularly highly situated, sun-kissed, 10.09 hectares in area Chablis grand cru vineyard on the right bank of the River Serein, abutting Bougros on the north and Vaudésir on the west (both also grand crus). It is generally known to yield one of the lusher, rounder versions of Chablis.

I expected the 2005 from this particularly sun-exposed grand cru vineyard to be disproportionately (for a Chablis, because of the vintage) ripely fruity, maybe even tropical, but it wasn't. Though typically lush and rounded, virtually opulent for a Chablis, the fruit was still properly taut and distinctly tensely minerally/cold-stony/flinty. The balance, though just adequate for my taste, was most admirable considering the vintage. As a whole, the wine presented clear luxury but in good taste. Quite impressive. Nice with the terrine of foie gras.
The Doc opened a bottle of
1989 Château Pichon Longueville Comtesse de Lalande
, the same wine that got the Stockbroker his first victory in the Grand Crew's
Blind Bordeaux Challenge IV
(2 November 2006). I last re-tried this wine over a year ago, 13 March 2008, at an
IWFS Pichon Lalande Vertical Dinner
, so welcomed a chance to see how it was coming along. Unfortunately, upon opening the bottle, with just one whiff, the Doc pronounced it DOA - badly corked - cause of death: TCA. Marc and I thought to give it some time just in case, but, the Doc's diagnosis was spot on - it just kept getting worse and worse as the evening wore on. Ditched.
In its stead, since we started with a grand cru Chablis, and to go with my Seared Scallops with Sweetbreads Risotto, I figured we may as well continue with yet another Burgundy...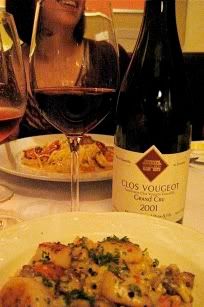 2001 Daniel Rion Clos Vougeot Grand Cru
- Yes, yet another of these bottles from me, I've always meant for the Doc to try this, but, due to a series of untimely hospital calls, it didn't happen until that night. My last notes, during a dinner at the Vigneron's new Manila residence last
15th April 2009
, are as follows:
This time, I decanted the wine before dinner started, so it was breathing for around 1-½ to 2 hours before it was served. Since it is a grand cru, it is still quite young at point, so material decanting does help it release its charms. This bottle was noticeably more complex, heftier and richer than before - Burgundy decay was not apparent in its bolder fruit infused with violets, touch of Asian spice, moderate dark chocolate and well-integrated vanilla/oak. Nice body, not quite chewy, but showing its grand cru girth.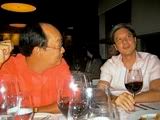 Now, also with material decanting for aeration, I add that I detected some sweetish dried fig and mild/subtle spiced new oak/vanilla notes to the mix. Also quite young at this stage, with very good ageing potential as well.
We were so full from all the food, we ordered few desserts to share: some homemade JSG
Macarons
, a
Dark Chocolate Ice Cream
for me, a
Thin Apple Tart with Vanilla Ice Cream
and a special cake from Marc - much to my youngest's delight.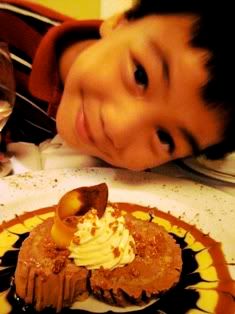 It was great getting together again. Hopefully, the next won't take nearly as long. Thanks, Marc, for yet again accommodating my requests.
And, to everyone who would like to try some of the off-the-menu dishes I write about, please be advised that Marc is more than willing to accomodate requests for you all to try them as well. Just call up a few days ahead of time and request for them. With prior notice and enough lead time, assuming the ingredients are available, you'll get them.