My brother,
T
, and his wife,
C
, will be spending the holidays in Tokyo with
C
's family, so, last night (the 19th December 2009), my dad held a small dinner for us. It was just us 9 (as my other sis and her family, as many know, live in the US) - just the usual dinner at my dad's: seafood, some roast meat, a salad, pasta and dessert. The evening always starts with pica-picas (Parma ham, cheeses, chicharrón, etc.) and beers in his balcony.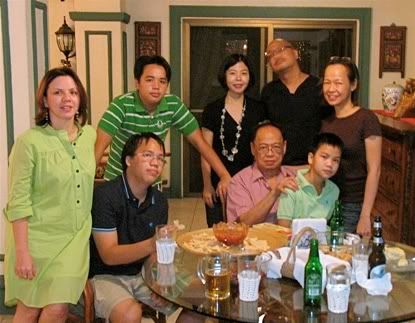 You can see the male Ermitaño blood in that the men, for some reason, never smile for pictures.
I prepared the
Roast Racks of Lamb
that my dad got at Terry's - they have this special kind of lamb there - not the usual ones in the chiller (which are also very good) - these are around triple the price of the usual - they are quite lean, but very tender, juicy and fragrant. Other dishes were some
Green Salad
,
Grilled Giant Freshwater Prawns
(i.e.,
Macrobrachium rosenbergii
, locally known as "Ulang") and
Vegetarian Spaghetti
(no photo though).
For dessert, there is always some fresh fruit and some sort of cake. This time, the cake was a
Chestnut Cream Bûche de Noël with Macarrons Glacés
- a gift from Marc Aubry.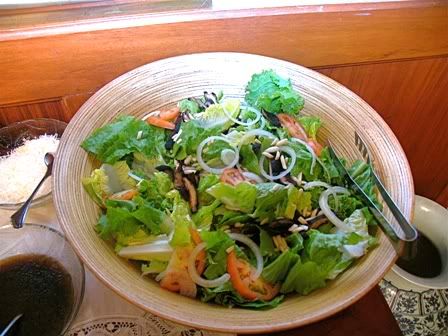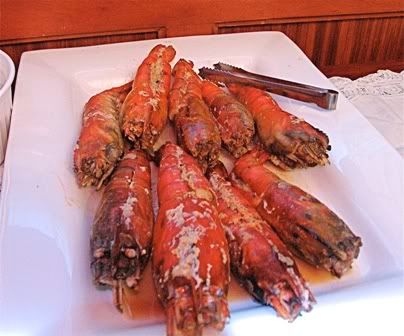 Grilled Ulang (these were huge with the heads bursting with fat)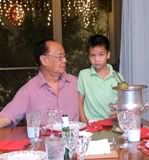 After the salad, we had the Grilled Ulang with Vegetarian Spaghetti (no photo, unfortunately) and a bottle of young, chilled
Soave
- the year and maker of which I have completely forgotten. I'm never really on "blogger mode" in my dad's place - where wine is, and has always been, looked upon as a "mere" beverage one has with meals (as well it should be).
Like us siblings when we were growing up, the children are allowed glasses of wine with their food - if they want - at a relatively early age. My two teen-agers usually ask for a glass each of white and red, but my youngest (10) doesn't.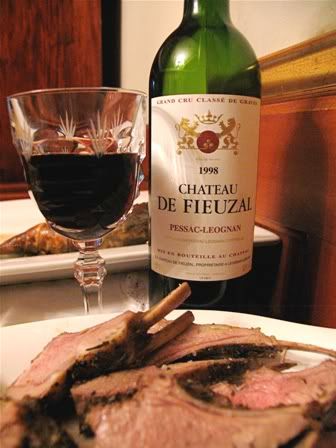 I picked out a
1998 Château de Fieuzal
from my dad's cav to go with the young lamb as I haven't had this vintage of de Fieuzal yet and because, in my experience, Graves/Pessac-Léognan seemed to have fared quite well in this vintage (nb: for Bordeaux, 1998 is commonly known as a good right-bank vintage - far overshadowing the Médoc and Graves/Pessac-Léognan). 1998 Pessac-Léognans have, in my experience, been pretty good - the wines of Châteaux Haut Brion, Domaine de Chevalier and Smith Haut Lafitte (though I'm generally no huge fan of SHL's reds) immediately come to mind.
The '98 de Fieuzal is still showing very young. Though already enjoyable with the racks of lamb, I think it needs a couple of years to fully "come together". Very concentrated/extracted (probably too much
remontage
), smoky black currant, crème de cassis, plum, bit of cherry, dash of kirsch, cedar, violets, are (overly) generously infused with dark minerality, "tar", tobacco, anise and wood - the latter 5 too obtrusive at this point for me. Tannins are a bit rough and somewhat drying in the finish.
My verdict at this point is that, though it will never be as good as the '95 or '96, the '98 shall probably improve in 2-3 more years.
Chestnut Cream Bûche de Noël with Marrons Glacés from Marc Aubry
After dessert, some fresh fruit, cups of coffee (for the adults) and many stories, my youngest, normally a ball of energy, fell asleep at the table and had to be roused by his eldest brother when we moved to the living room.
They all perked up, though, when they received their advanced gifts from T & C, their US-based uncle and aunt, and the iPod Nanos from my dad.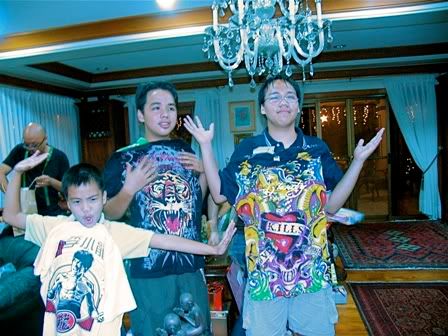 The Christmas season is really for kids. It sure is fun to watch them enjoy it though.