The evening of 27th November 2009 saw the induction of the first members of the
Commanderie de Bordeaux Manila
(the "Commanderie Manila") during a grand, wine-filled event at the Manila Peninsula's Conservatory. Well over a hundred Bordeaux aficionados attended, including honored guests from Bordeaux, Hong Kong, Jakarta and Singapore.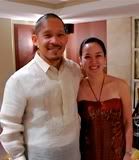 Briefly, the Commanderie Manila is a brotherhood of Bordeaux lovers that functions as the "embassy" of Bordeaux wine, its mission is to provide a forum for the enjoyment thereof, and, in so doing, help spread the recognition of and love for the same in the Philippines. The over 70 Commanderies throughout the world owe allegiance to the
Grand Conseil du Vin de Bordeaux
founded by Henri Martin in 1952 and formalized into a
vin
-centric non-profit organization in 1975.
As one of the first batch of inductees, I was tasked to write the introductions of all the others for the induction ceremony, as well as read the same thereat, alternating with co-inductee, Felicia Atienza. As such, I had to arrive earlier for purposes of coordination.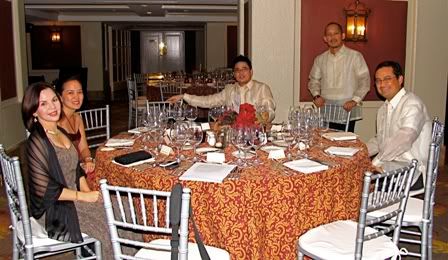 L-R: my wife, Mrs. Stockbroker, Aaron Palileo, the Stockbroker and Kenny Quintal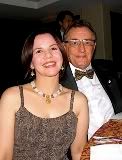 The Vigneron, who, together with Alex Lichaytoo, spearheaded the event, arrived within a few minutes with, among others, Emmanuel Cruse (proprietor of Château d'Issan and Grand Maître of the Grand Conseil), Jean-Michel Cazes (proprietor of Château Lynch-Bages and immediate past Grand Maître) and Vincent Cheung (Grand Maître for Asia).
After a short discussion on the sequence of ceremony, Emmanuel and Jean-Michel donned their ceremonial robes and we were all set for the affair.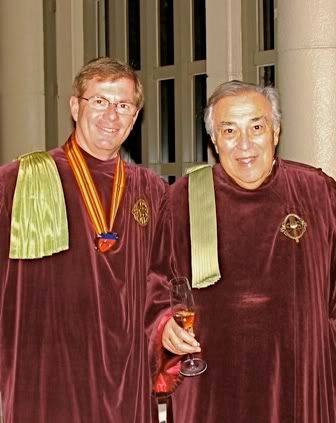 L-R: Emmanuel Cruse and Jean-Michel Cazes
A virtual sea of fine Bordeaux rouges awaited us for dinner.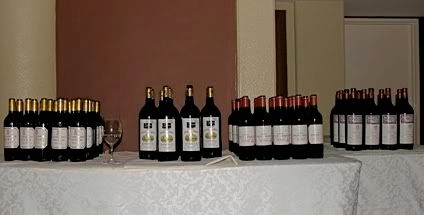 The evening's reds.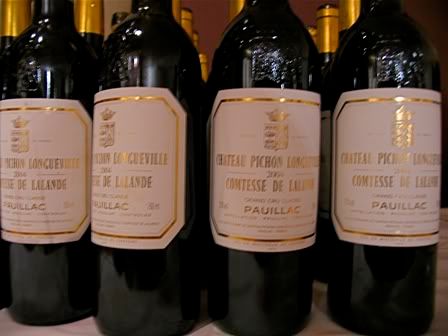 2004 Château Pichon Longueville Comtesse de Lalande
2000 Château Siran (Magnums)
1996 Château Lynch-Bages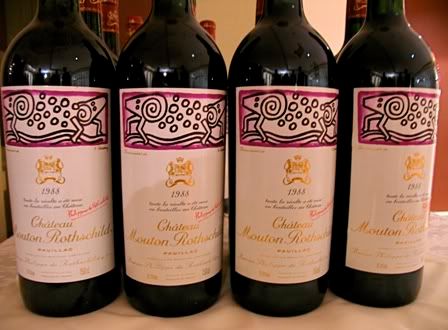 1988 Château Mouton Rothschild (Magnums)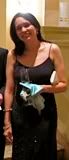 For cocktails, free-flowing
Champagne Billecarte Salmon Brut Réserve
and
2007 Château Carbonnieux Blanc
. This hefty, well-rounded champagne
I've already written several times about
, it being my and others' favorite locally-available non-vintage bubbly.
The '07 Carbonnieux Blanc was gracefully floral, elegantly fruited and minerally, and with admirable brightness, freshness and balance - an excellent apéritif and a perfect match for fresh oysters and other seafood dishes.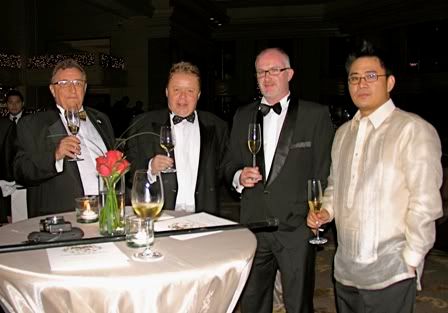 L-R: Robert Burroughes, Michael Whiting, John Harvey, Aaron Palileo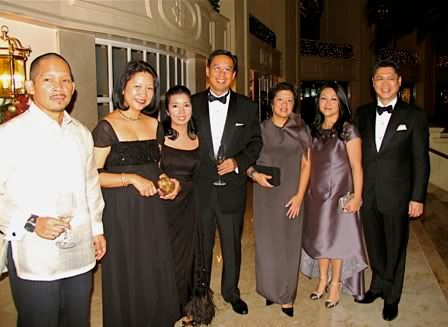 L-R: The Stockbroker, Christine Miki, Luli and Luigi Bernas, Maja Olivares, Terrence Lim Ong and Rombit Co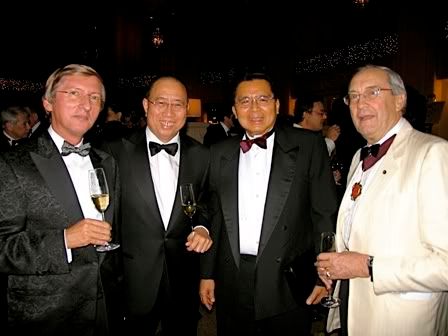 L-R: IWFS stalwarts Othmar Ober, Uncle David Lim, Doc Leelin and William-Alain Miailhe de Burgh
Mauro Agustines, Mariana Yulo and Jorge Araneta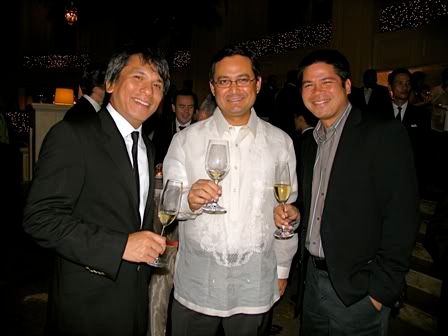 Elbert Cuenca, Kenny Quintal and Paco Sandejas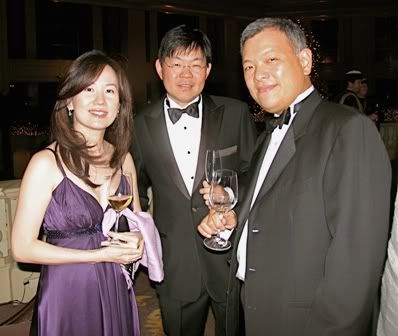 Candy and Johnson Uy with Clifford Lichaytoo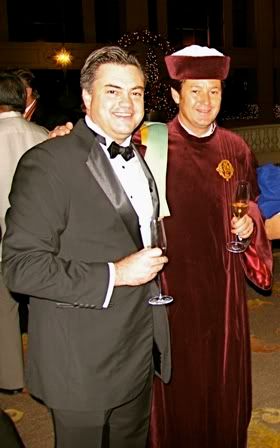 The Vigneron and Eric Perrin of Château Carbonnieux
Thereafter, we entered the Conservatory and the ceremonies began with Emmanuel Cruse's induction of Dong Puno as the Commanderie Manila's first Maître.
Being on stage during most of the ceremonies to introduce each inductee with Felicia, I was, unfortunately, unable to take pictures of every single one of them as they were inducted.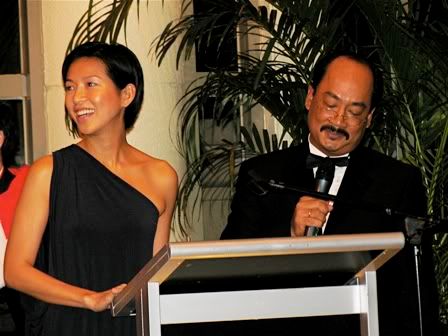 Those whose solo photos I have, though are: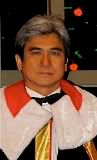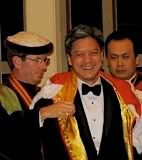 L-R: Bernie Sim, Oscar Ong, the Doc and the Stockbroker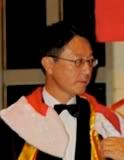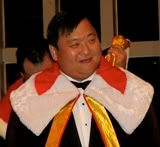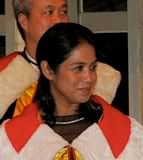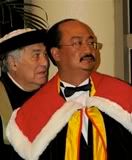 L-R: Keiichi Miki, Alex Lichaytoo, Gaita Fores and myself
The other inductees were the French Ambassador, His Excellency Thierry Borja de Mozota, Jorge Araneta, Edouard Miailhe, Miguel Aboitiz, Felicia Atienza, Clifford Lichaytoo, Louis-Paul Heussaff and Maja Olivares.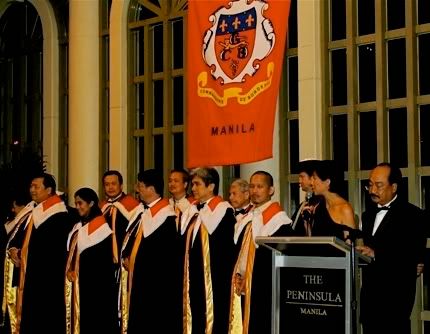 Naturally, Felicia and I had to, in turn, be introduced, so Mrs. Vigneron kindly did us the honor.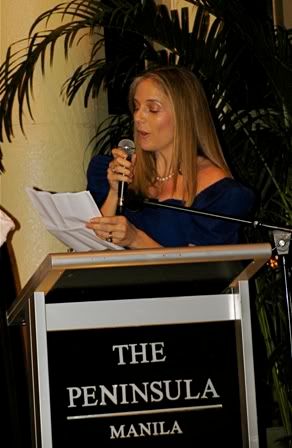 Thereafter, Emmanuel, as Grand Maître of the Grand Conseil, with sword in hand and uttering a few "magic lines" in French, formally inducted us into the Commanderie.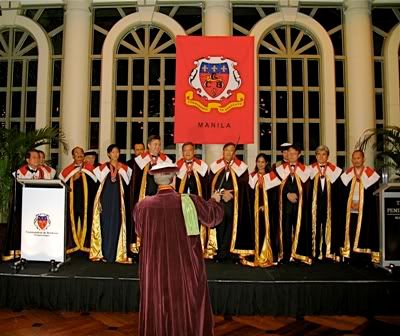 Bordeaux, toujours Bordeaux!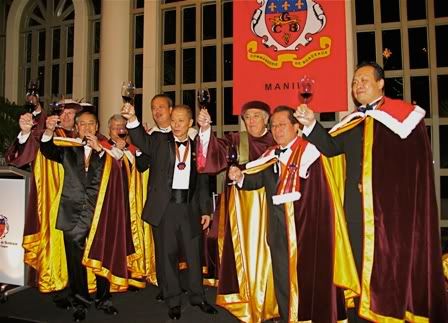 Formalities done, we all went to our seats to get down to the extremely serious business of eating and drinking.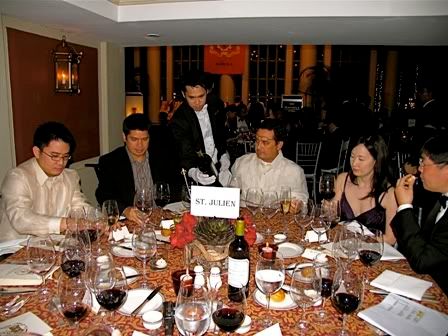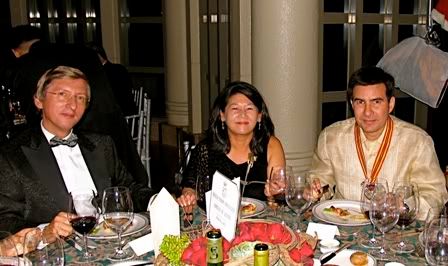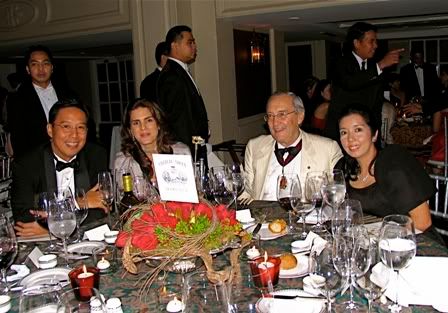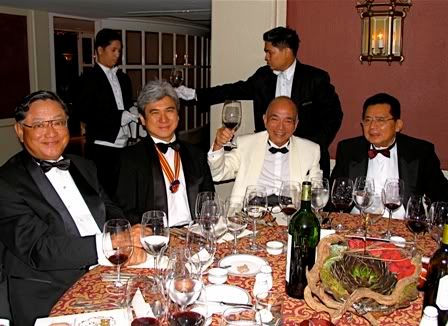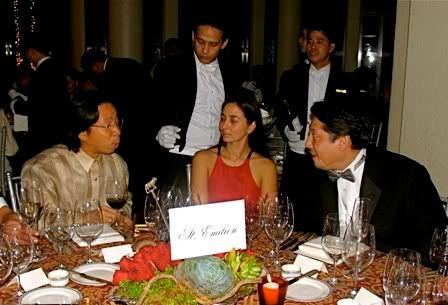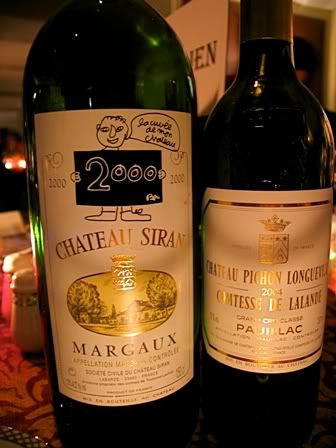 2004 Château Pichon Longueville Comtesse de Lalande
- I drank a good bit of this at
Rene's birthday dinner early last month
. Alongside a bottle of 2000 Château Smith-Haut-Lafitte, I definitely preferred the younger 2004 Pichon Lalande. My notes on the latter were as follows: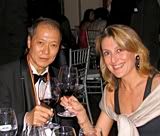 I've not had very many 2004 Bordeaux as they are, to my mind, still very young. The most I tried at a single sitting were
eight 2004 Pessac-Léognans
during preliminary cocktails at
the 2007 Fête de la Fleur at Château Smith Haut Lafitte
which the Vigneron invited me to. That said, my general impression is that Bordeaux rouge from vintage 2004, for the Médoc and Pessac-Léognan anyway, is of a more classical character (i.e., more properly austere, reserved, subtly fruited and with better acidic balance) than, say, super-ripe/roasted-ripe modernish 2000, 2003 and 2005. Anyway, the former character/style suits my palate more.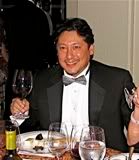 This wine was surprisingly open considering its youth, stylishly displaying Pauillac notes of slight pencil shavings, licorice and cedar infused dark plum, blackcurrant, cassis, with minor notes of raspberry, kirsch (submerged) and violets. Moderately firm structure, notable focus and definition, breadth, mid-palate heft/creaminess, push and wood/oak-integration - all in proper balance. This is a very good wine.

The bottles of '04 Pichon at the subject dinner were fine and consistent with my above-quoted notes. It is undoubtedly a good wine. However, most likely due to its youth, beside all the others, this barely 5-year old 2nd growth seemed somewhat overshadowed.

2000 Château Siran - I've had this wine so many times I've long lost count. The most recent notes I have on it is from a Château Siran vertical dinner at I am Angus on the 26th May 2009. Amongst the evening's wines, this over-performing cru bourgeois more than held its own, and, in the opinion of some attendees, came in No. 2 wine of the night. My previous notes, still applicable, state: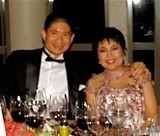 This is still my favorite recent vintage of Siran, and, by "recent" I mean in the past 10 vintage years. It is also the Doc's, so much so that we couldn't help but surreptitiously enjoy his smuggled bottle thereof in a previous Siran dinner.

Already drinking well, but with long life and great potential for even more improvement ahead of it, this suave, smooth/supple-muscled, agile light-heavyweight is just beginning to really strut its stuff. Naturally more open than the previous youngster (vintage 2005), it already displays depth and complexity underneath the fruit. The distinctive spicy notes, some fennel, iron, leather, licorice are well in play, the wood quite already nicely integrated. I enjoyed this a lot, as I always have.

I only add now that beside the younger '04 Pichon Lalande, the '00 Siran's depth of fruit, roundness and harmony were emphasized.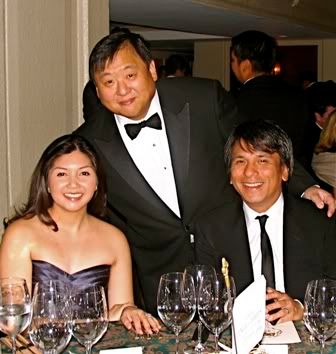 With the main course of roast duckbreast and pheasant...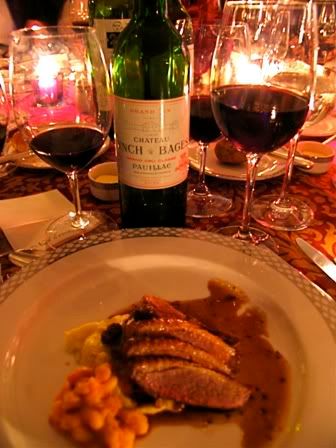 1996 Château Lynch-Bages - I've had this many times, but, for some reason, my last notes were brief and from back in early December 2005 - too long ago to be relevant now. This is typical Pauillac and Lynch-Bages with the sturdy structure that marks the 1996 vintage. Fair depth, earthy, quietly muscular, serious in its dark, somber fruit, cedar, discreet spice, leather, touches of dark violets, "tar" and gravel. Very smooth and comforting mouthfeel, this is drinking youthfully for a 13-year old wine - a testament to its ageing capability. Then, as now, this is an excellent wine.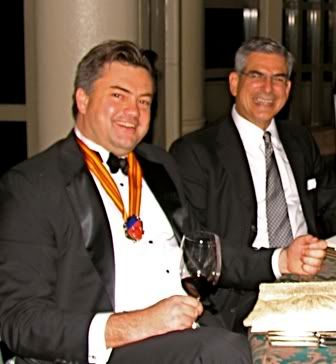 The cheese course with membrillo and dried fruit followed, paired with what I am sure was most everyone's most anticipated wine.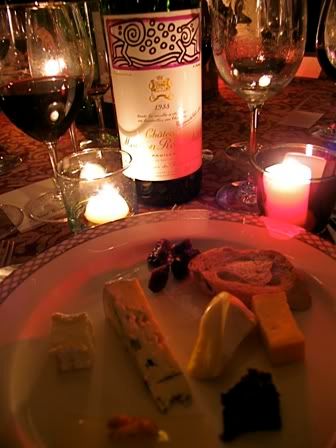 1988 Château Mouton Rothschild* - At first sip, this was lighter in body than most Mouton Rothschilds I've had - even the older 1982, 1985 and 1986 not too long ago - evidently not in the typically rich, luxuriously full-bodied Mouton Rothschild style. This is, admittedly, picking nits as the wine is, indeed, a very fine one. As with other first growths, I, however, cannot help comparing it to other vintages of itself.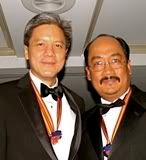 That said, this wine is mature, just a shade or two below legitimate full-body, and displayed an alluring, complex bouquet of old violets, meat, a slight sanguine nuance, ceps, dark minerality, bottle-age-sweetened cherry and raspberry, black currant, cedar, bit of leather and licorice. Mirrored softly, silken and intricately layered on the palate with an added hint of fig, this came off as a touch feminine compared to the 2000 Siran and 1996 Lynch-Bages at this point. Very fine.

Though I normally prefer white wine with a cheese course, the wine made for a nice match with the cheese - the former's dark fruit giving a cut to the latter (like the membrillo and dried berries) with the earthy/gaminess of the two playing together nicely.

*1988 was the year the late Baron Philippe de Rothschild passed away and the year his daughter, the Baroness Philippine Rothschild took over the estate; hence, a most apt coincidence in that vintage of Mouton Rothschild being served in the first Commanderie dinner in the Philippines.


Because I enjoyed going wandering around, chatting with friends and taking pictures, I did not have my dessert - a small price to pay, and, anyway, I've been putting on weight lately, so it's not like I needed the extra calories.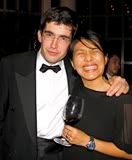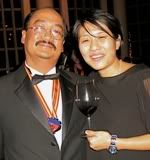 I was particularly happy to see Grace Vineyard China CEO Judy Leissner that evening, and finally got to meet her husband, Tim, as well. Judy is always so youthfully dynamic, charming and bubbly. Aside from making wine, Judy has an undeniable passion for it to boot. It was great seeing her again - she flew in to Manila just for this dinner and was leaving the next morning.

Here she is in the photo with me above/left and, on the right, clowning around Fabrice Dubourdieu of Château Doisy-Daëne.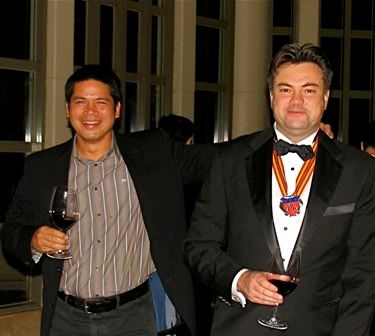 Though I skipped dessert, I, of course, did not let the evening's nectar of Barsac escape me without trying a glass.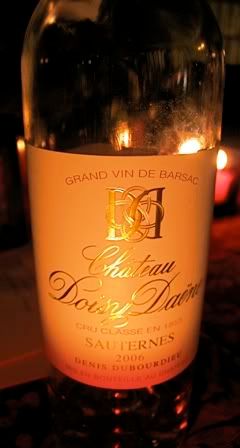 2006 Château Doisy Daëne - I've mentioned before that Doisy Daëne "is actually a Barsac wine (due to archaic political squabblings, wines from Barsac may be labeled as Sauternes but the reverse is not allowed), generally known to be less unctuous, rich and opulent compared to Sauternes, but lighter-footed and with better acidic balance and lift (an exception that immediately springs to mind is Château Climens, e.g., 1986). I've had several vintages of Doisy Daëne and found this one to be very fresh, nicely floral and well-focused with a notable acid lift/liveliness to its honeyed peach, pineapple and vanilla/oak flavors. I didn't need dessert at all - this wine was dessert in itself.

The crowd then noticeably began to thin, I said my goodbyes to friends and lingered a while longer with my wife, Aaron, Kenny, Kim and Paco over a glass or two more of the 2000 Siran. Most enjoyable evening with fine wines and good friends. Again, until the next!