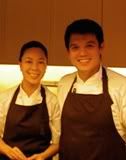 With the recent opening of
Rob & Sunshine's
The Goose Station
("TGS"), this year's venue for
the Alabang Group's Christmas Dinner 2009
was a definite no-brainer. I booked the group for Wednesday, the 16th December 2009, through Rene; we were complete this year - all 8 couples, 16 in all. I unhesitatingly recommended TGS to the group, for, having attended a few of Rob & Sunshine's past Gourmandise dinners, I knew well that they turn out many memorable dishes. Since many of the Alabang Group attended
the Final Gourmandise Dinner
on the 25th April 2009, every one of them immediately agreed to the venue.
Willy Chiongbian, Toñico Climent, Boozze Fandiño, Yvonne Climent, Maricel Abad (face turned), Sylvia Ramos, Minnie Chiongbian and Johnson Uy.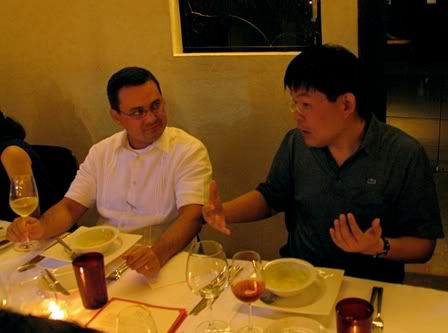 Kenny Quintal and Johnson Uy
Johnson Uy, Tonji Ramos and Maxy Abad
We brought our own bottles of wine, naturally, 8 in all, and Tonji said we'd just order off the wine list if more were needed.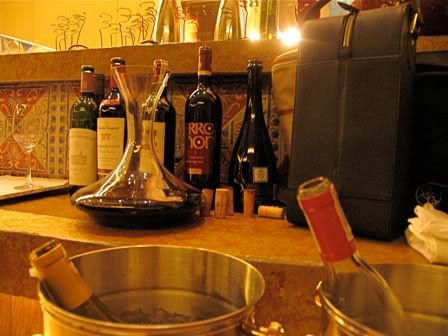 Complete by around 7:30pm and started choosing our dishes (15 chose the 9-course Signature Menu and 1 chose the smaller Express Menu) while sipping pours of well chilled...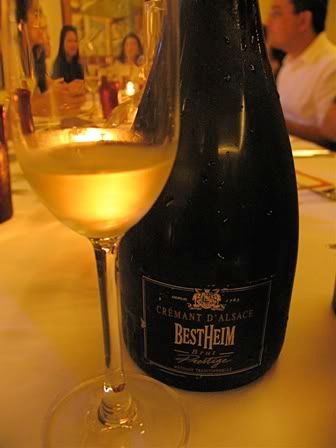 NV Bestheim Crémant d'Alsace Brut Prestige
- Johnson's bottle, a 100% pinot blanc (a.k.a. "klevner" in Alsace) bubbly from Westhalten in Alsace (near Colmar). Bright, crisp, lean, fresh and nicely dry green apple, citrus, lime and white-minerally flavors, generous mid-mouth frothiness with a very clean, bracing acidity and finish. Very nice as an apéritif, it certainly cleansed and primed our palates for the multi-course meal to come (available at Terry's Selection).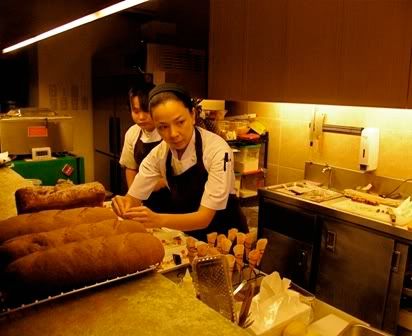 Sunshine busy making the Keller-esque appetizer
Foie Gras Cones
, each topped with a single hazelnut for added flavor and texture. Everyone loved this. I over-heard Kenny Quintal comment: "I can eat 8 of these for my appetizer". Enough said.
Foie Gras Cones
, some of the guys snatched some off the rack before I could take a photo. With this, we had pours of...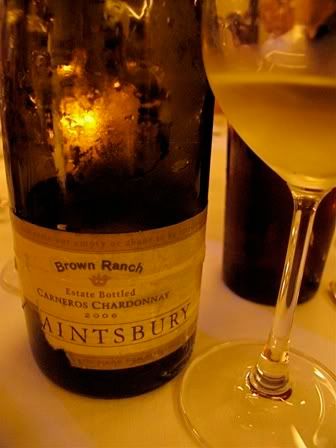 2006 Saintsbury "Brown Ranch" Estate Bottled Carneros Chardonnay
- My bottle; I keep a stock of this at home (purchased from Premium Wine Exchange) because my wife likes it. My last notes were
from her birthday lunch at Antonio's
:
My wife likes the fuller, buttery style of good California chards, so a bottle thereof at her birthday lunch was definitely in order. Anticipating this lunch, I picked up a few bottles of this in Premium Wine Exchange after this past Tuesday's
Rosés and Reds lunch
.
Pretty typical Cali chard, the dominant flavors are lightly buttery, baked apple, pear with a light touch of ground hazelnut, spice, bit of vanilla/oak and discreet white floral notes. Not as big and opulent as, say, the Beringer Sbragia Limited Release, Newton Unfiltered Chardonnay or Ramey Hudson Vineyard, but with marginally better acidic balance in my opinion. It went well with the foie and chanterelles, the steak tartare, and reasonably well enough with the raclette.
This bottle showed particularly well, it's lacing of oak/vanilla very well-integrated. Notable balance. Tonji seemed to like this as, having studied and lived in California for several years, he, like my wife, enjoys the bigger, richer style of chardonnay.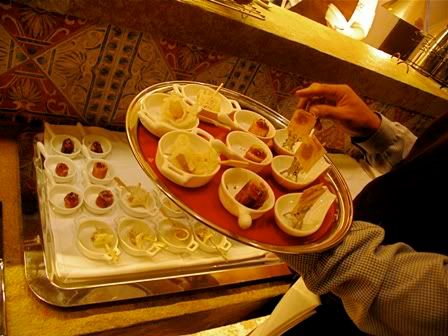 Next came our "Snacks" of Peanut & Jelly, Ham and Cheese, Onion & Potato.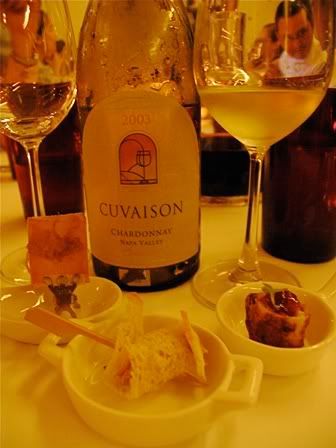 2003 Cuvaison Napa Valley Chardonnay
- Tonji's bottle. I recall vividly that I first tried Cuvaison's chardonnay was also from him during my impromptu birthday lunch on the 1st May 2001. There was a declared state of rebellion at the time so I cancelled all my plans to celebrate. My brother wouldn't have it, however, so he and his wife made a summer lunch for me, family and some friends at our place.
Good, typical Napa chard, with slightly tropical character to its pear, apple, hints of lemon custard and melon, slightly toasty oak/vanilla/buttery notes. I sipped this wine through the next 3 courses. Some others enjoyed glasses of Johnson's bottle of
2008 Bodegas Marco Real Homenaje Rosado
of which I have described countless times before.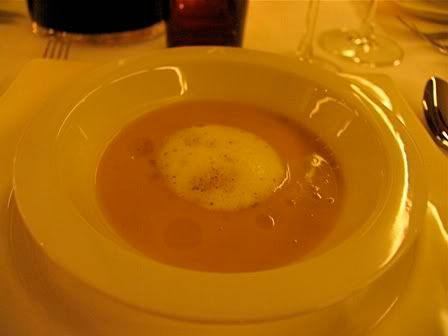 Roast Squash and Chorizo Bilbao Soup with Sage Butter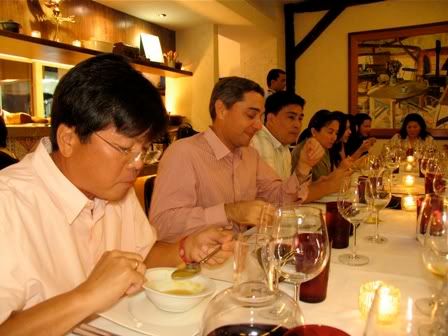 This was well received by the group. I particularly enjoyed it as I favor anything with yellow squash.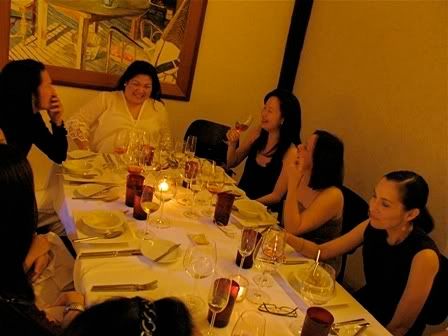 Sylvia Ramos, Minnie Chiongbian, Candy Uy, my wife and Margarita Fandiño
Beet Garden Salad - Textures of Beetroot, Orange, Goat's Cheese, Candied Walnuts, Leaves, Aged balsamic, Lightly Pickled Vegetables
The immediately above dish was also a stand-out - very creative, playful, whimsical and it did taste very good indeed.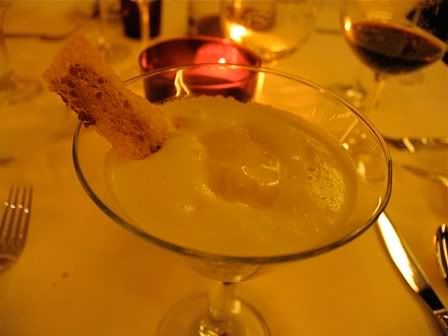 Eggs Benedict 2007 - Poached Egg, Hollandaise Foam, Bacon Tuille, Fleur de Sel, White Truffle Oil
Many of us had this at the last Gourmandise dinner and were more than happy to enjoy it anew. As before, this truffled spin on eggs benedict was one of the evening's favorite dishes.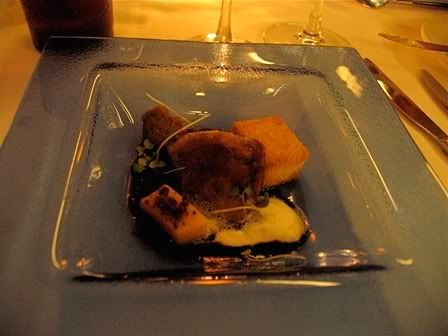 Seared Foie Gras, Roasted Pumpkin "Pudding", Gingerbread, Blueberry-Tarragon Jus, Toasted Brioche, Sweetened Chestnut and Micro Mustard.
The immediately foregoing dish paired well with the 2003 Cuvaison Napa Chardonnay. Thereafter, I switched to reds beginning with a bottle of
1999 Bodegas Olarra Cerro Añon Rioja Gran Reserva
- my bottle, of which I, unfortunately forgot to photograph. I've written about this a few times,
the last being at a WSCP event on the 28th October 2009
. Last night's bottle I decanted for around 1-½ hours before serving.
Willy admired its "complex nose" and noted scents of licorice, violets, cedar and vanilla in its dark fruit. On the palate, he described this shades-over-medium body Rioja as "complex and graceful". I couldn't have put it better myself. I purchased the last case of this from Terry's Selection. JC de Terry now has a new vintage of this wine available, but I've yet to try it out. Rest assured I shall post on it when I do.
With the next course of
Chicken Roulade - Bacon, Port Jus, Sweet Red Mung Bean and Pistachio Stuffing, Roasted Shimeji & Morel, Sweet Potato Foam and Red Cabbage
, we enjoyed...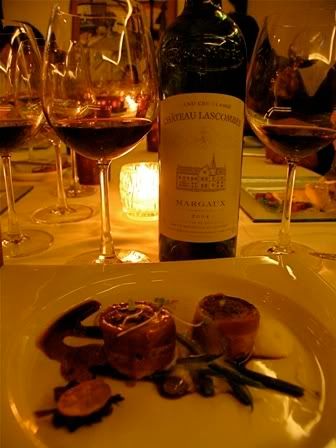 2004 Château Lascombes
- Kenny's bottle. This is only the 3rd vintage of the new owner/management of Lascombes that I've tried (though I've had many of its older vintages). Since the new owner/management took over in 2001, the wines of this 2nd growth from Margaux have shown generous toasty new vanilla/oak in its low-acid, concentrated/extracted ripe dark fruit, cassis, dark plum, bit of cherry, bit of chocolate, cedar, gravel and "tar". Maculine, a bit top-heavy for me, but still quite enjoyable.
Willy opined that it was somewhat Napa-reminiscent, and I agreed it was quite modern. Many liked this and Willy noted that it's modern slant helped it pair well and stand up to with our steak main courses topped with thinly-sliced, crunchy onion rings.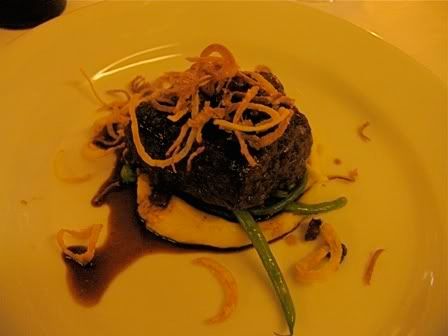 8-Ounce Flame-Grilled Black Angus Rib Fillet, Thin Onion Crisps, Red Wine Jus, Buur Schublig atop Mashed Potatoes.
I and most all the guys opted for the bigger 8-ounce steak (at an added cost), mine very rare as usual. With this I had a couple of pours of...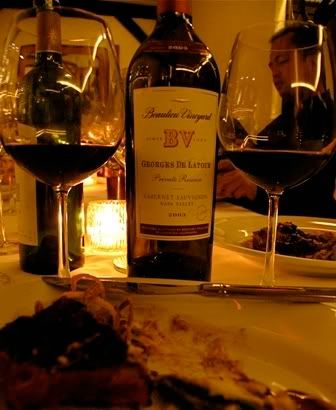 2003 Beaulieu Vineyard Georges de Latour Private Reserve
- Boozze's bottle of course, confirmed Napa-head that he is. I've had several vintages of BV's Georges de Latour ('91, '93, '94, '96, '97 and '98 come immediately to mind) and have always found them to be one of the better-structured, more Bordeaux-esque Cali cab-blends (the '96 was softer, riper and denser than the others when I had it around 1-½ to 2 years ago).
This was notably more modern and extracted than I recall their older vintages, but maybe it's due to youth. Lashings of chocolate and creamy vanilla/toasty oak were very evident in its very ripe black currant, bit of kirsch, crème de cassis, licorice and cedar. I had this with my steak.
Dessert was decadent.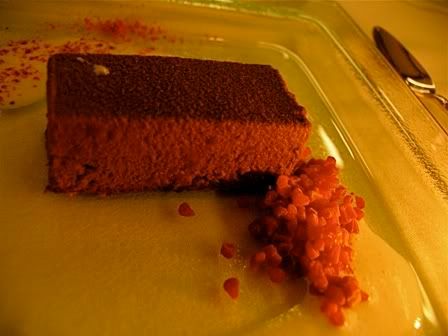 Chocolate Candy Bar - Everyone who likes chocolate should try this. Decadent and delicious, yet not too heavy.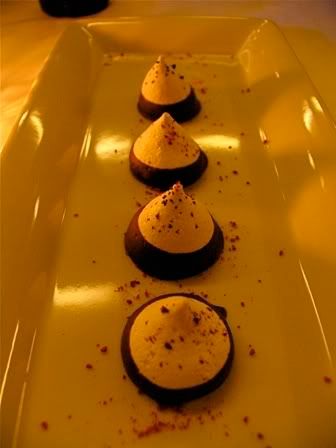 Chocolate-Merengue petits fours,
an espresso, several stories and a few cigarettes later, we called it a night. Excellent meal, Sunshine and Rob. We had a great evening and will surely be coming back.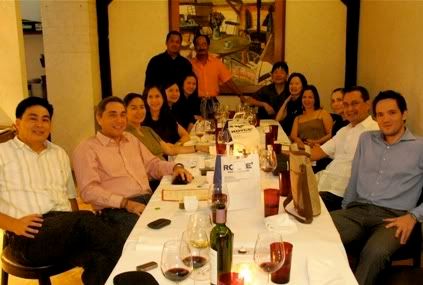 The Chiongbians had already left for home when this shot was taken.
To the Alabang Group, thanks for sharing your wines and precious company. Until the next.