Dinner this Saturday, the 5th December 2009, was nearby at Boozze and Margarita's place - the Christmas dinner of my former EO Forum (an association of entrepreneurs I used to belong to). Except for Boozze (who, like me, is part of the Alabang group), the Vigneron and, occasionally, Santi, I don't often see the fellows, much less their wives these days, so this was a very nice opportunity to catch up. My wife had a function to attend with her family, so I attended alone.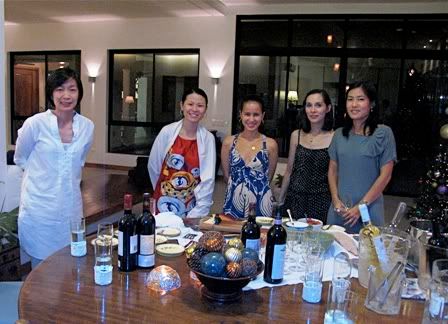 The Ladies: Lisa, Pam, Maite, Margarita and Dorothy (Tisha arrived later)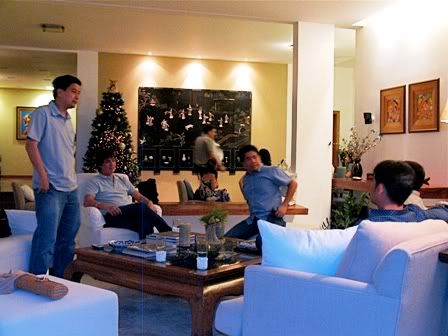 Some of the Guys: Berck, Santi, Joey, Geopie...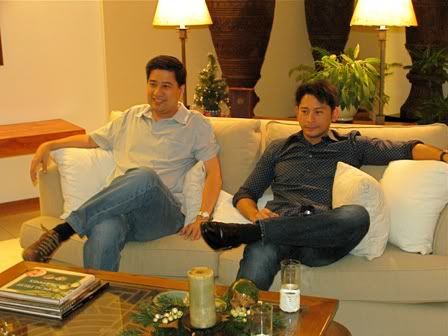 As regular readers know, Boozze is the Alabang group's grillmaster, so, unsurprisingly, dinner featured thick slabs of dry-aged US Certified Angus rib-eye steaks - hickory-seared then oven-roasted.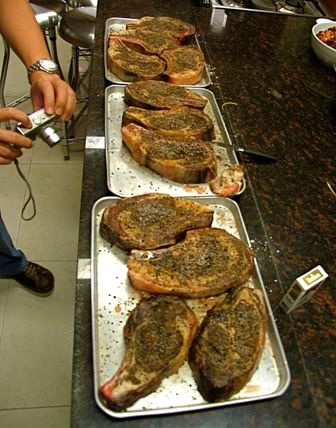 Lined up and ready for the grill
In the meantime, we chatted and had some blancos with pica-picas. It didn't take long, though, before Boozze called us into the dining room.
The Table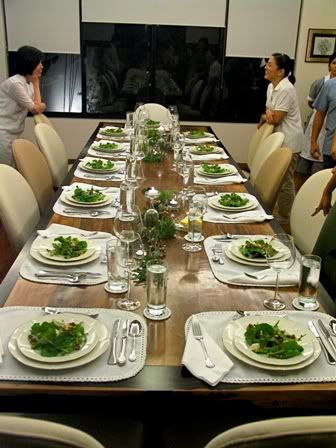 The Anticip..........ation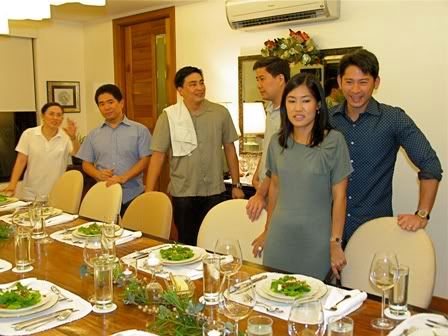 The Food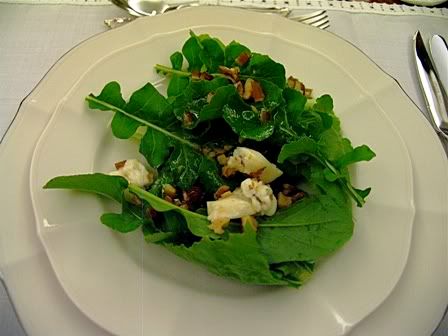 Margarita's Salad of Baby Arugula, Gorgonzola, Dates & Walnuts
-
I had a second serving of this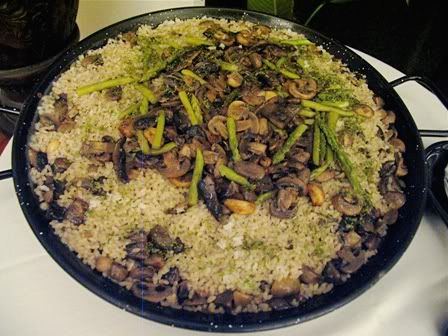 Paella de Hongos y Espárragos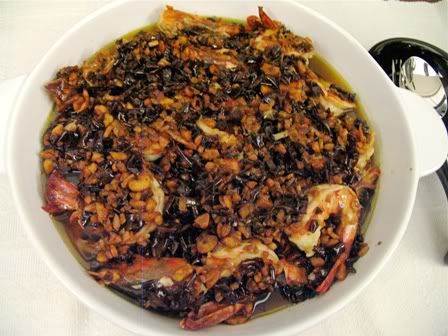 Chili-Garlic Prawns (I made this old family favorite per Boozze's request)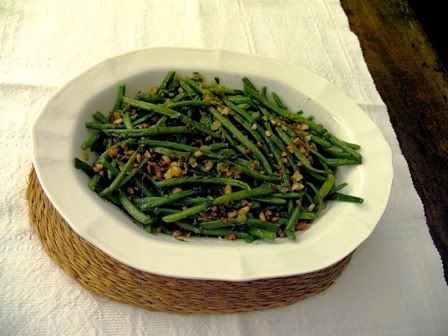 Guilt-supressing
Haricots Verts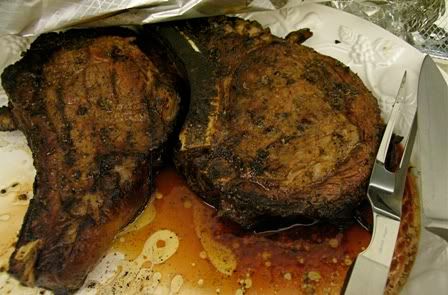 Hickory Smoke/Seared, Dry-Aged Certified US Angus Rib-Eyes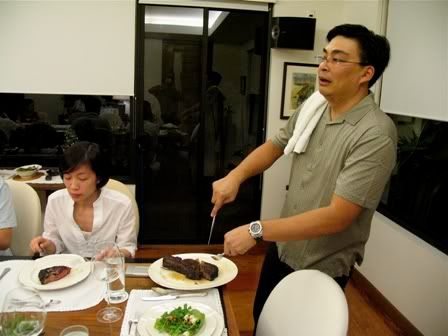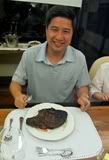 Boozze carved up some for the ladies in accordance with each's preferred level of doneness. Me, of course I went for the rarest one possible. It's been several years since I could finish a whole steak of this size, so I prudently just took a third of one.
The younger fellows, however, had at whole slabs with gleeful abandon. Berck, on the right, imagined he could finish off his chosen slab alone, but wound up sharing part of it with Lisa.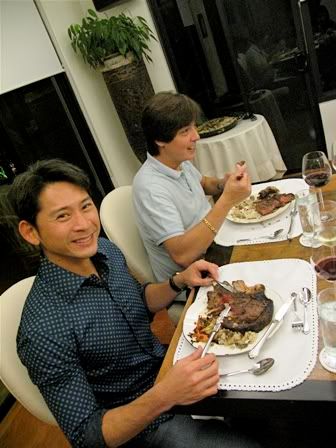 Don and Santi also attacked a full slab each, but, to the best of my knowledge, only Don managed to finish his all by his lonesome. Santi, valiantly though did he try, eventually shared a bit of his with Maite.
The Wines
I brought a bottle each of
2007 Laxas Albariño
and
2008 Bodegas Itsas Mendi Nº7 Txakoli
to go with my chili-garlic prawns, as, knowing Boozze, Santi and Don, I figured there would already be more than enough Napa cab and Bordeaux rouge on deck. I wasn't wrong. Since I've written about these two favored Spanish whites so many times, I will forego repeating myself - mentioning only that the bright, dry, fruitier-styled ItsasMendi Nº7 Txakoli, I found, paired well with my prawns.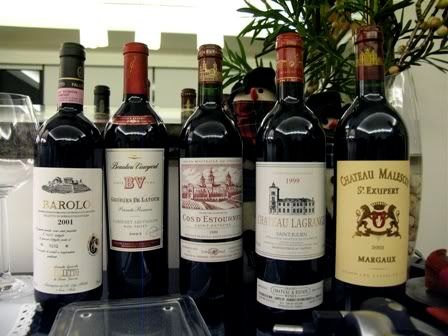 As the steaks were served, Boozze asked me what would best go. Since I love Tuscan and Piedmontese reds with grilled red meats, I, naturally pointed out the Barolo.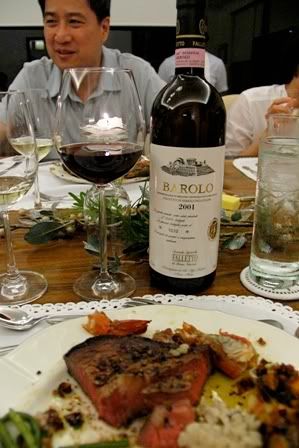 2001 Azienda Agricola Falletto di Bruno Giacosa Barolo
- Don's bottle. This is a single vineyard Barolo (from the 14.5 hectare Falletto vineyard in the commune of Serralunga d'Alba, within the Barolo DOCG; the former wholly owned by Bruno Giacosa). As most everyone knows, 2001 was an excellent year for Barolo and Giacosa is deservedly reputed to be one of the most traditional, old-school producers of Barolo. How could I not have picked out this wine for the steak?
Popped-and-poured, with a bit of coaxing, the wine readily gave up its typical aromas of spicy balsamico, dried violets, tar, black olives, with a minty topnote. Still quite young, it has yet to show earthier scents of truffles and mushrooms - yet, the nose is, to me, already alluring. In the mouth, it mirrors the nose in its masculine, very clean, pure, focused and admirably structured, medium body. A sheer yet sturdy silk of Barolo goodness, it cut through the steak's richness with ease, while enhancing the meaty flavors and cleansing the palate. Excellent alone; excellent with the steak.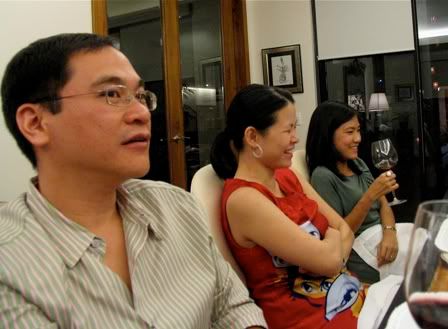 Next opened was another no-brainer choice for me...
1989 Château Cos d'Estournel
- Again, Don's bottle, purchased for him by Dorothy during a recent trip to Hong Kong. I know I've had this not too long ago, but, this being my second post today, I can no longer find the strength to "dig" through my previous notes for comparison.
Cos d'Estournel is one of the favorite producers of the Grand Crew, the former's wine winning every single time it has been entered in our Blind Bordeaux Challenges, (i.e., vintages 1986, 1990 and 1996). Deeper, more classically structured and cut than the '90 and not as lushly ripe-fruited or extracted. Not as flambuoyant as the 1996 at this point, it is, to my mind, more similar to the serious, masculine 1986 yet not quite as stern.
Comfortingly warm, familiar, deep, moderately broad and concentrated, and alluringly complex layers of blackcurrant, cassis, plum, cherry, dark raspberry, cedar, violets, underlying dark chocolate and, with more aeration, added whispers of Indian spice, I couldn't help loving this. I, personally, do prefer '89s to '90s when it comes to fine Bordeaux (
nb
: I didn't vote for the 1990 Cos when it won at our Blind Bordeaux Challenge XI). Excellent, old-school Cos d'Estournel.
Later in the evening, after dessert and amidst a slew of stories about our children, we opened another Médoc...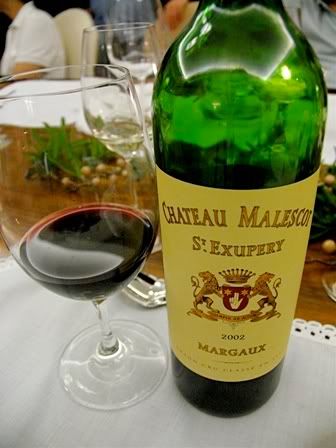 2002 Château Malescot-St-Exupery
- Santi's bottle. I've had this same wine once before - from Rene at
Sunshine and Rob's Gourmandise dinner on the 24th January 2009
. I'm pretty sure Santi bought this together with Rene. My notes then were as follows:
The wine itself put on a good show considering the vintage (the Stockbroker told me before that 2002s are currently the French's red wines of choice for serving), presenting cassis, dark plum, dark cherry and raspberry, minerals, bit of violets, cedar and toasty/spicy oak profiles. Nice balance and depth to it. Medium bodied, and good structure. There is a slight hint of greenness to the fruit, but, in all, quite enjoyable.
I add now that this bottle was more open, extracted and showed touches of leather and a rusticity I did not before note. More evidently, it showed a lot of more underlying dark minerality and an infusion of iron and warm asphalt. The slight greenness of the fruit is still there - but that's likely the vintage showing. A masculine Margaux.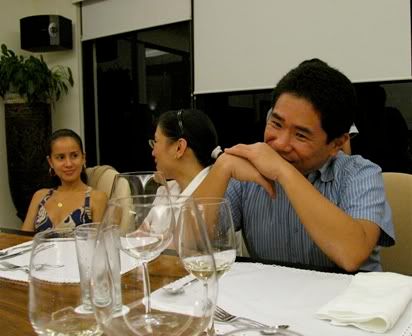 Dessert was, well, indulgent, and I had a lot of it.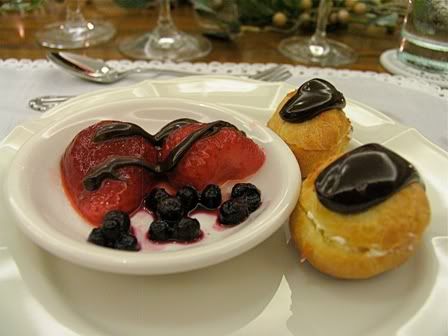 Margarita's Homemade Mascarpone-Filled Profiteroles with Macerated Berries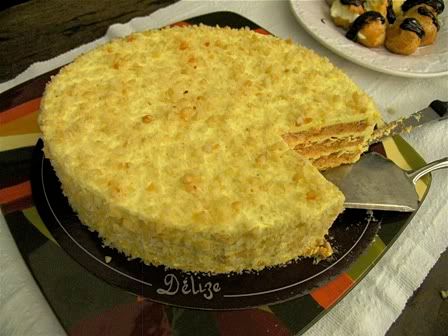 Delize Macadamia Sans Rival (by Jill Sandique), of which I had 2 servings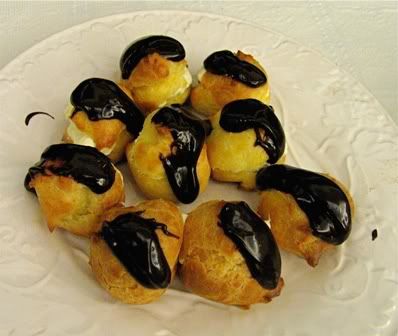 Extra profiteroles for those who cared - I did.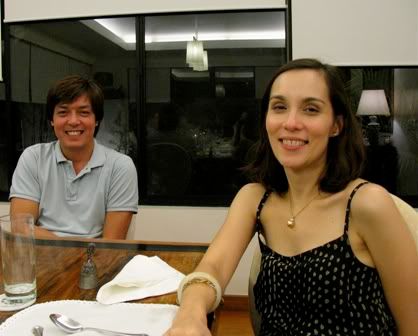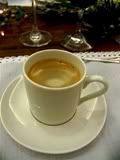 A double espresso and a few more profiteroles later, we all took our respective leaves, gifts given and many thanks made for a wonderful dinner. I'm very happy and, admittedly, a bit touched that my former forum mates still invite me to their dinners.
Thanks, guys, I really appreciate the invitation and greatly enjoyed myself. See you all again soon, and have a merry Christmas. Oh, and thanks to Berck for correcting the settings on my camera. Big help, buddy!