Christmas eve and lunch on the 25th is always with my in-laws. There is always lots of food at both meals -
way
too much. After turkey, ham, etc. on Christmas eve, it was rare US Angus roast beef, turkey (again), paella, pasta...tons of stuff during the 25th lunch.
My side has always celebrated Christmas dinner on the 25th, so there's never been any clash of schedules. It's never been a big affair, just us siblings really, with my dad, a couple of old friends, and, when they are in town, my sis-in-law, Mich, and bilas, Ron (they're based in HK). This year, the latter were able to join us, but the mentioned friends weren't, my brother and his wife are spending the holidays in Tokyo, while my sis who lives in the US with her family didn't make it this year. Thus, in all, we were only 9 for dinner at my dad's.
As usual, we started with beers and pica-picas at the balcony.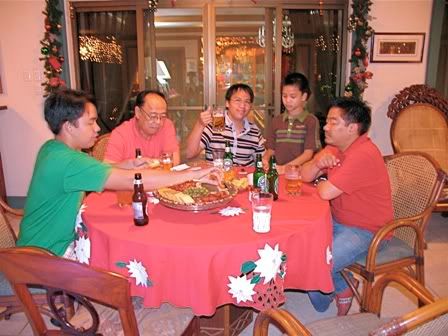 Due to the massive lunch we just had, nobody was hungry so we didn't prepare much.
Prawn Essence and Shiitake Soup (by my dad's cook)
Spaghetti with Pesto Sauce (by my youngest sis)
Haricots Verts Salad (also by my youngest sis)
Grilled US Prime-Grade Rib-Eye Steaks (by yours truly, of course)
Though Ron brought along a bottle of
2007 Dr. Loosen Bernkasteler Lay Riesling Kabinett
, we didn't get to open it since they were still finishing off their beers when dinner was served. The reds, both from Dad's wine cav, were...
1999 Bodegas Olarra Cerro Añon Rioja Gran Reserva
- I've written about this old-school Rioja gran reserva recently and more than once and very recently:
1999 Bodegas Olarra Cerro Añon Rioja Gran Reserva - my bottle, of which I, unfortunately forgot to photograph. I've written about this a few times,
the last being at a WSCP event on the 28th October 2009
. Last night's bottle I decanted for around 1-½ hours before serving.Willy admired its "complex nose" and noted scents of licorice, violets, cedar and vanilla in its dark fruit. On the palate, he described this shades-over-medium body Rioja as "complex and graceful". I couldn't have put it better myself. I purchased the last case of this from Terry's Selection. JC de Terry now has a new vintage of this wine available, but I've yet to try it out. Rest assured I shall post on it when I do.
I only add now that, because this was not decanted, the creamy oak was more apparent (though finely integrated) than usual and the fruit seemed bigger and rounder (though still nicely soft). It's comparatively firmer structure and healthy acidity made for a good pairing with the steaks - for which it was intended.
2000 Château Grand Mayne
- A
grand cru classé
from St-Emilion from a highly reputed vintage. This is still relatively young, but already readily enjoyable and very accesible. Everybody immediately liked it though it was virtually popped-and-poured.
Very open and lush from the outset, with generously curvy, very ripe fruit (dark plum, cherry, kirsch, raspberry, mocha, a hefty but well-integrated dose of toasty vanilla/oak (surely 100% new oak or very close to it) and some underlying crème de cassis, chocolate and licorice. I figured that Michel Rolland is the consultant here, and a quick check at the official website confirms this to be so - since 1973 and with co-consultant Jean Philippe Fort since 1996). Texture is velvety, bold (but not loud); very round mid-palate and a nicely long finish. Acidity is slightly low, but the structure is good. Surely the equation for a good Parker score (recently bestowed a "93", if I'm not mistaken).
For dessert, aside from an apple cake baked by one of my wife's nephews (no photo, unfortunately), we had another
Bûche de Noël
by Marc Aubry...
...followed by some fresh fruit.
With our cups of coffee, my dad poured us some
Hennesy XO Cognac
which nursed us through a lot of stories and jokes for a couple of hours more. My youngest just started playing a game on Ron's i-Phone...
...eventually sneaking off to the living room for a short nap.
Another Christmas has come and gone - and it was a good one, though we were not complete. More and more, as I get older, I realize that Christmas is not about the gifts one receives, the food one eats or what name/vintage-droppable wines one opens. Those are fun, without a doubt, and can actually be over-frequent and over-whelming during the season - but Christmas is really all about enjoying the company of one's nearest and dearest in celebrating the season. Sometimes I forget.