Today's lunch, 8th December 2009, was at the newly-opened
Masseto
, a plush yet discreet wine bar tucked away at the side of #114 Valero Street, Salcedo Village, Makati. There is no sign indicating its presence, and it seems the owners intend to keep it that way. I'm friends with most all the owners of Masseto, the Stockbroker and Bernie counted amongst them
*
. This lunch was with the both of them and J-Lab (who was late due to a meeting and traffic). Doc couldn't make it (stuck in the hospital as usual).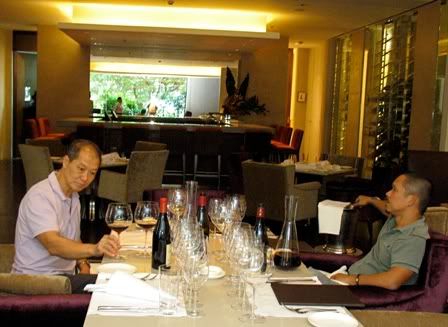 Bernie and the Stockbroker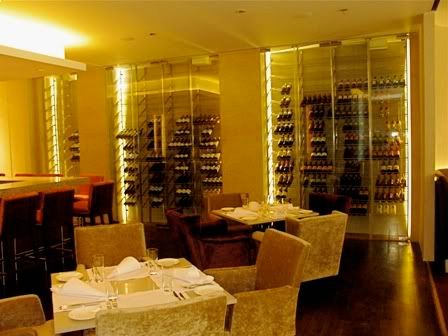 Refined and elegant interiors by Maja Olivares-Co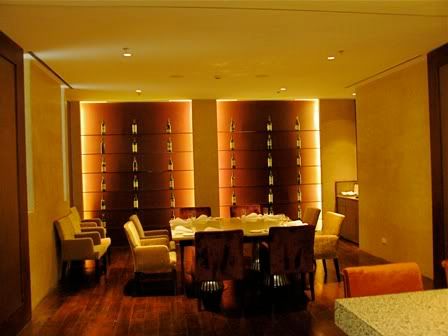 This area may be enclosed; ideal for meetings and privacy. It can seat up to 16 persons.
While primarily a wine bar, food is, naturally, served in Masseto - the kitchen ably headed by Tippi Tambunting. I've attended many, and even hosted some, meals by Tippi when she was still in the "private chef" business. Those included many fine wine pairing menus for our Blind Bordeaux Challenges and other wine events. Now, she leads Masseto's kitchen full time as Executive Chef.
Those who were, in the past, unable to engage her services for private dinners, well, as the saying goes, if you snooze....
The menu, as one may easily see, is compact, well-thought out and wine-friendly...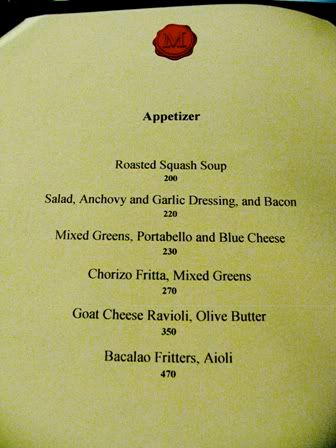 ...the items of which shall change every few months.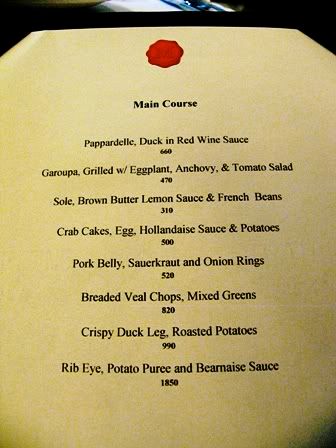 For starters, we shared platters of
Sole, Brown Butter Lemon Sauce and French Beans
...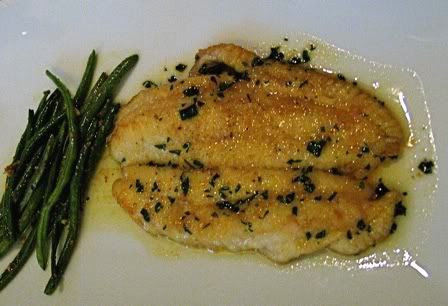 ...
Goat Cheese Ravioli with Olive Butter
and
Bacalao Fritters Aïoli
, enjoyed with...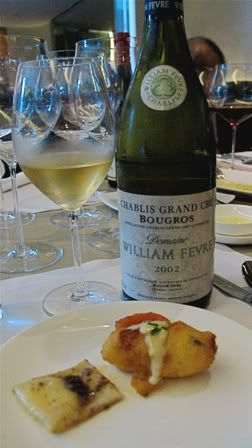 2002 Domaine William Fèvre Chablis Grand Cru Bougros
- The Stockbroker's bottle. Situated beneath the Preuses vineyards, bordered by the river Serein, the wine from the 12.6 hectare grand cru Bougros tend to be fatter, rounder, at times tropical, and generally show earlier than other Chablis grands crus. This, when first poured was leanish and exhibited clean, bright notes of calamansi (i.e., a small, green citrus fruit also known as "Philippine lime") over cold, steel, wet stone and oak/vanilla. With added aeration and warming, its grand cru heft came to bear with round, softer, moderately buttery, somewhat pillowy and creamy apple, pear, bit of melon, citrus, white minerality, bit of flint and a notable dose of oak.
I liked this best with the sole as its butter-lemon sauce played nicely with the citrus notes and buttery character of the wine's fruit.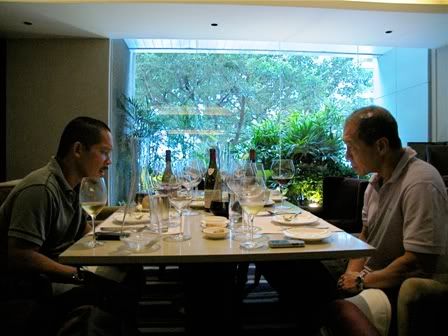 J-Lab then arrived and the reds began to pour.
It's not everyday one gets served at a posh CBD wine bar by one of the owners, albeit he be a good friend - so I enjoyed it while I could. I noted that the long black sofa behind J-Lab is pure, real-deal leather - absolutely no cheap-o,
faux
leather/leatherette for this wine bar. No, sir.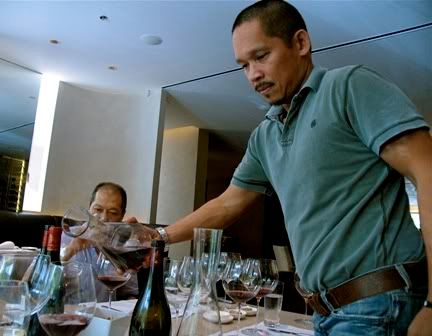 With my main course of
Crispy Duck Leg (Confit) with Roasted Potatoes
...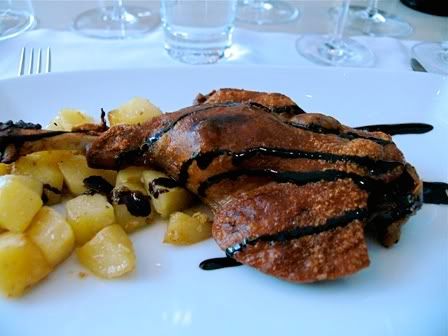 ...I enjoyed a pair of grand cru red Burgundies from 1996.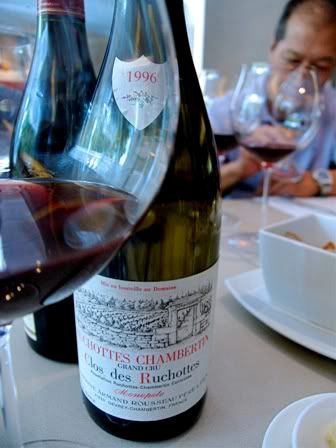 1996 Domaine Armand Rousseau Ruchottes-Chambertin Grand Cru Clos des Ruchottes
- Bernie's bottle, from the slightly over 3 hectare northwestern climat of Ruchottes-Chambertin (bisected by a narrow road into Ruchottes du Dusses and Ruchottes du Bas), abutting the western portion of Mazis-Chambertin (i.e., Les Mazis-Haut). I understand that the Clos des Ruchottes is a monopole of Domaine Armand Rousseau (I don't know how large a clos it is though).
This wine, though soft in fruit and well concentrated (typical earthy cherry, raspberry, underlying dark plum, old violets, a hint of Burgundy decay, dark spice - with a general resiny/sappy slant), had an evidently sturdy structure and acidity that jutted out noticeably. Its grip was also quite firm, to a point that it felt a bit uncomfortable. It came off as quite rustic to me - but in a charming manner - unlike many (sometimes overly) polished red Burgs I've encountered over the past 4 years. Its extremely subtle oak/wood notes are very submerged - I highly doubt much new oak was used in this (a good thing for me).
As it sat in the glass, its acidity became even more apparent and, within the fruit, emerged sour cherry and slight preserved Chinese tamarind notes (a.k.a.,
champuy
) that followed through the finish. Somehow, judging from this bottle, I think the acids and tannin will far outlive the fruit. I appreciate, though, the opportunity to try a grand cru from this famous producer (the grands crus of which are quite rarified, to say the least).
1996 Domaine Ponsot Clos de la Roche Grand Cru Vieilles Vignes
- The Stockbroker's bottle, from Morey-St-Denis' most famed clos, central-north in said the commune, abutting Gevrey-Chambertin. The Stockbroker said it had a bit of a musty scent to it, but I didn't notice that (I was using a huge bowl of a glass that I found difficult to sniff in). Very soft, barely medium-bodied, I, honestly couldn't get very much from it - certainly not the weight, stuffing or push expected from a grand cru of Morey-St-Denis, much less a Clos de la Roche. It was pleasant enough, though, don't get me wrong - it's just I expected much more.
A slightly damaged bottle? Perhaps - but still pleasant enough and charming - nothing bothersome except that it wasn't as hefty or full as I expected, being what it is, of course. Again, however, I greatly appreciate the opportunity to try this wine and the fact that a friend chose to share it with me.
Nothing to worry, though, all these bottles are from the Stockbroker's and Bernie's personal collections and are not offered for sale in Masseto. From the bottles of California wines I saw available, there will certainly be no lack in hefty, powerful reds on the wine list.
For dessert, we had...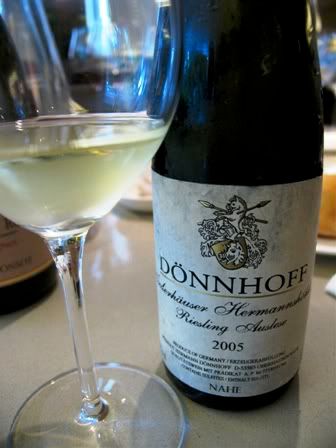 2005 Dönnhoff Niederhäuser Hermannshöhle Riesling Auslese
- The Stockbroker's bottle, one I've had from him 3 months before,
during his Chinese lunch at the Summer Palace
in early September 2009. My notes then are still applicable:
Bright, lively and playful. Lightly dancing on the palate with lifting acidity and minerality to its sweet peach, light honey, pear and candied lemon. Great purity and focus. Excellent sweet wine. No doubt about it.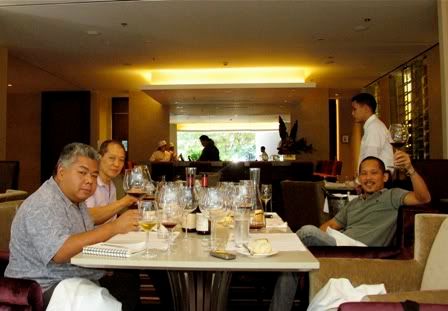 Many thanks, my friends for sharing your wines and company; and congratulations on the new venture. Hail Masseto, long may she live!
*
I am in no way connected with Masseto and receive/accept no remuneration of any sort for posting on it. I paid for my lunch, we all did, and, though the wines were from Bernie and the Stockbroker, we are all friends and always share wines with each other - as my numerous entries easily and clearly bear out.