Monday dinner, the 14th December 2009, was at the spouses Doc's place. I was to make some steaks, Mrs. Doc would take care of the rest of the food and Doc forbade everyone from bringing wine as he'd take care of that department. We were 8 in all: our hosts, Miguel & Ria, Keiichi & Christine and my wife & I.
We came straight from the office, getting there at around 6:30pm, Miguel a minute behind. I prepped the steaks (the usual US Prime Grade Rib-Eyes from Kosh Sehwani's Alternative Foods Corp.) while Mrs. Doc was bustling about the kitchen, then joined Doc, Miguel and my wife...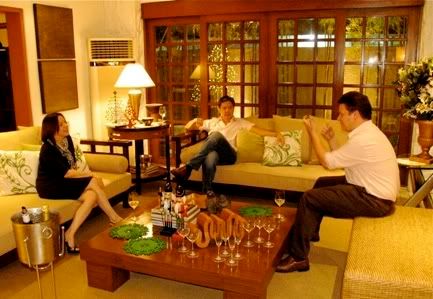 ...for some Dulong with Melba Toast...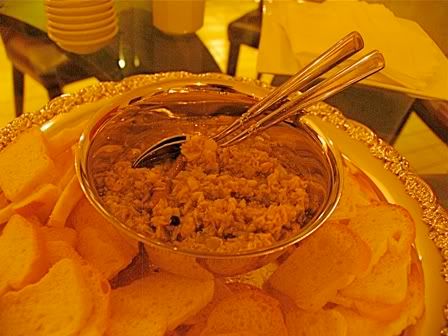 ...with a well-chilled bottle of ...
2007 Joh. Jos. Prüm Wehlener Sonnenuhr Kabinett
- I have
a little
knowledge of Wehlener's (a town in the Mosel Valley) extremely steep, blue slate Sonnenuhr (i.e. "sundial", so named after the sundial painted there by Jodocus Prüm in 1846) vineyards because of having tried some riesling spätleses (late harvest) by Dr. Loosen from the same area.
This was the first riesling kabinett (normal ripening, a step lower in ripeness than spätlese) I've had from there, though, as far as I can recall (I'm too lazy to search through my notes yet again). I've long known 2007 was a banner year for German rieslings in general because Berlin-based chef, Martin Zwick, tipped me off about them shortly after release.
As to the subject wine, the nose had a pronounced reductive sign of hydrogen sulfide (H2S) - a cooked cabbage/rotten egg scent wrapping the fruity aromas which fades over time. In the mouth, however, it was, to me, quite thrilling. Still a bit sweet, the fruit was incredibly pure and focused, its white-minerally peach, apricot, whispers of lychee and honeysuckle flavors dancing light-footed on the palate. So, so clean and refreshing, it was a nice foil to the creamy, salty-ish
dulong
. Excellent.
Ria then arrived and she and Miguel were introduced to the spouses Doc's youngest "children".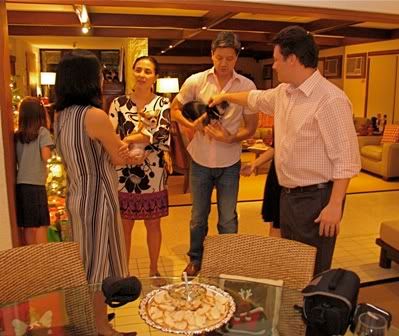 Keiichi and Christine followed shortly...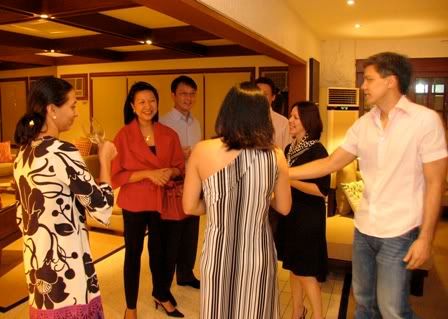 ...and, as luck would have it, so did the platters of assorted sushi our hosts ordered from Toki.
With these we enjoyed pours of...
Champagne Krug Grande Cuvée Brut NV
- I had this recently at
a lunch with Doc, James and the Stockbroker at RED
. My notes then are almost the same:
Doc's bottle, a 375ml current release for sure. Pleasantly bright, very well focused, tense, minerally white fruit, green apple, tiny bit of citrus with nuances of brioche and ginger confit. In the mouth, it mirrors its scents in a taut, eager body with a crisp attack that expands all the way to the finish.
Not yet as broad, hefty, rounded or complex as older versions of this nv, but time will almost surely change that. I expect it would have loosened up and broadened with a little time in the glass, but I drank up relatively quicky lest it warm down too much.

I note that this bottle was, indeed, broader and creamier than from the previous one, with more heft and a more pronounced middle. As regards the pairing with the sushi, it need only be said that, aside from sake and, maybe albariño, the only other drink I enjoy with sushi is good nv champagne (which this obviously was).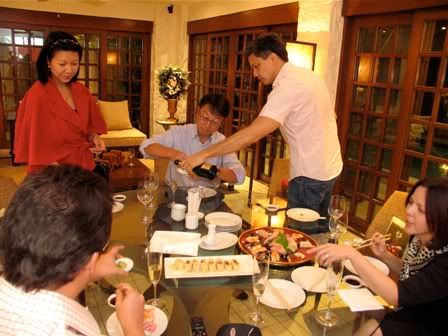 I finished my bubbly pour in a trice, and, after another two gulps of sushi, I went out to the pre-heated poolside grill (Mrs. Doc is ever efficient at seemingly all things; must be her German blood), accompanied by Miguel, and fired up the steaks. As they rested, we joined the others at the dining room for the salad course.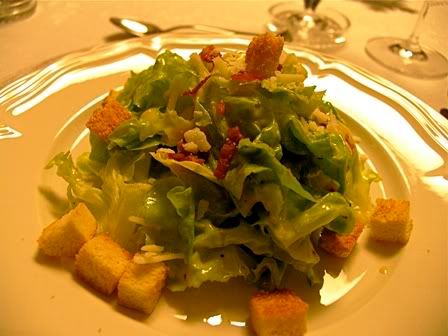 Mrs. Doc's Trademark Caesar's Salad
- a mainstay and always a favorite at their clan's get-togethers. I've known Mrs. Doc for well over 2 decades since she's my wife's 1st cousin, so I've been enjoying her Caesar's Salad for a long time. Well, that evening, all of us guests did.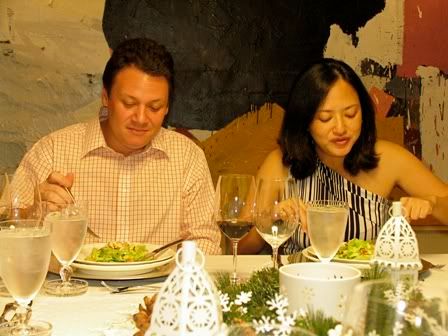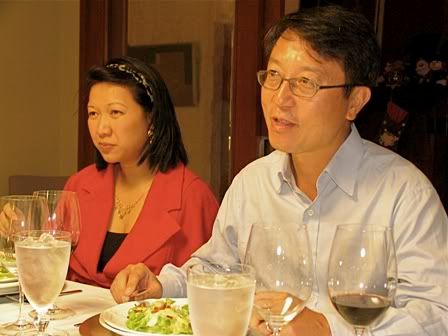 With some
paella
from
Terry's
, homemade
Baked Eggplant with Cheese,
and,
French Fries
, the steaks were served.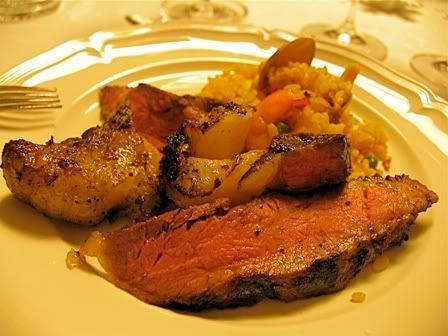 I was actually very happy with the way the steaks turned out that night. I usually pan-sear then roast in the oven, but, when cooking 5 steaks or more at a time, grilling is less effort. Thing is, I consider myself barely competent at a grill. Thankfully, I didn't screw them up.
With these, the Doc initially poured us 2 wines. All he said was that both wines were made by the same maker.
Wine # 1:
Very concentrated, rich, ripe, full-bodied, quite big, but luxuriously soft and creamy red berry and cherry compote, dark plum, coffee, pronounced toasty oak/vanilla, bit of chocolate and licorice. Very open, round, luscious and low in acid. I piped up that this wine appeared to have seen a lot of new oak as well as American oak. Long, strong, velveteen and rich.
Doc later revealed it as a
1998 Vega Sicilia Valbuena 5º
. I noted then that this is not a 100% tempranillo and that Vega Sicilia uses American oak with this. A subsequent check when I got home showed that I was not in error - the 1998 Valbuena 5º saw 14 months ageing in 50% new French oak/50% American oak, and it is a blend of 85% tempranillo with merlot and malbec making up the rest. I had this wine with the steaks as the former could easily stand up to them.
Wine # 2:
Initially much more subdued and at all times purer and more refined than Wine # 1 with understated, serious structure and depth. Texture-wise, this was firmly and finely silken. It was obviously more intellectual and properly reserved as well. Initially, the bouquet was reticent, but it eventually ( say 35-45 minutes in glass) opened up with a light perfume of violets, cedar, leather, whispers of dark minerality, licorice and sweetish balsamico, slight tobacco leaf - all mirrored on the palate in understated complexity and elegance.
It is difficult not to gush over this wine. Doc later revealed it as the
1994 Vega Sicilia Único
. I loved it. It is, to me, much more like the 1987 than the 1996 in character.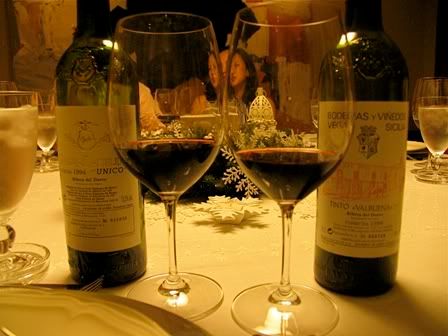 As if these were not enough, Doc poured us yet another red - a Bordeaux said he - and a Bordeaux indeed it was.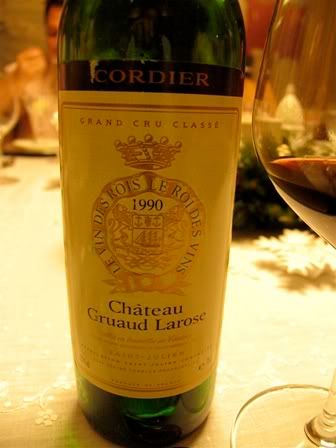 1990 Château Gruaud Larose
- I am very familiar with the wines of this large St-Julien 2nd growth. It is, together with Léoville las Cases and Léoville Poyferré, one of my 3 favorite producers of St-Julien. Of all the 1982 classified growths I've had the pleasure of drinking (including all the 1st growths), I have currently found the 1982 Gruaud Larose as the most youthful and exuberant.
I first tried the '90 Gruaud Larose sometime in 2005 or 2006 - I brought one to a dinner at the Doc's house because he had told me that Chirac had served it to Clinton during a state dinner. I figured that if it was good enough for the presidents of France and the USA, it would be good enough for us. That wine was rich, concentrated, very ripe (a vintage trait, totally different from the 1989 Gruaud Larose), its fruit and fig notes soft, with a distinctly meaty/gamey/sanguine and leathery infusion. An indulgent wine indeed - of the Parker "blockbuster" persuasion.
The subject bottle was quite different in that it was more focused, reticent, reserved and linear. I would probably have thought that the past 3-4 years had changed it a lot had I not read Greg's notes on it from 2 days before - it was also Doc's bottle (they and the Stockbroker bumped into each other during dinner at Masseto) and Greg's notes described the wine I remember almost to a tee. Doc mentioned that the bottle he shared with Greg was very different. I am, thus, quite certain that the subject bottle was slightly off - yet still pleasant enough. These things do happen, and I certainly do appreciate the Doc's opening this bottle for us.
I had most of this wine with the
Cheese Course with Dates, Dried Apricot and Fig
...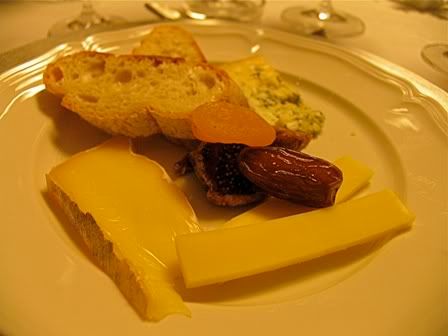 ...and a sweet wine from the Doc to boot.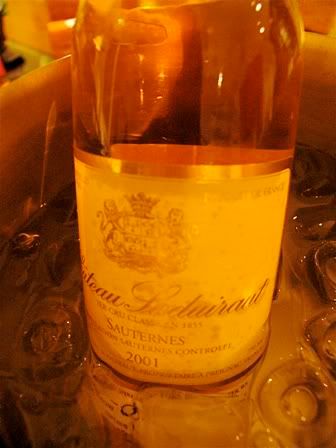 2001 Château Suduiraut
- My last notes on this wine were from
an all-Sauternes lauriat at Yung Kee in Hong Kong
held on the last evening of Vinexpo Asia-Pacific 2008 (May 29th to be exact - courtesy of
Grace Vineyard China CEO Judy Leissner
). My notes then are consistent:
The 2001 Suduiraut was easily the best of the 10 wines (slightly edging over the expansive/voluptuous 1998 Guiraud, the playfully light and complex 2000 Climens and the elegant/floral 1996 Coutet), confidently displaying superior body, weight, authority, depth and length to its delicately spiced dried apricot, ripe peach, orange marmalade and discreet vanilla flavors. My wife astutely summed it all up in the word: "luscious".
I recall Château Suduiraut head, Christian Seeley, was also at our table and he shared with us a "bonus bottle" of 1988 Suduiraut at the end of the meal.
Desserts followed, an indulgent array of
Mrs. Doc's Home-Made Ice Creams with Home-Made Raspberry Compote and Chocolate Sauce
for toppings. She had served 3 flavors in all:
Vanilla Bean
(my and my wife's favorite),
Toblerone
and
Hazelnut
(Miguel's favorite). Unfortunately, the photo I took of the Hazelnut Ice Cream came out too blurry to post.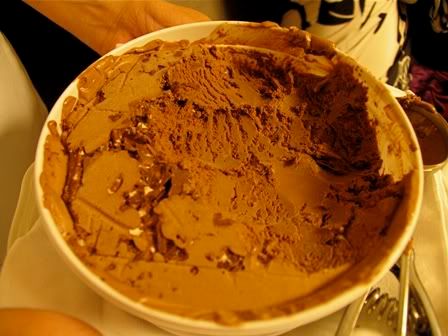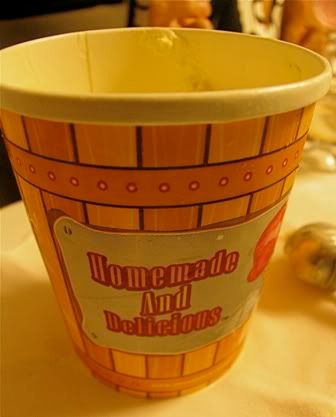 Vanilla Bean (note the most accurate home-made, descriptive label)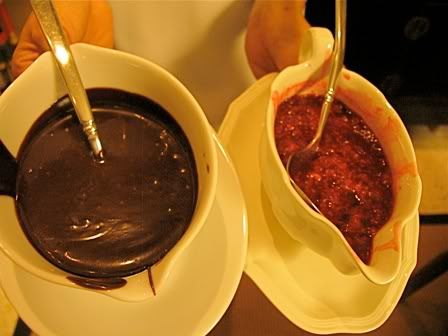 Chocolate Sauce and Raspberry Compote (I put both on the Vanilla Bean Ice Cream - Woohoo!)
Now, my friends know I'm not much on desserts or ice cream, and Ria attested to the fact that Miguel doesn't really eat ice cream at all, but he and I had multiple servings of Mrs. Doc's. We just couldn't help it.
Doc then pulled us double espressos from his formidable-looking Netspresso machine, which we enjoyed with a Rum Cake sent by Barbara A. Unfortunately, she and Miguel A. couldn't make the dinner due to a late meeting.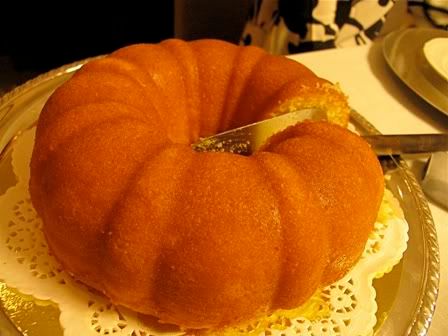 What a dinner. It's a good thing I took a wine and indulgent food sabbatical for almost a week before this as I wouldn't have made it to the end otherwise. Many thanks to our generous hosts! Excellent meal, wine and company - it's what we live for...until the next.