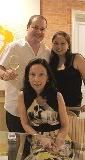 Rene and Miguel had been trying to put together a table for one of Tita Bella's Japanese meals for quite a while. Due, however, to various reasons, including their business trips and Tita Bella's gastronomic travels, the long-awaited Kaiseki-inspired meal took over 6 months to finally come together.
Last night, the 18th January 2010, we were regaled with a litany of Tita Bella's dishes - all made by her own hands, in her own kitchen, and served in the elegance of her home.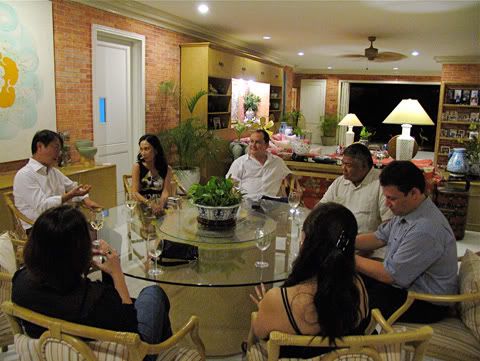 Aside from our gracious hostess-chef, we were 8 in all at table: Rene & Aimee, Miguel & Ria, J-Lab, Keiichi, my wife and I. E-mails on the menu and pairing wines flew faster as the day neared and the anticipation grew. In the end, though, we were well-prepared to do vinous justice to Tita Bella's cuisine.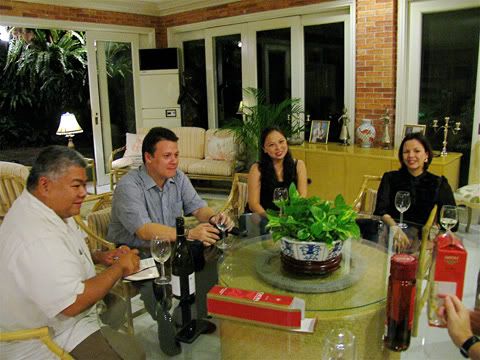 While we awaited Ria who was coming from work in Makati, we primed our palates with glasses of...
2008 Bouldevines Estate Vineyards Sauvignon Blanc
- Keiichi's bottle, from Dogpoint Road, Marlborough, NZ. Cool, bright, mild gooseberry, guava, slight pomelo, citrus, dewy grass, a bit of a passionfruit topnote, slight minerality in the middle and mild tartness in the citrus finish. Halfway between light and medium body, this is easy to drink.
When we were informed that Ria was nearing, Tita Bella returned to the kitchen to prepare...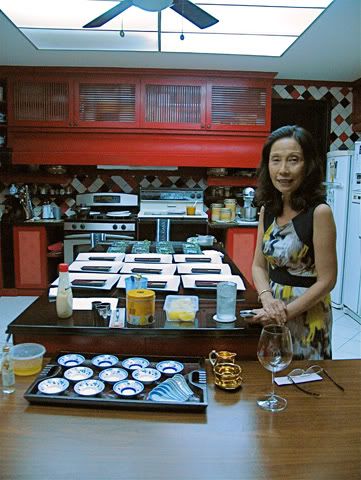 ...and we moved to the dining room, set in a Japanese winter's garden theme.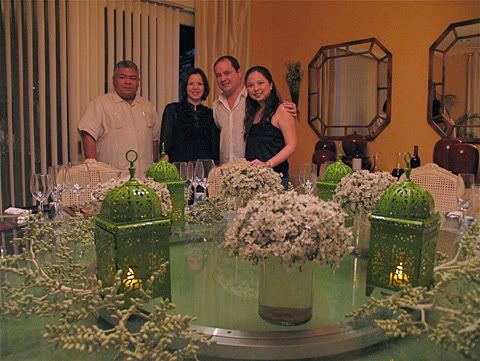 My wife made sure I took a picture of the table setting before dinner was served. I noted that our chopsticks were of green jade, no less.
True to its Kaiseki inspiration, the meal was made up of several courses involving the traditional array of steamed, simmered and grilled dishes, as well as creative spins on sashimi, tempura and others.
Keiichi, himself, one who is very well-versed in Kaiseki dining, marvelled that such a menu could be executed in a private home. And so began our feast....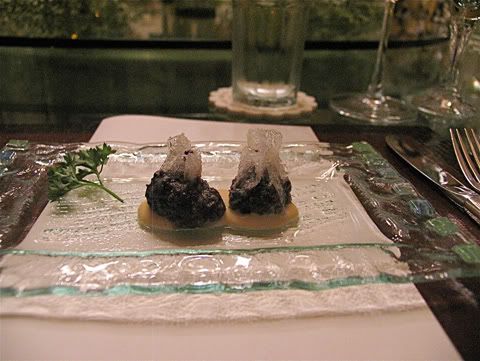 Caviar Tempura, Mayo Ponzu Sauce
- The tempura element came in the manner these ethereal pouches of caviar were quickly deep-flash-fried such that the gossamer wrapping crisped without the caviar filling being in any way injured in the heat. The timing for such dish must surely have required supreme levels of precision and confidence, lest the rarefied fish roe be damaged. Not much room for error here, if any at all.
The result was incredibly good: clean, not a trace of oiliness, the textures and flavors neat and well defined, the crispiness of the wrapper delicately giving way to the caviar bubbles' tiny bursts of sea-goodness; the mayo-ponzu sauce adding a breath of tangy-creaminess. Excellent.
With this luxurious
amuse bouche
we enjoyed...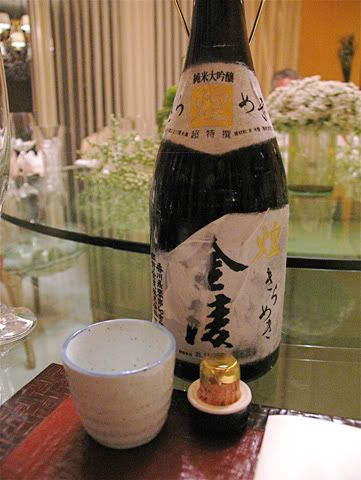 Kinryo Kirameki Junmai Daigin-jo Sake
- My bottle, a gift from my brother and his wife from their recent holiday trip to Tokyo. Keiichi explained to us that this is the Shikoku producer's (i.e., Kinryo's) top-of-the line Junmai Daigin-jo. He elaborated that Junmai Daigin-jo is the highest level of sake: a pure rice sake (Junmai; i.e., no alcoholic additives) where each grain of rice polished to less than 50% of the original form (Daigin-jo). This particular junmai daigin-jo was polished down to an incredible 30%-35% he added, something very special indeed; to be served chilled like a white wine.
Now, I do not pretend to be any sake expert, but this was, without doubt, the best by far I've had - so pure, clean, smooth, gently warming, its flavors so delicate - with a most intriguing nuance of carob/milk chocolate discreetly emerging just past mid-mouth and through to the finish. Amazing. Thanks T & C.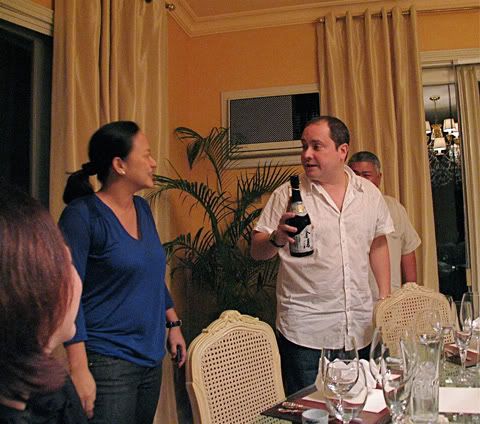 Ria finally arrives and catches up on the menu as we helped ourselves to extra servings of the caviar tempura (another great thing about dining at Tita Bella's is that she always makes extra servings for us shameless gluttons).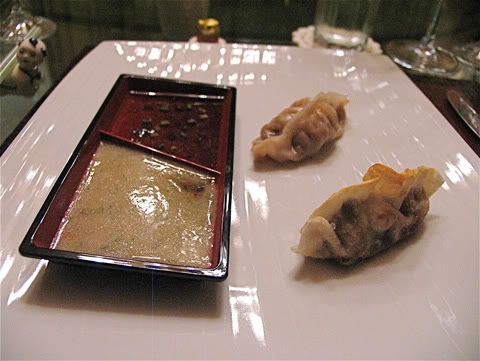 Gyoza Medley: Mushroom and Fiji Apple Gyoza with a Soya Dipper & Nasu Gyoza with a Sesame Dip
- The mushroom and Fiji apple gyoza was to be taken first with its specifically paired soya dip. Lovely dish. I have not been a big fan of any sort of gyoza until I had this - and the soya dip, well, I would have drank it straight from the little container had it been at all possible to do so politely.
Extra platters of both gyozas were also laid on the lazy Susan, so we, again helped ourselves to several more servings. The wives cautioned us guys against filling up too much before the other dishes, but their words fell on deaf, gyoza-stuffed ears. I continued with sparing sips of the sake with this course.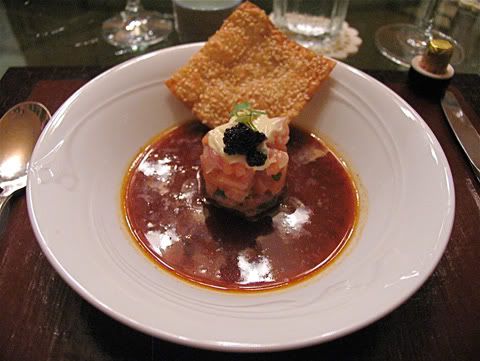 Sashimi: Tuna and Salmon Tartare, Spicy Lemon-Ginger Vinaigrette, Sesame Tuiles & Black Caviar
- A new twist to sashimi for me, the fresh fish spiked by the tangy lemon-ginger vinaigrette; the caviar and sesame tuile lending their own complementing flavors and contrasting textures. The spicy-tangy vinaigrette somehow tied everything in quite well. This worked for me - well enough to grab an extra serving of it before Miguel could (but I halved it with him anyway).
With this, I finished up the last of my sake and moved on to...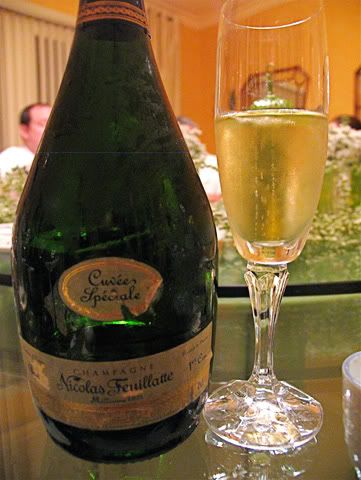 1995 Champagne Nicolas Feuillatte Cuvée Spéciale
- J-Lab's bottle (of course). Its soft, yet still vibrant slightly dried fruit is gentled by a very fine, persistent mousse and accented with biscuity age and a good mid-mouth creaminess. Discreet underlying coffee nuance adds a touch of added complexity to this slightly over medium-bodied bubbly. Hints of ginger confit as well. Very nice. I've always enjoyed good champagne with sashimi, so good, aged vintage bubbly with sashimi was a special treat.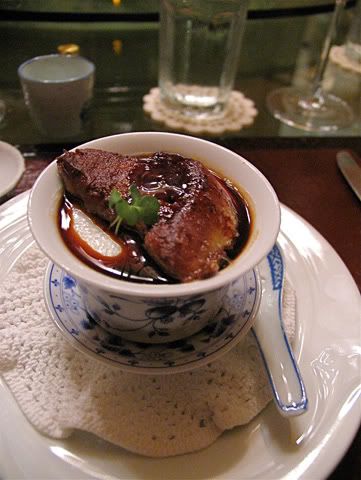 Chawan Mushi with Foie Gras
- I've had the plain kind of chawan mushi, a well as slightly more elaborate versions with ikura, crab meat, etc., but never foie gras. I could immediately "get" the dish, though, when I first read the menu - a studied indulgence of rich on rich - yes, but also one in blending flavors - the foie gras' fatty richness giving an "oomph" to the chawan mushi, with the former's precise searing adding a bit of dark caramelized smokiness and touch of textural contrast. A little "surprise" of shrimp in the bottom. Sinfully good.
With this, we had...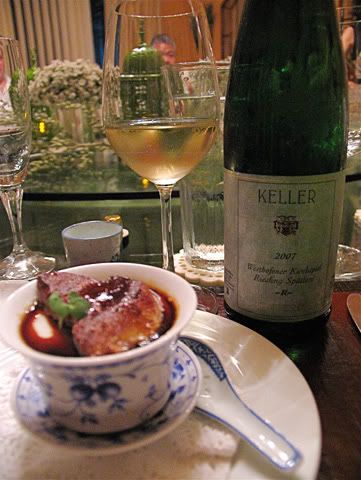 2007 Weingut Keller Westhofener Kirchspiel Riesling Spätlese "R"
- My bottle, purchased from Watson's Wine Cellar in Harbor City Mall, TST. Svelte, precise, light-footed, it danced on my tongue with vaguely floral quince, white peach, apricot, passionfruit and slight white minerality all led on by a brisk, lively acidity. Quite svelte for a spätlese, but with admirable focus, joyful character, notable lift and grace.
I understand that this wine was originally destined to be the drier
Grosses Gewächs Kirchspiel
. Natural/spontaneous fermentation set in though (no commercial yeast is used) and yielded 30 gms. of residual sugar. J-Lab and I both noted that it was not quite as hefty or sweet as other spätleses we've had - but, for me, that is no criticism at all - just an observation on style difference from what I am familiar with. It is, indeed, good wine that paired well with the dish, giving lift, brightness and a lilt of sweetness to the creamy richness.
Halfway through the foie gras chawan mushi, Rene had opened and served...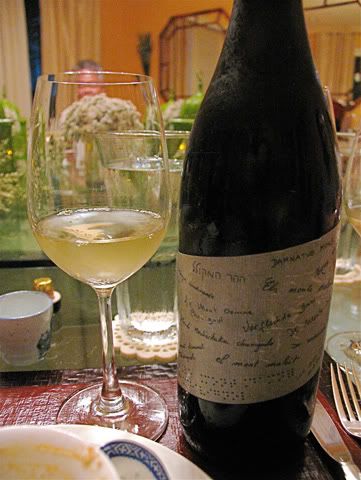 2007 Didier Dagueneau Sancerre Les Monts Damnés
- Rene's bottle, a wine from the late, great Didier Dagueneau. I'm not familiar with this bottling (I've only had barely a handful of his wines and they were the Silex and Pur Sang bottlings) and know nothing about it, save that it is from across the river from the late "madman's" more usual haunts of Pouilly-Fumé. Frequent readers of my blog know that, of all sauvignon blanc-based wines, I favor those from Sancerre and Pouilly-Fumé above all - though, honestly, I'm sure if blinded, I couldn't tell wines of one from the other (nor do I see the point of actively trying to be able to).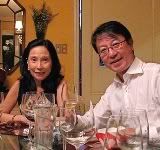 This wine was evidently fuller, rounder, chubbier and creamier than any sauv blanc in recent memory. Its fruit was good, round and clean (with a tropical bent), laced with chalky minerality and lashed with oak/vanilla. Dagueneau's wines are really something else; in a racy, barriers-are-meant-to-be-broken style, they are most always thrilling and invariably entertaining. I continued with this wine with the next 2 dishes.
The next course was served in such eye-catching bowls, my wife insisted I take a special picture of them...
...smiling, hatted faces containing...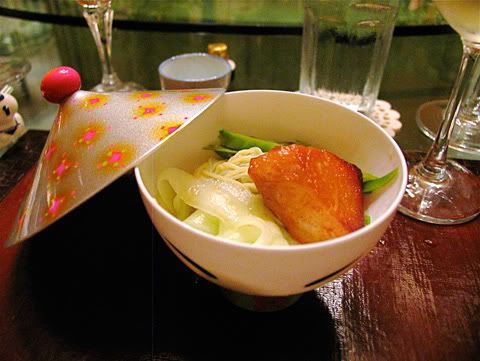 Grilled Miso Gindara, Snow Pea Salad, Udon Noodles and Truffle Oil
- Another skilled blending of sweetish and slightly salty, savory flavors and gently firm but yielding textures with the refreshing coolness of the thinly shaved cucumber "flat noodles" and the contrasting crisp snappiness of the snow peas. A somewhat rustic, homey segue from the previous indulgent dish. Comforting and warm, the bowls' smiles were infectious.
The gindara was marinated for no less than 3 days - a technique used by no less than chef Nobu Matsuhisa and Iron Chef Morimoto. A subtle depth of the flavor resulted therefrom.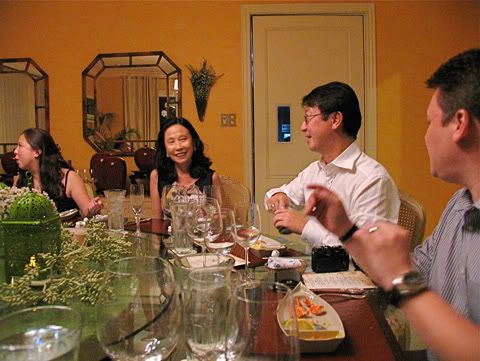 A short break from the kitchen for a quick flute of champagne.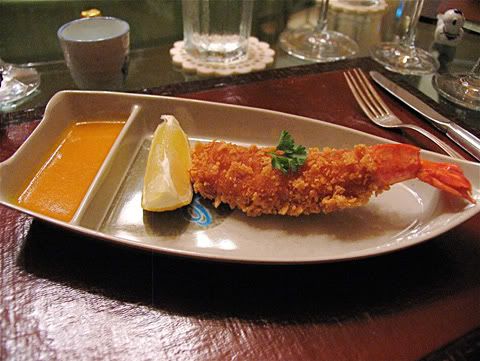 Deep Fried Shrimp with Cornflake Batter, Carrot Miso Dressing
- A robust, crispy spin on
ebi furai
with a novel (to me) carrot-miso dressing. The cornflakes lent a bit of corn-sweetness and a healthy snap to the deep fried shrimp, all of which blended nicely with the dressing. I got an extra helping of this too.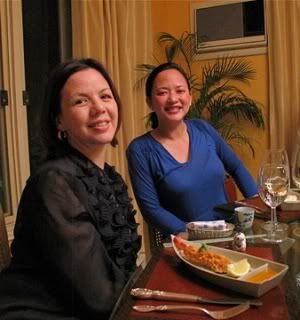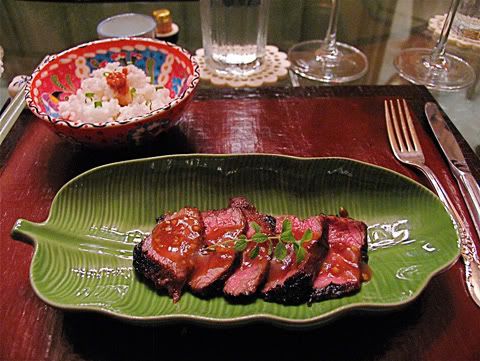 Broiled Boneless Beef Ribs with Japanese Glaze
served with
Gohan with Moromigake
- I always enjoy meat from the rib area - be it beef, lamb, pork or venison. It is always more flavorful, and, in this case, meltingly tender and juicy. The searing received by the meat, both severe and precise, gave a permeating smokiness and added depth, accented by the sweet, fruity (pomegranate?) glaze. Most of us had several extra helpings.
With this was served 3 reds:
1982 Château Palmer
- Keiichi's bottle. This, I believe, is the first time I've tried the '82 vintage of Palmer and welcomed it to mentally compare to its highly-praised '83 and '89 vintages, the latter two I've had the pleasure of drinking a few times before. This wine wears its over 27 years well. The fruit is undeniably nicely ripe, good depth and bottle-age sweeteness mark its shades-under-full-bodied, still vibrant raspberry, cherry, damson over violets-infused cassis, blackcurrant, cedar, with underlying asphalt and gravel nuances. Moderately long, confident finish that ends in a flourish of sweetish cedar, dark raspberry and violets.
I checked Parker's latest rating (June 2009) of this - he raised it to 90 from 87 (from when he last tasted it in May 2002 - quite a stretch between re-visits). If I were into giving wines scores, which I am decidedly not, I'd rate it a few notches higher than a 90 (though I do agree with his assessment that the '82 Château Margaux is the weakest of the 1855 first growths from 1982).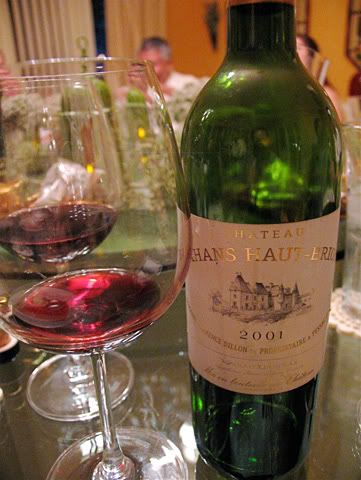 2001 Château Bahans-Haut-Brion
- Rene's bottle, the second wine of 1855 first growth Château Haut Brion. This was served blind and revealed only after I gave my guess what it was. The only hints he gave were that it is from Bordeaux and that he had decanted it for a couple of hours or so before service.
Initially, it smelled to me like a Pauillac because of powerful, pronounced aromas of cedar and pencil shavings in its earthy nose. However, in the mouth, there was a deep, nuance of black gravel and licorice in its blackcurrant base and graceful after-notes of sweetish vanilla that, somehow, made me think of a particularly masculine Margaux. Later on, the surface dominance of raspberry and cherry, with tell-tale dried herbs nuances in its then "tar" nuanced base dark fruit convinced me it was a Graves - "A young Graves, early 2000s", I submitted, not wanting to take more time or effort in trying to identify the château or specific year . In view of my penchant for mature Bdx, I personally consider 2001 Medocs (the top-end ones anyway) still quite young. I was satisfied with my guess.
I liked this wine, it showed a classic cut and nice structure - the surface red fruit made it go well with the broiled beef ribs and sweet-fruity glaze - so I paired the latter with the subject wine.
2003 Artadi Pagos Viejos Rioja
- Miguel's bottle, of course, and my first taste of Artadi. The vintage seems very pronounced in this in that it is
very
ripe, already jammy in fruit - somewhat dense, minerally, licorice-lined with a hefty dose of new oak in its cherry, strawberry and super-ripe raspberry. The makings of leather notes and more evident cedar and violets are in the depths, somewhere. Heady stuff. Quite a bit of testosterone in this youngster. Good enough structure though. I wouldn't mind trying this again in another 2-3 years.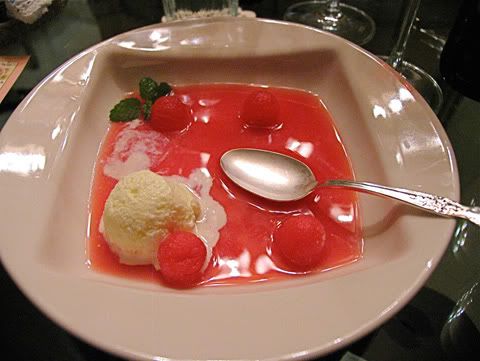 A light and most refreshing dessert of
Watermelon Soup with Vanilla Ice Cream
was then served - which I demolished so quickly that I forgot to try it with the pairing wine...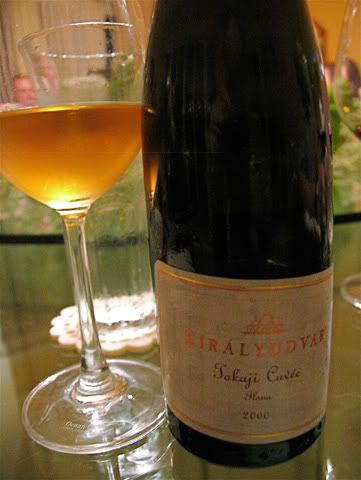 2000 Királyudvar Tokaji Cuvée Ilona
- J-Lab's bottle. Moderately viscous, honey, dried apricot, bit peach liqueur, mango (Philippine "carabao" mango) and vanilla/oak. Has a nice brightness and vibrancy to it that balances off its sweetness. Good one. I would have liked to try it out with the foie gras chawan mushi.
With our choices of various Nespressos (a double espresso for me, of course), thus ended our feast...with a round of applause, and abject prostration from Miguel, for our gracious hostess-chef.
I've had more than a few meals by Tita Bella, and every one of them has been memorable. This one, however, was nothing short of amazing. I had heard talk of her kaiseki dinners from Rene, Miguel, Santi and others, but this exceeded all my expectations. Many thanks again, Tita, for having us over, the generous hospitality and the wonderful food. Catha and I enjoyed every single dish, every drop of wine and every second of the company.