Dinner this past Saturday, the 5th June 2010, was with Catha and the kids at
Ciçou
to try out Cyrille's Boston lobsters. It's not often one gets these live in Manila, so I decided (well, ok, my kids wanted some since they hadn't had any since we were last in the US) to try out Cyrille's hand at them.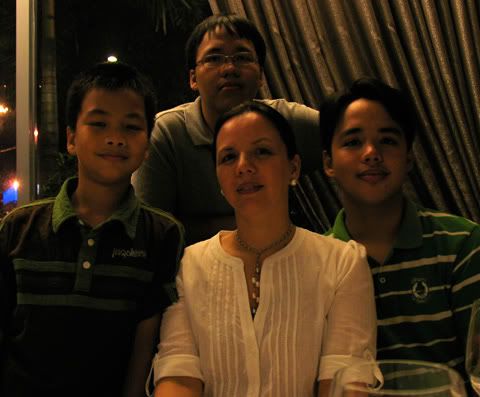 We got there at around 7ish and I bumped into fellow WSCP member Nelson Uy there with his family - apparently he had the same idea as I did that night as Cyrille mentioned the former also had some lobster. The lobsters range from 1 kilo each more-or-less and one has a choice of 4 preparations:
Thermidor
,
Armoricaine
,
à la Nage with Cheese Raviolis and Parsley Sauce
or
with French Beans and Avocado Salad with Raspberry Dressing
.
Cyrille serves then good for 2 ways each for 2 persons. I ordered 2 lobsters for all 4 ways so we get to try everything. We also had several other dishes as well.
Cyrille brought this rather large fellow out so we could see him and say "goodbye" before he was "blessed" for our dinner. In the meantime, we enjoyed some of the fresh, home-made bread.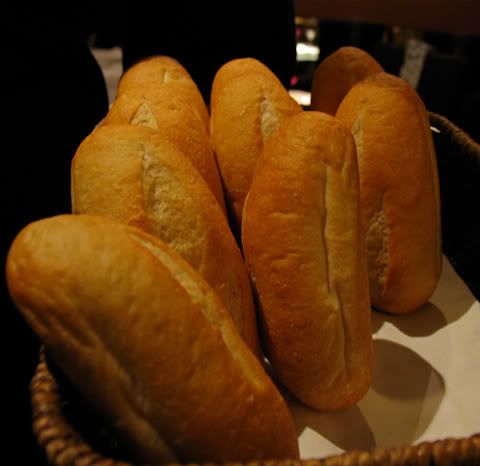 Cyrille serves the best bread in any restaurant I have ever eaten in in Manila. Enough said. We all had an extremely difficult time restraining ourselves from having too much before dinner proper began.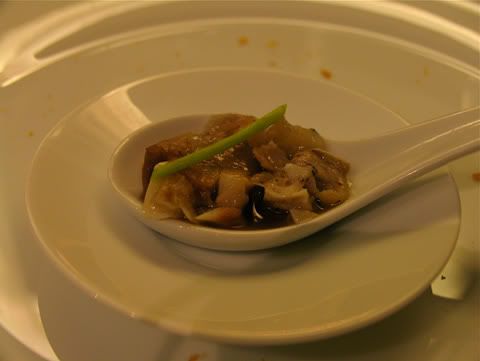 The
amuse bouche
involved some lightly vinegar-sauced pigs ears or face - I'm not so sure. Reminded me a bit of our own sisig but softer and with a slightly thicker sauce. Then came the appetizers.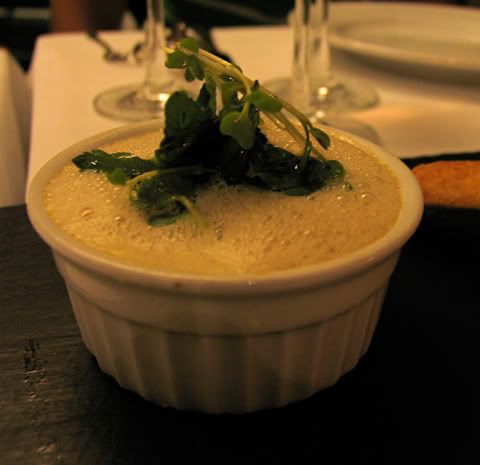 Cyrille's current take on
Oeuf Cocotte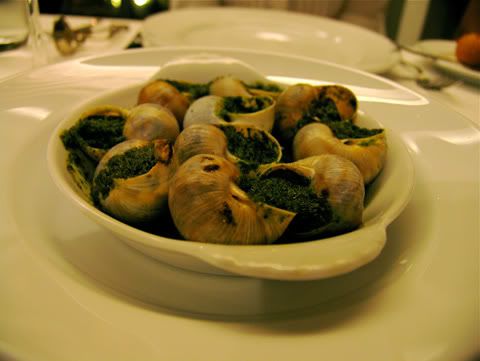 Our youngest simply had to have his usual
Escargots à la Bourguignonne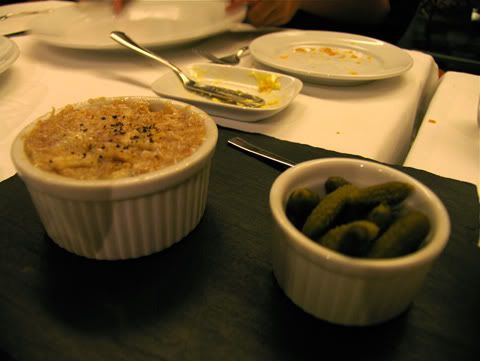 Pork Rillettes
, a hit with everyone.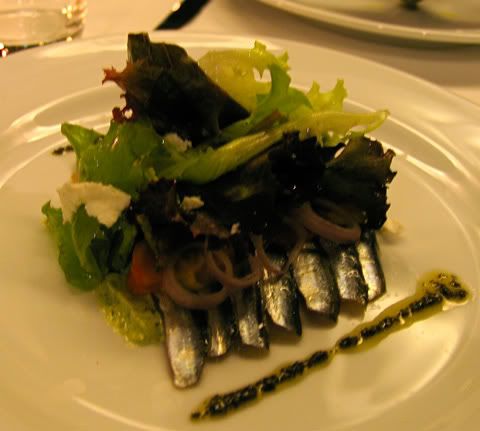 Marinated Filet of Fresh Sardines, Goat Cheese on Warm Farmer's Bread
, which also went fast.
Thereafter, the lobster dishes started hitting the table. Of the preparations depicted below, there were 2 platters each.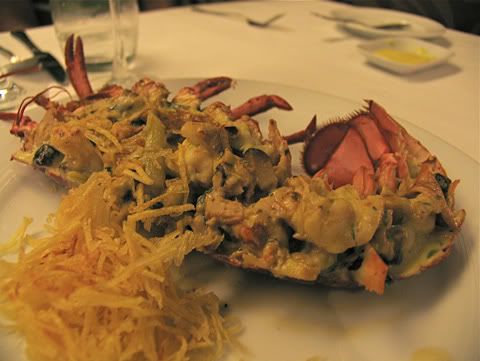 Lobster with French Beans and Avocado Salad with Raspberry Dressing
Lobster à la Nage with Cheese Raviolis and Parsley Sauce
They were all delicious, but my 2 favorites were the
à la Nage
and the salad with raspberry dressing, while Catha favored the
Thermidor
. The boys killed all the dishes quickly but professed their favorite to be the
à la Nage
as well. With these delights, we had some...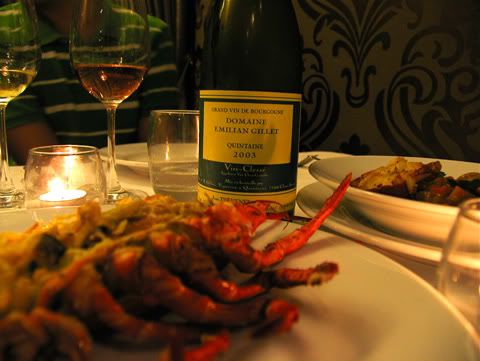 2003 Domaine Emilian Gillet Viré-Clessé Quintaine
- I had texted Cyrille about this wine earlier that day as Catha liked it so much
the week before at Jerome Philippon's event at Ciçou
. Apparently, Cyrille was out of stock of this but went out of his way to get me a bottle right before Sommelier Selection closed. That was far beyond the call of duty and I really did not expect him to go so much out of his way - but the thoughtfulness is greatly appreciated in any event.
I've written about Viré-Clessé before:
a couple of times before
:
Viré Clessé is an appellation in the Mâconnais area of Burgundy (south of the Côte de Beaune) which has, lately, been garnering a lot of attention and praise for its reasonably-priced, terroir-driven, mostly organically-made wines. At the forefront of this terroir-ist movement is a group of sixteen winegrowers who call themselves "les Artisans Vignerons de Bourgogne du Sud".



The subject bottle was showing very well, the mildly mineral-laced, buttery, rounded fruit (apple and pear mainly), though showing its vintage ripe-roundness and heft managed to maintain vibrancy and freshness; the oak, though readily apparent, was finely integrated. It's subtle creaminess and balancing acidity made for an especially fine match with the
thermidor
and
à la Nage
preparations.
We had under-estimated the size of the lobster dishes and were already pretty full by the time our meat courses arrived, but we somehow muddled through.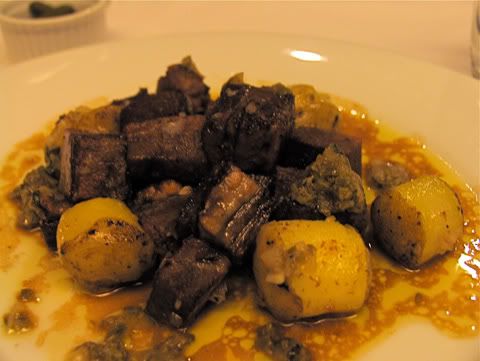 This is the Ox-Tongue dish Catha ordered and shared with our youngest, Joaquin. She loved it - so tender and full of delicate, refined flavor she said.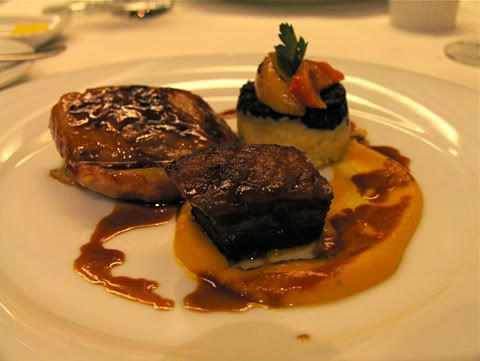 This is the Pork Jowl and Belly dish that Lorenzo got the weekend before, which he unhesitatingly ordered again. So confident did he do so that Mauro and I followed suit and ordered our own dishes of this. The
boudin noir
atop the potato siding was a nice touch, the pumpkin purée with the pork belly simply divine. I quickly understood why Lorenzo had a repeat performance so soon after the first.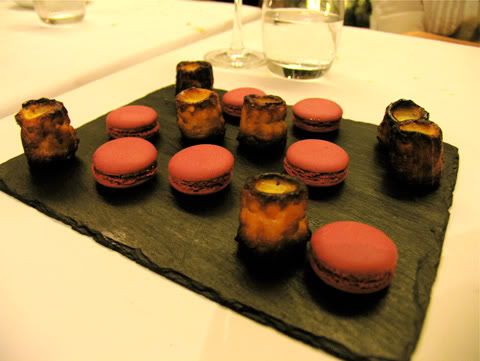 Macarons
and
Cannelés
; always a special treat for me. We also had a dish of
Poached Pear with Sorbet
again, but forgot to take a photo of it this time, so below is a file photo from last week.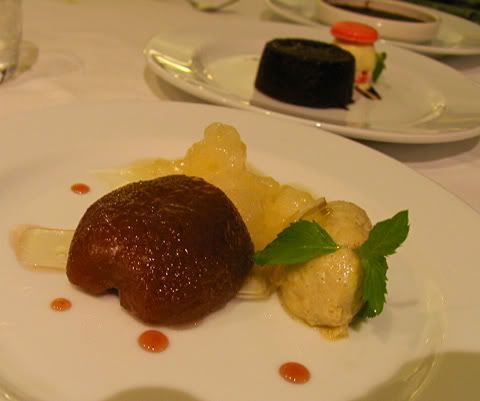 For those interested in trying real-deal
macarons
like they have in the finer
pâtisseries
of Paris and elsewhere in France, you may place your orders at Ciçou (+632.889-6728, +63.2.889-6733, +63.2.887-8080 local 2; P280/box of 8pcs; flavors currently available are chocolate, coffe, grape jam and raspberry).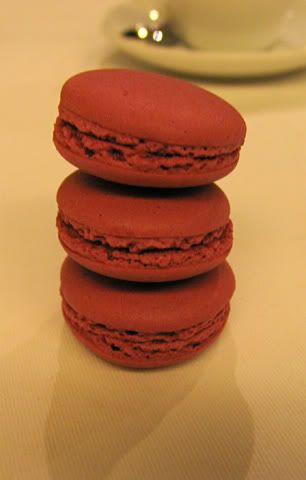 With a cup of espresso, and, later a bit of complimentary Calvados, my weekend was made.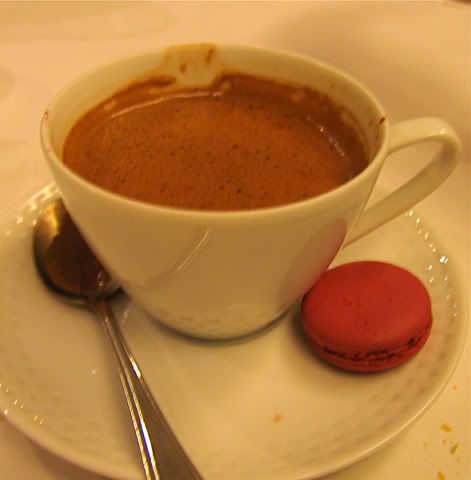 Thanks a lot, Cyrille. Great dinner.