Last night, 8th June 2010, was the
Ordre Mondial des Gourmets Dégustateurs
("OMGD", the wine, spirits and pairing division of the
Confrérie de la Chaîne des Rôtisseurs
) 3rd annual Kaiseki dinner, this time at
Yurakuen
, the Japanese restaurant of the Manila Diamond Hotel. Catha and I have attended this annual BYOB (sans corkage) event from the start and always find it to be exceptionally fun.
We arrived late so missed cocktails at the upstairs bar and proceeded to Yurakuen. We were seated at J-Lab's table with the Stockbroker, Vancouver Vince and his (much) better half, Zelie.
Arnie (he and J-Lab obviously are the leaders of the OMGD - certifiable lushes that they are) then welcomed everyone and said a few words about the evening's meal to come.
Things kicked off with an apéritif called
Umesyu
- a slightly sweet plum liquor per Arnie, it reminded me vaguely of green chartreuse, but not as alcoholic.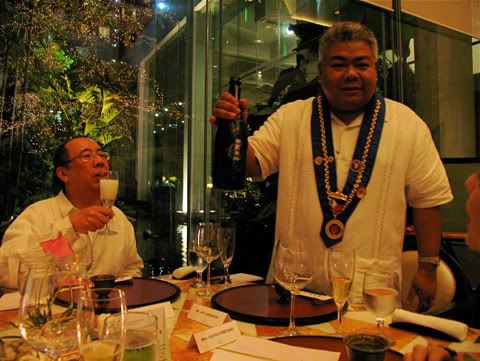 Losing no time, J-Lab started pouring some champagne.
Champagne ZARB
- J-Lab's bottle, one he discovered and picked up at Vinexpo Asia-Pacific 2010. A joyful, playful bubbly with flavors of ripe apple, pear, hints of apricot and a bit of peach. Fresh, vibrant, good frothiness, not really complex but definitely easy and quite fun to drink.
Otohshi
: Chicken Liver
Shigure ni
with K
izami Yuzu
; and,
Kinpiragobo
(stewed edible burdock - "gobo" in Japan, it is a slender root vegetable with a sweetish, earthy flavor and softly crunchy texture).
Sashimi Platter of Hamachi, Maguro, Ama Ebi and Shake, paired with some chilled sake and...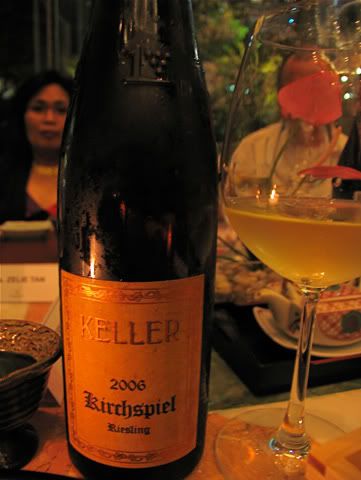 2006 Keller Kirchspiel Riesling (Großes Gewächs Trocken)
- The Stockbroker's bottle. Focused and defined, very lightly honeyed peach and pear, clean, neat minerality, good purity. I like riesling trockens as they are quite food-friendly; this one was off-dry, but only just. Very nice, especially with the oilier salmon.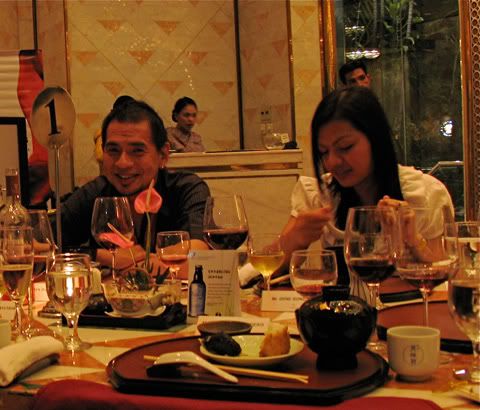 Chef Gene Gonzalez and companion, the former a longtime Chaine stalwart and member of the board.
Peller Estates Ice Cuvée (VQA Macama Peninsula)
- Arnie's bottle, definitely the very first bubbly icewine I have tried. The dominant flavors are ripe apple, pear and apricot with a whisper of passion fruit, a sweet/honeyed character and an underlying slight milkiness. Soft, pillowy, a bit confusing to me, really, but pleasant enough. Maybe better as a post dinner bubbly.
Nonimo Lobster Gusoku ni
(stewed lobster in sweet light sauce),
Takenoko
(bamboo shoot)
Tosani
(bonito flakes) & Snowpeas. I liked this preparation of lobster, kind of like a slightly sweetish version of the Chinese stewed lobster with sotanghon noodles. Very nice. The bamboo shoots were particularly good too.
Mushimono Uni Chawanmushi
- I've had a couple or few other versions of this dish in other restaurants, but this, for me, was by far the best in terms of the uni's flavor being masterfully harmonized with the cream. Excellent. My favorite dish of the night.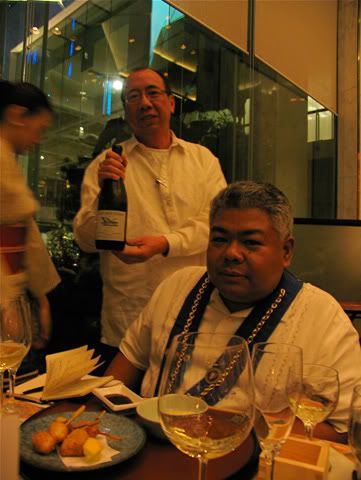 With the next dish, Vancouver Vince served one of his Canadian bottles.
A
gemono Kushiage
:
Ebi Curry Kushi
,
Kaibashira
(scallop),
Pork Tenderloin Lemon Kushi
and
Quail Eggs Kushi
, all served with choices of Tonkatsu & Tartar Sauces. These were quite pleasant, but it was the
Quail Egg Kushi
that stood out for Catha and I.
2005 Blue Mountain Vineyard Pinot Gris Reserve (Okanagan Valley)
- Vince's bottle, of course. This was actually quite nice and I particularly liked its pairing with the deep-fried pork tenderloin lemon kushi. Mildly spiced, slightly honeyed, soft, baked pear and apple with underlying almond paste and moderate minerality. Nice, mouth-filling rounded heft. Acidity is a little low, but this is a good pinot gris.
With the following courses of
Sunomono Kaki
(oyster) &
Daikonoroshi
(raddish)
in Japanese vinegar;
and,
Yakimono Japanese Wagyu Zabuton
and sidings of
Shimejitake
(mushroom),
Green Asparagus
&
Konnyaku
(vegetable jelly), Vancouver Vince shared the red he had opened and breathing much earlier on...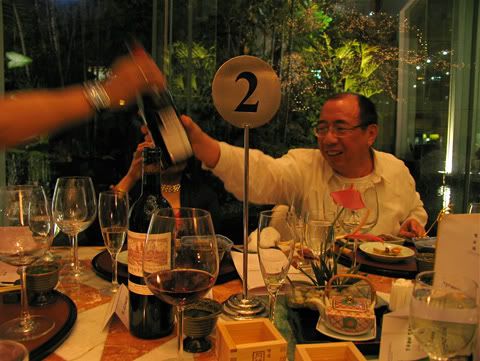 2006 Domaine de Montille Volnay 1er Cru Taillepieds
- Vince's bottle, as earlier stated. Still very youthful, primary, very focused and a bit linear from the attack to mid-mouth, and, thereafter, expands a bit. The somewhat crunchy cherry, raspberry, bit of cranberry flavors are very pure and clean in a very neat sheath touched with hints at ceps and violets. Solid structure, good backbone, this, I expect, will age very well and gain quite a bit of weight and complexity in 7-10 years and drink beautifully for many years after.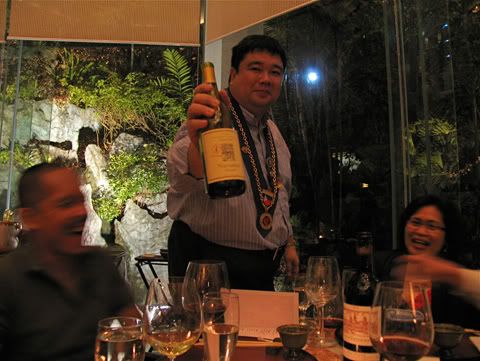 Arnie then came over to let us try another of his bottles alongside Vince's...
2007 Navarro Vineyards Anderson Valley Mendocino Pinot Noir "Méthode à l'Ancienne"
- Arnie's bottle. Moderately more weight and body than the young Taillepieds, this youngster is more ready to drink and has a rusticity to its riper, denser, slightly sweeter and concentrated red fruit and slight wood-related baking spice. Much more open, softer and readier to drink at this point, it is not as pure, focused or defined as the de Montille, but, then, this is comparing apples to oranges. As a Cali pinot noir, it is in the mold of Burgundy (which, to me, is a good thing), but still shows its true origins (which is another good thing). Quite nice. Certainly one of the better and easier to drink Cali pinot noirs I've tried.
Around the same time, I had already served my red, which, like Vince, I had opened and let breathe since the beginning of the evening.
1999 Château Cos d'Estournel
- My bottle. Not nearly as expressive of Cos as other recent vintages, still, this showed molten dark fruit (mainly cassis, plum and black cherry), bit of old leather, underlying black Chinese tea, asphalt and charcoal, slight touch of violets. A bit clunky and "forced" in the harmony department, this, to me, is definitely not one of the better Cos d'Estournels (same goes for the 1998). That said, it isn't a bad wine at all, just not up to snuff coming from such a producer. Considering the generally weak vintage and that I got it relatively cheap at around US$55-Us$60 (if I recall properly), though, it's all good.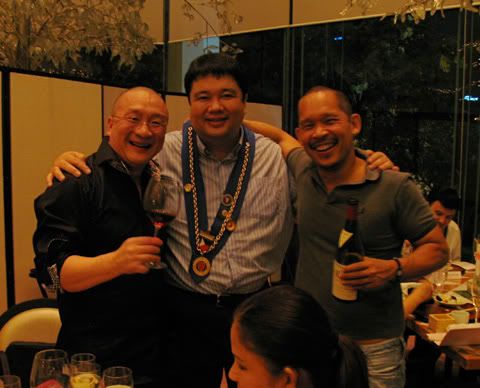 Nelson, Arnie & the Stockbroker
The penultimate course was
Osyokuji Yakionigiri
,
Onigiri
,
Yellow Takwan
, but, unfortunately, I forgot to take a photo of these.
Dessert was
Green tea Ice Cream w/ Ogura
(red bean paste "小倉"). This was pretty good and I recall Arnie and J-Lab saying it was the best green tea ice cream they've had locally. Me, I liked it fine (I cleaned my bowl, after all) but, personally, I like the one served in Toki more.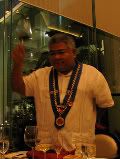 Arnie then re-took the floor, acknowledged the kitchen staff's efforts and offered a round of applause for them, to which the crowd joined in enthusiastically. The floor was then turned over to J-Lab who said a few words, thanked everyone for coming and offered a toast to everyone's health.
The crowd began to thin not long thereafter, leaving us degenerate winos lingering over stories and the rest of the wines. The Stockbroker eventually took his leave with Arnie, Helen, J-Lab, Catha and I staying on at one table.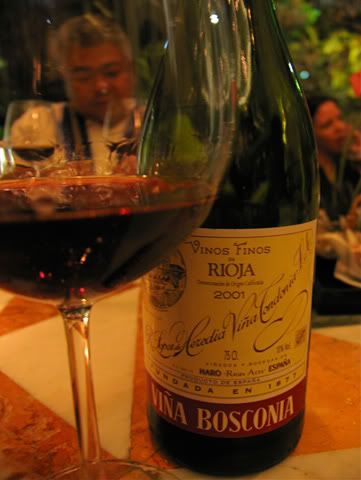 I opened a final bottle of
2001 Bodegas R. López de Heredia Viña Bosconia Reserva
to try out just to see if it was worth getting more of. Well, it wasn't decanted, just popped-and-poured and let breathe in glass. Its bright red fruit and cedar was quite high-toned and the acidity jutted out too much for me. I may not have tasted it under the best circumstances, but, still, I doubt I will be getting more of this as there is just too much good Viña Tondonia Gran Reserva out there to enjoy in its stead.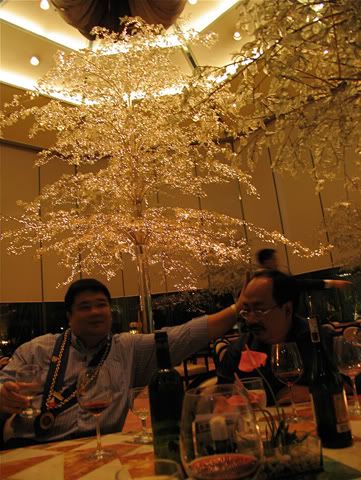 My ninja-like alertness foils Arnie's attempt to bunny-ear me.
J-Lab will never let good champagne go to waste.
Great dinner. Congratulations are in order for Arnie, J-Lab and the OMGD. I've never been disappointed with their annual kaiseki dinners. On the contrary, they just seem to move from strength to strength.
Kampai, y'all!