Friday, the 25th June 2010, the Stockbroker hosted an impromptu lunch at his
Premium Wine Exchange
for Doc and I. Our menu was relatively light - good thing since I ate unreasonably much the night before at La Tienda. Doc immediately mandated that he supply wines for the lunch as he wanted to try out a few of his new Burgundy purchases.
The Doc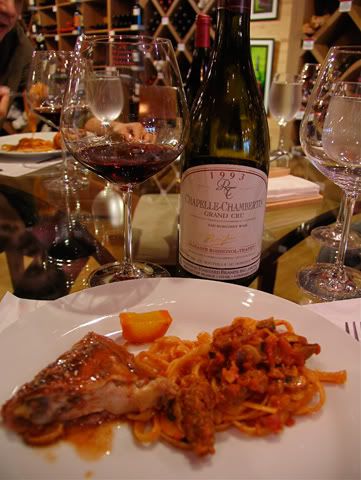 Our Lunch
1993 Domaine Rossignol-Trapet Chapelle-Chambertin Grand Cru
- Doc's bottle. This was singing from the glass: sous bois, whisper of ceps, perfumed raspberry, plum, bit of black cherry, quiet underlying blackcurrant, slight pine needles, cedar and violets. Mirrored on the palate (except for the ceps), this was elegantly medium-bodied, streamlined, nicely focused, with notable purity. Exceptional balance. Gracefully and femininely refined. The bouquet just kept getting sweeter and more perfumed. Lovely wine.
1999 Domaine Trapet Latricières-Chambertin Grand Cru
- Doc's bottle. Evidently heftier, more intense, concentrated and riper than the preceding wine with a "meaty" aspect, yet this is no big bruiser. I hesitate to call it masculine, but I didn't find it quite feminine either. Beside the preceding wine, though, it seemed masculine - but in a somewhat effete, "pretty boy" way (I'm thinking the bumbling, love-struck characters Hugh Grant is known for portraying). Displaying pine needles, moderately sappy ripe cherry, raspberry, bit of blackcurrant, slight undertones of meat, dark minerality, with touches of cedar and violets. A few notches over medium-bodied. Not nearly as open, giving, graceful or refined as the preceding wine, but nice enough.
~ oOo ~
Dinner at home tonight (Saturday, the 26th June 2010); my father-in-law and youngest brother-in-law (in the background right) joined us :
Roast Rack of Lamb, Pilaf and Cherry Tomatoes, Button Mushrooms & Basil.
1997 Fattoria di Felsina Berardenga Rancia Chianti Classico Riserva*
- Decanted for 1½ hours. Broad, expansive, full-bodied, concentrated, quite extracted, rich, very ripe cherry, raspberry, tobacco, bitter chocolate, bit of licorice, leather, violets. Funnels past mid-mouth to a somewhat rustic licorice/leather/violet touched sour cherry finish.
Tannins are quite noticeable but not bothersome; healthy acidity, giving good balance. Structure firm enough. Nice wine. Very good with the roast lamb rack of lamb.
*
Sourced from the Stockbroker's collection since the locally available ones I found too young.