The Stockbroker called for a dim sum lunch at the Shangri-La Makati's
Shang Palace
the other week - he'd take care of the wines again said he
*
. I now don't recall exactly whether it was on Tuesday the 1st June or Wednesday the 2nd (too many things going on last week). In any event, we were 6 for lunch proper, J-Lab, the 7th person, caught up afterwards.

Laraine and I were the first to arrive, Arnie, Johnny and the Stockbroker followed within a matter of minutes. The latter told us J-Lab would be late, so, noticing an extra seat, I asked who else was coming. The Stockbroker told me it would be "a surprise". I immediately guessed it to be Keiichi visiting from Tokyo, but it turned out to be Vancouver Vince who will be in town for around a month this time.
We were all happy to see Vince, of course, especially since he didn't bring any Osoyoos wine to inflict upon us. We started lunch off with some bubbly - as any civilized meal should begin...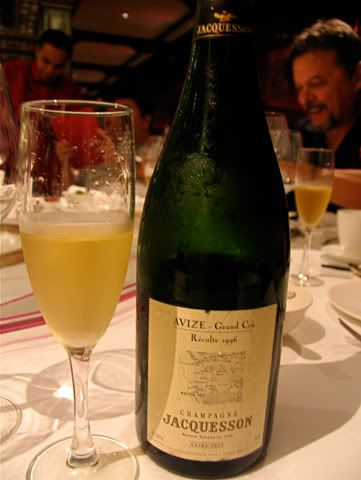 1996 Champagne Jacquesson Avize
- Very crisp, dry, bright, laser-focused white fruit, lots of citrus (lemon and calamansi - the latter a small Philippine lime), bit of slate, with yeasty/sourdough notes. The calamansi notes come on stronger towards the back and into the finish. Quite lively with bracing acidity and calamansi that'll wake up one's palate for sure and keep it awake for some time I'd expect. Certainly does the job and more of cleansing one's palate in between bites of hargaw, siu mai and even the deep-fried taro puff.
Arnie did all the ordering and did it well. I note that the Shang Palace has this weekday lunch promo where one can order whatever dim sum dishes they want plus one main course all for the sum of only P1100/per person (more or less including tax and service charge). Excellent value for money if you ask me. I'd heard about this promo a while back, but this the first time I actually tried it out.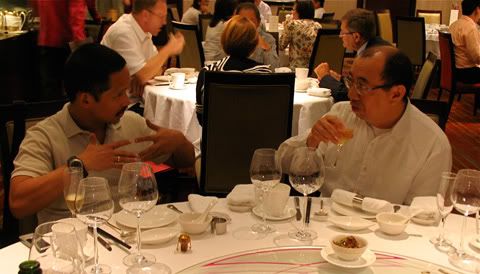 Next was...
2007 Zind Humbrecht Riesling Clos Häuserer
- Brightly ripe pear, bit of peach, apple, minerals, hint of honeysuckle, slight undertone of petrol. There is a slight, yet very apparent ripe-sweetness to this, but not over-bearing or cloying at all since the acidity tied it down and balanced it well. I liked this quite a bit - it was my favorite wine of the lunch, especially with the slightly chewy deep-fried pork puff (Arnie knows the Cantonese name for it, but I don't remember what it is).
I vaguely recall J-Lab arrived halfway through the next bottle. He didn't join us for lunch as I think he just came from another one, but he did go through the wines except the immediately above-mentioned riesling which was drained in a trice.
2007 Zind Humbrecht Gewurztraminer Wintzenheim
- Another that seems to have quite a bit of residual sugar in it. Typical white flowers and lightly tangy, spiced lychee, peach and lemon custard. There is a very slight underlying minerally bitterness that surfaces towards the back and finish that I find balances out the sweetness. Very round, good heft, decent enough acidity and a lush, creamy texture. Should be a crowd-pleaser of a wine.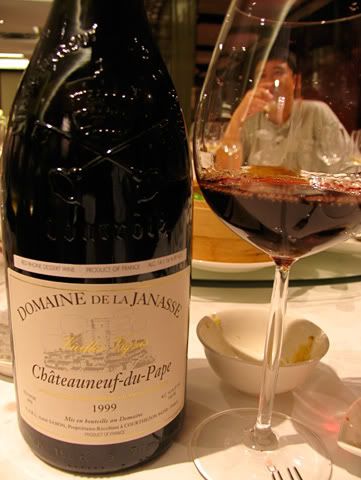 With the main courses hitting the table, the Stockbroker served his
1999 Domaine de la Janasse Chateauneuf du Pape (Magnum)
-
J-Lab's notes, posted earlier at a local wine club website, fit mine almost to a tee
(except only for the allusion to South African wines which I am not really familiar enough with to draw such a reference). I reproduce them here as follows:
Domaine de la Janasse Chateauneuf du Pape 1999 - From magnum. Leathery, with a bit of tobacco . Some cough syrup. Sweet fruit. Generally soft on the palate but firms up on the finish. Dried herbs, and much later, a rubber component I usually associate with South African wines. Rather pleasant and easy.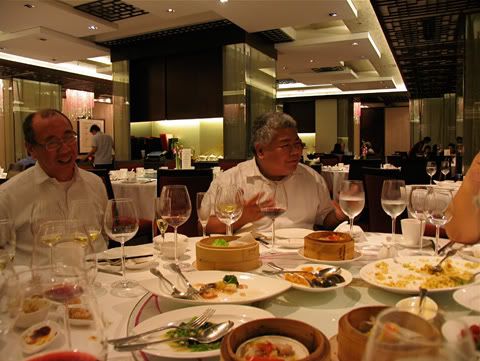 Conversation started to take its usual humorous turn - in particular, J-Lab's good-natured lament about a movie press release's curious, though surely inadvertent, omission of Johnny's name in the cast had us all roaring with laughter.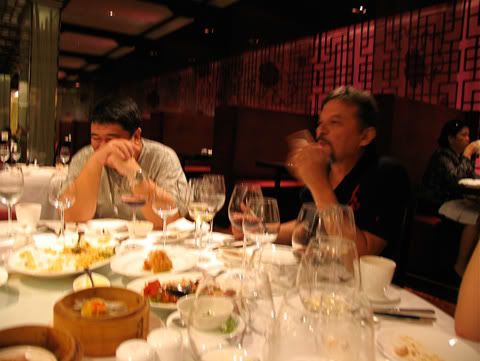 Everyone pretty much done with the main courses, Arnie marshaled the orders for dessert. I got some I think, but no longer recall what it was I ordered.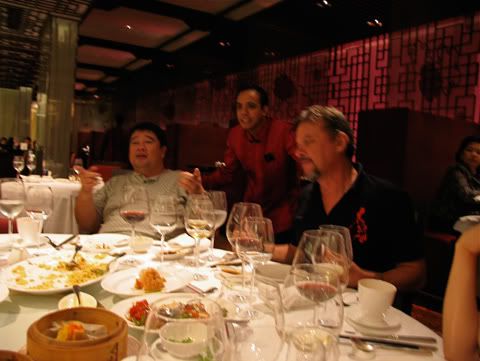 With these, a finishing bottle was popped.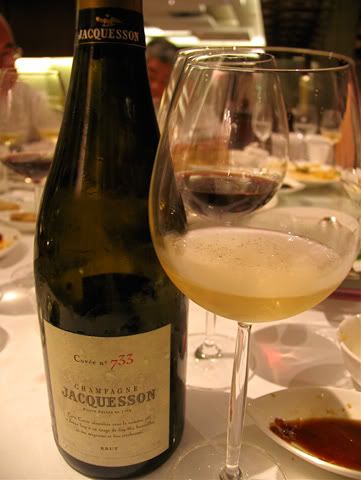 Champagne Jacquesson 733 NV
- Round, ripe, sweetish pear, apple, good bit of citrus and fragrant tropical fruit that I just couldn't put my finger on (Johnny called it passionfruit) with some chalky/mineral notes and slight underlying milk-chocolaty pinot noir notes. Playful, easy-drinking style. Quite different in character from the Jacquesson 732 NV that I drank quite a bit of.
Thanks a lot for sharing the wines, buddy! As usual, until the next!
*
All wines except the '99 Janasse CDP Maugnum should be available at Premium Wine Exchange.