Paco Sandejas proposed a wine lunch with the Stockbroker and I during the past Commanderie de Bordeaux Manila Angélus and Pichon Lalande dinner - to try out some of the former's Papapietro wines. The 3rd June was eventually chosen and set for the lunch - venue would be
Masseto
. During the last lunch at Shang Palace (subject of my last post), however, the Stockbroker recounted to J-Lab (the Usual Suspects' Port, Sherry, Madeira
aficionado
) an article by Eric Asimov about pairing steak with Madeira.
The former's interest piqued, the day before the Masseto lunch, he called and proposed a pairing of vintage Madeira with steak. I figured why not, anyway one of Paco's Papapietros was a young zinfandel which, I expected, would have the stuffing and "oomph" not to get drowned out by the Madeira*.
*
Madeira is a purposefully oxidized and maderized fortified wine from an island of the same name (a.k.a., "Isola de Lolegnane", situated in the middle of the Atlantic ocean. A colony of Portugal beginning from its "discovery" in the early 15th century by João Gonçalves (a.k.a., "O Zarco", the "cross-eyed") it, historically, was a very important trade port (south-eastern Funchal) of the Portuguese crown. The wine itself comes in 4 main types, identified by grape and indicating a certain style:
"the dry Sercial, the mild Verdelho, the medium sweet Bual and the rich and oily Malmsey."
Those who want to read more on Madeira wine may click
here
.
On the appointed date, we were 5 in all: the Stockbroker, Paco, Miguel, J-Lab & myself. We ordered our individual appetizers...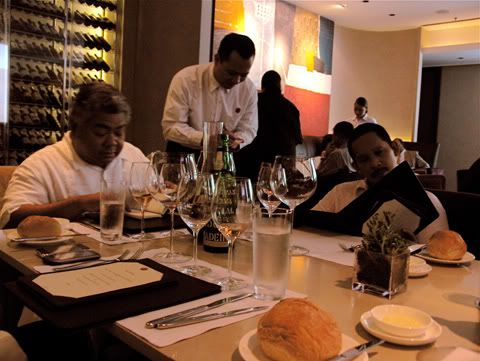 ...and, pursuant to Paco's suggestion, shared 2 orders of roast chicken (for his pinot noir) and 3 orders of steak (for the vintage Madeira and zinfandel).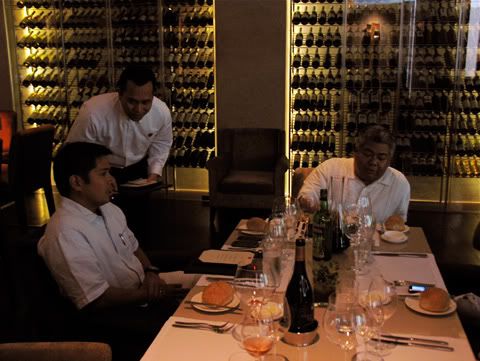 It being a rather warm and humid day, I ordered a bottle of
2008 Domaine Tempier Bandol Rosé
from Masseto's wine list.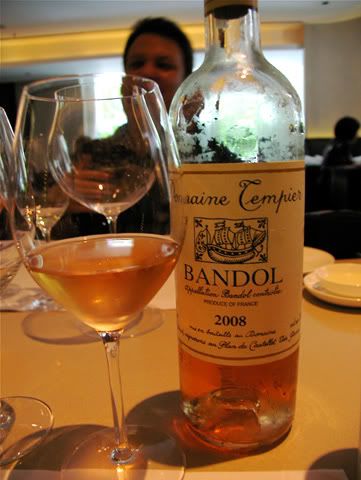 I've written so many times about this favorite rosé of mine (as well as the previous vintage), I need not say more other than, for me, it is the best rosé in the world. Sure, it is a bit expensive for a rosé, but, in terms of gross price and the pleasure it gives, it is an absolute steal.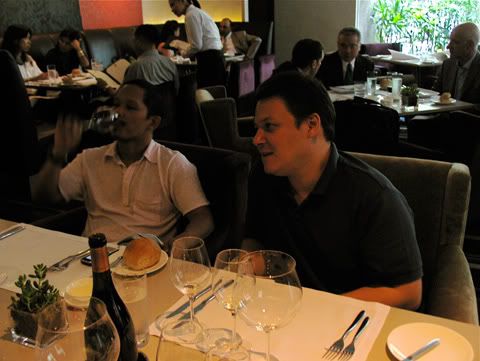 We had the rosé as a welcome drink in lieu of champagne that day - I had given the Stockbroker a choice between the two for my wine contribution and he commented that he hadn't had Tempier's rosé in a while - so that made my choice clear. I knew that Masseto had it on its well-chosen wine list, so I didn't have to bring my own since their mark-ups are very reasonable anyway. With my starter of
Truffle-Scented Pumpkin Ravioli
, I paired...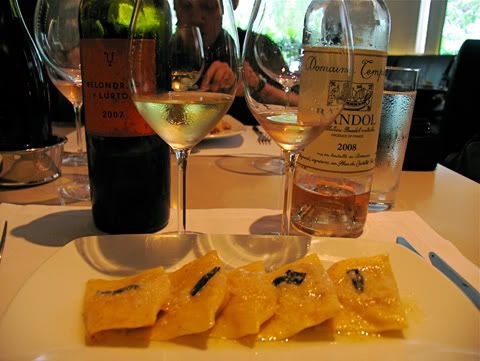 2007 Belondrade y Lurton Rueda Superiór
- Miguel's wine, one he brought back from his last trip to Spain. 100% barrel fermented verdejo (Castilla y León), this has the distinction of receiving enthusiastic praise from both Parker and Jancis Robinson. Quite mouth-filling, hefty and very rounded, it is also riper and more concentrated than any barrel-fermented verdejo I've tried (and I've had a few). Yellow apricot, peach, bit of baked green apple, hint of lemon custard pastry, vanilla/oak (10 months in French oak; the oak 25% annually renewed) - I said that there were pronounced leesy notes as well.
The oak was quite apparent, but, with my creamy pumpkin-stuffed ravioli, its fresh, ripe fruitiness was emphasized and the vanilla/oak ran with the pumpkin's flavor. Not for sipping at this point (let's see how it ages), this wine needs to be paired properly to really show what it's got - which it did in this case.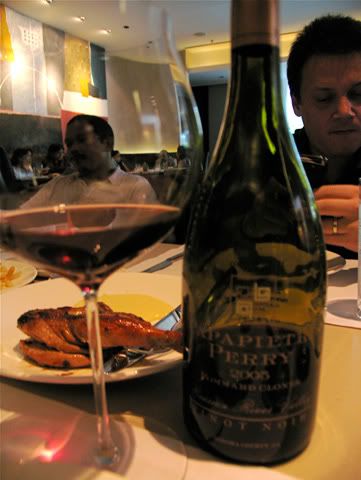 2005 Papapietro Perry Winery Perry Pommard Clone Pinot Noir
- Paco's bottle. Probably one of the most self-possessed, properly restrained pinot noirs I've had from California ( a good thing for me - I don't really like loud wines). Black cherry, raspberry, bit of underlying blackberry, slightly minerality and smokiness, the oak is quiet and well-integrated. There is a good deal of comparative finesse and proper restraint in this Cali pinot noir. The acid balance is precise as well. It's allusion to the rustic and masculine reds of Pommard is not pure wishful thinking. Astute call by Paco to have this with a baked chicken dish rather than steak - he apparently knows this well-crafted wine very well.
Then came the featured pairing of the lunch.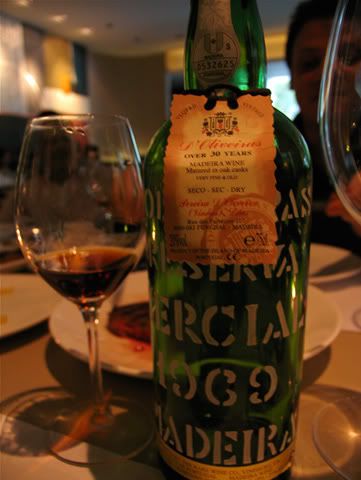 1969 D'Oliveira Reserva Sercial Madeira
- The Stockbroker's bottle. Flamboyant bouquet, I could easily smell its sweet, toasted, walnutty, dark caramel, candied dates, vanilla bean and molasses-reminiscent scents two seats away as he decanted it. It had around 2 hours breathing by the time I got to it. Though sercial Madeiras are supposed to be the driest style, this was sweet, rich, deep, complex and comfortably warming, mirroring its scents. Not at all cloying, it had all the acid balance and lift it needed in my book. With the steaks, it was an indulgent pairing, its flavors running with and giving the fatty
US Prime Grade Rib-Eye Steaks
a complexing sweet-savory twist while the acidity helped prop everything up and stave off ennui and palate-fatigue.
I'm all for the pairing - it's not one I would do regularly, but definitely every once in a while - probably during Christmas time and in cold weather. Thanks to the Stockbroker once again for putting this together and sharing this bottle. It is not often I experience a novel pairing, much less enjoy it so much.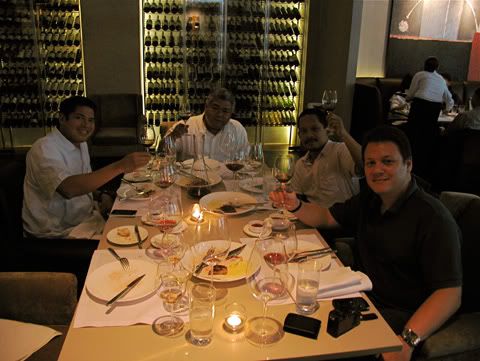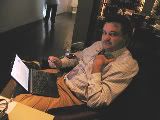 Paco also opened his
2005 Papapietro Perry Pauline's Vineyard Zinfandel Dry Creek Vineyard
- I must admit I got only a small pour of this wine and don't recall too much of it - only that it seemed quieter, more brooding, somber and serious in its dark, briary berries than most any zinfandel I've had. I really do not want to say more as I did not get to pay enough attention to this wine to do it justice.
The Vigneron had dropped by by then to have a quick glass, swap a few stories and I showed him how to navigate and post in the
wineberserkers website
.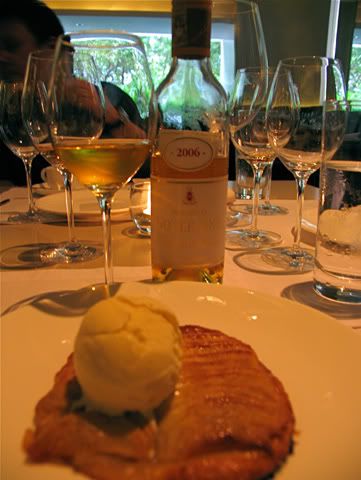 Dessert for me was apple tart with ice cream and J-Lab'd bottle of
2006 De Bortoli Noble One
- a botrytised semillon from Australia. Admittedly, I rarely drink Australian wines, but I've always thought they do their botrytised semillons pretty darn well and with very good quality-price-ratio. Honey, canned cling peach, bit of orange marmalade and candied apricot, vanilla/oak, a bit straightforward and not really complex, but undoubtedly openly and immediately pleasing. With the apple tart and ice cream, it was a no-brainer match.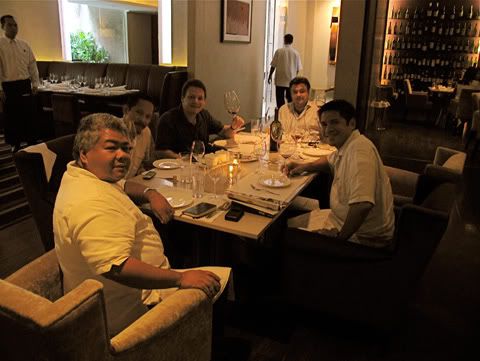 Excellent lunch; one of the better ones in a long time. Until the next!