On the 29th May 2010, Catha and I attended
Jerome Philippon's Wines & Tapas Cocktails
at the bar area of Cyrille's
Restaurant Ciçou
in honor of visiting winemaker of Château de Roquefort (Provençe),
Raimond de Villeneuve
. I always have his Corail Rosé when I have lunch in Ciçou, and, sometimes (when I forget to bring my own), order bottles off the list of Je Suis Gourmand to go with couscous and the lamb trio.
We brought our boys along as they had read my blogposts on my meals there and have been wanting to try out Cyrille's restaurant themselves. They had dinner at the main dining room though as the event was stand-up cocktail style.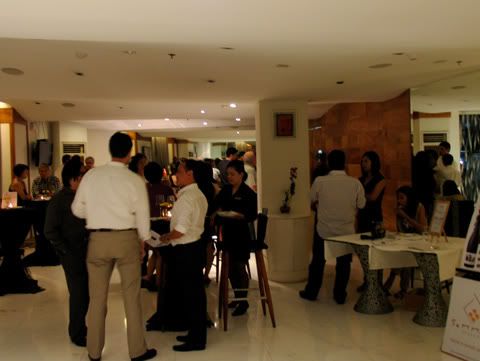 There was already a healthy crowd by the time we arrived, mostly expats it seemed. Catha settled the boys in the main restaurant (at a table for 6 so we could join them later for dessert) and I started chatting with Jerome and Cyrille.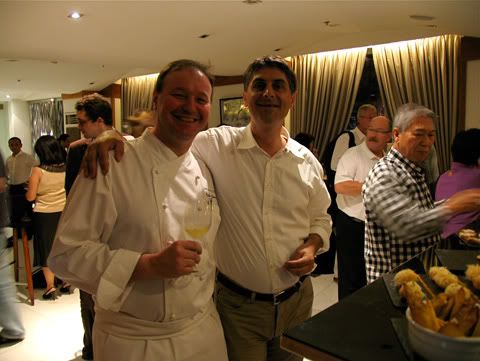 The bar's entire length was laden with French pica-picas...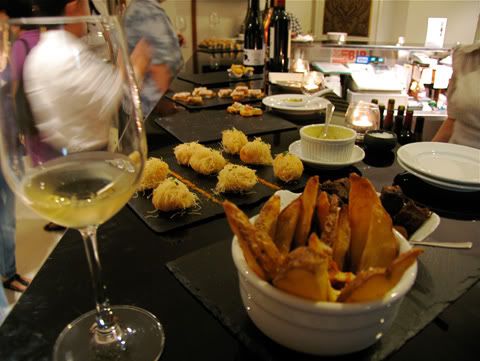 ...plus a side table of cheeses, pâté, compotes, baguettes, etc.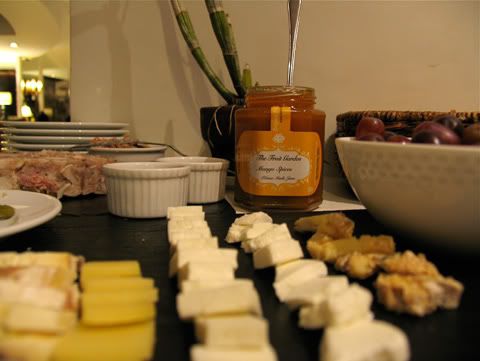 There were, of course, many wines to choose from; one only had to ask.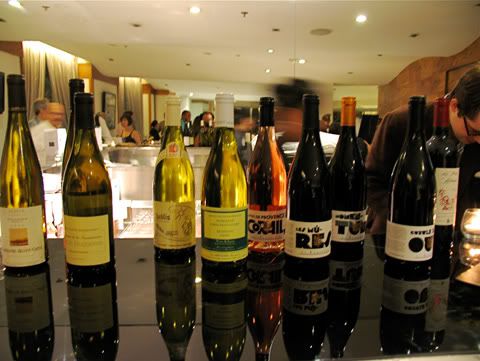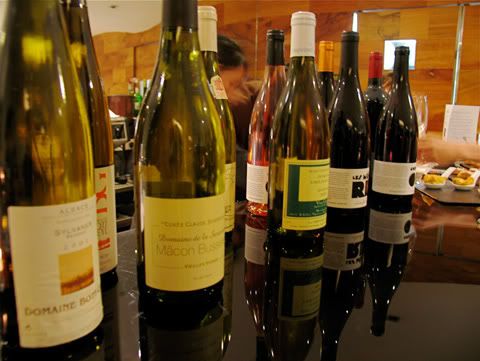 The only problem was choosing where to start!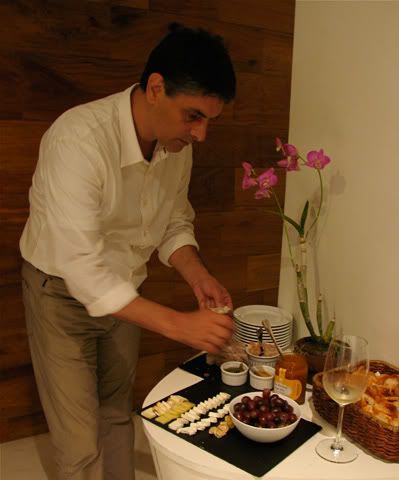 Because I Jerome called my attention to the table with Cheeses and Cyrille's
Homemade Pork Rillettes
(with gherkins as accent) and his
Homemade Pork Head & Trotter Pâté
, I asked for a glass of the very fresh, light, dryly fruity and citrusy
2007 Domaine Bott-Geyl Sylvaner
(a typical apéritif with pork pâtés in Alsace). This wine's versatile dryness, good acid balance and bright citrus-laced fresh fruit notes cut the pork preparations nicely and refreshed the palate between bites. It also married well with the...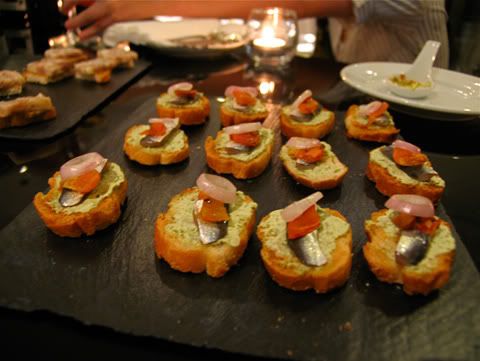 Fresh Sardines Marinated in Olive Oil atop Toast with Herbed Goat Cheese
, as well as the...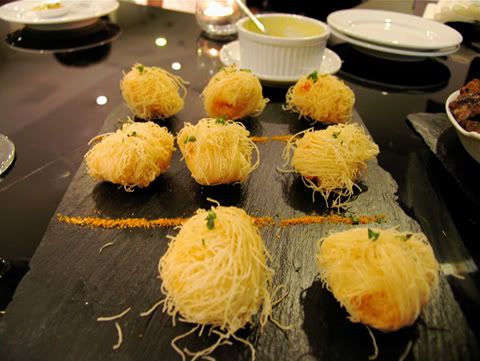 Prawns Wrapped in Kadaif with French Herb Citrus Dressing
and...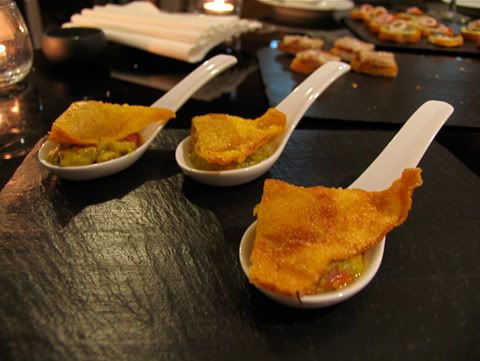 Crispy Ravioli of Crab on Avocado Tartare
.
After a while, I switched to my old favorite from a very traditional Chablis maker, namely,
2007 Domaine Laurent Tribut Chablis
. I've written several times about how I like this nervy, steely, stony, super focused and pure chardonnay. It also paired quite well with the above mentioned pica-picas.
With the above depicted rich pork in aspic dish, I switched to the heftier, rounder, but very focused and pure in fruit, chardonnay-based
2003 Domaine Thévenet Viré-Clessé
. Catha really liked this wine the best among the evening's whites. For the
Sautéed Ox Tongue, Tomatoes & Garlic
, and, the following lumpia-looking dish (I vaguely recall it being stuffed with mushrooms - I'm no longer sure now), I switched to the old reliable
2007 Château de Roquefort Corail Rosé
.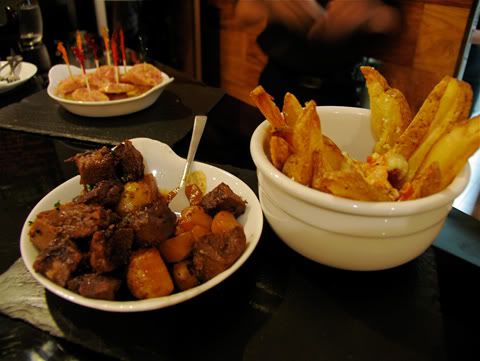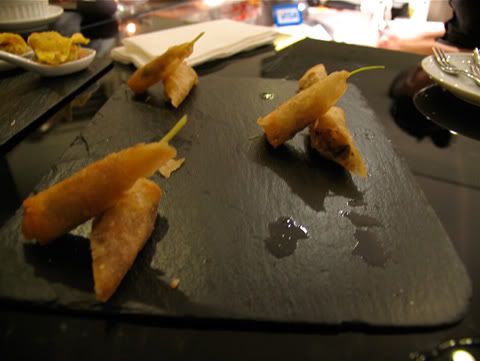 The bar area was already pretty packed by then. I recall tasting one or two of the ripe, spicy reds, but was feeling too warm under the lights and standing around, so I happily stuck to the refreshing Corail Rosé.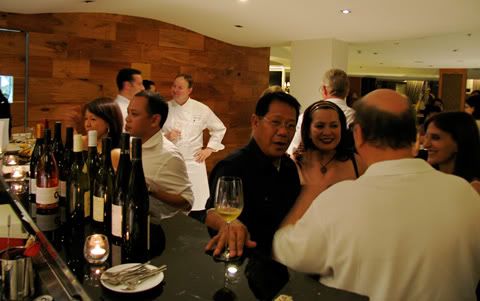 Not long after, Jerome called everyone's attention,formally introduced Raimond de Villeneuve to the crowd...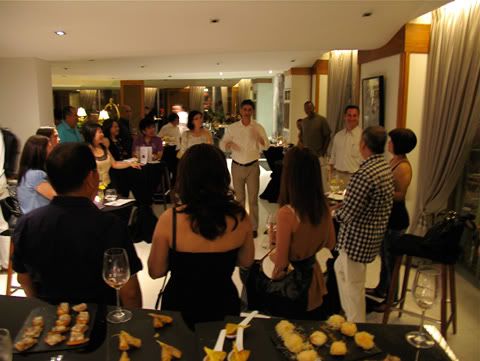 ...and, then, gave him the floor to give a brief talk about Château de Roquefort and its wines.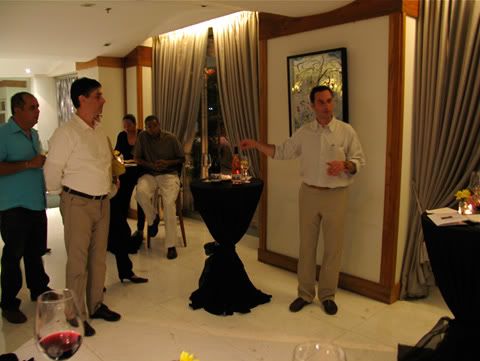 Raimond seemed quite relaxed, comfortable and was effusive with giving a lot of detailed information about the weather,
terroir
and the techniques he works with and employs to bring out the land's expressions in his wines. The winery is certified biodynamic, showing how serious he is about his respect for the soil.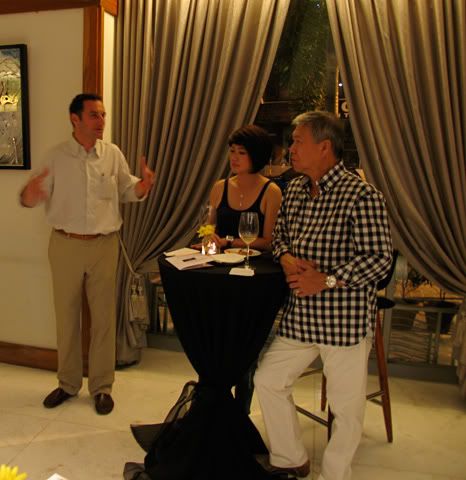 Catha and I hung around a bit more after the lecture, continuing chatting with Jerome, Cyrille, Anna and, briefly, with Raimond.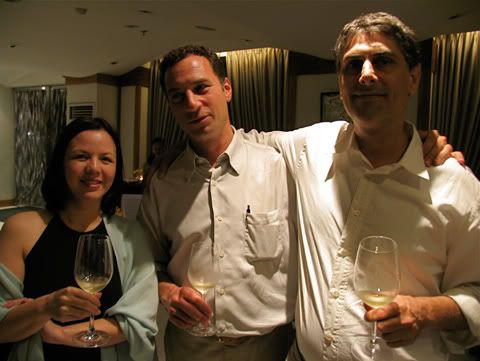 Catha, Raimond and Jerome.
Having our fill of food and wine, we moved to the main restaurant to join our boys who were just finishing up their main courses of veal, risotto and pork jowl and belly.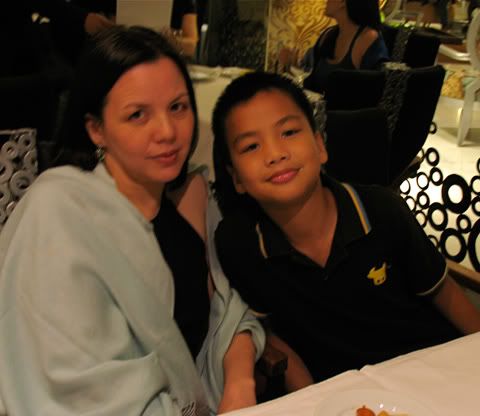 We ordered some desserts, I no longer recall their proper names, but 2 were sinfully rich with chocolate. We ordered only 3 desserts from the menu as, at the evening's outset, Cyrille had told me he had a couple of my favorite desserts in store for later. The 3 we ordered were: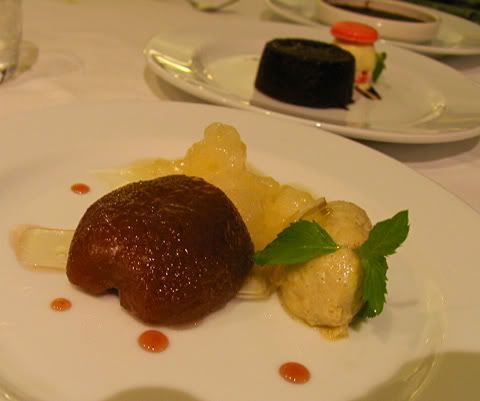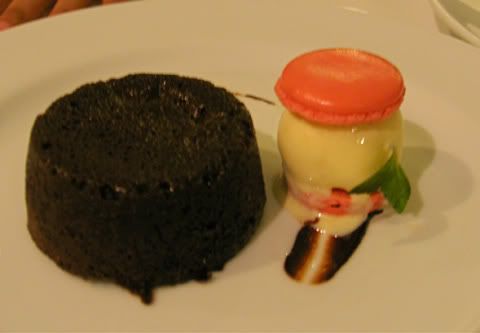 Maracaibo Dark Chocolate Ganache with a Macaron-Ice Cream "Sandwich"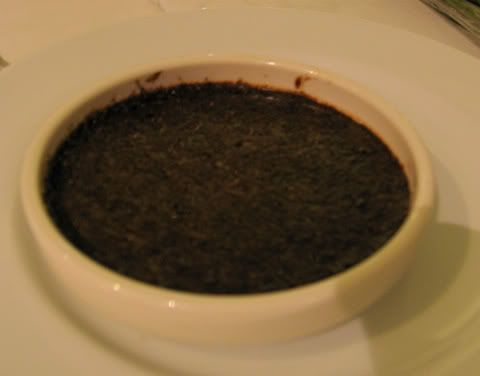 Maracaibo Dark Chocolate Crème Brûlée
Cyrille's treats for us were, true enough, some of my and Catha's all-time favorite French desserts...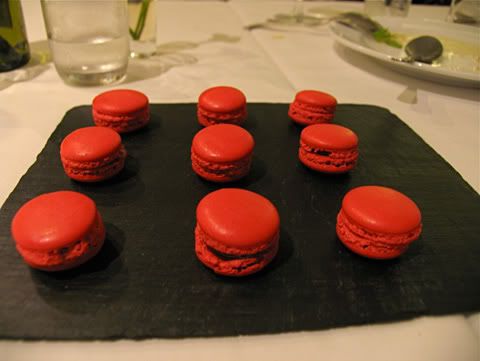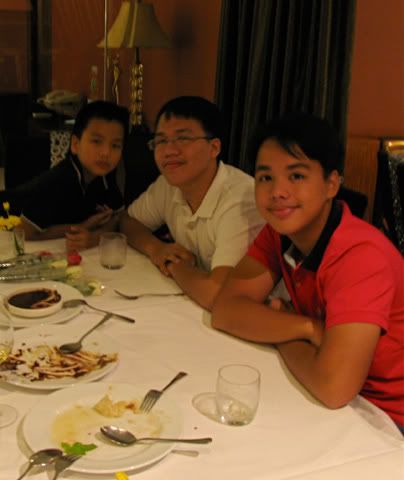 The boys made short work of the desserts.
Jerome wasn't through with us yet, though. He came and poured us some of his newest wines.
2007 Les Clos de la Tour de Curon par Stéphane Tissot
- A chardonnay from the Jura region (Arbois in particular, not far southeast of Dijon, towards the Swiss border), this was my first time to try such a wine - I am more familiar with their bubbly Bugey Cerdon (poulsard and gamay) and, to a lesser extent, their
savagnin vins jaunes
.
Intense, concentrated, well-rounded and focused, with good heft, minerality and notable acid balance. The vanilla/oak notes are very moderate (not much new oak I'd guess) and very well woven in. A nice surprise from Jura.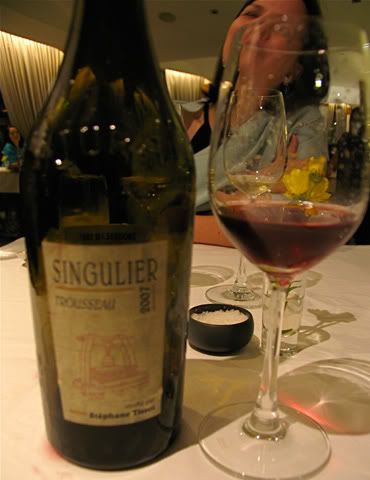 2007 Trousseau Singulier par Stéphane Tissot
- Very rich and full-bodied, but lighter-footed on the palate than I expected. Discreet meaty, vaguely gamey notes lace briary blackberry, black cherry and dark raspberry complexed by sweetish tea, bit of dried herbs, moderate wood, dark mineral and spice notes. Nice focus and balance as well. Quite interesting, really, I wouldn't mind having this with some venison, or maybe even a rare roast beef.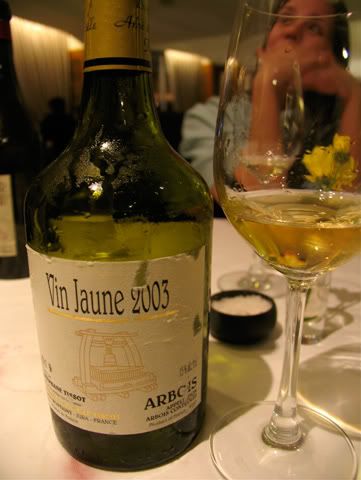 2003 Vin Jaune par Stéphane Tissot
- Now on more familiar ground here, this is a
vin jaune
of savagnin in the typical oxidized style. Dry, nutty, hints of ginger, old barrels, somewhat similar to a jerez but with more depth. It told Jerome I would drink this like I would a manzanilla - as an apéritif or as a digestif, with chorizos curados, nuts and maybe olives as the former. Very interesting and I will certainly look forward to Jerome's shipment of this arriving.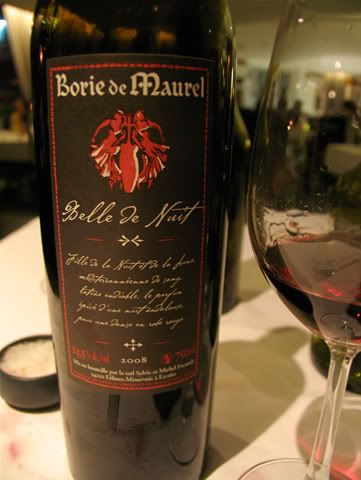 2008 Borie de Maurel Belle de Nuit
- Interesting name. A 100% grenache Minervois if I recall correctly; the spicy, ripe-roasted, somewhat hot, dense, grape and dried fruits on the nose (hint of tea as well) are belied by a lean, lithe, pliant, muscular body. Surprisingly, the alcohol apparent in the nose is materially toned-down on the palate. Not as over-wrought as most all Minervois I've tried. This shows, to me, a gracefulness I rarely get from the reds of said area. Much lighter in frame than its %abv would suggest, it is still packed with with a good deal of flavor. Quite impressive.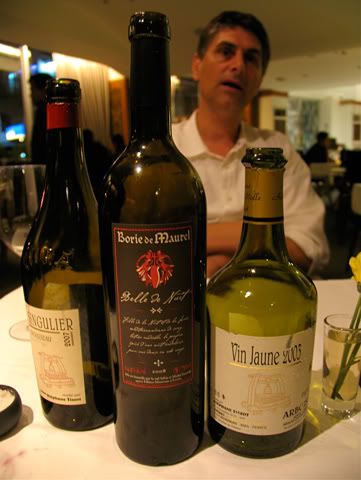 Got to hand it to Jerome, he is really a crusader when it comes to lesser-known/under appreciated French wines.
Chapeau
!