This is not a wine-related post - more of a brief summary of/commentary on a few dim sum restaurants (and a couple of others) we went to during the past trip.
23rd May 2010; Lunch & Dinner
.
The day we arrived the subject trip, the day before the Vinexpo-related events began, was my sis-in-law's, Michelle's, birthday. Her husband, my
bilas
, Ron, generously treated everyone for lunch and dinner that day; unfortunately, I forgot to take pictures during the time. It was way past 1pm when we finally checked into the hotel and, so, caught up with Mich, Ron, in-laws and all the kids at the nearby
Canton Deli
(Gateway Mall, TST)
. I've eaten here twice before, it serves pretty decent dim sum and is very conveniently located when one is staying at the Marco Polo Gateway Hotel and wants a quick, good dim sum lunch.
Dinner that night was a
lauriat
(Chinese banquet) at the
Peking Garden
(Alexander House, Central)
. No dim sum except for some
xiao long bao
, and there was a ton of food and I do recall there were 3 exceptional dishes amongst them - one being a kind of whole fish that wasn't the ubiquitous garoupa. The Peking Duck and a specialty fried chicken were pretty good, but these 2 weren't ones of the 3 exceptional ones. That's the difficulty when I forget to take pictures - I also wind up forgetting a lot of the dishes I had. Mich, Ron, Topsy and I had a few bottles of Tsing Tao amongst us.
After dinner, Mich, Ron, Catha, Topsy and I had a few drinks at
Spasso
. Still reeling from 2 large meals just 4 hours apart, I opted out of any wine and, instead, had a chocolate martini for my dessert/drink. The others had other mixed drinks and several more Tsing Taos. Topsy got a bit drunk and insisted on paying for the drinks.
L-R: Ron, Catha, Mich & Topsy.
24th May 2010; Lunch
.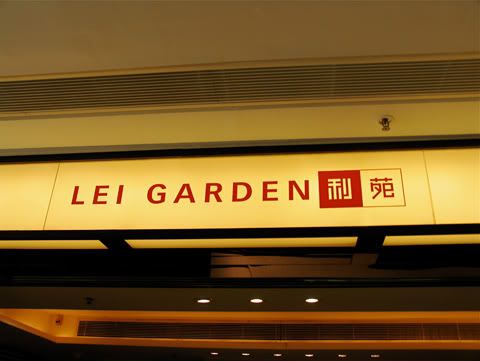 My parents-in-law, who had arrived a few days before us, were headed back to Manila with Nicole that evening and had been billeted at a friend's apartment at the Four Seasons. My father-in-law was pretty tired from the trip already and my mom-in-law wasn't finished packing yet, so they took everyone to lunch at the nearby
Lei Garden
(IFC, Central)
. I recall the Stockbroker told me likes the dim sum here.
Because all but Mich & Ron's 2 boys were with us (the latter being in school as it was a Monday), we had to get multiple orders of the following dishes.
The
1000-Year-Old Eggs
were good, the black yolks were larger than those in Yung Kee (the latter serves the standard against which I judge all such eggs) and were nowhere near as creamy. Still, these were decent, if unremarkable.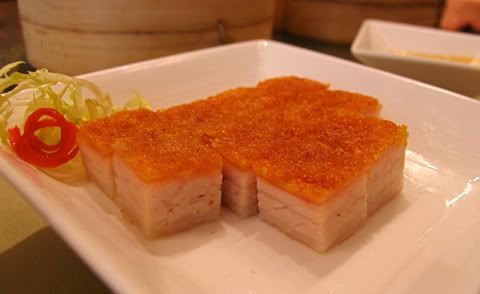 This
Crispy-Roast Pork Belly
was exceptionally good and 3 orders were not enough. Fortunately, there were a lot of other dishes. My mom-in-law asked me to order more near the end of the meal, so I added another making 4 orders in all. The kids destroyed them in a matter of seconds.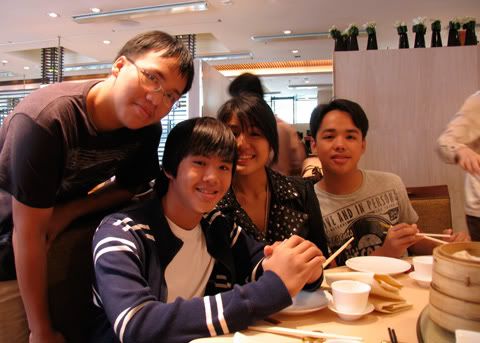 Mauro, Michael, Nicole & Lorenzo (Joaquin, seated between my mom-in-law and Catha, didn't join picture).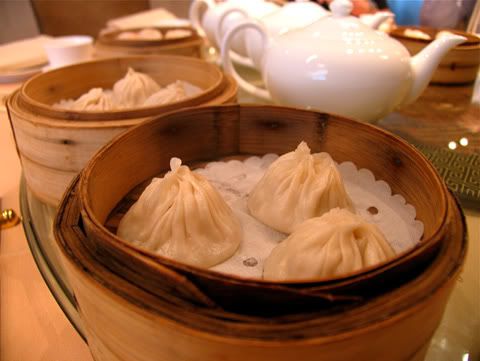 The
Xiao Long Bao
here was quite good. Not really exceptional, but, still, better than many.
Same could be said for the Har Gaw...
...as well as the Char Siu Bao.
This simple dish of BBQ Pork in a Sweet Glaze was good, the pork nicely soft and properly fatty.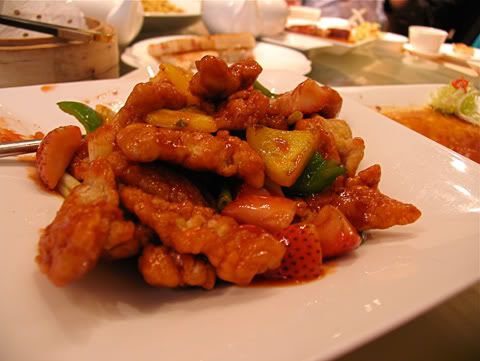 My wife and in-laws always order
Sweet & Sour Pork
at Chinese restaurants. Though I've given up eating this dish years ago, I did try it and it was good as far it goes. I do prefer the pork to be crispy, though, like the way Tita Bella does it.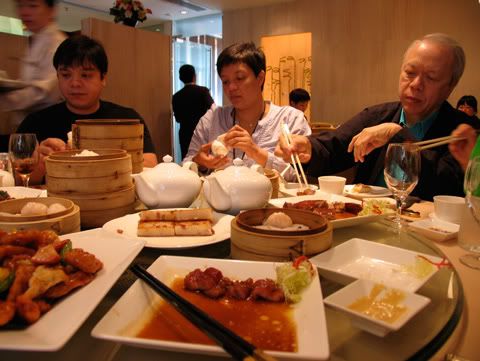 There were a few other dishes that I forgot to take shots of, such as the
Turnip Cakes
and
Deep-Fried Turnip Dumplings
Mich likes. In sum, the quality of dim sum here is obviously cleaner, not as oily and generally better than most I've had in HK. It is a couple of/few steps up from the likes of the Maxim Group's City Hall (Central), Canton Deli (TST), ZEN (Pacific Place, Central) and, in my opinion, Dim Sum (63 Sing Woo Road, Happy Valley).
26th May 2010; Dinner
.
Though Danny already treated me to
lunch at
Bo Innovation
the day before
(25th May 2010), he insisted on taking my family out to dinner the next day (he's godfather of my eldest and said this treat was more for him so I accepted though was already a little embarrassed for him to treat yet again). I had mentioned earlier that I wanted to have again the
Typhoon Shelter Crab
at
Under Bridge Spicy Crab (Causeway Bay)
since we all enjoyed it so much the last time
, so Danny quickly made reservations for the 26th May 2010 (our last night in HK for that trip). Unfortunately, Cecilia was in Singapore on business and Ron was taking his trainees out that night so they were unable to join us.
Mauro, Renzo & nephew/godson Michael; Joaquin opted to have dinner with Mich's kids that night.
Sautéed Scallops with Cuttlefish & Celery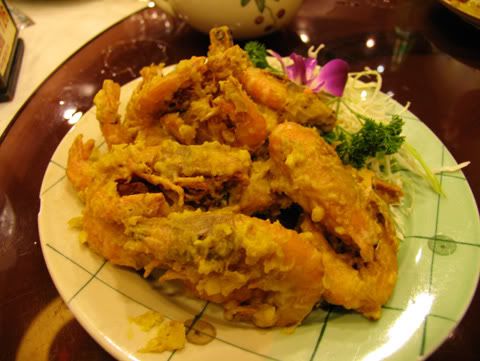 Prawns with Salted Duck Egg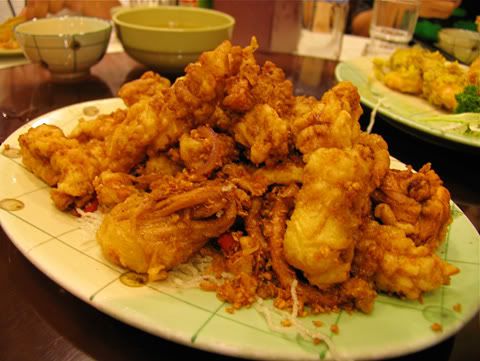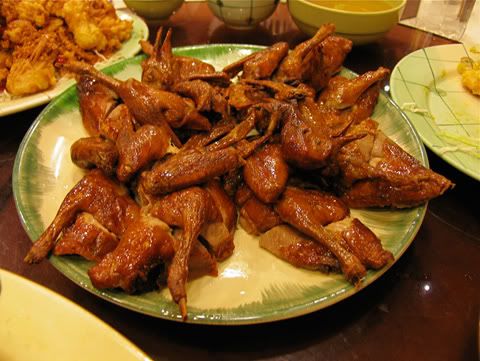 Michael picks a pigeon's brains.
The boys attack the food.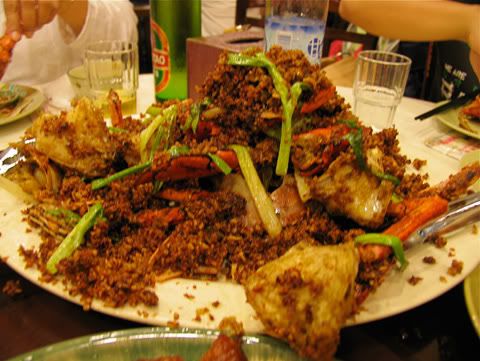 The specialty Typhoon Shelter Crab (one order spicy, one order mild spice.
Mauro concentrates on the crab's brains while Renzo eventually starts to feel the effects of the spice's slow-building heat. In the picture is also the dish of
Chinese Green Beans with Preserved Olives
which I failed to photograph this time. Surprisingly, the kids liked this a lot and eventually polished it off as well.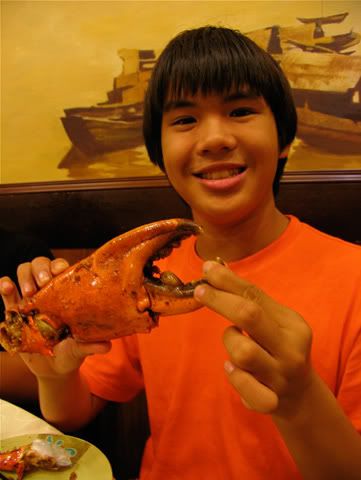 Michael and his prized crab claw.
Not only was the Fried Rice tasty, it also helped ease the heat of the spicy crabs.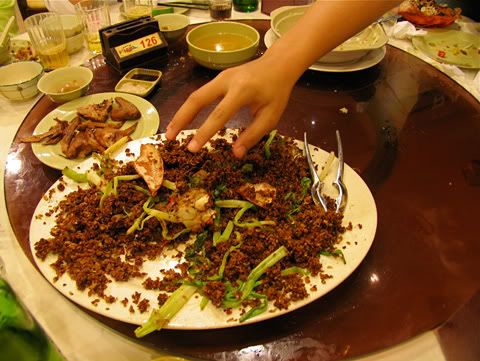 That's Mauro's hand reaching for the last piece of crab.
The aftermath. It still surprises me how much the kids eat these days.
This huge feast was washed down with 3 large bottles of Tsing Tao which only Mich and I drank (we didn't want to take a chance serving the boys - all minors- beer in a public place in HK). Thanks so much again, Danny. That was a great dinner and it is always good to spend time with you. We all loved the food and were stuffed to the gills!
27th May 2010; Lunch
.
I first learned about this chain of Taiwanese dim sum restaurants from Johnson and Danny during the last annual Alabang Group HK eating expedition, but we didn't get to try it. More recently, Arnie recommended it as well. This was our last meal in HK this trip. Having already checked in our bags early at the TST Airport Express at the Elements Mall, we headed back to
Din Tai Fung
virtually across the street from the Marco Polo Gateway Hotel.
Since Mich had eaten here a few times before, she did all the ordering.
The first salvo to arrive was composed of
Steamed "White" Chicken
(one of the few chicken dishes I actually look forward to), a cylindrical version of
Ma Chang
, bowls of
Wonton Noodle Soup
, and sweetishly fresh and plumply tender
Steamed Shrimps
(already peeled, I suspect these were fresh water).
We had multiple orders each of Crabmeat Xiao Long Bao (the specialty of the house)...
...as well as some stuffed with pork and truffles
.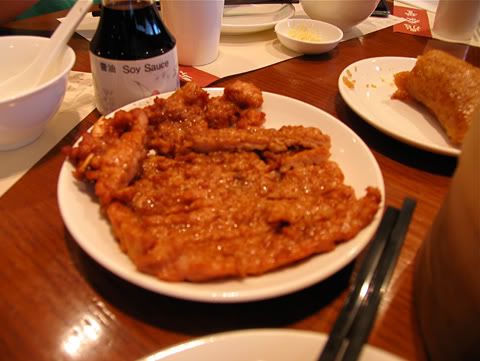 Mich also ordered a platter of Pork Chop for Joaquin. He is quite a sophisticated eater as far as 10-year-olds go, but not overly fond of Chinese food except for Peking Duck.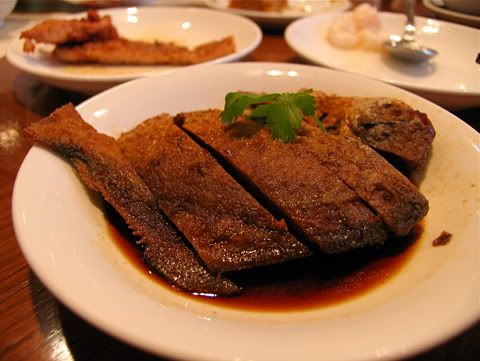 I also got to try another house specialty, the
Fried Pomfret in Soy Sauce
. I ordered this one; Mich told me its flavors were good but a bit difficult to eat since it is a particularly bony fish. She was absolutely right. I did like the dish, but it's a bit of a hassle to eat with all the small bones. Good to try out, but I probably will give it a pass next time - especially in polite company.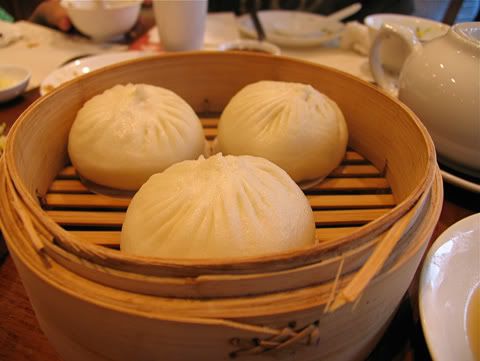 Their version of
Steamed Pork Buns
is not the ubiquitous char siu bao - the best I can describe it is it is similar to our bola-bola siopao but the stuffing not packed tightly and it is very light and clean on the palate. Very nice indeed. The kids and I especially liked this as it is a nice change from what we are used to.
Simple a dish as it is, worth special mention is the
Prawn Fried Rice
. Perfectly executed, the grains kept their integrity and had a vague nuttiness about them. the flavors were delicate, yet well defined. Good stuff, we had 2 orders.
Michelle and I had a bowl each of
Warm Taro Pudding with Mini-Sago
(above), while some of the boys had bowls of
Almond Jelly with Lychee
(no photo as the kids dove into it too fast). My dessert was competent and mildly sweet (which I prefer); but the boys' dessert (usually run-of-the-mill) was exceptionally good. Jaded foodies who, like me, are tired of the latter dessert should give this a try.
Well, that's that for the subject trip. My children who were in HK for 2 weeks came home with us, the youngest bringing home a Vinexpo pasalubong ("coming home present") for his dachshund, Sparky.