This past Monday, the 16th May 2011, was lunch at
Masseto
for visiting Philippine born, now New York-based winery owner
Anthony Hwang
. It was a smallish affair with barely 15 persons in all. Though known more for his jewel of Vouvray,
Domaine Huet
, not very many know that Anthony also owns
Domaine Királyudvar
of Hungary.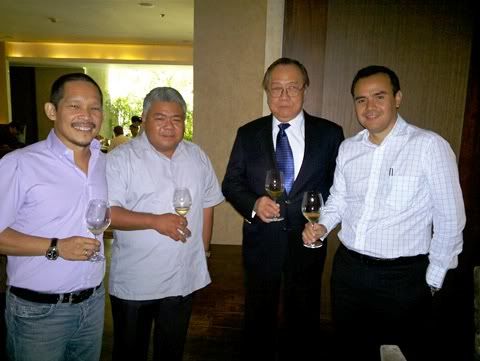 Host Jojo Madrid, Jay Labrador, Anthony Hwang & David Celdran.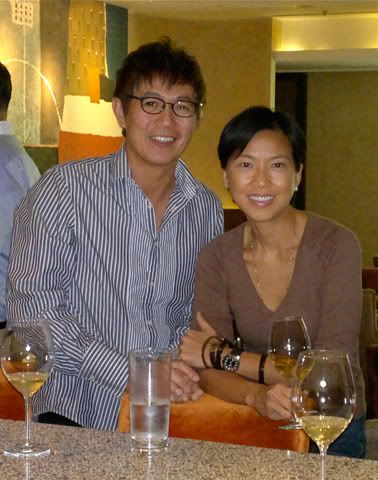 David Ong & Felicia Atienza.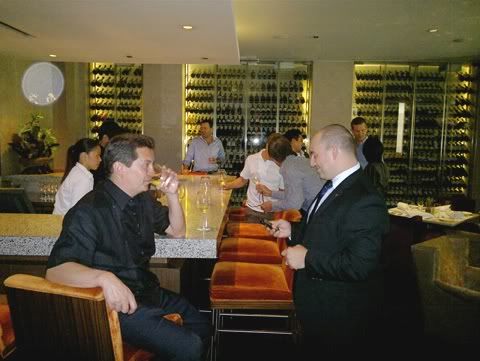 I arrived pretty much on time but many were already there: among others, IWFS President & Wine Master Bernie Sim, Freddy Pio de Roda, Michael Uytengsu and some friends from the Peninsula Hotel (photo above). Assorted pica-picas were being served with cool glasses of...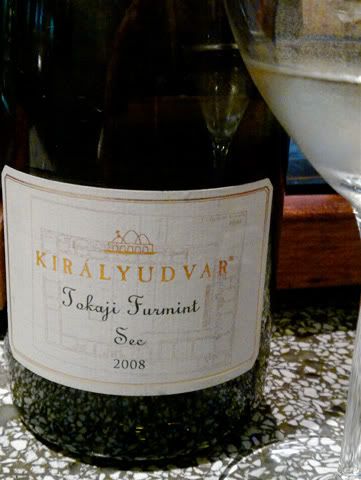 2008 Domaine Királyudvar Tokaji Furmint Sec
- I have virtually no experience with dry Hungarian furmint secs,
save for the broad, masculine and overtly oaked 2003 vintage of Vega Sicilia owned Oremus Mandolás Tokaji Sec which I paired once with raclette
. The subject furmint sec, in contrast, is notably svelte, crisp, purer, cleaner and evidently very well-focused with dry white peach, white florality, hint of white grapefruit and an alluring cold, wet stone nuance. Lean, clean, dry and pure, it also has lip-smacking, appetite enhancing acidity. More complex than one's usual summer wine, this is perfect for our weather - all two seasons of it. Nice.
I was introduced to Anthony and who has a soft-spoken, polite, friendly, unassuming, quietly confident air about him. His depth of knowledge is gently shared; there is nothing didactic about this elegant man's conversation. He also spoke a bit in Filipino which he remembers well (though he hardly ever visits), which I found quite disarming.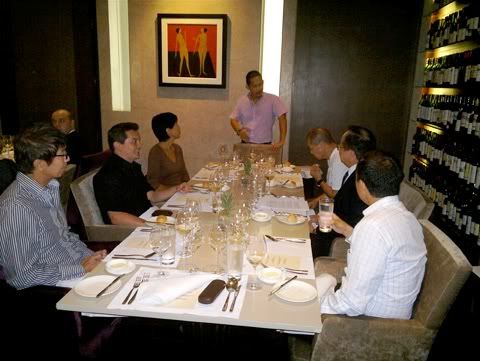 We were eventually called to table where Jojo gave a brief introduction...
...and turned the floor over to Anthony.
Anthony spoke on the histories of
Huet
and
Királyudvar
, the factual details to be found at the herein-linked websites. The common underlying philosophy, however, is respect for terroir and vines (Huet was certified biodynamic over 20 years ago, while Királyudvar adopted biodynamic viticulture in 2008) and using modern, non-intrusive methods to let the wines achieve their greatest potential. I, personally have always appreciated Huet's wines, even before I visited the Loire. For Vouvray wines, while there are, undoubtedly other fine producers, in my opinion, one wouldn't be missing all that much if one were to stick solely to Huet for one's Vouvray fixes.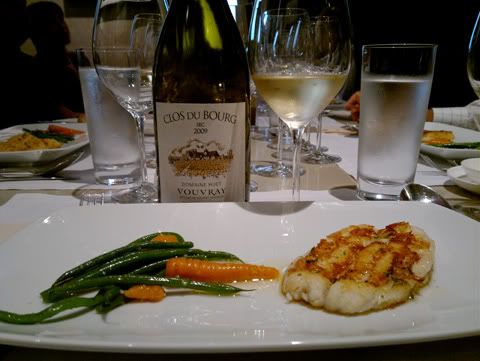 With the
Sole, Brown Butter Lemon Sauce & French Beans
, we had the
2009 Huet Clos de Bourg Sec
. I've had this before at
Jojo's Huet Tasting early January of this year
during which we had it alongside the 2009 Le Haut-Lieu Sec and the 2006 Huët Vouvray Le Mont Sec. My notes then were as follows (vis-à-vis the 2009 Le Haut-Lieu Sec):
2009 Huët Vouvray Clos de Bourg Sec - There was pretty much a consensus that this was the most favored Sec at this point, with Sevrine, Felicia, Barbara, J-Lab, Richard and myself giving it our nods as such. Notably fleshier, rounder, moderately softer and not as piercing, dry or challenging as the 2009 Le Haut-Lieu. More widely accessible too, I'd wager.
The subject wine was a fine match for the dish. While the 2009 Le Haut-Lieu may have been an acceptable match for the Sole
per se
, the beurre noisette would have called for something with a little more roundness and heft, which the subject Clos de Bourg aptly supplied. The wine's stony tension and rounded heft played nicely with the nutty browned butter. I had 2 glasses with this course. Lovely.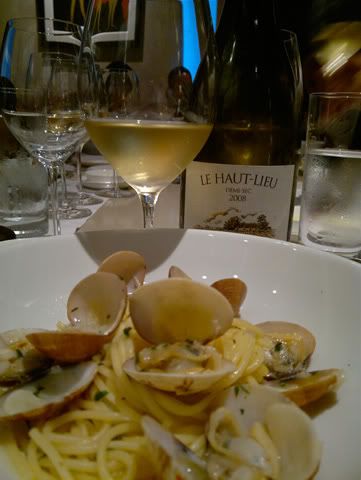 With the
Spaghettini alle Vongole
, we had the
2008 Huet Le Haut-Lieu Demi-Sec
- Subtle talc/baby powder and white flowers gently infuse the deftly honey-touched quince/citrus/stone fruit. Thrilling acidity. Precise heft. Wonderful balance. Excellent with the main/pasta course. The vaguely sulfuric topnote I detected in the bottle at the mentioned January tasting was not present. Loved the wine; loved the dish; loved them together.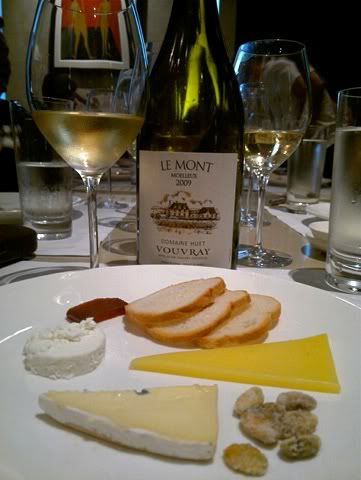 With the
Cheese Platter
and the
2009 Huet Vouvray Le Mont Moelleux
, I naturally focused on the chèvre (a major product of the Loire and a natural, regional pairing for their chenin blanc and sauvignon blancs). The subject wine, a molleux, is inherently/comparatively deeper, creamier-fruited, more honeyed and roundedly heftier. Through all this, the healthy acidity and pureness of fruit (the honeyed quince notes picked up the membrillo) kept it finely balanced and precisely poised.
Dessert was a generously portioned
Chocolate Hazelnut Tart
which was paired with the
2007
Királyudvar Cuvée Ilona
- Botrytis-touched, late harvested furmint and hárslevelű, per Anthony. This special cuvée is named after his wife, Evelyn (evidently, "Ilona" is the Hungarian equivalent of "Evelyn"). There is a difficult to describe sweetish/floral/vaguely banana-like topnote to the slightly spicy wild honey, preserved apricot, candied orange rind, macerated ripe pear, slight lemon custard and vanilla bean. Good lushness and palate-push, but nothing over the top at all. Again, its acidity and general sense of poise make for admirable balance and harmony.
It was an absolute pleasure to have met and spent some time with Anthony, as well as revisit the current releases in the Philippine market (
Premium Wine Exchange
is the local distributor of Huet and Királyudvar). Thanks to Jojo for inviting me. Until the next....