After the previous night's unreasonable eating at Under the Bridge Spicy Crab, and, yet another large buffet breakfast at the hotel, nobody wanted a big lunch. We, thus, all agreed to just go our separate ways to shop and meet up for a very late, light lunch. I went off to buy some wines - just a few as I already got some other stuff and wouldn't have enough luggage space for more.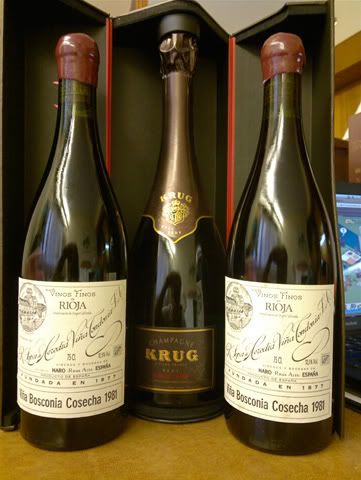 1998 Krug Champagne Brut &
1981 R. López de Heredia Viña Bosconia Gran Reserva
My wife's family always orders
Sweet & Sour Pork
whenever they are in Chinese restaurants, and it's rubbed off on my youngest - he'd been pestering me for some ever since we arrived in HK. Thus, on our 4th day there, I relented and took him back to
Canton Deli
for some (and some fried rice as well). I just had an order of
Shrimp Cheong Fan
and a pot of jasmine tea for myself.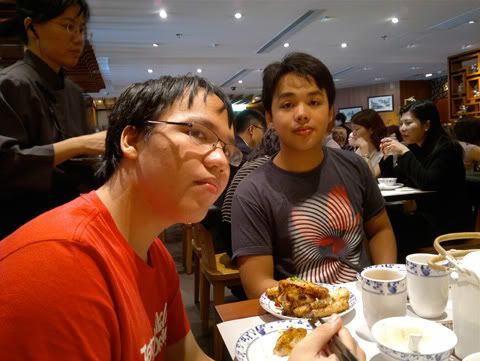 Catha and the teenagers eventually joined us later on for a light dimsum lunch. The second had been shopping with Catha for hours. One can tell from the photo above that the eldest obviously just woke up.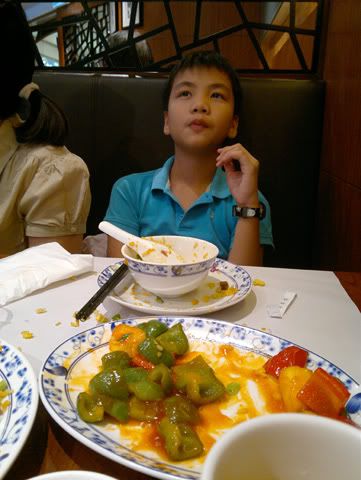 The youngest pretty much finished the Sweet & Sour Pork all by himself.
Thereafter, Catha took the youngest shopping for shoes. She got him some sensible sneakers, but he insisted on also buying a pair of these....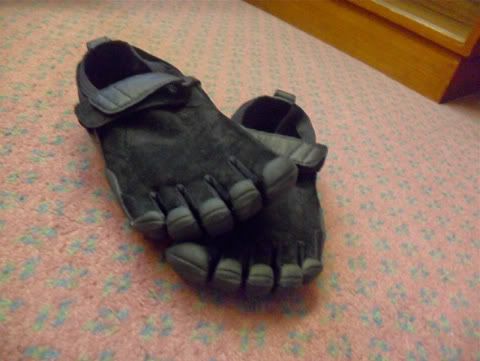 ...silly looking Vibram toed shoes. He swears they're super comfortable.
Well, all the hours of shopping built up our appetites, so we made dinner reservations at yet another old favorite -
Yung Kee
. I don't think we ever miss going to this restaurant at least once while we are in HK.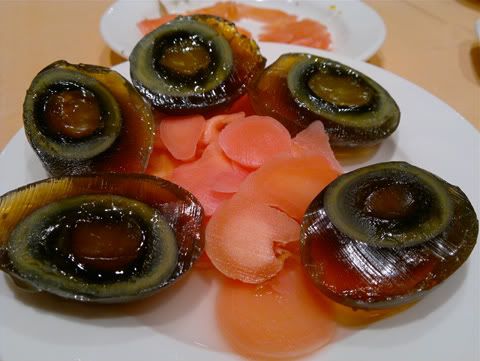 Their
Thousand-Year-Old Eggs
are simply the best. Naturally, we had to get 2 orders.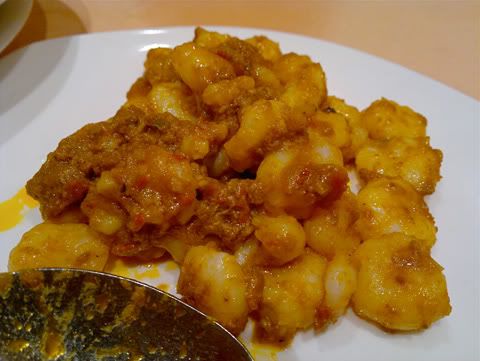 We also got 2 orders of their award-winning
Shrimp with Baby Crab Fat
.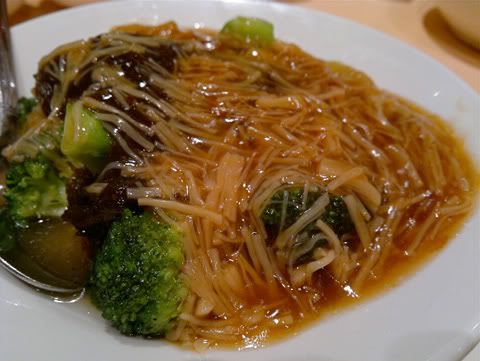 One order of guilt-reducing
Broccoli w/ Dried Scallops & Black Fungus
.
Of course we also had Yung Kee's raison d'être -
Roast Goose
- one whole goose. The waiter at first told us we needed only half a goose, but I assured him we could easily finish a whole one - and that we did. We only ever order plain, steamed rice with this goose. I don't like any other flavors masking its own.
Time was, after eating at Yung Kee, we'd walk a couple of streets away to a corner Ben & Jerry's for some ice cream. Unfortunately, that small shop closed a year or so ago for some reason, so the kids made do with some Häagen Dazs instead (around the corner from Lan Kwai Fung).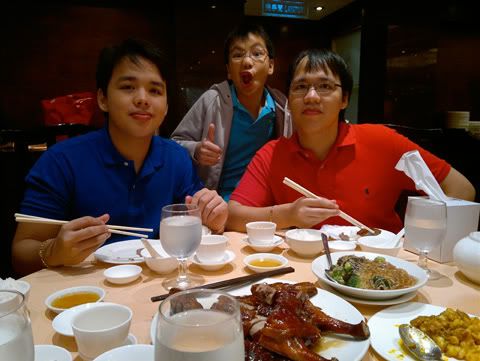 The youngest is really such a clown.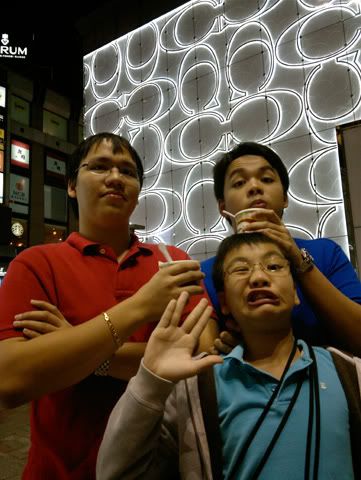 Thus ended our 4th day in HK. Nice, simple, relaxing day.