Dinner of the 27th April 2011 was at The Commissary at White Space (2314 Pasong Tamo Extension, Makati) for La Commanderie de Bordeaux Manila's Dinner featuring
Domaine de Chevalier
(Pessac-Léognan). Around 30 persons were in attendance including the featured estate's proprietors, Olivier & Anne Bernard.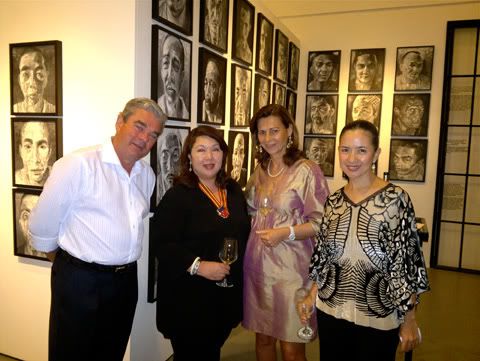 Olivier & Anne Bernard with Irene Francisco and friend.
I've been enjoying the wines of Domaine de Chevalier for many years. Though their blancs receive more attention from the Western wine press than their rouges, I, myself, have long appreciated the latter having enjoyed, among others, many, many bottles of their vintage 1996 - one of which I entered in an International Wine & Food Society (Philippine Branch) blind tasting of top 1996 Bordeaux (which included, among others, the wines of Cos d'Estournel, Léoville Poyferré, Ducru Beaucaillou, Branaire Ducru, Pontet-Canet, Grand-Puy-Lacoste, Smith Haut Lafitte and Angelus) . The 1996 Domaine de Chevalier took top honors among all the more expensive, "famous", higher Parker-pointed wines that night, with the 1996 Cos d'Estournel taking 2nd place. I noted then, though, that, among the entries, the '96 Domaine de Chevalier received the highest rating by Jancis Robinson.
Through Edouard Miailhe's sponsorship, I got to meet the spouses Bernard on the 31st March 2010
at the

Ban du Millésime de la Commanderie du Bontemps

at the Musée d'Art Contemporain à Bordeaux
where I first enjoyed their vintage 2000 blanc and rouge in magnum (the photo above). A couple of months later, I bumped into the couple again
at the Soirée de la Commanderie du Bontemps (25th May 2010 at the Grand Hyatt's ballroom)
. Thus, when Edouard announced that the next Commanderie de Bordeaux Manila's event would feature Domaine de Chevalier, I was most happy to both attend and actively support the same.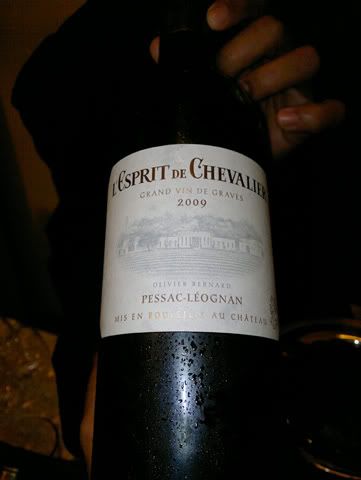 Catha and I arrived around half an hour late but still caught the tail-end of cocktails during which the very pure, clean, fresh, crisp grapefruit/citrus/gooseberry-noted
2009 L'Esprit de Chevalier Blanc
was being poured to go with the various pass-arounds of
Philippine Escargot with Water Spinach Garlic Mousseline
,
Vol-au-Vent Duet
and
Bone Marrow au Jus
.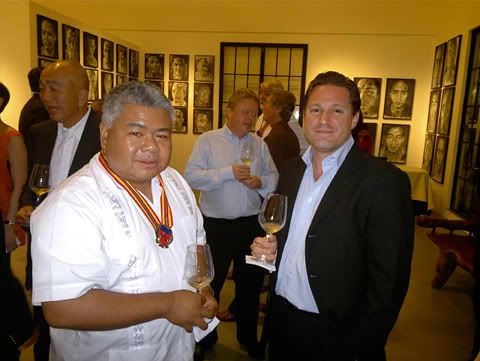 Jay Labrador & Richard Joye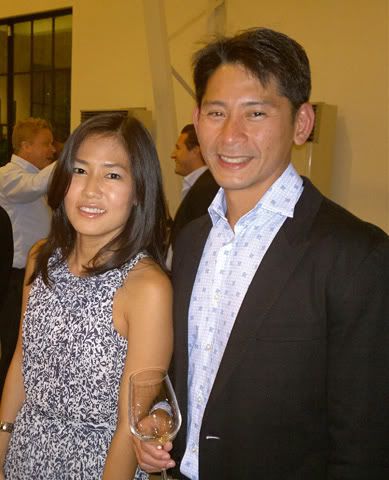 Don & Dorothy Santos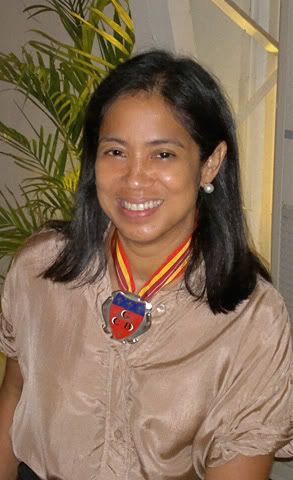 Commandeur Gaita Fores created and executed the evening's menu.
After around 45 minutes, we were finally summoned to the dining room for dinner proper. I found my place card and settled in with Jay, Catha, Don & Dorothy, Richard & Yuki and Gaita (though Gaita spent most of her time in the kitchen overseeing the food). Diagonally across me were Anne Bernard, IWFS President & Wine Master Bernie Sim and Wine Story's Romy Sia.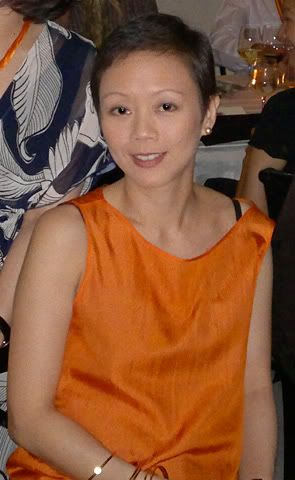 Cinthy Recto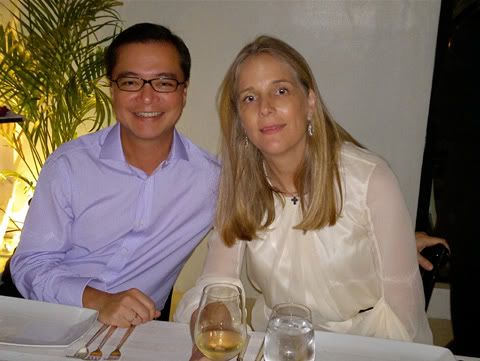 Eric Recto and Sevrine Miailhe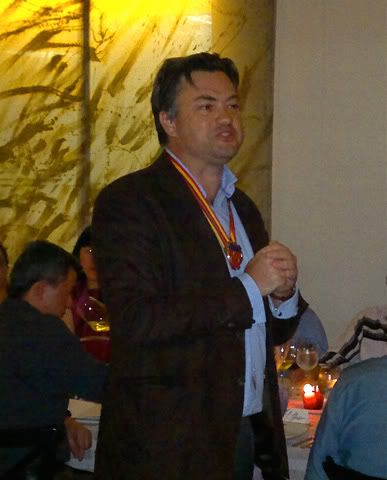 Edouard welcomed everyone and formally introduced Olivier Bernard...
...who delivered a most informative, detailed and animated presentation of his estate and wines.
Richard & Yuki Joye listen intently.
The Menu & Wines.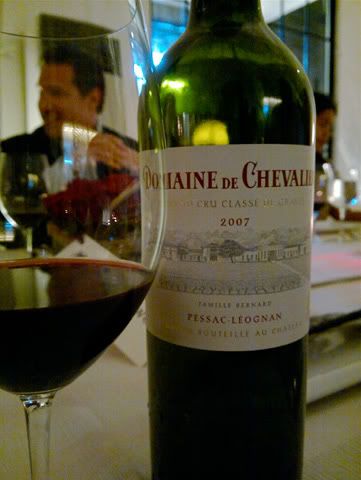 The
2007 Domaine de Chevalier Rouge
was initially poured as Olivier stated one must try the difficult vintages to truly appreciate the more revered. Notable concentration and heft for such a cold, rainy vintage (I was in Bordeaux for Vinexpo 2007 and it was, indeed quite cold and wet, with a thunderstorm and burst of hail the night before Vinexpo's opening; though, admittedly, I stayed in the Haut Médoc that trip and did not venture to Graves save to attend the Fête de la Fleur at Château Smith Haut Lafitte). I must say that Domaine de Chevalier seems to perform admirably even in difficult years - with their 2007 being more balanced, concentrated and riper than most all other 2007 Bdx I have tried.
Their 2002 (another difficult vintage) rouge is yet another notable example of their high quality despite vintage constraints.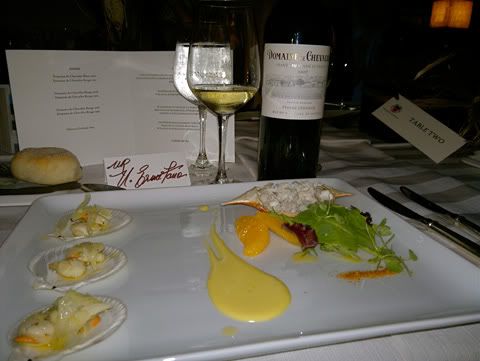 Trio of Chilled Cross Crab w/ Sagada Orange Rouille, Capiz scallops w/ Carabao Butter & Fennel Confit, Fennel Pollen, Micro Greens & Orange Salt.
The above first course was paired with the
2007 Domaine de Chevalier Blanc
. Nicely rounded with more apparent heft, density and depth than the 2009 second white, it also displayed more florality (bit of honeysuckle?) in its yellow apricot, citrus and judicious, well-integrated wood notes. Very nice indeed. Pity there were only 6 bottles opened as it quickly ran out. I and Jay wanted more with the first course, but there was no more to be had. It was great while it lasted though.
As regards the first course, the cross crab was freshly sweet and absolutely delicious, the greens and orange sections providing precise and refreshing counterpoint. Very nice.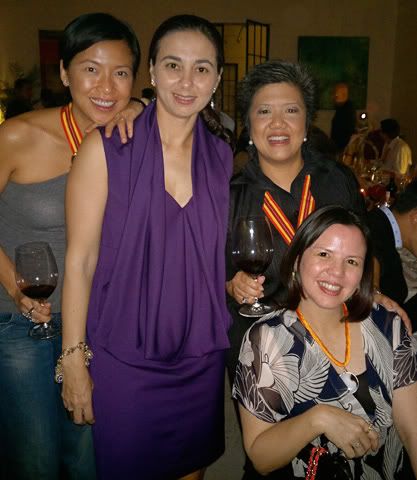 L-R: Maître Felicia Atienza, Tina de Jesus, Maja Olivares-Co & Catha Server-Ermitaño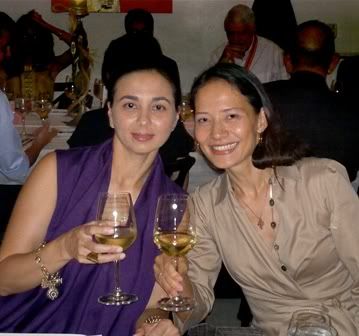 Tina de Jesus & Barbara Aboitiz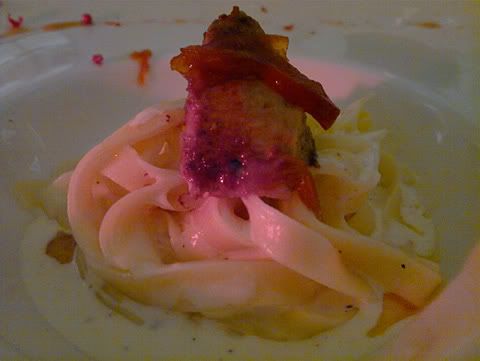 Home-Made Fetuccine di Lusso Foie Gras Cream, Rose Pepper with Santol Glaze
.
The above depicted second (pasta) course was, as I was told, meant for the
2006 Domaine de Chevalier Rouge
- an admirable showing from a generally less-than-stellar vintage as it was already showing some tobacco, slight new leather and dried herbs in its black cherry, raspberry and light underlying cassis. Good acid lift in this. Very easily drinkable, very approachable.
As to the pairing, I've never really understood the Bordelaise penchant for pairing foie gras dishes with reds, but readily follow suit when I am in Bordeaux. Personally, I much prefer richer whites with foie gras, and, fortunately, had a sip or two left of the 2007 Domanine de Chevalier Blanc for this course. I recall, during the Fête de la Fleur dinner of 2007, Bartholomew Broadbent commented that he much prefers whites with foie gras. I told him I was glad he said it and not I.
Anent the pairing dish itself, though I do not generally favor cream-sauced pastas, I found this one absolutely delicious. Richard Joye, who possesses a well-traveled, veteran palate agreed with me and pronounced this dish the best of the night. I could have had at least 5 more servings of this pasta.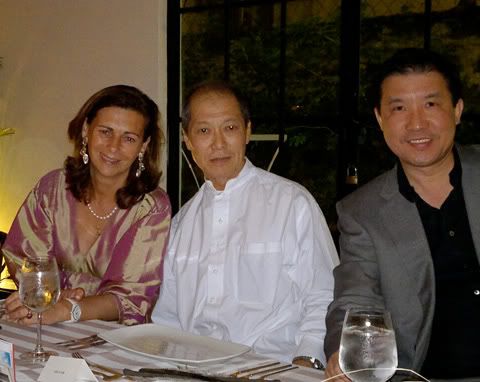 Anne Bernard, Bernie Sim & Romy Sia
Miguel Aboitiz and Alfred Wieneke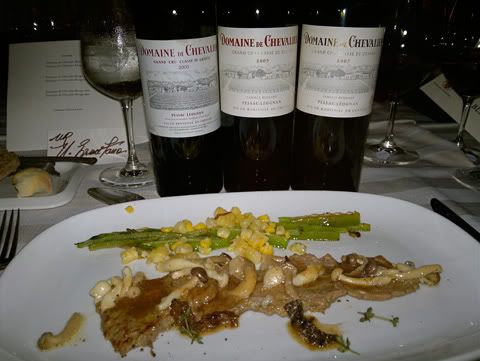 The main course was
Scallopine di Vitello la Foresta (Morels, Portobello, Shimeji, Enoki & Philippine Kabute Mushrooms) w/ Winged Beans & a Duet of Native, Organic Corn w/ Pecorino
. With this was served vintages
2005, 2000 and 1990 Domaine de Chevalier Rouge
. The
2005
showed, to my and Jay Labrador's minds, typical vintage heft and muscle, but it was quite closed - certainly asleep at this stage (as most all top 2005 Bordeaux rouges are last I tasted through them at Vinexpo Asia-Pacific 2008). We agreed that it shows great potential though and will certainly be a wine to contend with in due time. The
2000
, as earlier mentioned, I had a lot of in magnum late March 2010. Paired at the time with a robust, earthy dish of pigeon with foie gras,
my notes then were as follows
:

2000 Château Domaine de Chevalier (Rouge) - A little over halfway between medium and full-bodied, this is a study in harmony and balance - its ripe, rounded, dried herb-flecked cassis, plum, black cherry, slight "tar" underpinning, mild licorice and mild new oak notes are intricately, almost seamlessly spun into silk and precisely buttressed with healthy acidity. This made for a great cut and contrast with the rich and indulgently earthy, slightly gamey pigeon and foie gras. Loved the wine, the dish and the pairing.
Then, as now, it was very well-received by all. Many, including myself, Jay Labrador and Gerry de Jesus chose this as the favorite red of the night. As a matter of fact, Gerry ordered several magnums of the 2000 Domaine de Chevalier Rouge right after this dinner.
Christine Miki & Gerry de Jesus
As regards the
1990 Domaine de Chevalier Rouge
, we noted very evident bottle variation. The bottle from which Jay, Richard, Catha and others were poured from was, as Richard described, "...passed. Flat, earth and dirt, typical of a Bordeaux that had passed its peak, which somehow worries me a bit... a '90 Graves of such quality should be at its apogee or close to it now."
I then got a full glass from another bottle and it was obviously healthier, much more open, well/softly/ripely fruited than the other bottle - Richard, Jay & Catha needed just a quick sniff and taste to agree. Notes of roasted meat, dried herbs, cedar and violets infused the nicely curved, soft raspberry, black cherry, warm tobacco and loam. Undeniably a high quality Pessac-Léognan, but the 2000 took the honors from us that night. Olivier takes obvious pride in his 2000 rouge, and rightly so, as there really is much to be proud of.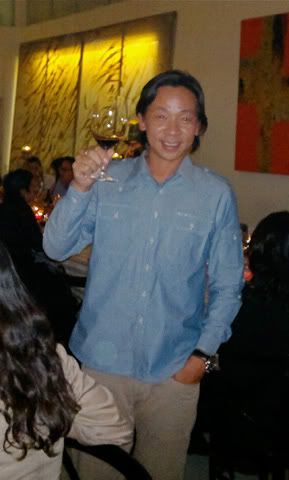 Kim Atienza
Fellow lawyers Gabby Villareal & Sunny Garcia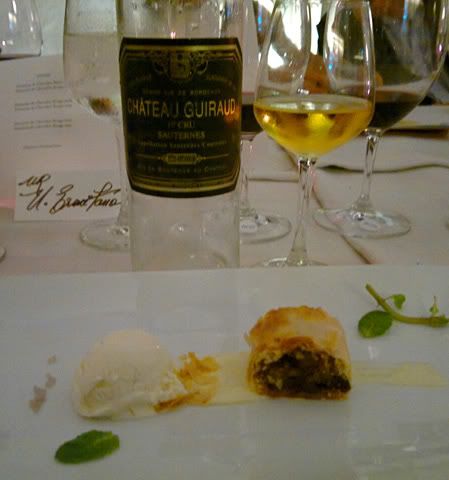 The dessert course was
Chinese Pear & Jackfruit Strudel, Majayjay Vanilla Bean Sauce w/ Bulacan Pastillas de Leche Gelato
. This was paired with
2000 Château Guiraud
. Typical candied apricot and orange marmalade with moderate botrytised spiciness and body. Decent Sauternes, a decent showing for a middling Sauternes/Barsac vintage. Throughout the meal, I couldn't help but admire how deftly Gaita incorporates fine local products in her Italian inspired dishes. This was undoubtedly the best
by far
pairing menu we've had for Commanderie Manila's guest events.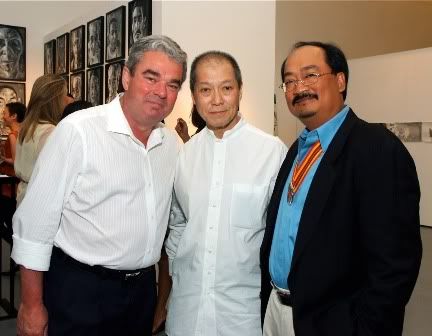 Bordeaux, Toujours Bordeaux!