Sometime in mid-April, Richard mentioned that he'd had Spanish wine on the mind, and, we realized he had never been to one of the Usual Suspects'
La Tienda
lunches. That simply could not be allowed, so Miguel quickly set one up with Chef Javi for Tuesday, the 26th April 2011.
J-Lab, Miguel, Richard and I were the first ones to arrive with Rene following shortly. As we waited for the Stockbroker to arrive, I popped open another trusty bottle of
Freixenet Reserva Real
and Javi sent us a platter of...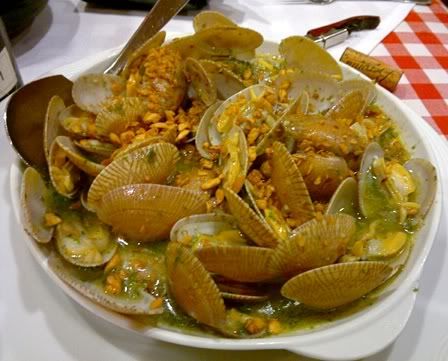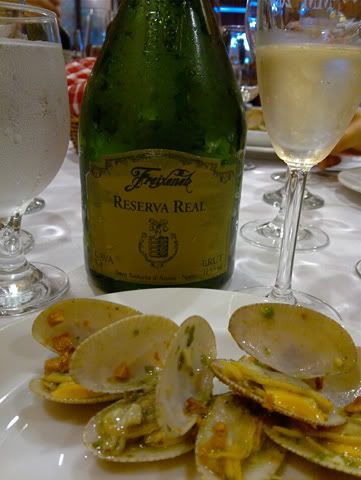 As I've written about it so often, I need not elaborate on how excellent an apéritif the Reserva Real is. With the almejas, it was a perfect combination. Trust me. That bottle happened to be my last one at home. I need to replenish my stock quickly.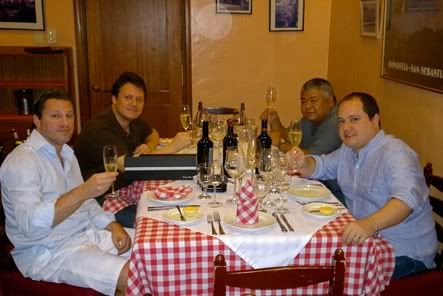 Richard, Miguel, J-Lab & Rene.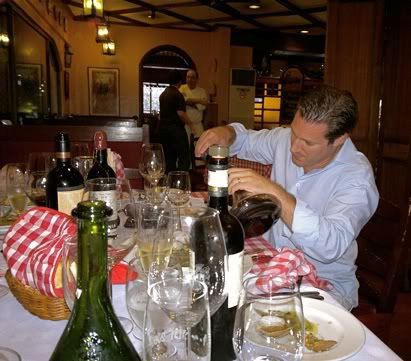 As usual, there were too many bottles of reds on deck. It is always a struggle to decide which reds to open with this group - especially since everyone wants to open their own bottles to share. However, since this lunch was really for Richard, we happily let him treat us to one of his favorite Spanish reds - which, as one can see in the photo above, he meticulously decanted.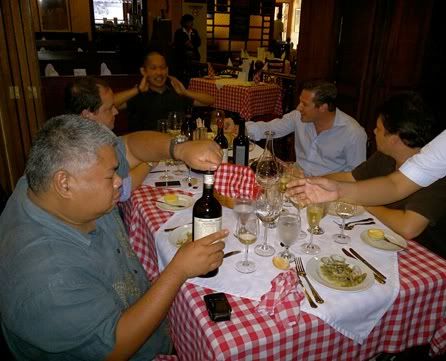 The Stockbroker finally arrived, completing the day's little group.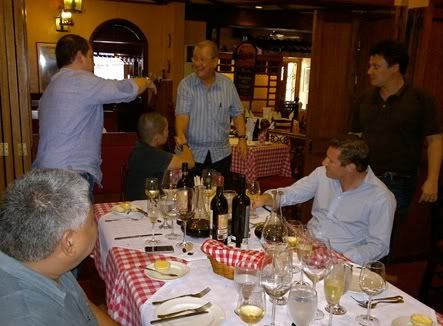 Mig's dad, Tito Kiko Vecin, was also having lunch there and dropped by to say hi. A trio of La Tienda "must-have" tapas then started arriving in delicious salvos.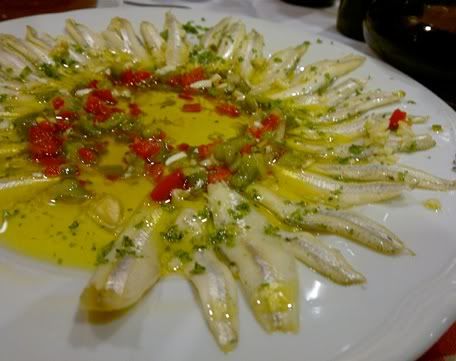 Boquerónes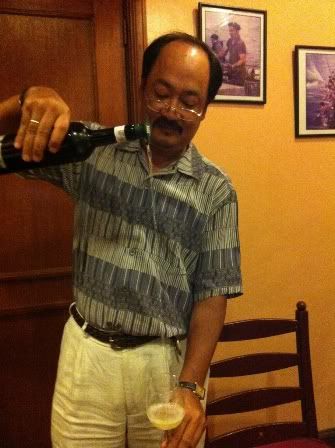 Photo by Miguel.
The Stockbroker had earlier on specifically requested that someone bring along some txakoli for the lunch. He is always so generous with his bottles and never really makes any specific requests. Thus, it was absolutely imperative that his request be accommodated - and I was more than happy to oblige with a bottle of
2009 ItsasMendi No. 7 Txakoli
. Aaron and I import this Guernican txakoli (D.O. Bizkaiko Txakolina) so I will refrain from saying anything about it save from reiterating that Aaron and I never import anything we do not personally taste first, like and happily drink ourselves.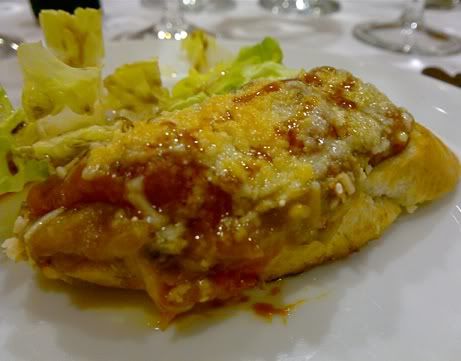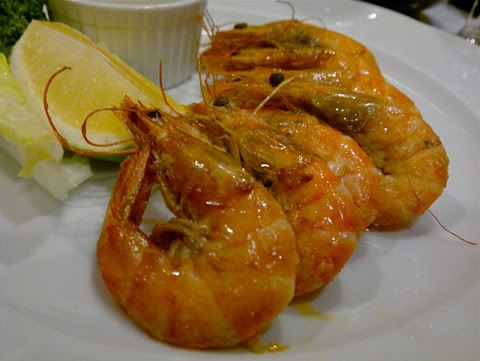 With the gambas (which are, by the way, always super fresh and excellent), J-Lab opened a bottle of...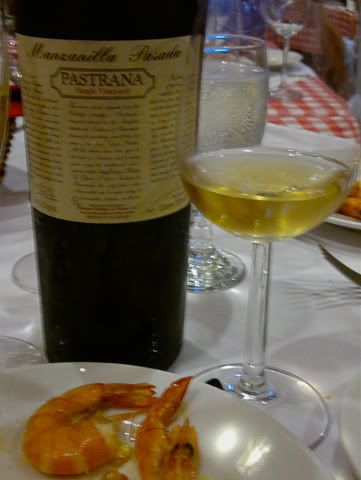 Bodegas Hidalgo Pastrana (Single Vineyard) Manzanilla Pasada
- Miguel and I first tried this from J-Lab back
on the 24th June 2009 (also at a La Tienda lunch)
and all agreed it would be great with tapas/pintxos. Very dry, lightish in body but definitive in its nutty, olive flavors. I can easily understand why the Spanish have it with pica-picas of olives, almonds and chorizo slices. With the gambas, it was, again, an excellent call. The others apparently thought so as well as the bottle was drained dry not long after.
The tapas done, Javi began sending out our main courses - again, all our old favorites.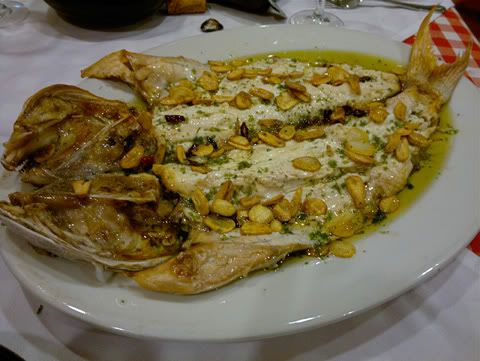 With this wonderful dish that brings back fond memories of seaside Getaria, I poured the rest of the txakoli, mainly for the Stockbroker since he wanted some for the fresh, juicy, garlicy, slightly vinegared fish. In addition, we also very much enjoyed a bottle of...
1998 R. López de Heredia Viña Tondonia Rosado Gran Reserva
- J-Lab's bottle, one I've also had from him
on the 2nd February 2011 at one of our Mamou lunches
. My notes from then are still applicable:
The rosado was none other than a

1998 R. López de Heredia Viña Tondonia Gran Reserva Rosado

- J-Lab's bottle, another fine specimen of this sui generis, enigmatic, aged Riojan rosado. Very complex, coyly rounded in the middle with more apparent fleshiness, subtle minerality and oxidation and red currant, orange peel, strawberry and wild cherry fruitiness than the last 2000 version I had (but, then, as J-Lab noted, the latter was served too cold). Everything about it said precision and balance. Excellent rosado, and its dryness and acidity made it a good match with the bottarga's creamy, subtly pungent savoriness.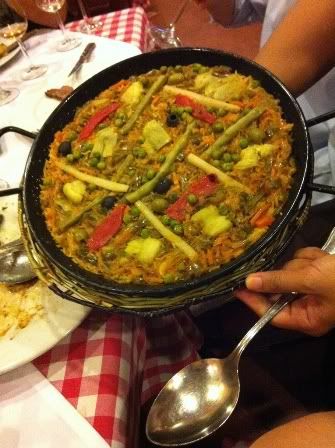 I also very much enjoyed this special rosado with the
Basmati Paella de Verduras
(photo by Miguel).
With the
Chuletón
came...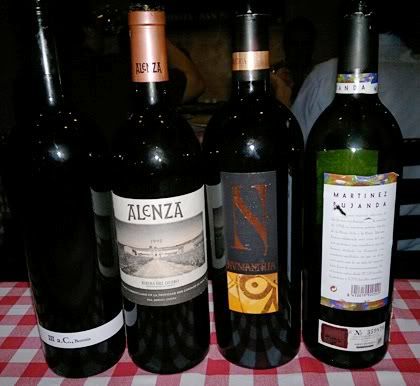 ...the Reds.
I must confess that I did not take note of the reds I had (there were more bottles served than are above depicted) as I was just enjoying the food, banter and camaraderie too much - hence, I have no notes on these wines. Sometimes, one really just has to kick back and enjoy.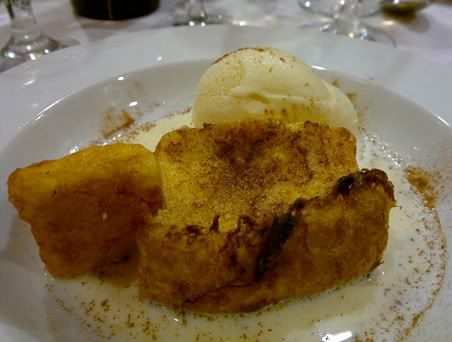 Dessert was a combination of our favorites from Javi:
Leche Frita, Torrijas and home made Ice Cream
. The Stockbroker enjoyed it so much, he asked for extra helpings of the homemade ice cream. I do not recall ever having seen him order another helping of dessert; so he must really have liked it a lot.
Johnny then dropped by and happily announced his getting a new job (timely indeed as he had just wrapped up his role in another tele-novela) - for which we congratulated him with a heartfelt toast.
What a great lunch. Excellent, hearty Spanish food with good Spanish wines. What's not to love?
¡Hasta la proxima!