Last Thursday late afternoon, 12 May 2011, were back-to-back board and annual general membership meetings of
La Commanderie de Bordeaux Manila
at the Vigneron's place. For both meetings, several wines from the Commanderie stocks were served and a vast array of heavy pica-picas from Gaita Fores were served. During the board meeting, though, I just had a couple of glasses of
2003 Ch. Carbonnieux Blanc
(thanks, J-Lab for correcting the vintage) as I munched intermittently on some hams, nuts and dried apricots.
L-R, Seated: Bill Stone, Robert Burroughes, Miguel Aboitiz
L-R, Standing: Felicia Atienza, Jay Labrador, Oscar Ong & Robbie Delgado
Thereafter, the AGM followed where it was more relaxed. The Vigneron opened some bottles from his personal stock, the four more memorable ones being: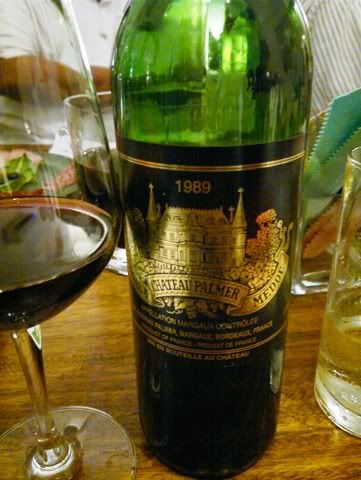 1989 Ch. Palmer
- My last notes on this were from the 18th October 2008 - approximately 2½ years ago (though I've had it once more since then but took no notes on it) -
said notes coming from another bottle of the Vigneron
, to wit:
1989 Château Palmer - What could we say? A generous treat for us all. The last one I had was a few years ago at Pepato with the Doc and Stockbroker, I bought it when it was "only" barely $14o per bottle. I'd be extremely lucky to find it at only double the price now. The Vigneron has tons of this stuff, as well as even more famous vintages thereof, both younger and older. I mentioned before that his family, years ago, were minority owners of Château Palmer; hence, their Château Siran's cellar has a lot of Palmer wines. In a shrewd transaction, he traded off with Palmer some of his famous old vintages for a lot of younger and equally famous vintages.

This bottle was much better than my last one. The Stockbroker remembered and agreed. Surely with impeccable provenance, it was fuller, more confident, vibrant, not tiring in the least.

Perfumed bouquet of violets, cassis, plum, sweetish-mildly smoky cedar, hint of licorice, merest whispers of earth and truffle. Properly poised and balanced, approaching full-bodiedness, lithely curved, very complex. Long, lingering finish with violets and faint licorice trailing.

Wonderful....


The bottle last week was more perfumed, deeper and fuller, younger (in that the bottle-age sweetness was very minor) and marginally more minerally. It was still vaguely smokey and showed a slight nuance of tar underneath the spice, cedar and violet earthy/truffled fruit. Admirable balance and finesse though this bottle was comparatively more masculine. Very impressive.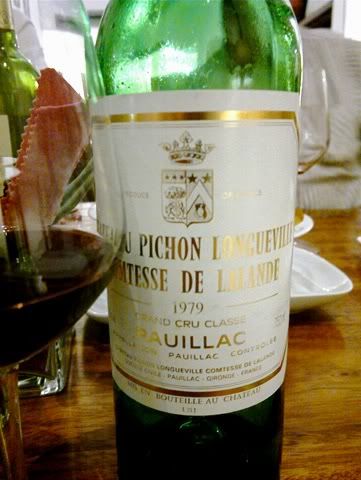 1979 Ch. Pichon Longueville Comtesse de Lalande
- A wine I am very familiar with as I've bought and opened many of these over the past 5 years; the last one posted on less than 3 months ago,
on the 1st March 2011
as follows:
With our main courses, we had a bottle of 1979 Château Pichon Longueville Comtesse de Lalande (the second within a week, actually, the other bottle from the Vigneron last Thursday). This bottle was in better shape than the one I opened with Miguel, Rene & Santi during our Christmas lunch 2010 at Mamou. Serene, softly loamy, elegant, seductive in its bottle-age sweetened veils of fruit, violets, mushrooms and pencil lead shavings. Delicious wine as usual. The youngest, who doesn't enjoy wine yet asked for a sip of this.
This subject bottle of last week, though comparatively more truffled, was more like
the one of the 2nd December 2010
:
1979 Château Pichon Longueville Comtesse de Lalande - My bottle, but I'm not sure if this one came from my batch from KL Wines or Cellaraiders (I've opened many of these over the past 4 years). This one had a very good fill, but the cork was damp past halfway up (no signs of going past the cork though). Not the best '79 Pichon Lalande I've had - actually the most advanced one I've ever opened. Santi initially noted it seemed slightly flat. After around 25-35 minutes of breathing in glass, it did show nice enough age-sweetened, cassis, underlying and discreet dark gravel and pencil-lead notes, bit of dark plum, black cherry, raspberry and violets. Just a notch or two over medium-bodied. Graceful and feminine, yes, but the fruit was pretty tired. Oh, well, not all can be gems, can they? Still, not a bad wine. Certainly acceptable, if not much more than that.
For wines over 30 years old like this, there is to be expected an increased frequency of bottle variance. It is but natural.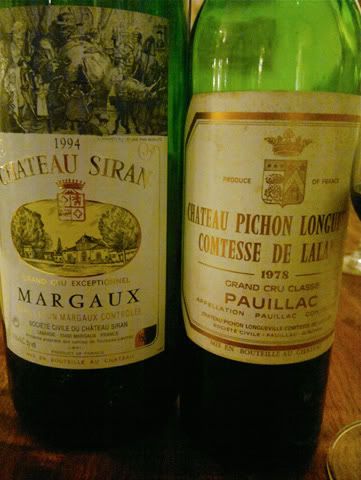 1994 Ch. Siran (Magnum)
- This is the first 1994 Siran I've had. The Vigneron must have been keeping this vintage from me for some reason as I have had many, many other vintages of his wines. Notable depth in its black cherry, dark plum, surface raspberry, bit of red spice, underlying cassis with a hint of charcoal, cedar and violets. The red spiciness trails in the finish. Around halfway past medium-bodied. Good strike and balance. Notable palate presence.
1978 Ch.
Pichon Longueville Comtesse de Lalande
- I first had this wine in July 2006 at Ch. Siran, a late, warm summer's night under the stars with my former EO forum. I bought several thereafter (ordered and flown in from California), but, after a run of a few very tired ones, stopped buying them around 3 years ago. This one, almost certainly, came from Siran's cellar - which, again, almost certainly, came from Pichon Lalande's own (the Vigneron is a direct nephew of the former owner).
Not at all tired, this actually came off as quite youthful despite its over 30 years in bottle. Slight bottle-age sweetness in its seamless ripe black cherry, damson, slight raspberry, underlying gravel, earthy cassis, pencil lead shavings, tobacco, violets and cedar. Lusher, more confident and livelier than the above-mentioned bottle of vintage 1979. Very impressive. Good to be able to revisit a healthy bottle of this.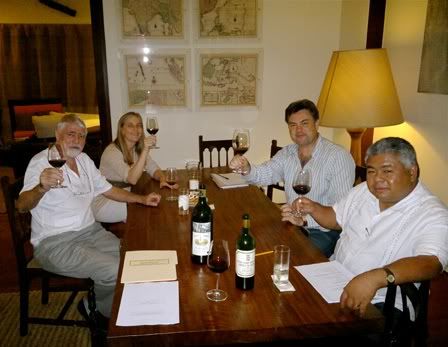 Bordeaux, Toujours Bordeaux!