Since the kids were in Singapore for a week and a half, Catha planned a short trip for the family to be together. Thus, we were in Hong Kong for 5 days beginning the morning of the 30th April until evening of the 4th May 2011. We arrived at our hotel before noon, checked in and since we still had to unpack and get the keys to our rooms, we just had a quick dim sum for lunch at nearby
Canton Deli
. The Canton Deli is a decent Cantonese place which serves nice enough dim sum. It's really nothing special, we just eat here for the convenience, so I didn't bother taking any photos.
After lunch, we organized the kids in their room and then unpacked in ours. That didn't take long at all since it is just a short trip. Thereafter, the others went their own ways (the 2 teenagers know their way around HK well and can get around on their own; the youngest played at the Jumpin' Gym while Catha started shopping), while I stayed at the hotel to do some reading.
We all just agreed to meet back in the hotel and have dinner at
Victoria City Seafood Restaurant
- an old favorite of ours.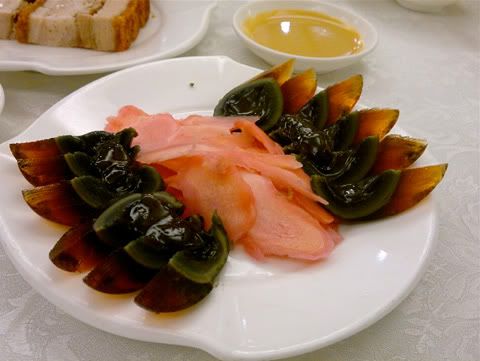 The
Thousand-Year-Old Eggs
in Victoria City aren't quite as creamy as those in Yung Kee, but, they were pretty darn good anyway. The pickled ginger is slightly sweeter and the bite subtler than those of in Yung Kee.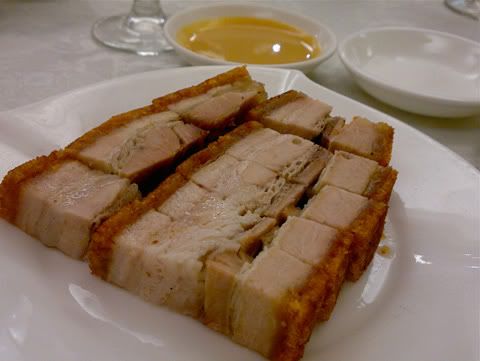 We always have the
Roast Pork with Mustard & Sugar
(double order) here as well. It may sound strange but I assure you it is excellent. Johnson Uy turned the Alabang Group on to this dish at VCS many years ago, and we've been eating it there ever since.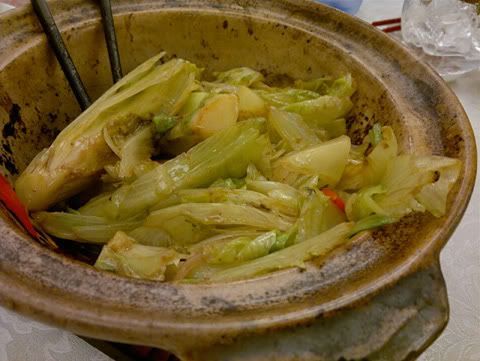 Another "must-have" here is their specialty
Lettuce in Hot Pot
. It's not been on the menu for many years, but they still serve it if you ask for it. If one looks around at the tables of locals, you will surely see this on their tables as well. Being Filipino, we simply must have this with some plain steamed rice else the caramelized garlic and fish sauce flavors get too much to handle.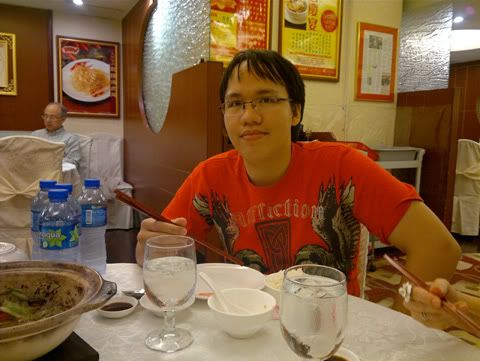 The eldest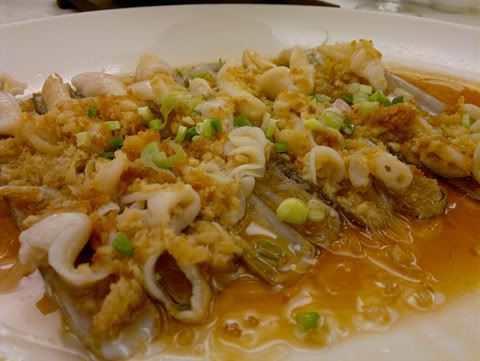 Razor Clams in Garlic & Sotanghon
is a dish ubiquitous in Cantonese seafood restaurants and Victoria City Seafood does it quite well. Delicious. Even the youngest was jostling with his big brothers for this.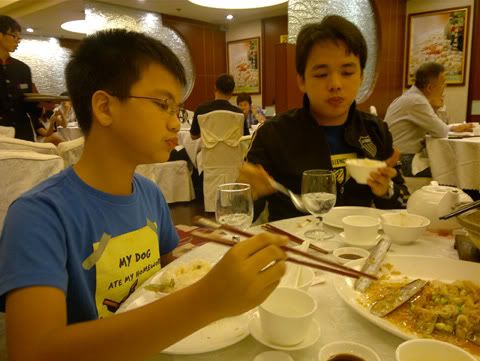 The second and third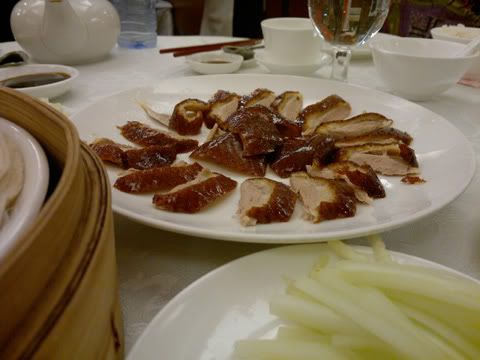 Of course, we also had to have some
Roast Duck
which we opted to have served only one way. Though a seafood restaurant, Victoria City has surprisingly good roast duck (something we also discovered years ago). The duck itself is much cleaner tasting and marginally less oily than those of Spring Deer and the accompanying pancakes are exceptional - light, very thin and moist.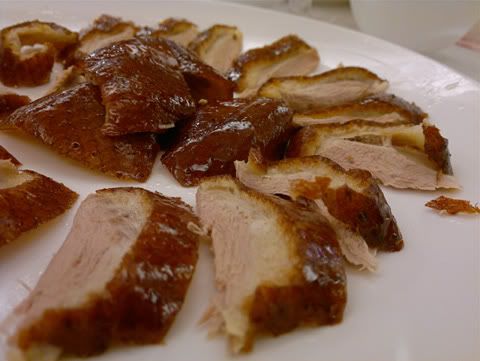 Thereafter, we strolled around the mall, the youngest got some Haagen Dasz, then we older ones got some gelati and chocolate truffles at Agnes B. Delice across Canton Road.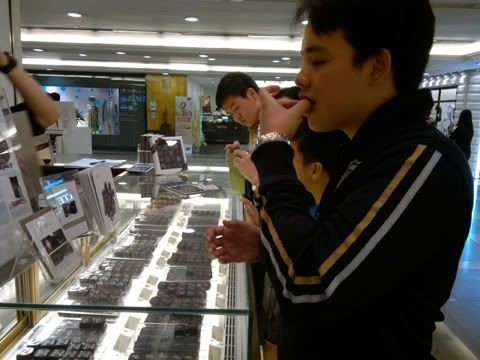 Thus ended the first day of this trip. More later.