Yesterday's impromptu Friday lunch, the 29th April 2011, was at the Tower Club's
Taipan
with some friends from LBC Express. We were 6 in all; Enky, Chris, Jeff and I didn't have dress code conforming shirts so had to put on the club's jackets...until we entered our private room anyway.
I think Chris & Enky should have switched jackets.
We didn't have any wine, but we enjoyed several large bottles of
Tsingtao
beer to go with our many dishes. Aside from some platters of dimsum, we had:
Enky attacks the suckling pig (pero walang rice para healthy).
Jeff still hard at work between bites as Paolo digs in.
Carving the duck for the 1st Way.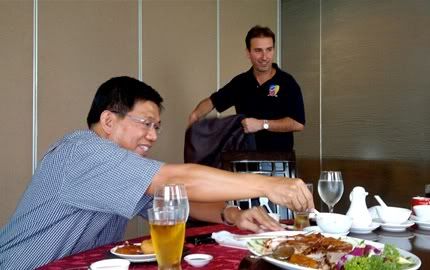 JV has at it as Chris hangs his jacket.
Steamed Live Lapu Lapu w/ Fine Soya Sauce
Unfortunately, I wasn't able to photograph it before it was de-boned and portioned.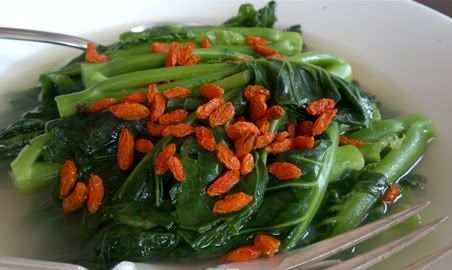 Kailan in Chinese Wolfberry Broth
, a good choice by Chris.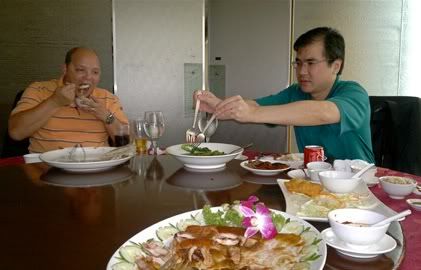 Enky & Jeff.
We also had some
Char Kway Teow
which was ok, but I forgot to take a photo of it.
Chris reaches for the
2nd Way Peking Duck
(minced and wrapped in lettuce) which I also forgot to photograph. I think that's the
Char Kway Teow
partially visible in the bottom left side of the above photo.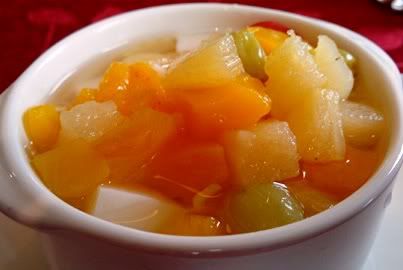 Those of us who had dessert stuck to light, relatively healthy ones. Above is my
Almond Jelly with Fruit Cocktail
. Some cups of coffee and double espressos later, we called it a lunch.
JV Llamas, Chris Hagedorn, Enky Rey, Jeff Enriquez & Paolo Misa.