Thursday, the 14th July 2011:
After lunch at Isobune with Santi & Enky, they dropped me off at Draeger's where I met up with Apple. We shopped for ingredients in preparation for a dinner at her and Rocky's home that evening (they just happen to live in the same neighborhood as Santi's place where I was staying). Done there, we proceeded to Hillsborough where we chatted and caught up over dinner preparations as the kids started trickling in from school.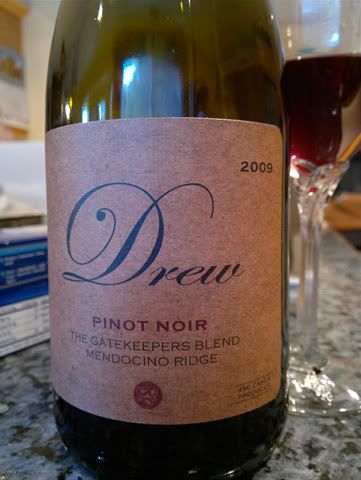 Rocky arrived soon after and quickly popped open a bottle of
2009 Drew family Cellars "The Gatekeepers Blend" Mendocino Ridge Pinot Noir
. I was quite distracted with the chatting, catching up, prepping and cooking that I couldn't really concentrate on the wine, but, ripe, moderately candy-fruited, cola-infused a Cali pinot noir as it was, it seemed to me a bit more of a cold climate one compared to many others I've tried - then, again, I know pretty much next to nothing about Cali pinot noirs.
Sandy, Santi & Enky eventually arrived by the time I was finishing up the pasta sauce and started on the six 1-1/2 inch
US "Kobe" Rib-Eye Steaks
(a daunting task for me as outdoor grilling has never been one of my strengths - Boozze normally takes care of that department. Apple's cook took care of the rest of the dishes.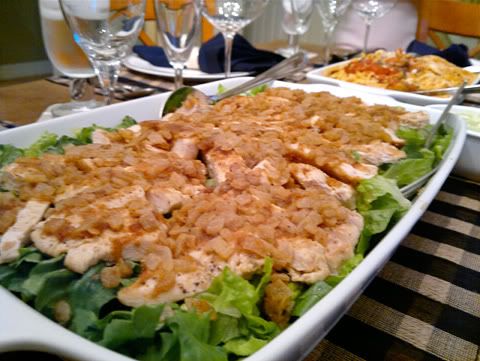 We started out with a healthy
South Beach Salad
to ease the guilt of what was to come.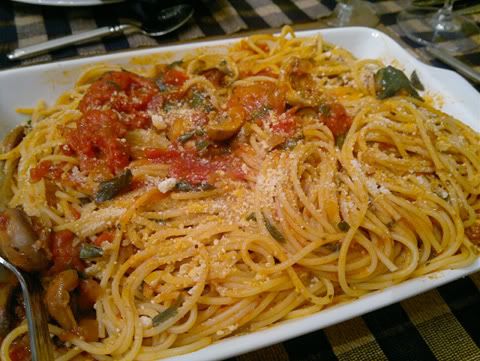 My
Spaghetti Pomodoro w/ Fresh Basil & White Mushrooms
- no meat, no added salt. I used to make this fairly regularly, especially when Rocky & Apple visit Manila, but it's been ages since I made this. I don't think it turned out as well as before, but, I thought it was good enough.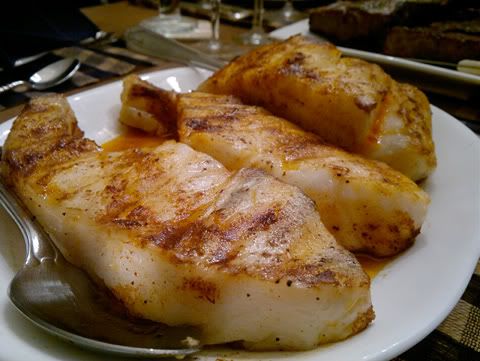 Huge hunks of
Chilean Sea Bass
which Enky said were
really
good.
Tragically, I over-did the steaks to medium (I prefer mine rare, but medium-rare is also acceptable). Oh, well, more practise needed...sorry, guys.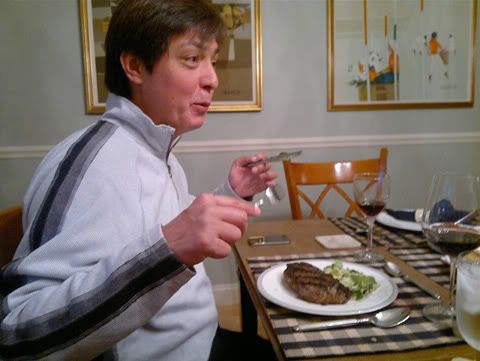 Thankfully, that didn't stop Santi from attacking and killing a whole slab.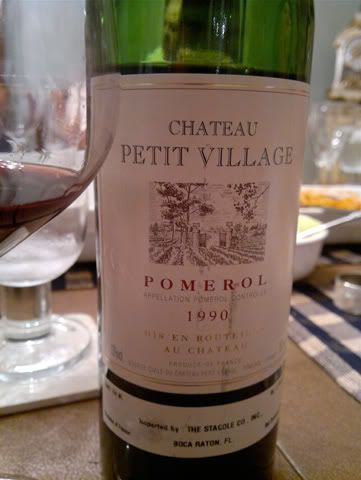 With the steaks, I started everyone off with a bottle of
1983 Château Grand Puy Lacoste
which I, unfortunately, forgot to take a phto of. GPL is a well-respected 5th Growth from Pauillac, that, in my book (as well as many others') is a consistently good, reliable performer that punches well above its weight (their '89 and '90 are particularly good). The subject '83 GPL was a few notches over medium-bodied, lightly silken (Thai silk comes to mind), and presented a slightly reticent bouquet of cedar, blackcurrant, minor ripe plum, dark raspberry, violets slight gravel and a faint minty topnote all of which were mirrored on the palate. The fruit had a slight greenness to it and the finish could have been longer; but it was definitely a decent, typical Pauillac.
The above-depicted bottle of
1990 Château Petit Village
, on the other hand, presented dark, smoldering, powerful fruit on a heftier, more rounded body with evidently greater depth and complexity. Velvety on the palate; a comparatively more pronounced middle and superior length and over-all balance and harmony. This was much more of a complete wine. Beautiful wine. We were all in agreement that this was clearly a superior wine. Pity the K&L Redwood Branch had only one bottle and the one in SF was all out (I went there to get more, but, alas, in vain).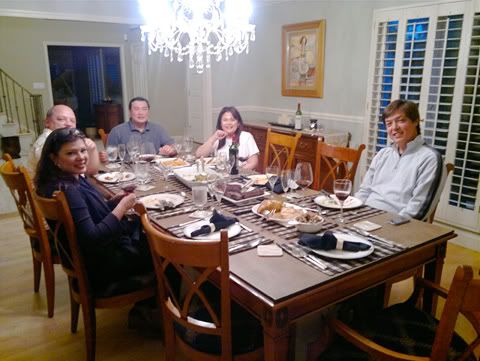 Clockwise from the left: Sandy, Enky, Rocky, Apple and Santi.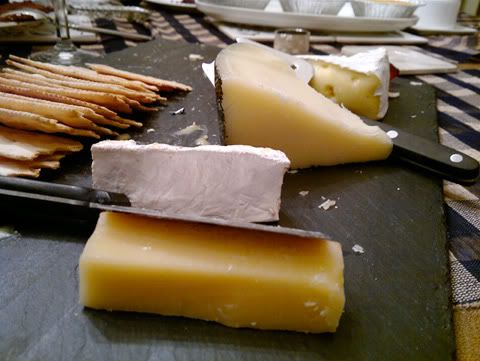 A
Cheese Platter
to help finish off the reds.
Then came an array of desserts. Apple really went all out here. Good thing her and Rocky's kiddies were around to help us out with them.
A deadly decadent
Chocolate Cake
.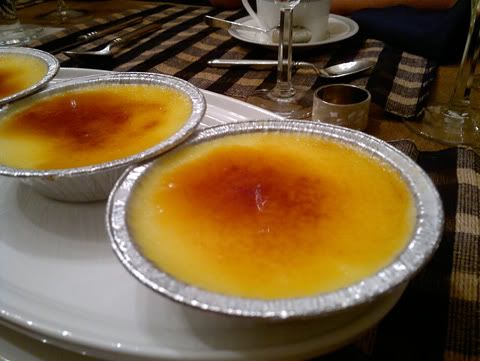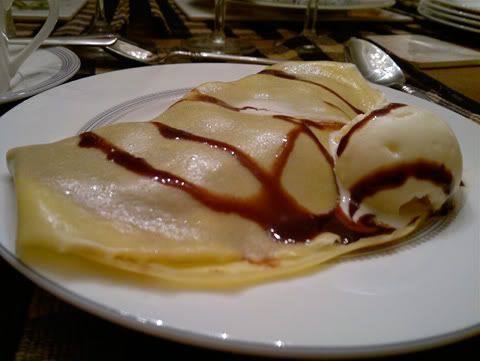 Home-Made Crepes
by Apple's cook. These were stuffed with berries and banana slices, topped with a decadent Valrhona chocolate sauce and served with vanilla ice cream. We also had some
Chocolate & Nuts Petits Fours
from Sandy (which I forgot to photograph since I was already reeling with all the food by that time).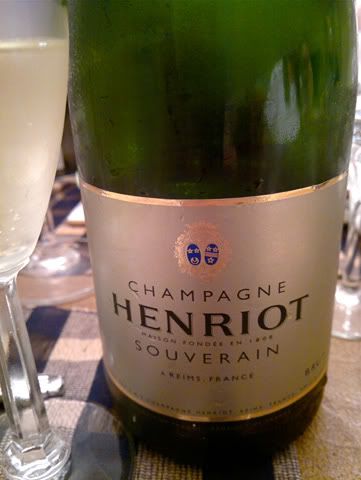 To cleanse our palates, a bottle of
Champagne Henriot Souverain
- A decent enough, casual bubbly I thought at the time. I really was too far gone to try evaluating it any more than that.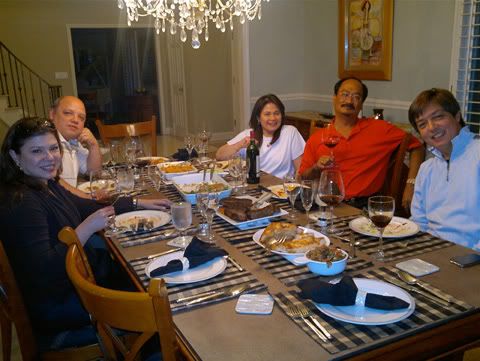 Many, many thanks for having us all over, Rocky & Apple! Until the next!