Just got back from a quick working trip in SF. I stayed over in the city for 3 more nights at the
OMNI Hotel
in Nob Hill after the working week to enjoy the city (I've always loved SF) and the company of friends who are based there. Those who know me well know I regularly participate in a few US wine websites, one of which is Todd French's
Wineberserkers
. I had mentioned there that I would be in the city a few days, and, upon Dr. Glenn Levine's prompting, a brunch and dinner were organized for
Sunday, the 17th July 2011
.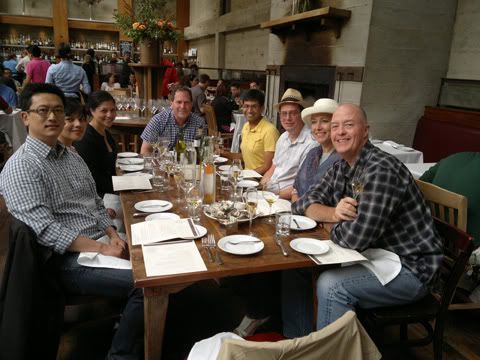 Clockwise from Left: Joel & Mia, Michelle & Ed , Ashish, Paul, Melinda & Glenn.
Brunch was organized by winemaker Ed Kurtzman (currently for Freeman, ROAR, August West and the Sandler Wine Company; formerly for Bernardus, Chalone, Fort Ross and Testarossa). Ed also happens to be married to a most charming Filipina, Michelle. We were 9 in all, the others being SF-based Filipinos Joel & Mia Galang, Paul Menkes, Ashish Agrawal and Glenn & Melinda. Longtime friend, Sandy, was supposed to join us, but she had to back out suddenly to attend a friend's birthday celebration.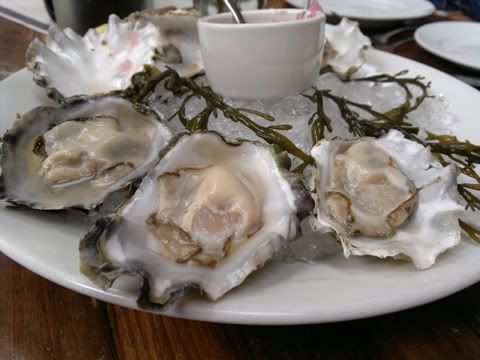 With the several platters of
Assorted Fresh Oysters
...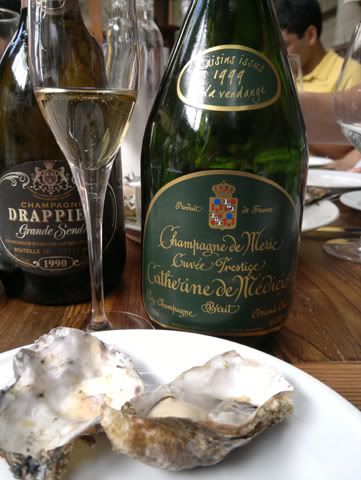 1999 Champagne de Meric Cuvée Prestige Catherine de Medicis
- From Joel. Clean, neat and bright, this showed pure, perky, leanish fresh green apple and citrus with good crispness and acid cut. Notable freshness and effervescence with lemon/citrus in the finish. Lovely breakfast/brunch bubbly and perfect with the fresh oysters.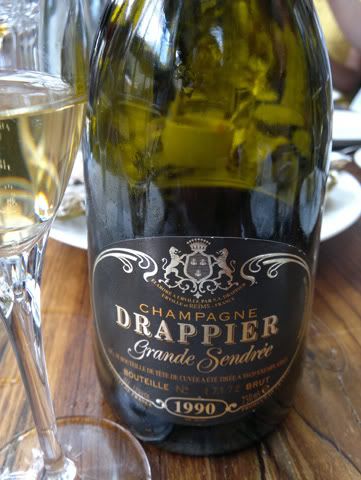 1990 Champagne Drappier Grande Sendrée
- From yours truly. This needed some time to open up as it was initially a bit uninteresting. After some time, it showed good complexity in its comparatively heftier, slightly wild honeyed yellow apricot, underlying coffee and some nutty oxidation notes. Mousse is comparatively subdued. Good champagne, but it didn't do anything for the oysters so I had it by itself.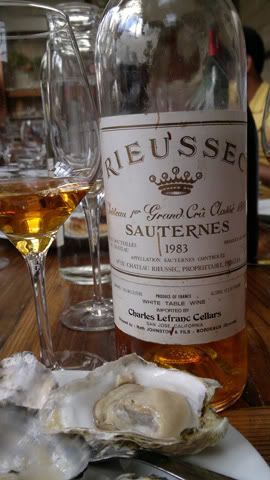 1983 Château Reiussec
- From Glenn. In
trés Sauternais
fashion, this was served with the oysters. Apparently, this pairing has crossed over from Sauternes to San Francisco. I've not had this wine in a couple of years, so it was good to see how it was coming along. Typical honeyed/candied apricot, yellow cling peach, slight preserved orange rind, some underlying crème caramel. Moderate acidity. Notable balance and depth. Glenn pointed out that it paired better with one of the larger, fattier types of oysters (I can't remember the name of the oyster though) - and he was absolutely right.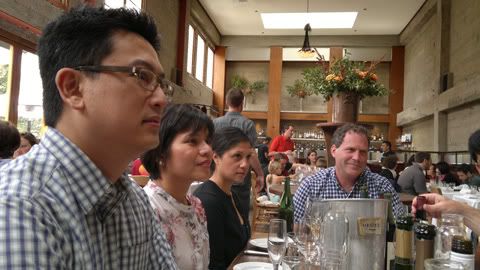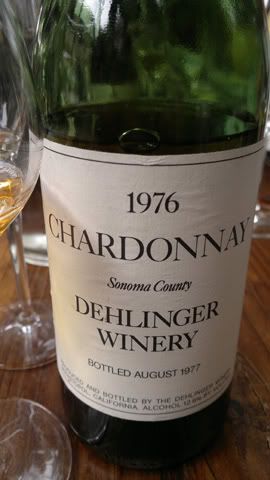 1976 Dehlinger Winery Chardonnay Sonoma County
- I think this was from either Glenn or Ed, but I am not sure. Very interesting wine. Paul and Melinda accurately described its fruit as "green apples sauteed in butter" and "tangerine", respectively. I could not have identified the components any better myself. Mild, finely-integrated notes of vanilla and butterscotch as well. Very interesting wine. Definitely the oldest Cali chardonnay I've ever had; it is in pretty good form 36 years from vintage.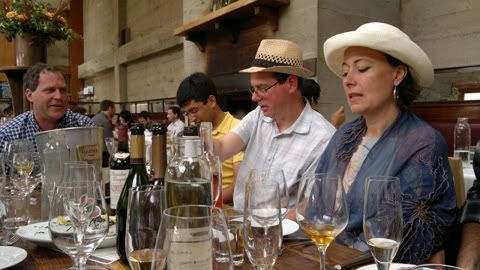 Ed, Ashish, Paul and Melinda.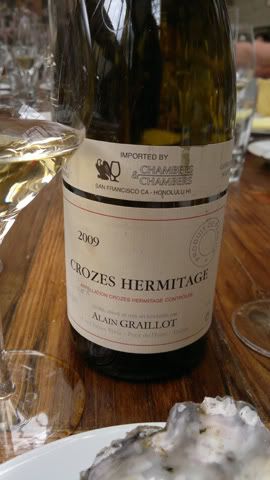 2009 Alain Graillot Crozes Hermitage Blanc
- From the restaurant's wine list. Slightly reticent pear, lemon cream and tartish green apple. Slight waxiness and minerality. I mentioned to Joel that this was probably more of marsanne than roussanne to me at this point. Decent enough, though, amongst the other wines, it could not hold my attention.
After my large breakfast of
Eggs Benedict
at the hotel, I chose one of the lighter-sounding dishes for brunch's main course - a
Sausage with Fried Farm Egg, Golden Chanterelles & Soft Sage Polenta
. This was excellent. Nice over-all rusticity and earthiness. Then came the reds.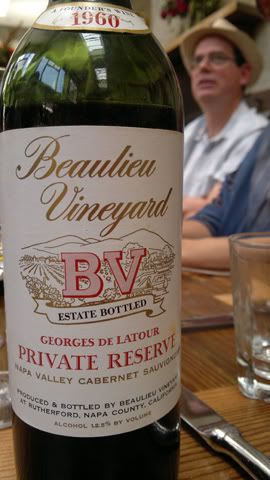 1960 Beaulieu Vineyard Georges de Latour Private Reserve
- from Paul; a birthyear wine for him, I felt so honored that he chose to share such special a bottle while I was there. Good deal of bottle-age sweetness with nuances of wet tea leaves and old violets to serene, mellow, soft dark fruit. Subtle dark spice. Very admirable for its age. This has a nice old romance to it. Thank you, Paul.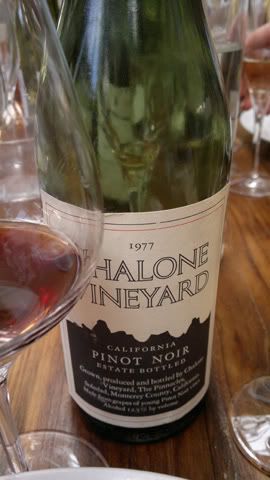 1977 Chalone Vineyard Estate Bottled Pinot Noir
- Ed's bottle, I presume? This 34-year-old was yet another revelation to me: how a Cali pinot noir can age. Still lively enough, quietly complex, though holding true to its origin with its soft, candiedly-ripe black cherry, discreet cola and subtle spices. Nice and mellow.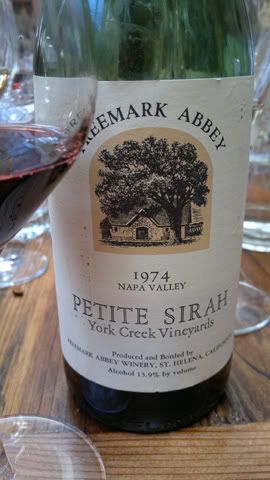 1974 Freemark Abbey Petite Sirah New York Creek Vineyards
- The last red I tasted. Again, I assume this bottle was from Ed as he would, logically, have the easiest access to aged wines from this producer. Firmer in structure than the other aged reds of the brunch; spicier and with faint black pepper nuances as well. Earthy, comparatively rustic and with admirable depth and an alluring, wistful smokiness. Very nice with my earthy main course.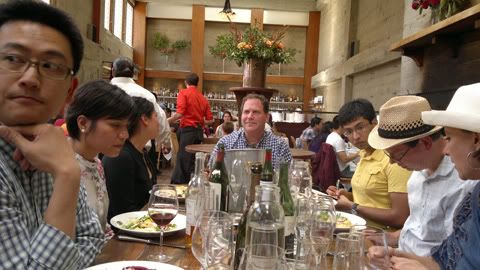 There were several other bottles opened, but I didn't have any more since our early dinner was fast approaching and I had to be in form for that as well. I did indulge in some dessert though.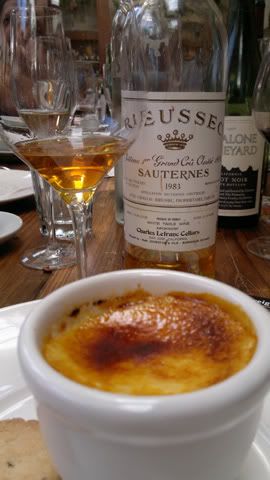 Because of Glenn's Sauternes, I simply had to have some
Crème Brûlée
at the end of the meal. What can I say? There is a reason why this is a traditional pairing. Thereafter, we said our goodbyes and I thanked everyone for their heart-warming hospitality and generosity. Would it that they all could visit me in Manila sometime so that I may return the favor. Many thanks to all for such a wonderful morning, noon and afternoon. It was truly a great pleasure.