As previously posted, I was in SF for 11 days this month; 8 of those days work-related, the last 3 for relaxing and eating around. Certain meals were full-blown affairs and will be/have been posted on separately. The following are photos of memorable times and more casual bites.
Saturday, 9th July 2011:
After taking the ladies shopping in Union Square, Santi treated us all to an Eat-All-You-Can Buffet.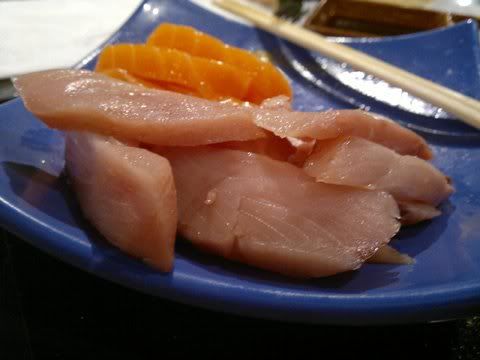 Eat-All-You-Can Salmon & Hamachi Sashimi!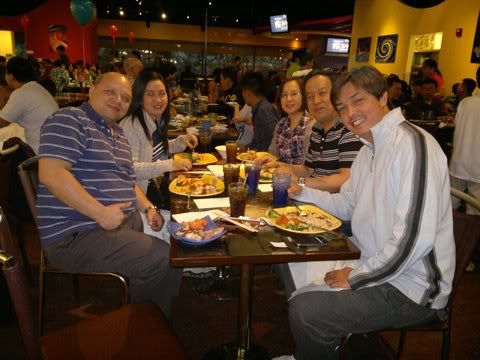 Ok, so I had some HK-Style Roast Duck, Roast Pork and Century Egg Congee too.
Sunday, 10th July 2011:
Breakfast of Adobo Rice...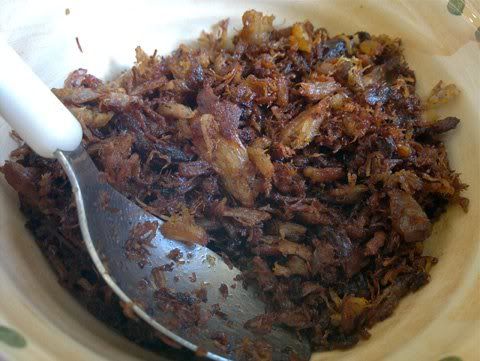 ...and Adobo Flakes.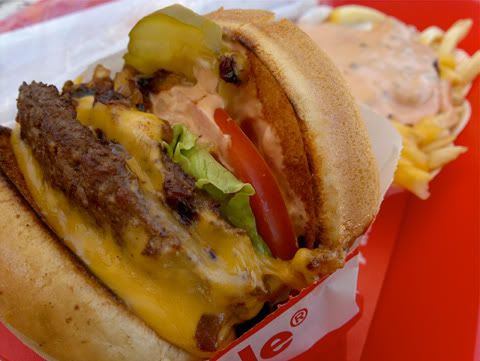 Late lunch @ In & Out: Double Cheeseburger with Fries "Animal Style"!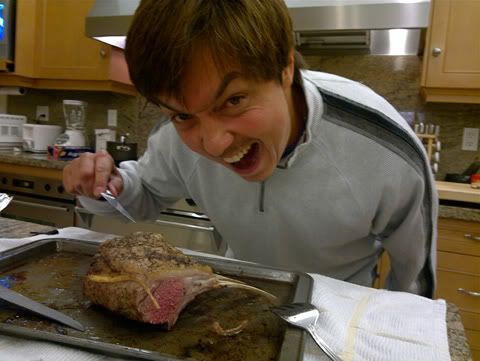 For dinner, I got a rack of lamb + 2 double chops from
Draeger's
and made my
Roast Herbed Rack of Lamb
at Santi's place. That's less than half of the lamb left in Santi's photo above. We somehow managed to polish it all off in one sitting. With the lamb, we also had...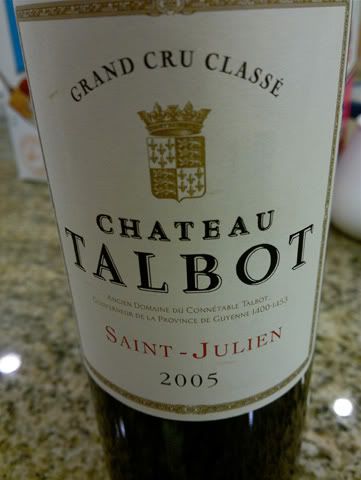 ...a bottle of 2005 Château Talbot, a very reliable 3rd Growth from St-Julien...
...and some really cheesy Eggplant Casserole by Santi's cook.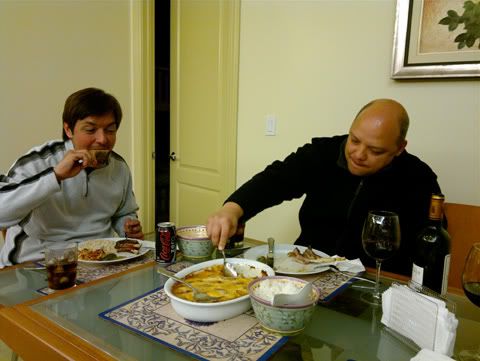 Chow time!
Monday, 11th July 2011 (I think):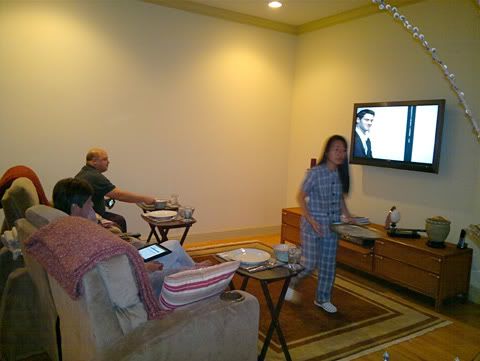 Long day at work, so we just relaxed and had dinner at home in front of the TV.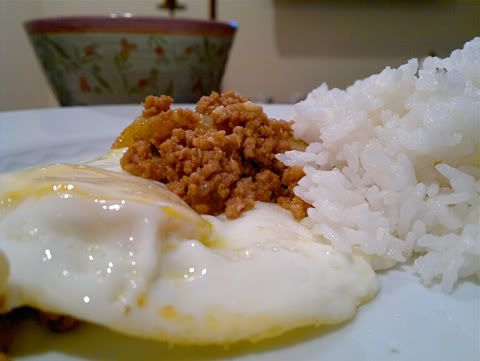 Arroz a la Cubana.
Tuesday, 12th July 2011:
I don't recall exactly what the food was, but, after dinner, some of Santi's friends came over for a few beers (ok, many beers). Still being jet-lagged, I fell asleep around 7:30pm, missed dinner and woke up a little past 2am. Enky was headed off to bed, so I figured I wouldn't bother eating and just quickly slug down some beers so I could go back to sleep...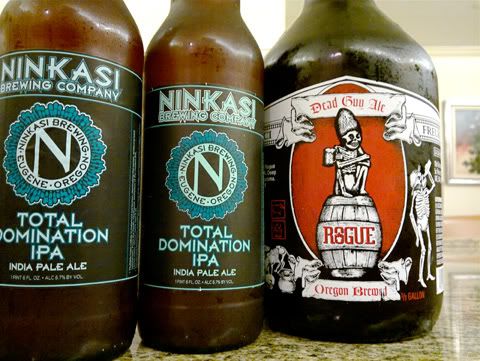 ...after all, I wouldn't want these craft beers Santi got at BEVMO to go to waste.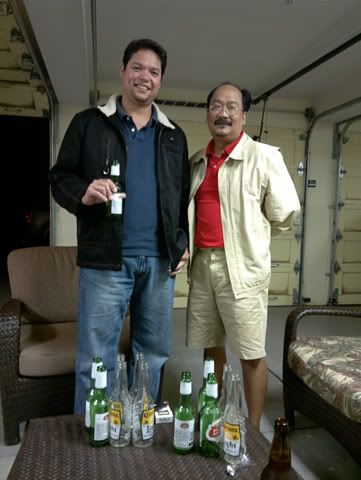 Imagine my surprise when I went to the garage to join them and found Gabby Ladao there. I've known him for ages but hadn't seen him for years since he moved to California. What a small world indeed.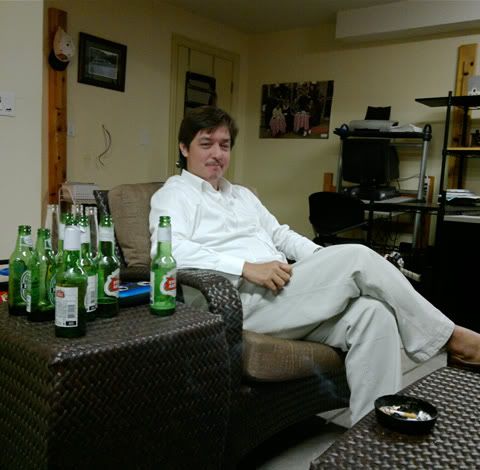 Beery relaxed, baby!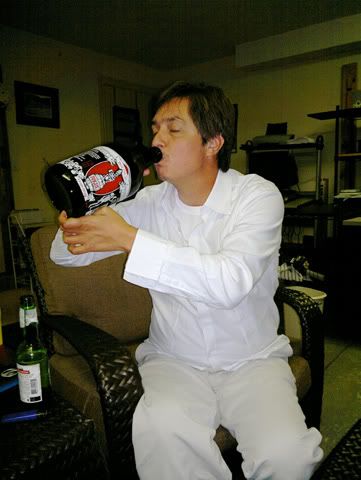 I guess Santi liked the Rogue Dead Guy Ale, huh?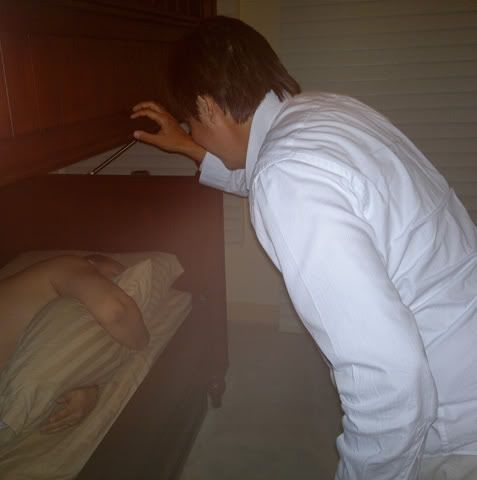 Around 5am: Enky about to re-learn why it's not a good idea
to be the first one to go to sleep during a drinking session.
Wednesday, the 13th July 2011:
Spent the day at the office. Hugo took us to a quick lunch at a nearby
taqueria
. Damn those burritos were large. I just got the regular size and could barely finish 2/3 of it.
Thursday, the 14th July 2011:
After finishing up some paperwork in the morning, we went out to do some chores. I suggested we have a light, healthy lunch at
Isobune
in Burlingame. Unfortunately, it wasn't anywhere as good as it used to be - but I thought it was still passable.
Enky, apparently, wasn't overly enthralled with the light, healthy food...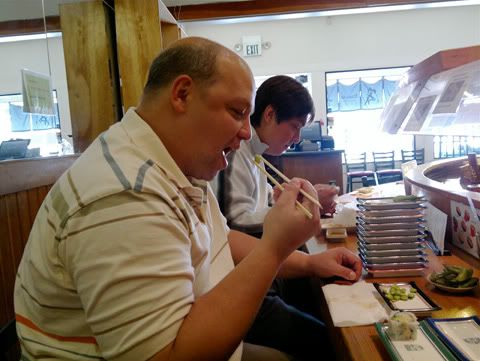 ...but he managed to eat just a tiny bit anyway.
The guys dropped me off at
Draeger's
after lunch where I met up with longtime friend, Apple, with whom I shopped for ingredients for dinner that night at her and Rocky's place. Santi, Enky and Sandy would meet us there that evening. That dinner will be a separate post in itself.
Friday, the 15th July 2011: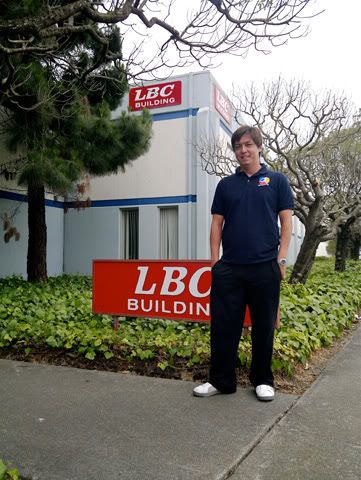 The rest of the team was to return to Manila that evening, while I stayed for 3 more nights for some eating and drinking around. After breakfast, we briefly passed by the
LBC USA Corporate Offices
just to pack some files, finalize and have some documents signed.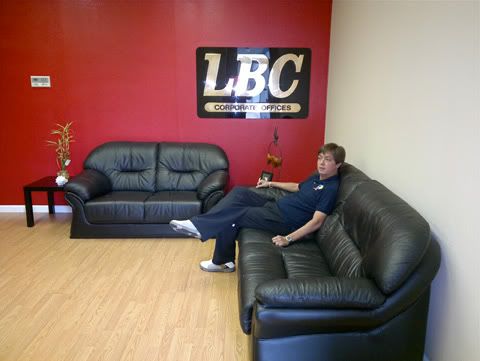 "And so where are the documents?"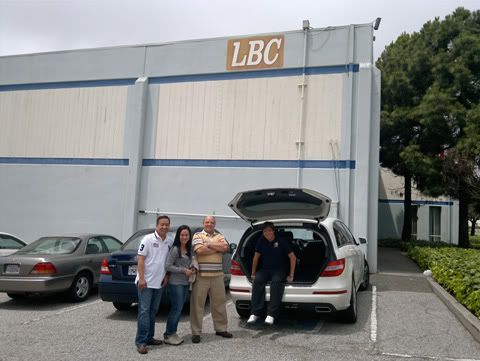 All done; good job everyone!
We had a late lunch at the infamous
Jeffrey's Hamburger
in San Mateo. I heard Santi and Apple talking about Jeffrey's the night before so I was quite curious what the food would be like. My understanding was that it is a belly-buster of a place. It didn't take long to find out why.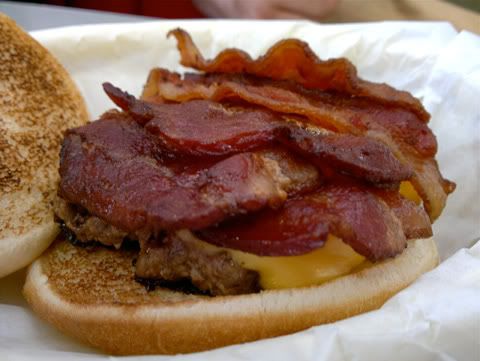 Enky's Bacon Cheeseburger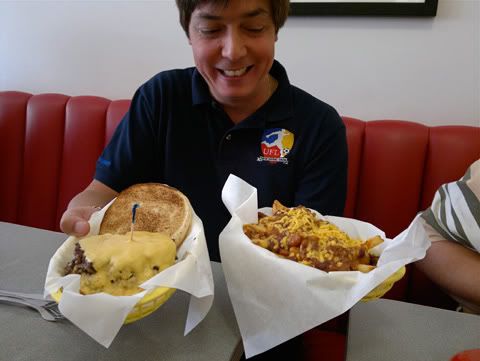 Santi with his Double Cheeseburger & Chili Fries.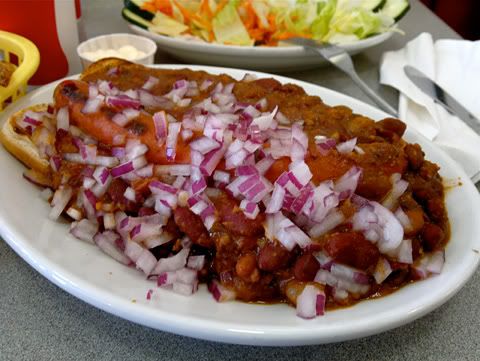 My Chilidog w/ Onions - quite easily the best chilidog I've ever had.
Servings were typically huge. I barely finished a fourth of my Fries.
Thereafter, we headed back to Hillsborough to relax - they to wait to be picked up for their evening flight, I to be picked up by Sandy to move to my hotel in the city. We were to have dinner at Sandy's neighborhood Spanish restaurant,
Zarzuela
, that night; but that is an entirely different story altogether.
More on that weekend later.