Friday night, the 15th July 2011, SF, Ca.
By around 7pm, I had checked in the OMNI Hotel on California and Montgomery in the city. I then proceeded with Sandy to her place at Russian Hill where she parked her car and we walked a little ways to
Zarzuela
, her favorite neighborhood Spanish restaurant. It was obviously a very packed night; yet, no sooner had we entered then the whole restaurant seemed to come up and greet her warmly - diners, the owner, members of waitstaff, busboys, you name it. I felt like I had walked into an episode of "Cheers".
The owner, Andy (there was another friend of Sandy's named Andy there who owns and runs
The Spanish Table
), told us he'd get us a table in a short time and glasses of chilled, nicely fresh albariño appeared in our hands. I then stepped outside for a smoke, joined by Sandy. It was pretty cold and windy outside; but we didn't wait long at all - I didn't even have time for a second cigarette before we were called in and given a cozy, corner table...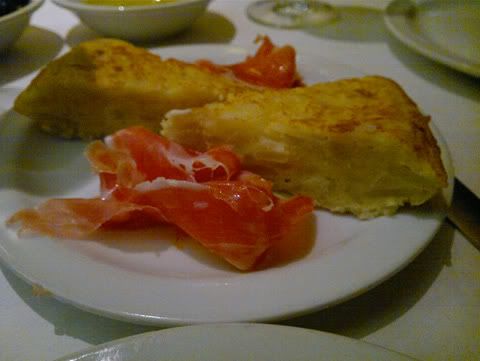 ...and served a platter of
Olives
,
Tortilla de Patatas
and some
Jamón
;
our glasses of albariño quickly topped up as well.
We took our time chatting, going over the menu, listening to the night's specials and, finally, ordering our meal and wine. This trip was so opportune as I wasn't really able to see Sandy that much during her last visit to Manila.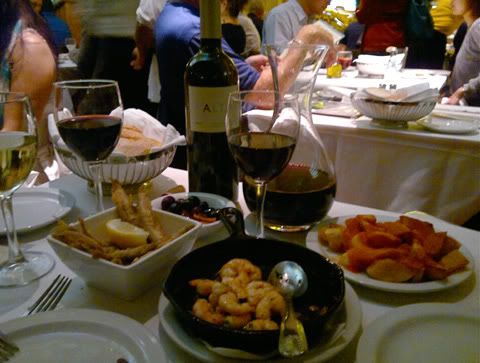 Our appetizers:
Boquerónes Fritos
,
Gambas al Ajillo
&
Patatas Bravas
.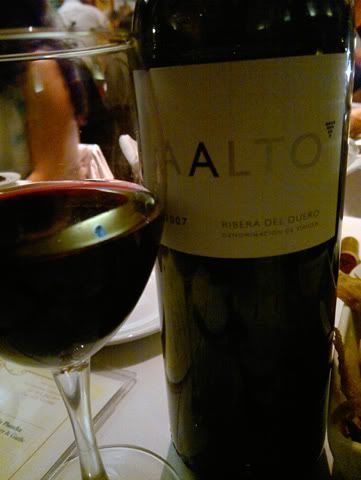 By way of red, I chose a bottle of
2007 Aalto (Ribera del Duero)
off the wine list. I could have sworn I've had more than one Aalto before, but I can't seem to find any notes of mine other than the
2001 Aalto PS
(Pagos Seleccionadas) that Rene opened
at a long wine lunch at the Prince Albert back in mid-February
(maybe it's because I, for some reason, confuse the names of Aalto and Artadi often).
Be it as it may, upon Andy's (the restaurant owner's) suggestion, this wine was decanted for around 45 minutes before we actually got to it - and a very good suggestion it was. This was an evidently deeply-veined, dense, powerfully ripe, oaky, oak-spice laden, full-bodied, concentrated and well-extracted wine (much like the aforementioned 2001 Aalto PS and the 2004 and 2005 Bodegas Mauro VS by the same winemaker - the ex-winemaker of Vega Sicilia) - I easily imagine it would have been quite difficult for me to drink had it not been decanted. Still and all, with my main course of...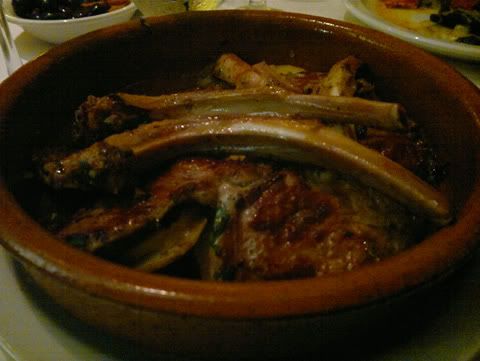 ...Chuletas de Cordero (Sandy went for the night's special Salmon), it was pretty good, with its considerable alcohol (I'm guessing at least 15%abv) providing me some much-needed warmth.
Though quite full already (and with every good reason to be), I simply had to choose 3 desserts so as to get a reasonable idea of the restaurant's style.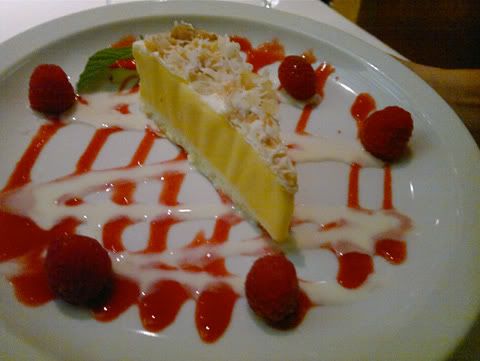 Upon Sandy's suggestion, I got the above
Tarta Helada
that she described as "frozen mango cheesecake yumminess". This was quite good - as it wasn't as rich as it looked (a good thing for me) and its cool fruitiness and surrounding berries refreshed my palate after the
chuletas
.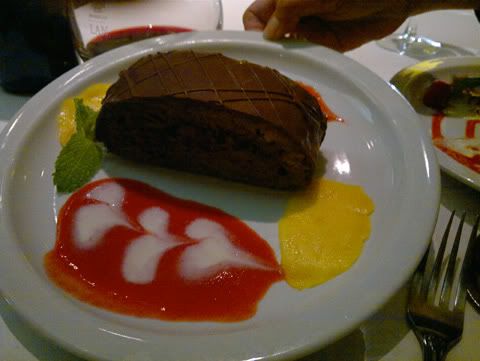 The
Brazo Gitano de Chocolate
, also Sandy's recommendation,
was every bit as decadent as it looked; every chocolate lover's dream, to be sure. The third dessert was one I go for whenever available...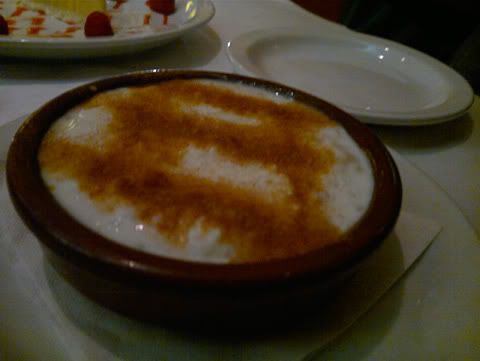 ...the
Arroz con Leche
. This is always comforting for me; and Zarzuela's version was a real treat. We then joined Sandy's friends at the long table where they had eventually congregated. Very nice and friendly people. Aside from Patricia, I had never before met any of her SF friends and they were very friendly and welcoming. Good to know she hangs around with good people there.
By that time, the crowd had trickled out and we eventually took our leave. Sandy packed me into a cab and sent me off back to my hotel as she insisted on walking home. Very nice, comforting evening.