~ Sunday, 17th July 2011, San Francisco, Ca, continued: ~
Wine Dinner @ Café Claude
A little more than an hour and a half after getting back to my hotel after brunch, I was walking to
Café Claude
a couple of short blocks away for a dinner with more Wineberserkers. This time, the get-together was organized by SF-based, MD-to-be, Ashish Agrawal. We were 8 in all. Lighting was difficult, and, not wanting to disturb the other diners, I refrained from using a flash for my food and wine shots - thus, please excuse the photos' poor quality.
Clockwise from Left: Shawnda Hansen, David Sasaki, Vamsi Kaipa,
Linda Baehr,Ed Chin,Ashish Agrawal and Craig Gleason.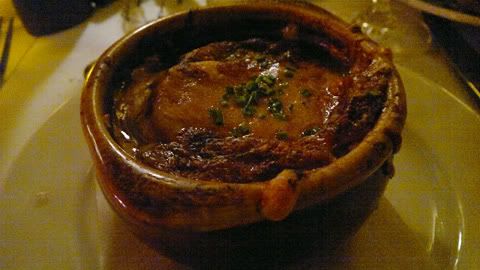 I started with
French Onion Soup
which seemed to be at least 70% cheese. Too bad, as the broth was nice enough. There were platters of
Assorted Pâtes w/ Gherkins, etc
. with which we had Craig's bottle of
1990 Trimbach Cuvée Frédéric Emile
which I, unfortunately, forgot to take a photo of. This was a nicely dry, self-possessed, mature riesling that showed white peach, whisper of lime, bit of citrus, moderate underlying minerality and a definitive
goûte de pétrole
. Very food friendly wine; I liked it with the pâtes and my onion soup.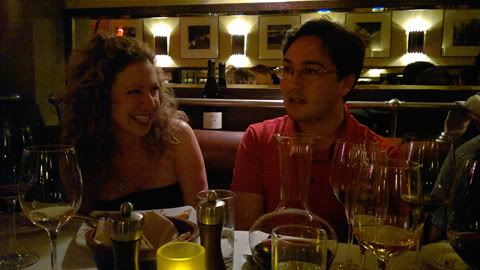 Shawnda and David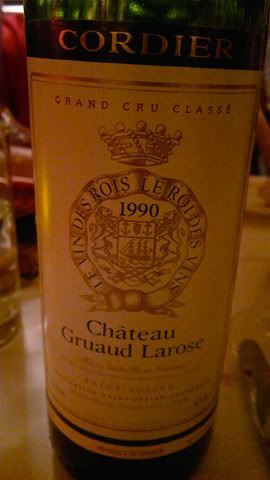 1990 Château Gruaud Larose
- From yours truly. It's been a while since I've had this - last was back
on the 14th December 2009 during a dinner at Doc's place
. My notes then were as follows:
I am very familiar with the wines of this large St-Julien 2nd growth. It is, together with Léoville las Cases and Léoville Poyferré, one of my 3 favorite producers of St-Julien. Of all the 1982 classified growths I've had the pleasure of drinking (including all the 1st growths), I have currently found the 1982 Gruaud Larose as the most youthful and exuberant.

I first tried the '90 Gruaud Larose sometime in 2005 or 2006 - I brought one to a dinner at the Doc's house because he had told me that Chirac had served it to Clinton during a state dinner. I figured that if it was good enough for the presidents of France and the USA, it would be good enough for us. That wine was rich, concentrated, very ripe (a vintage trait, totally different from the 1989 Gruaud Larose), its fruit and fig notes soft, with a distinctly meaty/gamey/sanguine and leathery infusion. An indulgent wine indeed - of the Parker "blockbuster" persuasion.

The subject bottle was quite different in that it was more focused, reticent, reserved and linear. I would probably have thought that the past 3-4 years had changed it a lot had I not read Greg's notes on it from 2 days before - it was also Doc's bottle (they and the Stockbroker bumped into each other during dinner at Masseto) and Greg's notes described the wine I remember almost to a tee. Doc mentioned that the bottle he shared with Greg was very different. I am, thus, quite certain that the subject bottle was slightly off - yet still pleasant enough. These things do happen, and I certainly do appreciate the Doc's opening this bottle for us.
This bottle, decanted for approximately 35-45 minutes before serving, still showed some animal, cep and truffle in the bouquet (past bottles were quite pungent when popped-and-poured; hence, the decanting). Slightly past halfway between medium and legitimate full body, this was a healthy bottle that showed good balance and concentration. The dark fruit/cassis, as one may expect from a 1990 left bank, was softly ripe and warming. The moderate animal, cep and truffle was mirrored in the fruit with cedar, dark spice, violets, underlying asphalt and very subtle tar. Balance is good and structure good enough. This is typical Gruaud Larose that I know and enjoy.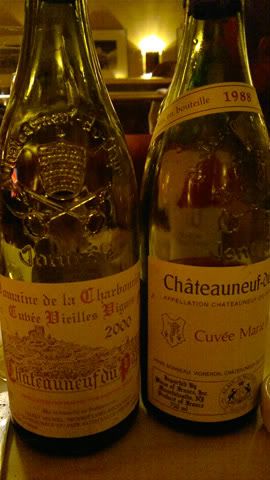 2000 Domaine de la Charbonnière Châteauneuf-du-Pape Cuvée Vieilles Vignes
- Unfortunately, I do not recall who brought this. Rather ripe, pleasantly enough warming, the dried herb-touched macerated black cherry and dark berry compote seemed just a bit too sweet to me. Wood spice emerges mid-mouth and continues on the finish. Underlying dark minerality. Quite decent, definitely acceptable; but, honestly, in a style of CdP that I flirted with and left behind several years ago.
1988 Henri Bonneau Châteauneuf-du-Pape Cuvée Marie Beurrier
- from Craig. Lovely, lovely wine. This clearly stood out that night. Memorable balance and comfortingly warm; the texture was velvet - I loved the mouthfeel. More seductive in a rustic sort of way than the polished 2000 Cuvée des Célestins as I recall it. Admirable depth of fruit, crescendo and finish. Loved it. I will remember this wine.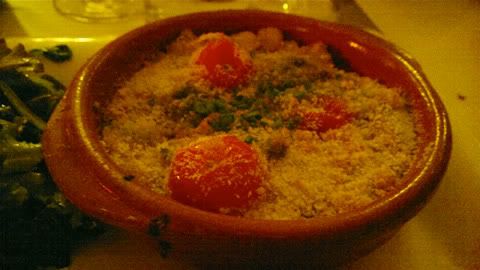 Keeping it light, I had the
Coquilles St-Jacques Gratinées
for my main course.
1995 Colgin Cabernet Sauvignon Herb Lamb
- From Ashish. Big, firm, deep. There is ripe richness in this but it manages to keep proper restraint. Crème de cassis, some blueberry, vanilla, slight dill, bit of underlying chocolate and slight minerality. It seems still young at this point, but it is quite approachable and enjoyable already.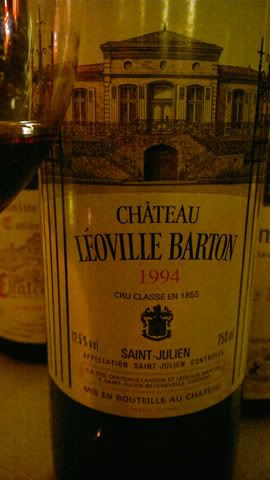 1994 Château Léoville Barton
- From Linda. Typical clean lines, neat, firm structure, notable poise and balance of Léoville Barton. Medium bodied, right and proper St-Julien and typical of the producer. This is yet another from 1994 that shows that the vintage was, and still is, generally under-appreciated. Good show.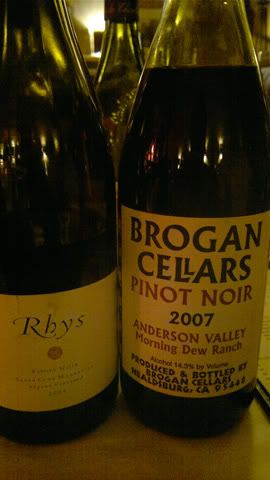 There were many, many more reds on deck, all for the taking, and I did have a few more; but, honestly, I was too distracted by the company and conversation at that point that I can no longer remember much after the foregoing - certainly not enough to do justice to all of the wines. This simply means to me that I must, somehow, meet my new friends again and have another go at the wines.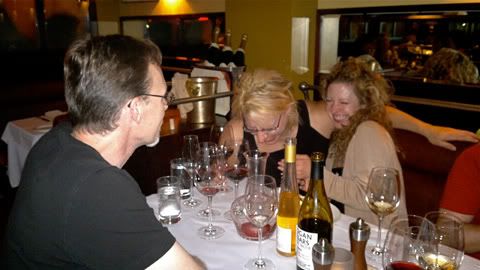 Craig seems to have had the ladies in stitches.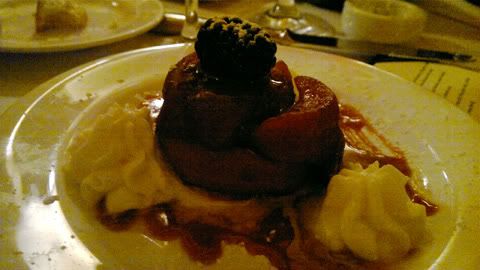 Dessert...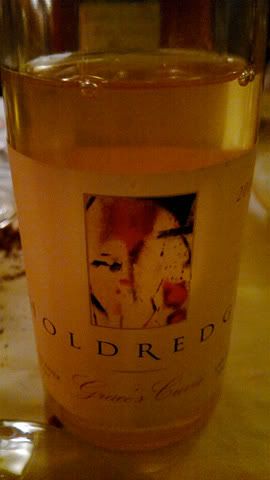 ...paired with Linda's
2006 Holdredge Pinot Gris Grace's Cuvée
. It was yet another wonderful meal with new friends. It never ceases to amaze me how wine and the love of it can manage to bring together so many wonderful people. Again, many thanks to all for so generously sharing your time, wine and company. Until the next!