Monday, 18th July 2011:
was my last day in SF as I was booked on the late PAL flight back home. The plan was that I'd be checked out of my hotel by 11:30am, Apple would pick me up and I'd spend the day at their place in Hillsborough (15 minutes from the airport). We'd check in our luggage early (she and her youngest daughter were to be on the same flight to Manila) and go back to their place to have dinner with Rocky until before boarding time.
All my breakfasts in the city were at the hotel. Unlike Saturday's healthy
Fruit Platter w/ Blueberry Yoghurt
& Coffee
breakfast, Sunday's was a bit more substantial...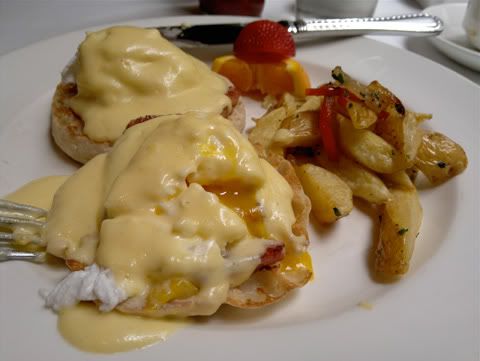 ...Eggs Benedict, Coffee & Orange Juice; while Monday's was....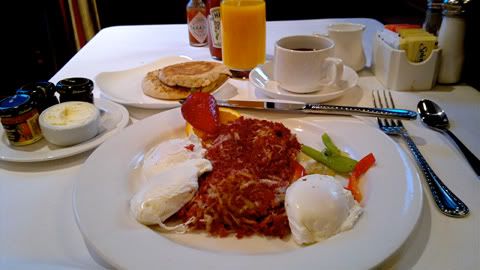 ...Corned Beef Hash, 3 Poached Eggs, English Muffin, Orange Juice & Coffee.
Needless to state, they were all in US-sized portions, so, aside from Saturday's fruit platter, I barely finished half of my breakfasts. How anyone can function after eating all that is beyond me. Naturally, Apple took me out to lunch that Monday at
Ristorante Capellini
in San Mateo.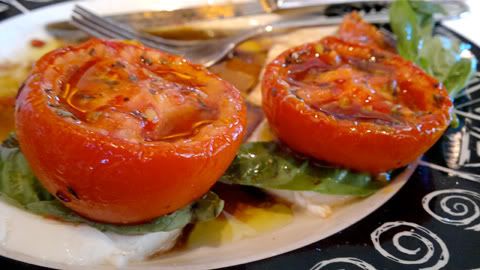 Since Sandy mentioned the day before that the local tomatoes were in season, I had the
Insalata Caprese
to start - which I absolutely loved. The tomatoes were so fresh and sweetly juicy. Lovely mozzarella too (totally unlike the tired, old, somewhat drying, rubbery commercial stuff we have in Manila)! Delicious!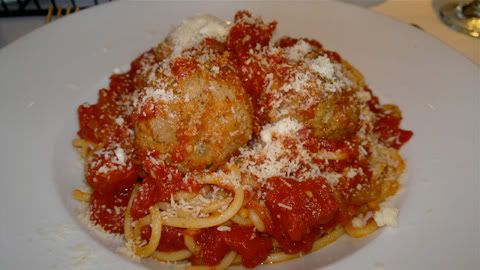 For my main course, I just couldn't resist having the
Spaghetti w/ Meatballs
- which happens to be one of my comfort foods. I've loved this dish since I was a small child and have never outgrown it. Though, after my large breakfast, I vowed to eat light the rest of the day, I couldn't help but eat every bit of it except for one meatball (but skipped dessert entirely). Magnifico!
Dinner that night at Rocky & Apple's was a fresh garden salad and an amazingly good grilled
kanduli
(a.k.a., salmon catfish) - so nice and light, yet so satisfying. That was it - I all was set for the long flight home. I never eat airplane food if I can at all help it - well, aside from some bread & butter, salad and glasses of champagne.
That's all for SF eats and drinks...until the next.