Dinner of Saturday, the 8th October 2011, was at
Tivoli
of the Mandarin Oriental Manila. It's been quite a while since I've eaten there. Time was, the Stockbroker, Doc & I would hold almost weekly wine lunches there - that is until they revoked the old IWFS corkage arrangement - then we moved to Old Manila, RED, and, thereafter, other restaurants, the management of which treated good customers better corkage-wise
*
.
*
I don't mind paying corkage, but I find corkage above P600/bottle unreasonable for regular customers.
We'd also have dinner with the wives at Tivoli every once in a while, but I stopped going for the same reasons as lunch. I did return once with the Vigneron for lunch several months ago - just to try out their new chef, but that's about it.
In any event, during
a Vega Sicilia dinner at Enderun's Restaurant 101 in mid-September
, I met Javi Berenguer-Testa, Asst. F&B Manager of the Mandarin Oriental, (we were at the same table), mentioned my "history" with Tivoli. Javi encouraged me to give the Tivoli another chance and said he may be able to get me a little discount on corkage. Thus, on the subject night, I took Catha and the youngest there for dinner (the two teenagers were out at parties).
Terrine of Quail w/ Arugula
as a slightly gamey amuse bouche.
I've never really found quail itself
that
interesting, and this was no different.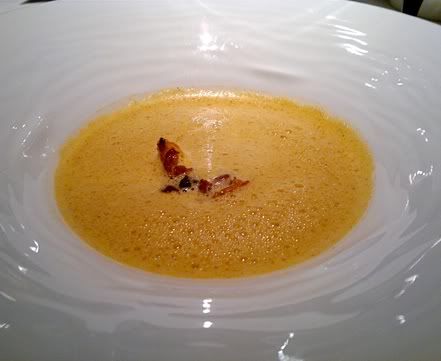 I had the
Lobster Bisque
to start. Excellent. For me, far better than
those of Old Manila or RED which I find ham-handed with cream and flavors.
Catha started with the
Foie Gras au Torchon
which she really liked. Very creamy. She shared a bit with the youngest - who said he still prefers Marc Aubry's foie gras at Champêtre.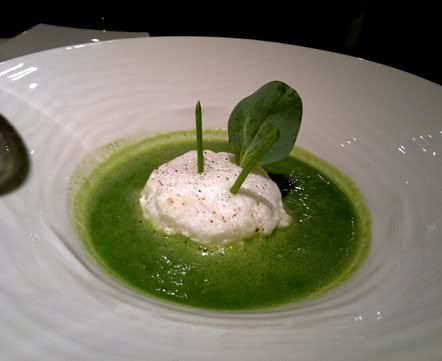 The youngest had the Broccoli Soup which he disliked.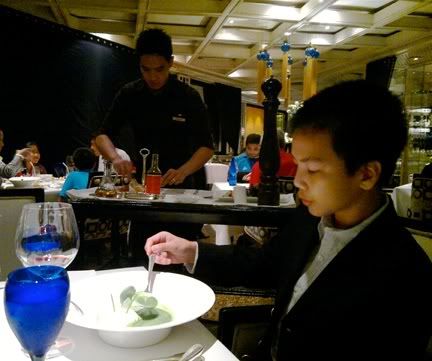 Apparently he expected a
cream of broccoli soup
, which this wasn't. That should teach him to read the menu more carefully - a good lesson to learn early in life. I told him he didn't have to force himself to drink it, but he should be more careful next time.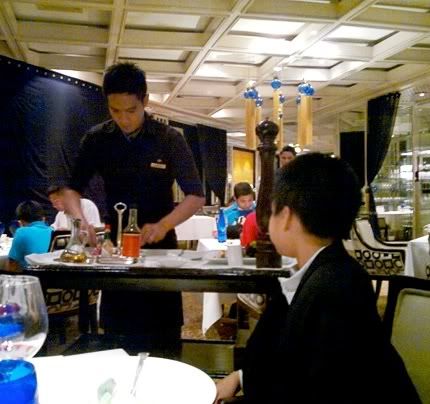 Anyway, he had also ordered a
Steak Tartare
.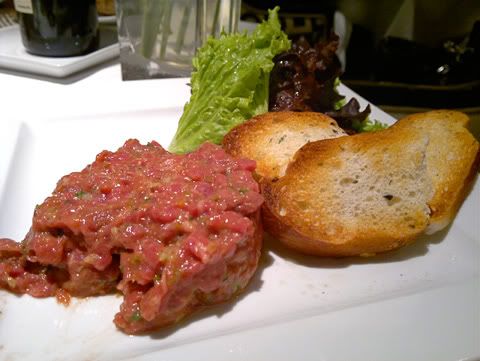 The
Steak Tartare
. The youngest took this photo. He also took a chunk out of it before taking the shot. Like at the Intercontinental Hotel's Prince Albert Rotisserie, one is given a small taste before plating to allow for adjustment of seasoning to taste. I asked them to add a bit more capers - and the resulting dish was fine. The youngest said he preferred the steak tartare at
The Goose Station
and
Antonio's
, but he ate this happily enough.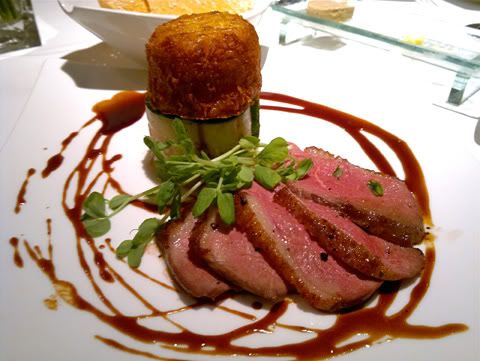 Catha & the youngest had an order each of the
Magret de Canard
. I tasted it and it was fine.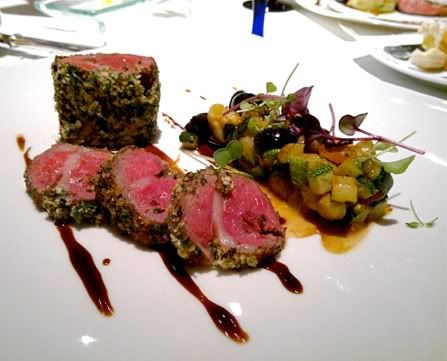 My
Herb-Crusted Lamb
main course was pretty good - tender, juicy enough. The crust was a bit unevenly seasoned (some parts had too much black pepper), but it was still quite good.
As regards wine, I had brought along a bottle of
1990 Château Petit Village
, which, unfortunately, was badly corked - so I had it removed from the table. Pity. This is a very good Pomerol which I had very much enjoyed twice before, the last time being at
a dinner for Clem Nieto at Tita Bella's
in early September.
I had asked for the wine list, but nothing interested me except for a "1996 Château Haut Brion" for just under P14,000.00 (i.e., under US$325; which is materially below retail both here and in the US). I ordered it, but, tragically, when they presented the bottle to me, it turned out to be a 1996
Larrivet
Haut Brion (which retails in the US for a mere US$30-US$40). Larrivet Haut Brion is a minor château of Pessac Léognan - a far cry from the 1855 1st growth Haut Brion despite its similar name and being in the same AOC of Pessac Léognan.
I wondered then who was it who made this wine list and its pricing - he/she must either be quite careless or doesn't know his/her wine. I'd be willing to pay maybe P3,500-P4,000 for a 1996
Larrivet
Haut Brion in Tivoli, but, just under P14,000? Yeah, right. That'll be the day.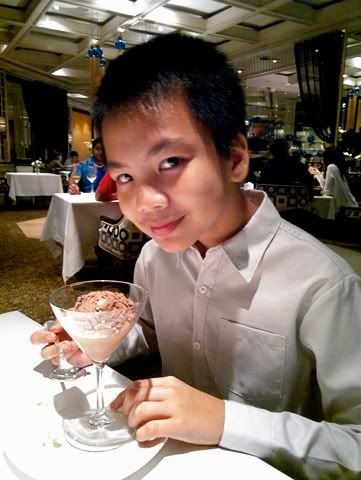 Only the youngest was in the mood for dessert, so he ordered some
Chocolate Ice Cream
...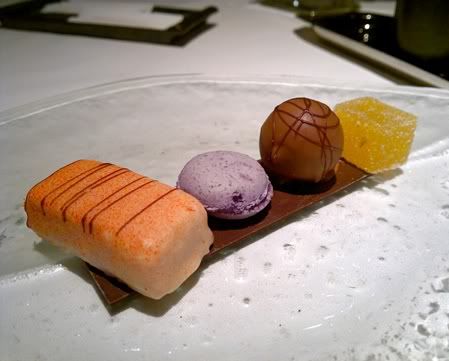 ...while Catha & I settled for double espressos with the Mignardises.
Nice enough meal in all. The lobster bisque was my highlight of the meal - and the lamb was more than acceptable. I think Catha had a much better meal than I that night. Hopefully, my other bottles of the 1990 Petit Village at home won't be corked.