I was lucky enough to get a free evening during Tita Rose's (Miguel's mom) busy schedule this trip. I was supposed to take her to Mamou, but, by then, she was already "over-steaked" and preferred lighter Japanese fare. Thus, since she enjoys
Hanakazu
, on Tuesday, the 22nd November 2011,we had dinner there where Miguel got us a private room. We were only 3 that night as Catha couldn't join us as she had to tend to her mom and Ria couldn't either as she was busy helping their kids with homework.
Tita Rose can't drink anymore so she just had some juice. Mig & I finished 2 bottles of this chilled sake (depicted here with the fried, lightly-battered tuna appetizer). Didn't take particular note of it, but it was a fair enough sake - certainly light years better than the usual house sakes around Metro Manila.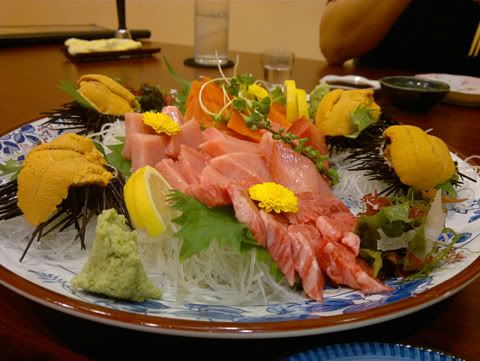 A big platter of Sashimi to start:
Toro
(Japan),
Uni
(Japan),
Wagyu
(Japan) &
Shake
(I don't know from where the salmon was from). Everything was deliciously fresh; the wagyu like butter.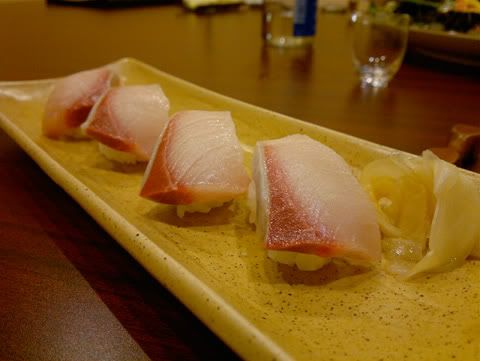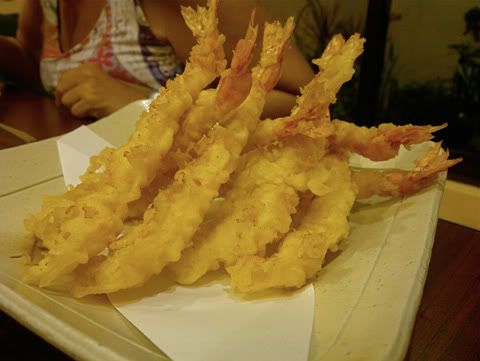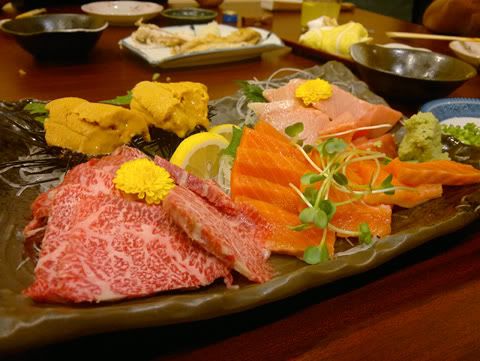 The sashimi was so good, we simply had to order a second round of it. Mig and I skipped dessert; Tita Rose had some mochi balls which she said were nice. One of the reasons I love Japanese food is that, not only is it a cuisine of freshness which extols nature's beauty, one can also pig out on it and get full but not feel so heavy or guilty after.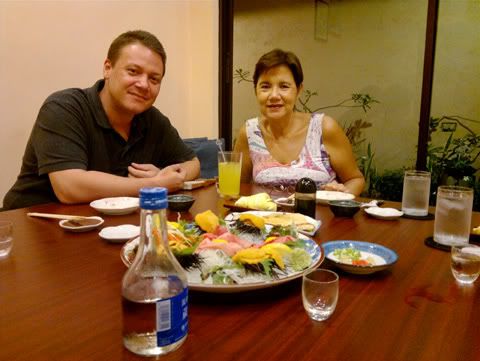 Great to have seen Tita Rose on this trip. Hopefully, we get to see her again soon, whether here or in Barcelona next year. In either case, until the next!