Early September 2011 saw a trio of dinners in honor of fellow wino & Wineberserker Clem Nieto who, with better half Loidy, were in for a visit from Orange County, California. The first dinner, the 5th September 2011 to be exact, was graciously executed by Tita Bella at her place. We were eight in all, with the Nietos, Miguel & Ria Vecin, Rene & Aimee Fuentes, Catha & I.
Seated: Aimee, Loidy & Catha
Standing: Miguel, Rene & Clem (Ria arrived a little later)
Despite a broken foot due to an unfortunate fall,
Tita Bella, chic as ever in her wheelchair, still managed to execute stunning dishes.
As always, we started off with glasses of chilled bubbly. That night, it was a
2000 Perrier-Jouët Belle Epoch Champagne Brut
from Rene - Aside from its brightness and vivacity, a creamy, slightly biscuity, bready-yeasty, rounded underbelly was quite apparent. Notable structure in this. Very nice and enjoyable now (all too easy to drink a lot of this), and will, I expect, gain even more complexity and depth after, say, 3 years. Something to grab a few bottles of, I mentally noted.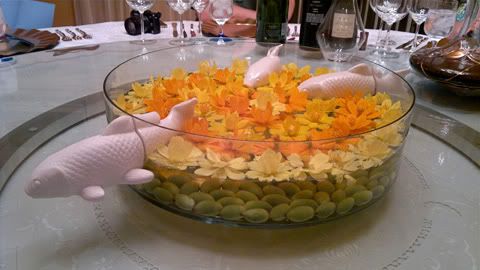 We eventually moved to the dining room,
the table's new centerpiece catching my eye,...
...where we settled in for dinner proper.
The Menu
Amuse Bouche of Salmon Parfait w/ Chive Oil,
Roasted Baby Beets w/ Crispy Chicken Skin & Dijon Vinaigrette.
By this time, we began making headway into a different bottle of vintage champagne...
2002 Dom Pérignon
- from Clem, this seemed quite youthfully/tightly wound in its bright, green, crisp apple and bit of pear and white citrus, slight underlying honeyed notes, vanilla-like leesiness towards the back. I'm pretty sure I've had this relatively new vintage before, but I can't seem to find any notes on it. This I enjoyed with the amuse bouche (well, two of them as I asked for seconds).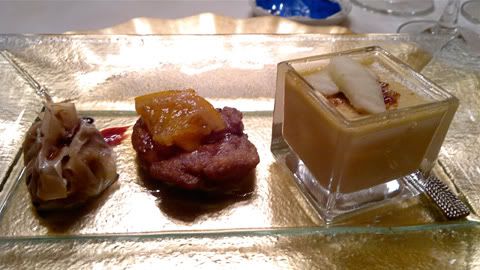 With the following Variations of Duck Foie Gras:
Duck Confit & Foie Gras Dumpling w/ Port-Balsamico Glaze;
Sautéed Foie Gras w/ Orange Compote &
Foie Gras Crème Brûlée...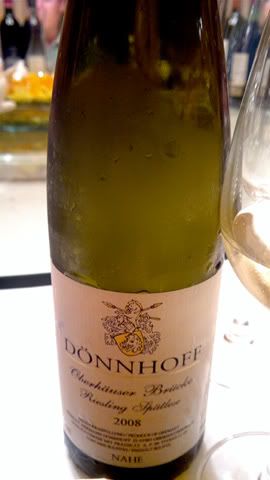 ...we enjoyed two (2) bottles (one each from Rene & Miguel) of
2008 Dönnhoff Riesling Oberhäuser Brücke Spätlese
- Bright acid cut to this and notable focus and definition, it seemed not nearly as ripely sweet or eager to please as
the 2009 version
, but, with the foie, especially the c
rème brûlée
variant (of which Clem and I had 2 servings)
, it lent superb cut and contrast.


Clem & Ria


I've not had anything from
Dönnhoff that I've not liked (in varying degrees of course). The two bottles virtually disappeared in a trice as the ladies liked this a lot as well with the next course of...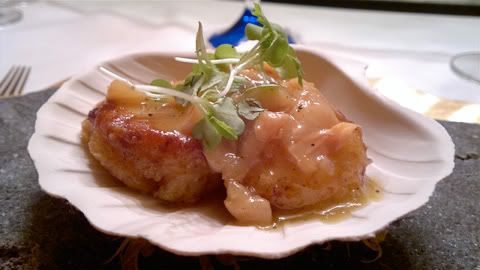 ...an absolutely lovely, addictive
Seared Lychee Scallop in Champagne Butter Sauce
.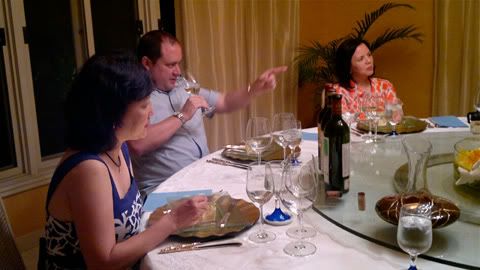 Loidy, Rene & Catha
The reds for the evening were several, a couple decanted beforehand, one just slo-oxed, and the rest kept closed and waiting on the side lines in case TCA dared rear its ugly head. We chose only three reds for the night so as to be able to give them proper respect and attention. They were all meant to go with the fork-tender, juicy, earthy meat course of...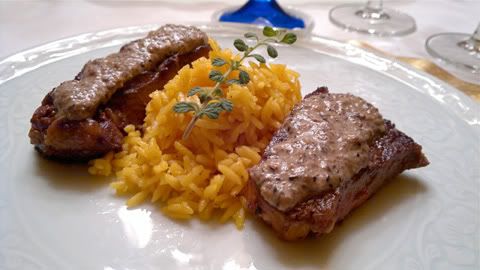 ...Angus Rib-Eye, Mushroom Sauce w/ Truffle Paste & Risoni.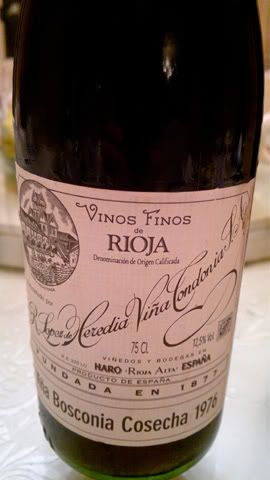 First of the reds was a
1976 López de Heredia Viña Bosconia Gran Reserva
- from Clem. My mind snapped back to a year and a half ago when Eric Recto opened this blind for the Doc & the Stockbroker. I was in the Rioja region at the time but the latter two mentioned via text or FB (I can't remember exactly now) that they had guessed it to be an aged Burgundy (the Stockbroker even venturing it being from Gevrey Chambertin). Ethereal in its silken, medium-bodied, spiced dark red fruit (more raspberry, cherry and underlying plum), leather, slight tobacco leaf, cedar violets and gentle balsamico. An elegant beauty of a wine.
Next on deck was a
1990 Château Petit Village
- from yours truly (my 1985 Château Gruaud Larose beside it was given a suspended sentence that night). I had opened a bottle of this not 2 months earlier
at Rocky & Apple's place in Hillsborough
. My notes at the time, still applicable, were as follows:
The above-depicted bottle of 1990 Château Petit Village, on the other hand, presented dark, smoldering, powerful fruit on a heftier, more rounded body with evidently greater depth and complexity. Velvety on the palate; a comparatively more pronounced middle and superior length and over-all balance and harmony. This was much more of a complete wine. Beautiful wine. We were all in agreement that this was clearly a superior wine....
Deep, serious ripe plum, black cherry, bit of raspberry liqueur, underlying pipe tobacco, hints of old worn leather and smoke, violets and cedar. Very rounded mouthfeel. Just a notch or two under legitimate full-bodiedness, this had a slightly chewy, rich, velvety texture. Smoldering, serious, quiet power. Loved it. Happy I was able to eventually buy more.
2001 Château Mouton Rothschild
- From Clem. This big fellow was obviously the one we decanted for the longest time possible. Crème de cassis at the fore, black cherries pushing from behind - surfacing more just past mid-mouth. Steady dark plum, black gravel and licorice underneath, with chocolate and vanilla become apparent towards the back. Violets join in the long finish. Rounded tannins. Powerful wine for sure. Still quite primary at this stage, but a truly a treat to get to try at this early point. Good thing we decided to have this as the 3rd red as it would have steamrolled over the previous 2.
Aside from my above-mentioned
1985 Château Gruaud Larose
,...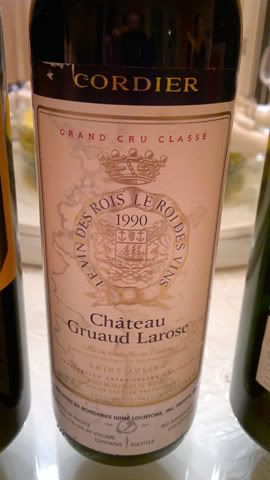 ... Miguel's
1990 Château Gruaud Larose
...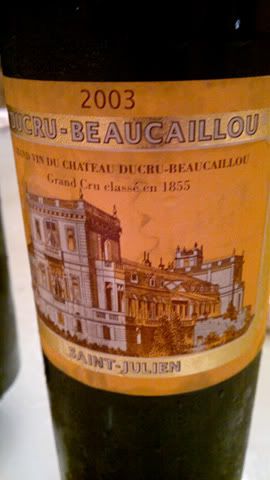 ...and Clem's
2003 Château Ducru Beaucaillou
were spared that evening.
Our cheese course in a glass:
Caramelized Goat's Cream Cheese w/ Truffle Oil
which I had with the last bit of the
2008 Dönnhoff Riesling Oberhäuser Brücke Spätlese
.
Dessert was a cool, light, cleansing and refreshing
Chilled Watermelon, Peach & Mango Soup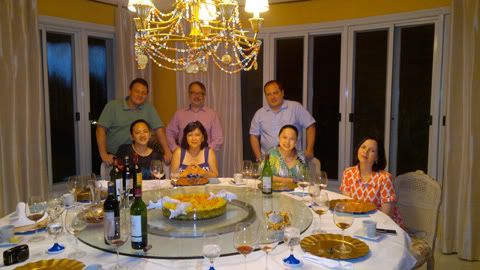 Many thanks again to Tita Bella for the wonderful meal despite your injury - truly above and beyond any call of duty or generosity - and to Clem & Loidy for, yet again, sharing with us your fine wines and company. Until the next!