Thursday, the 20th October 2011, was the International Wine & Food Society's (IWFS) Philippine Branch's Annual President's Dinner at Colin Mackay's
Sala Restaurant
.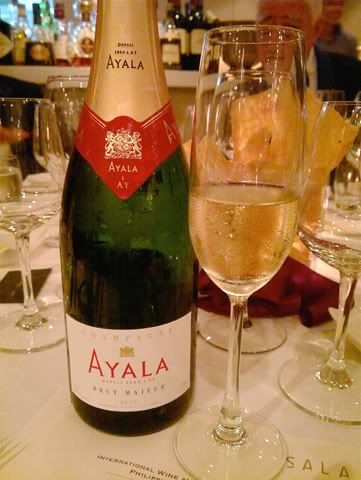 Having arrived around half an hour late, I caught up with a glass of
Champagne Ayala Brut Majeur
-
as I wrote a few days ago
, this bubbly is "(h)ands-down the very best deal in the country for a non-vintage champagne; available at Premium Wine Exchange for only P2300/bottle retail. Fresh, creamy fruit, notable focus, vivacity, fine mousse, mid-palate and balance. Can't go wrong with this, especially at its very reasonable price."
During cocktails earlier on, it was served with served with canapés of
Choux aux Fromage with Almonds
,
Hot-smoked Tasmanian Ocean Trout with its own Eggs
,
Oysters
with
Mignonette
.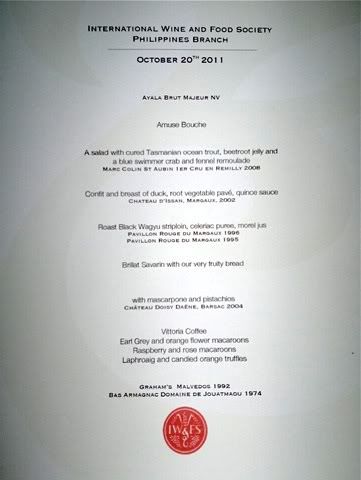 The Menu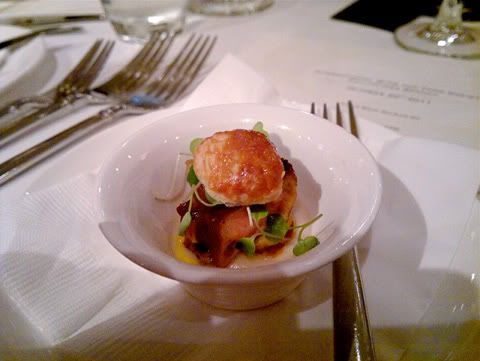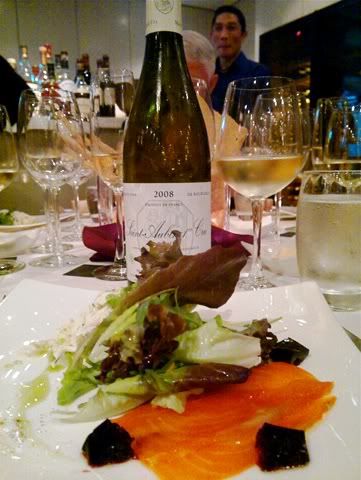 The first course was a
Salad of Cured Tasmanian Ocean Trout, Beetroot Jelly, Blue Swimmer Crab & Fennel Remoulade
which was paired with
2008 Marc Colin St-Aubin Premier Cru En Remilly
. Lightly buttered and baked apple, pear, bit of citrus rind underneath with moderate vanilla, underlying minerality, marzipan and hint of cinnamon. Hefty middle, moderate finish. Acidity and structure were decent enough. Over-all, pretty good, though slightly too forward, low in acid and oaky for my own taste, whether alone or as the pairing wine.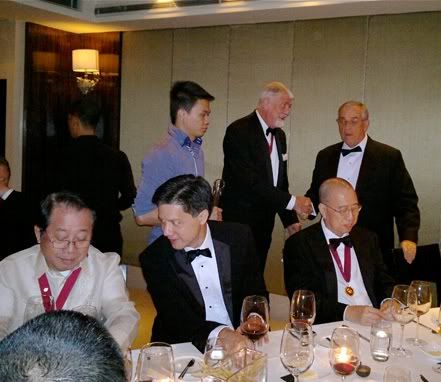 Emcee Bill Stone w/ Hans Brumann (standing), Dong Puno, Gerry de Jesus & David Lim.
The second course was a delicious
Confit & Breast of Duck, Root Vegetable Pavé & Quince Sauce
which was paired with
2002 Château d'Issan
. This, like the Domaine de Chevalier, is one of the very best 2002 Bordeaux rouges I've had thus far. Almost legitimately full-bodied, this is a trim, smoothly muscled light-heavyweight of a wine without the over-wrought, over-extraction of, say, the 2002 Lynch Bages. Warm asphalt, discreet licorice and slight, moist Cuban tobacco infuse its quietly intense black fruit (blackcurrant, black cherry, minor dark raspberry) and underlying dark plum, adorned with gentle cedar and violets.
The fruit is already soft, structure decent, the wine already open and giving. I do not think there is much need to wait longer before enjoying this wine. Very impressive considering the vintage.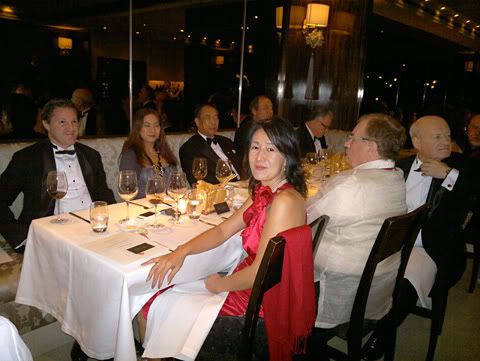 Richard & Yuki Joye, Robert & Jen Burroughes, Noel Laman
Martin Kleger & James du Vivier at far right.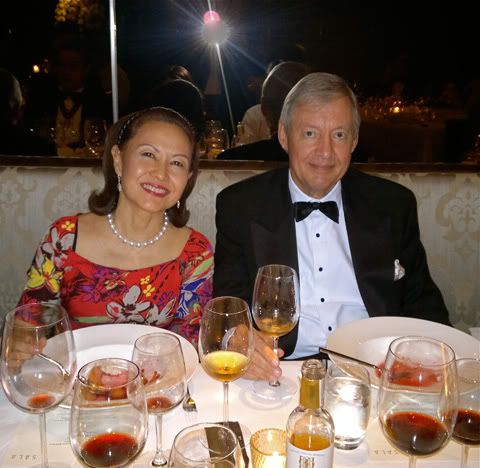 Manfred & Chinggay Rode.
The third course was Roast Black Wagyu Striploin, Cereliac Purée
& Morel Jus paired with...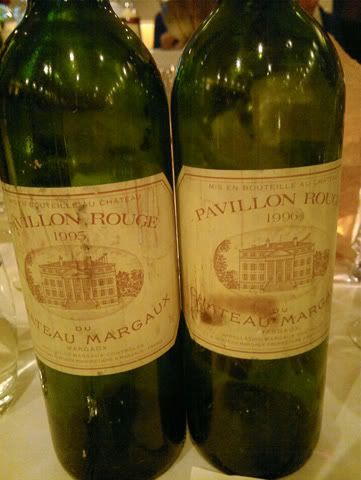 Vintages 1995 & 1996 Pavillon Rouge du Château Margaux.
Unlike good friends and fellow members, Rene Fuentes, Jr. and Richard Joye, I, personally, have never been a fan of Château Margaux's second wine. In fact, of the 1855 1st growths' second wines, I've only ever purchased Latour's Les Forts and have not, through the years, been able to understand the attraction of Carruades de Lafite (though it is, admittedly, pleasant enough).
Be it as it may, both wines were nice enough specimens, the 1996 much more appealing to me than the 1995 - the latter, as also noted by Richard, being rather tight and reticent (something I've consistently, as compared to their respective 1996s, noted in several 1995 Bdx rouges such as Ducru Beaucaillou, de Fieuzal, Cheval Blanc and Mouton Rothschild, to name a few). The 1996 had notably firm structure, acid backbone, warmly comforting silken fruit, discreet gravel and tobacco notes, graceful violets and cedar. Medium-bodied, self possessed and with good acid balance, it made for a fine match for the melt-in-your-mouth steak and earthy morel jus. To my mind, this was a case wherein the pairing itself transcended the sum of the parts. Good call.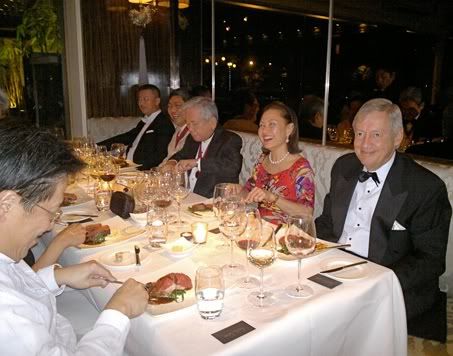 Cecilio Pedro, Louie Lee, Jun Sison, Chinggay & Manfred Rode.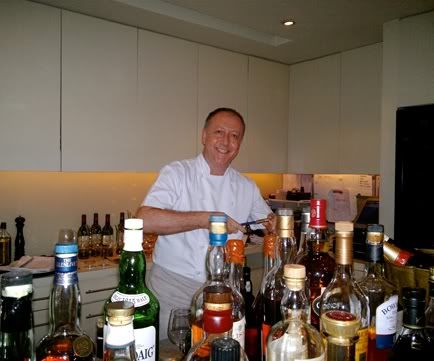 Colin Mackay very busy yet far from flustered in both the kitchen and bar.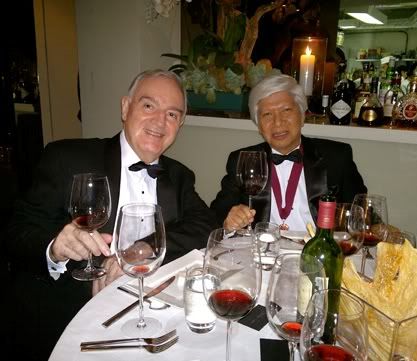 My evening's table-mates Brendan Egan & Ernie Fajardo.
The cheese course,
Brillat Savarin
with Sala's deservedly famous
Fruity Bread
,
was served to me with (though it should have come much later)...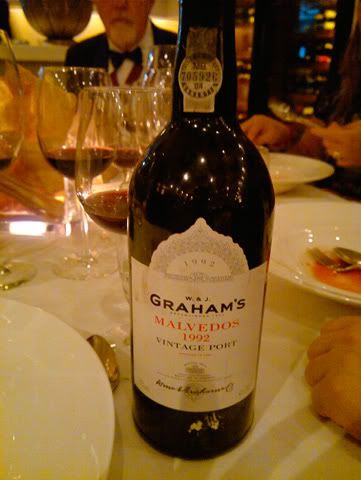 ...a (heavily sediment suspended) vintage port,
1992 Graham Quinta Malvedos
.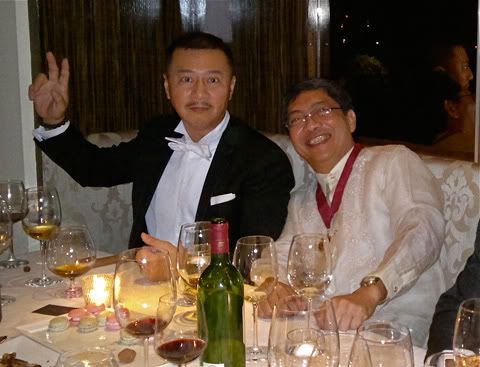 Louie Lee mugs it up.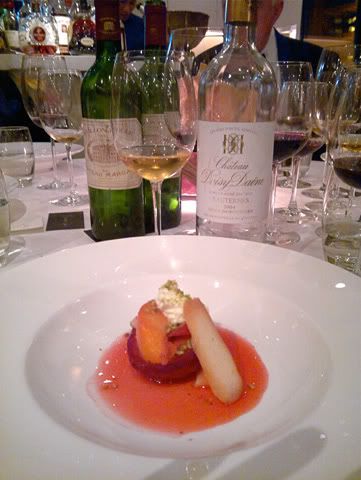 The dessert course was a refreshing and complex
Stone Fruits Poached in Ederlflower and Vanilla with Mascarpone & Pistachios
, which was paired with
2004 Château Doisy Daëne
. I've written about this wine several times in the past, so there is no need to repeat myself. I noted that this was the
third
time we had exact same wine paired with dessert, it being served
during last two years' IWFS President's dinners
as well.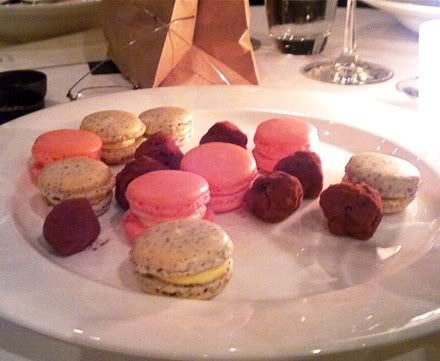 Mignardises were absolutely lovely
Earl Grey & Orange Flower Macarons
,
Raspberry & Rose Macarons
, and decadently complex,
Laphroaig & Candied Orange Truffles
. Snifters of
1974 Domaine de Jouatmaou Bas Armagnac
followed (but I forgot to take a photo of the bottle).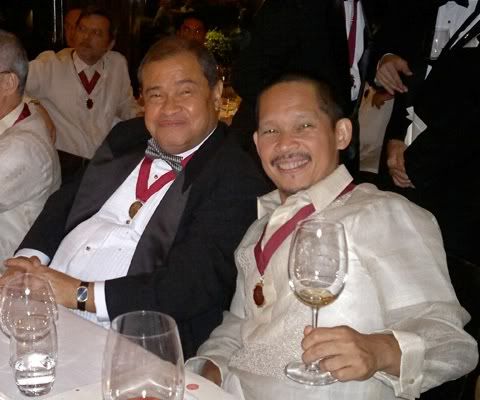 Rene Fuentes, Sr. & Jojo Madrid.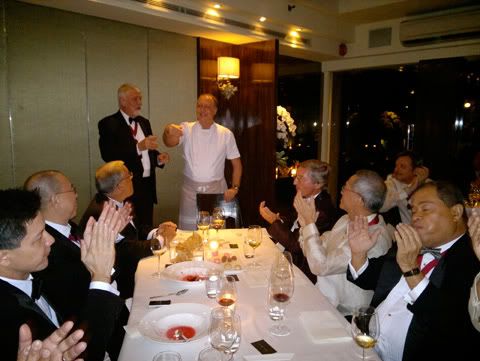 Bill then asked Colin to make an appearance
for which he received a hearty round of applause...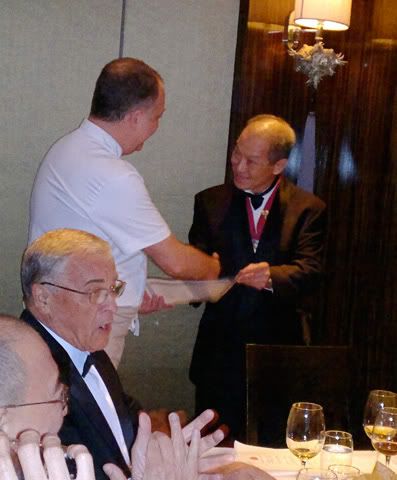 ...as well as a special certificate of appreciation from
8 consecutive term IWFS President & Wine Master Bernie Sim...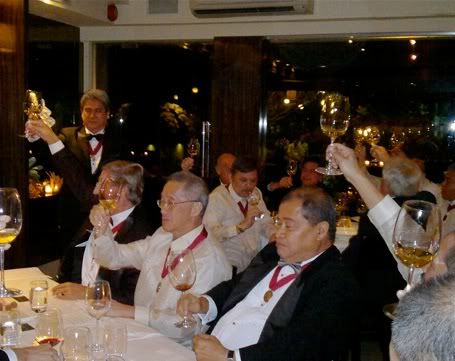 ...after which Oscar Ong led a rousing toast.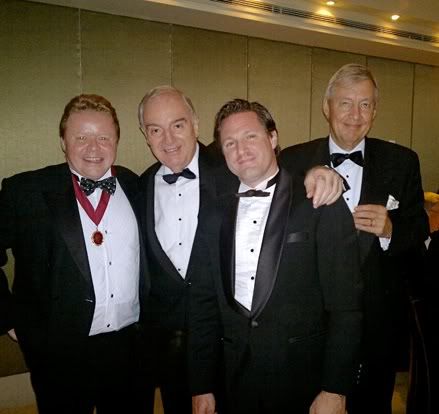 Mike Whiting, Brendan Egan, Richard Joye & Manfred Rode.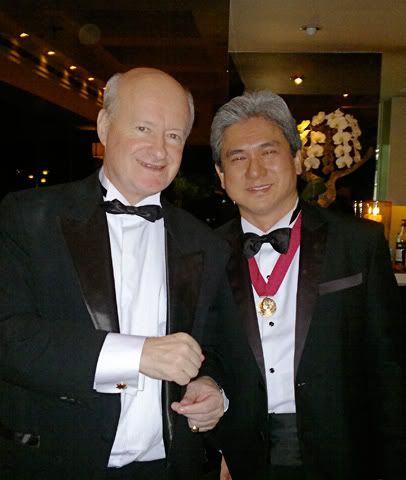 James du Vivier & Oscar Ong.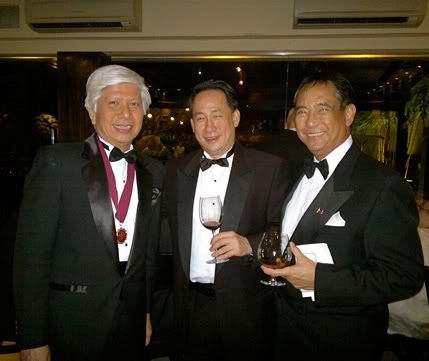 Ernie Fajardo, Edwin Ong & Noel Laman.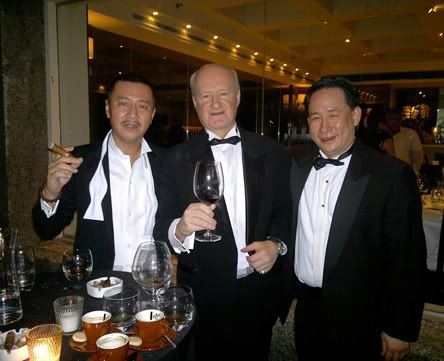 A bunch of us eventually moved to the patio for some Cuban cigars w/ the Bas Armagnac.
Bill & Uncle David.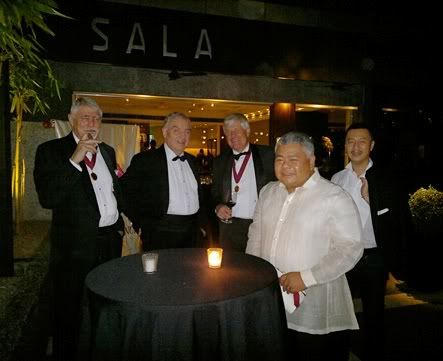 Bill Stone, Brendan Egan, Dieter Lonishen
Jay Labrador & Louie Lee.
We, the few and persistent, lingered long after everyone else, including Colin, had left. It was yet another wonderful evening altogether. Though, due to work, I have not been attending our events as regularly as before, I do make it a point to clear the nights for the annual President's Dinner - and I've never yet been let down. The organizers always do a great job. Until the next!