The 6th September 2011, the night after Tita Bella's lavish dinner, a few other Usual Suspects got together at
Colin Mackay's

Sala Restaurant
for another dinner for visiting Wineberserker Clem Nieto. We were only 5 in all this time: Clem, the Stockbroker, J-Lab, Aaron and I.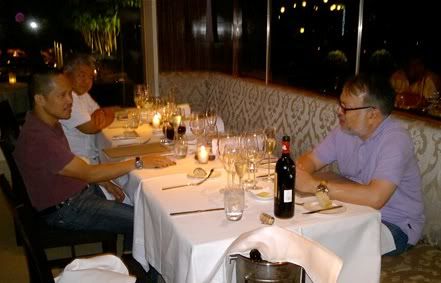 Clem (on the right) and I were the first to arrive, followed shortly by the Stockbroker and J-Lab. Aaron got stuck in traffic and just caught up after our first courses. At the outset, I uncorked my bottle of red and set it aside. The Stockbroker decanted his bottle in secret and told us to have it as the evening's last red.
As always, I had the
Double Baked Prawn & Feta Cheese Soufflé w/ Dill
(and so did Clem). The Stockbroker, J-Lab and, eventually, Aaron went for the
Crab Cakes
. With these fine first courses we enjoyed a...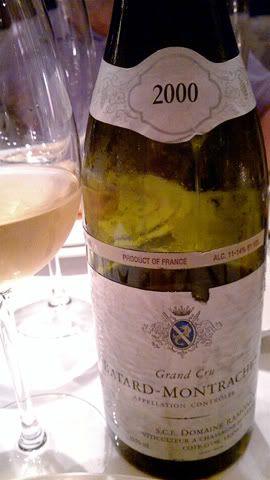 2000 Domaine Ramonet Grand Cru Bâtard-Montrachet
- from Clem (I brought along a 1999 Domaine Carillon Puligny Montrachet Premier Cru Perrières as a back-up white, but we didn't need it). Initially rather metallic and tight, it also had a too-old clarified butter odor which, thankfully, blew off in around 5-10 minutes. Thereafter, it settled in nicely and started to expand as time went by, eventually displaying a couple of shades over medium-bodied, lightly baked/honeyed ripe apple and pear, lemon custard, seamless minerality, French butter and a suggestion of hazelnut towards the back.
Notably layered; the lemon notes emerged more as it warmed up. Lovely wine. Despite its apparent richness, it certainly had the acid balance to make for an excellent pairing for my favorite savory soufflé.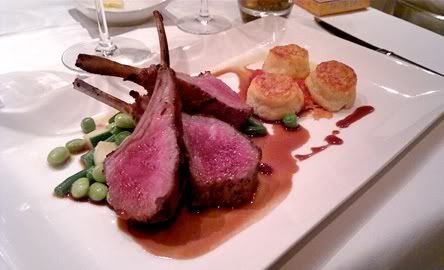 My main course of
Rack of Lamb
, chosen to go with both Bordeaux and Burgundy rouge.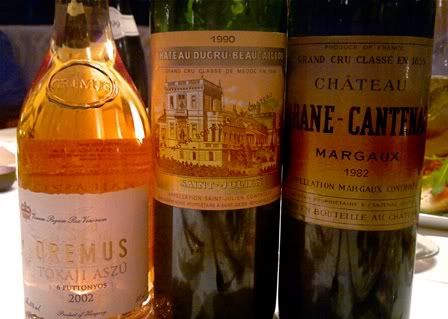 We started the reds off with a
1990 Château Ducru Beaucaillou
- from yours truly (we had decided that 3 reds would be enough for the evening, so Aaron's 1982 Château Brane Cantenac was handed down a suspended sentence). This was the 3rd bottle of this wine I had opened since the beginning of September 2011, showing
almost
exactly the same as the last one...
With a definitive strike, proper mid-mouth breadth and weight and a moderately long finish, this showed off its pedigree in its slightly minty, anise, cedar/violets-infused black fruit and underlying tar/black gravel/asphalt. A notch or two under full-bodiedness, this exuded good, depth, complex layering, precise reserve and good balance. With a bit more time in the glass, dark/bitter chocolate emerged to join the tar and anise notes.
...except that I drank up before it could gain the weight the previous one had achieved or show the chocolate notes. Typical, refined, right and proper 2nd growth St-Julien. I liked it. Next was a...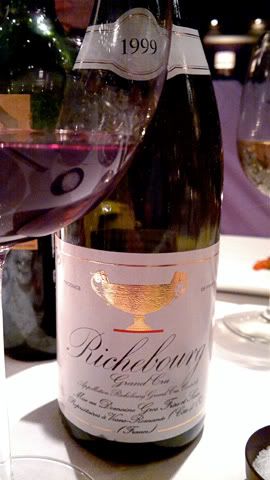 1999 Domaine Gros Frères et Soeur Grand Cru Richebourg
- from Clem. Lovely nose with sous bois and romantic Burgundy decay already peeking through the deep, dark, soy and discreetly spiced, softly rich fruit. Old violets, earth, ceps, lavender, licorice. Serene. Harmonious. Lovely, lovely wine. Should just get better and better over the next 8-10 years is my guess. What a treat.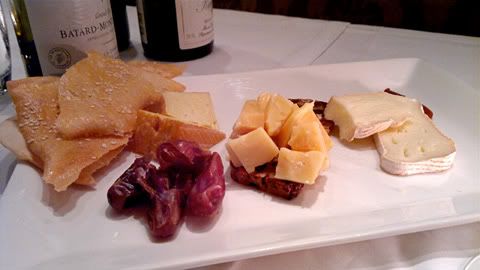 We had all pretty much gone through our main courses by the time we got to the evening's third red - so we ordered a cheese plate to share for it.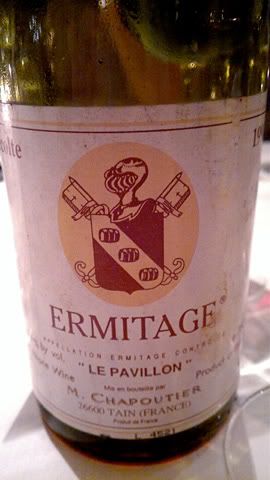 1991 Domaine Chapoutier Ermitage Le Pavillon
- from the Stockbroker. A big change - very ripe and concentrated, virtually liqueur-like, definitely full-bodied and then some. The comparatively dense and jammy fruit is bolstered further by dark minerality, hints of black pepper and earthy meatiness. Long and strong. Many years to go on this one. Should go with a big dry-aged bone-in rib-eye steak at Mamou.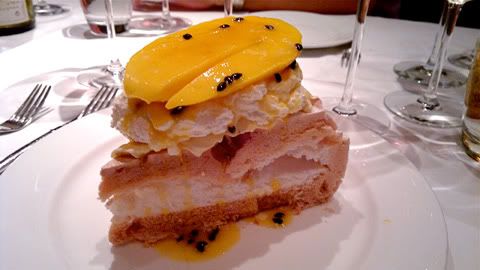 Dessert for me was a
Mango & Passionfruit Pavlova
which I shared with Clem. Nobody else wanted to end on a sweet note, so J-Lab's
2002 Oremus Tokaji Aszú 6 Puttonyos
was kept for another day.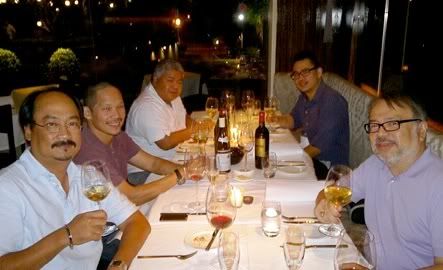 A few coffees and double espressos later, we called it a night - and what a night it was. Thanks again, Clem!