This past Saturday, the 30th October 2011, was dinner in belated celebration of the youngest's birthday. The past few years, I've been opening birthyear wines for the teenagers and figured to start this year for the youngest.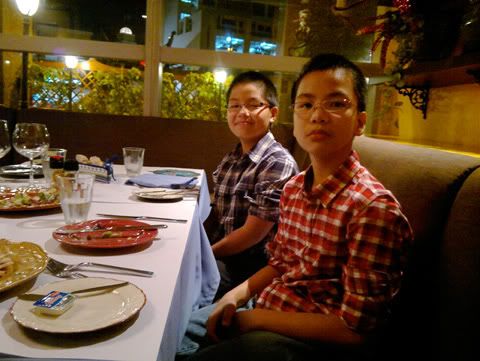 The week before, I mentioned him that I'd be doing so, and, in so mentioning, added that his was a good vintage for Burgundy. He asked me what cuisine would go well with them and I, of course, replied "French". His immediate reply was: "
Champêtre
it is then." We were 6 in all, the celebrant inviting Zach, his best friend who also happens to be his cousin closest in age. We started off with lots of appetizers: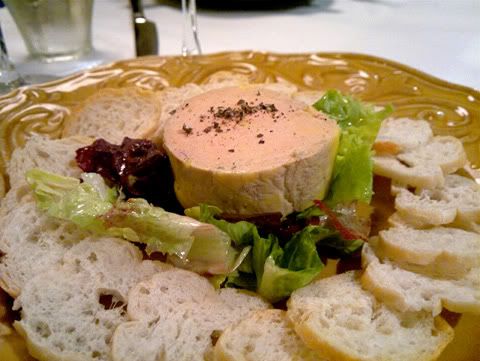 Marc's signature
Terrine of Foie Gras
(2 orders).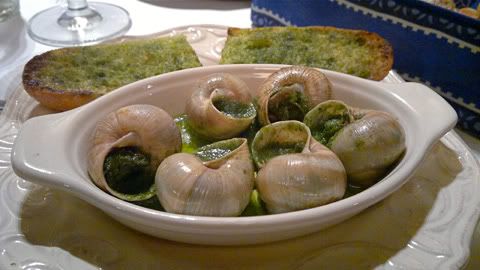 Another of Marc's staples,
Escargots à la Bourguignonne
(2 orders).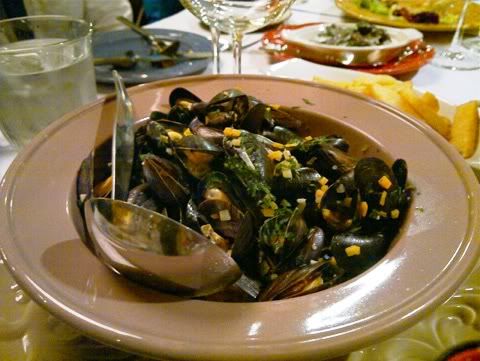 Marc also happened to have some
Moules de Bouchot à la Marinière w/ Frites
from Brittany that night, so, of course, we had to have some too.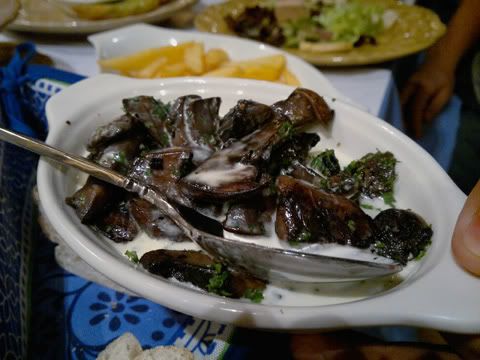 Aside from our usual Portobello w/ Oeuf Cocotte,...
...we also had a "new" version thereof with ceps instead of portobellos.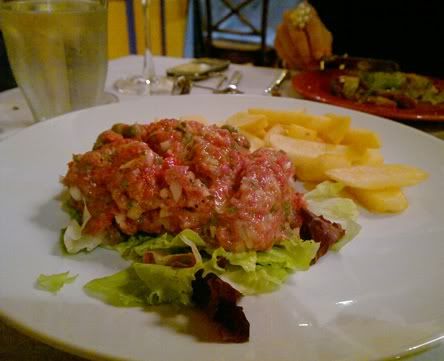 Both the celebrant and the second wanted some Steak Tartare, so we had some as well.
The little ones really dug the
Steak Tartare
.
The wines I brought for the evening were, as mentioned, both Burgundies from the youngest's birthyear:
1999 Domaine Louis Carillon Puligny Montrachet Premier Cru Les Perrières
for the appetizers &
1999 Domaine Jayer-Gilles Grand Cru Echézeaux du Dessus
for the main courses (the latter a gift from Clem Nieto - thanks, Clem!).
1999 Domaine Louis Carillon Puligny Montrachet Premier Cru Les Perrières
- Several years ago, as I was deepening my knowledge of Burgundy's wines, Bernie Sim told me that Domaine Louis Carillon was one of Puligny Montrachet's best producers. Knowing that Les Perrières was one of the appellation's best premier crus, I didn't hesitate in snapping up the bottles of 1999s I saw available at Cellaraiders sometime in April or May this year (1999 was a pretty good vintage for the Côte de Beaune, generally speaking).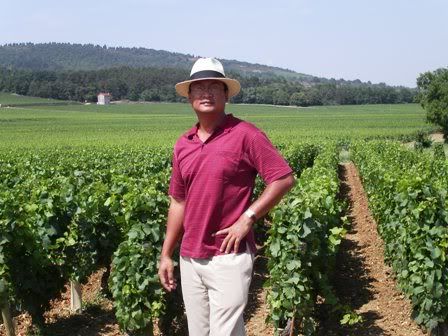 Me during a very hot summer's day in Puligny Montrachet, July 2006 (so I really needed that hat to keep my forehead from burning to a crisp).
I took care not to over-chill this bottle unlike the last time at Elbert's. A few notches over medium-bodied, with moderately rich, ripe, slightly honeyed, slight vanilla and almond paste-infused, pillowy apple and pear. Structure is more than decent; the middle definitive, balance is definitely good; and, the finish moderately long, confident, with the vaguely nutty clarified butter and honeysuckle notes trailing. In all, a lovely wine which went notably well with the steak tartare, but was way too rich for the moules (a Sancerre or Pouilly-Fumé would have done infinitely better for those plump little mollusks).
The teenagers.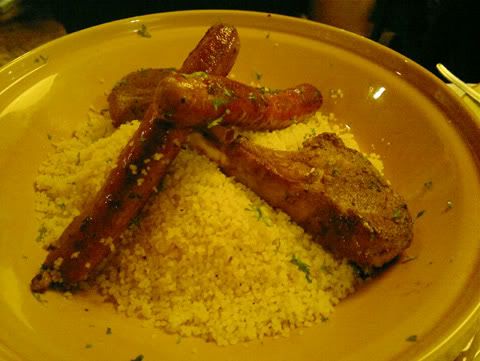 Catha and the eldest each had the
Algerian Couscous
for their main courses, grilled the lamb chops and megruez of which Catha shared with the youngest & Zach.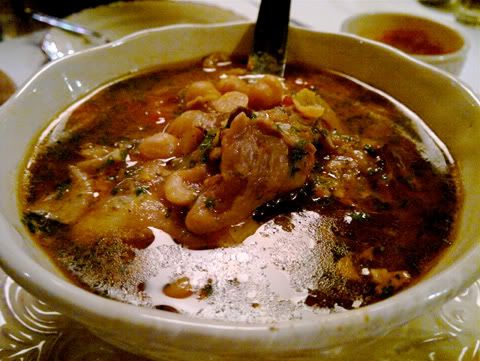 The Algerian couscous comes with a mildly
stew of lamb, chicken, tomato, chick peas, etc. & spicy Harissa sauce.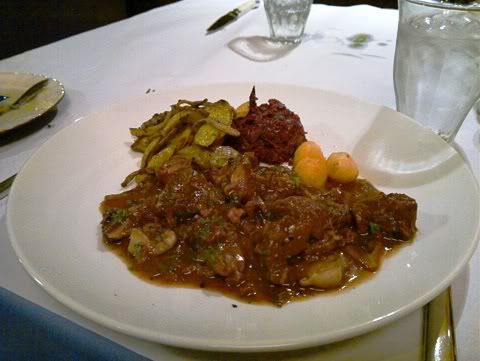 The second, ever the gastronomically adventurous one,
had Marc's special main course for that night -
Civet of Wild Boar
.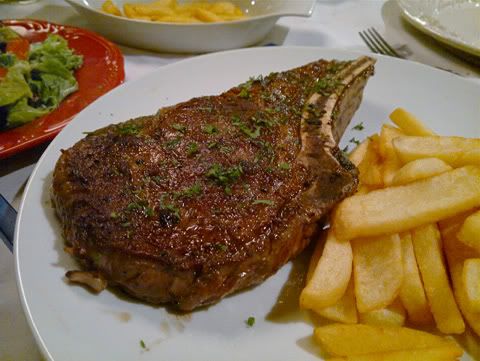 Having had rib-eye twice the day before (i.e., roast beef at Impressions for lunch & teppanyaki for dinner at home), I hesitated ordering the massive
Dry-Aged Bone-In Rib-Eye
(Kosh Sehwani's
Alternative Food Corp.
supplies the excellent meat) for my main course. The youngest & Zach, however, promised to help me eat it, so I got it - and good thing I did as it was simply superb. Nicely seared, juicy, not sinewy at all, not overly fatty, nicely nutty and slightly cheesy as a well dry-aged steak should be. I only had a few bites (as I was over-steaked) but the little ones literally ate this to the bare bone.
The
1999 Domaine Jayer-Gilles Grand Cru Echézeaux du Dessus
had no problem standing up to the steak - so easily, actually, that I was a little surprised. The nose of this wine was certainly seductive - come-hither lightly truffled, slightly gamey (
nb
: the du Dessus
lieu dit
closest to Grands Echézeaux) very ripe, molten, deep plum, black cherry and berry compote with the beginnings of Burgundy decay. Its nose was darkly mirrored on the palate (with added whispers of sarsaparilla, vanilla and nutmeg), in a mouth-filling, generous body of rather rustic character and smoothly dense, softly-chewy texture. I recalled a couple of DRC's Echézeaux and Grands Echézeaux not as heavy or dense as this. The finish was slightly clipped (Marc noted this too), but the nose more than made up for it.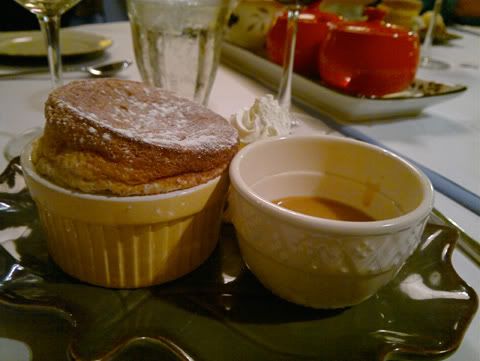 Knowing that chestnuts were available again, my kids and I each had Marc's ethereal (and long awaited)
Chestnut Soufflé w/ Chestnut-Armagnac Ice Cream & Caramel Sauce
. This is not on the menu, but Marc will make it upon request. Fantastic. You simply must - with a good, preferably aged, Alsatian gewürztraminer VT or SGN, even better.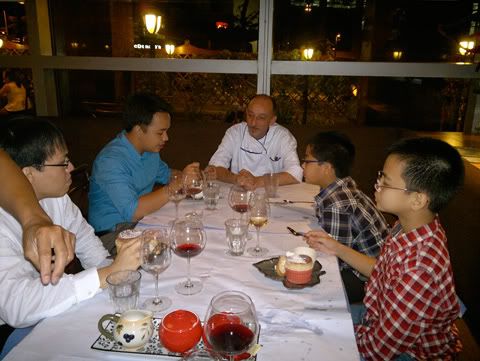 Marc watches the kids enjoy their soufflés (Zach, being glucose-challenged, passed on dessert - such fine discipline he has).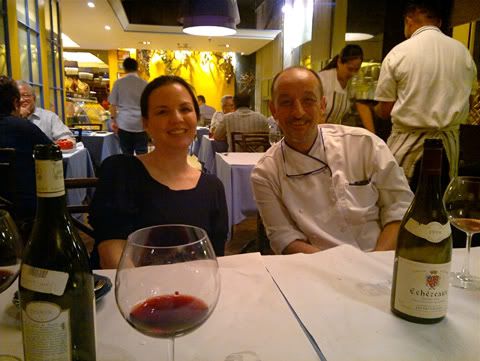 Tired but happy from another fully-packed night, Marc stayed to chat with us (though I spied a couple of more tables turn over even at the time). He kindly offered us some digestifs, but we, regretfully, had to decline as we had to drop the eldest of at a house nearby for his class' early Halloween party - so Marc gave us a couple of bags of
Dark Chocolate Truffles
to bring along. It was yet another wonderful meal at Champêtre. Great, honest food with a relaxed ambiance - it always feels like home to me. It is no wonder my family and I choose to dine here so often - moreso when there is an occasion to celebrate. Happy birthday again, J.